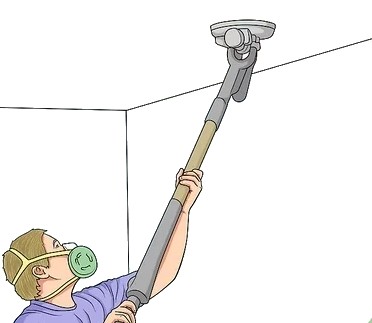 Are you into the job of interior wall finishing?
A drywall sander will be the greatest tool you'll ever wield to revitalize your walls. It's the most cost-effective, durable solution to the task of wall sanding. No more need to sand drywall manually as advanced technology has introduced electric drywall sanders that are effective for sanding ceilings, plastered walls, and interior walls. Not only this but the equipment is useful for removing paint layers, paper residues, adhesive residues, coatings, and loose plaster. Hence, this technology has made the job much easier. It's time to choose a drywall sanding tool! It is of course not easy to choose an appropriate sander for such a task. There is a huge variety of drywall sanders available out there. Therefore you must determine your purpose before spending your money on purchasing a tool.
Keep scrolling to jump straight to the list.
Things to consider before buying:
If you have to do a small job then a manual sanding block is an appropriate option for you because it will save you money. It is also easy to handle because of its small size and no hassle of installation is to be faced. You can use a manual sanding block for finishing work and even for repairing any wall hole.
But if you have to work on a larger wall area then a Drywall Sander is a must. A belt sander is effective for wood material, for example, shaping or reshaping the wooden doors. In this sander, the mechanism is simple because a belt is used over a roller.
Investing money in such a sander puts you in a position where you don't need any guidance from a professional. This device is enough for finishing work. It gives smooth finishing and you can sand even larger walls. Other than sanding, it is useful for many other purposes.
The latest advancement in the technology of sanding is the drywall, Sander. It is equipment that is Highly Effective for finishing work. With the help of electric drywall Sanders, you can complete the job within just a little time.
Best Sander for Drywall 2023
Here are some of the top drywall sanders you can buy.
1. Festool 571935
[Editor's Choice]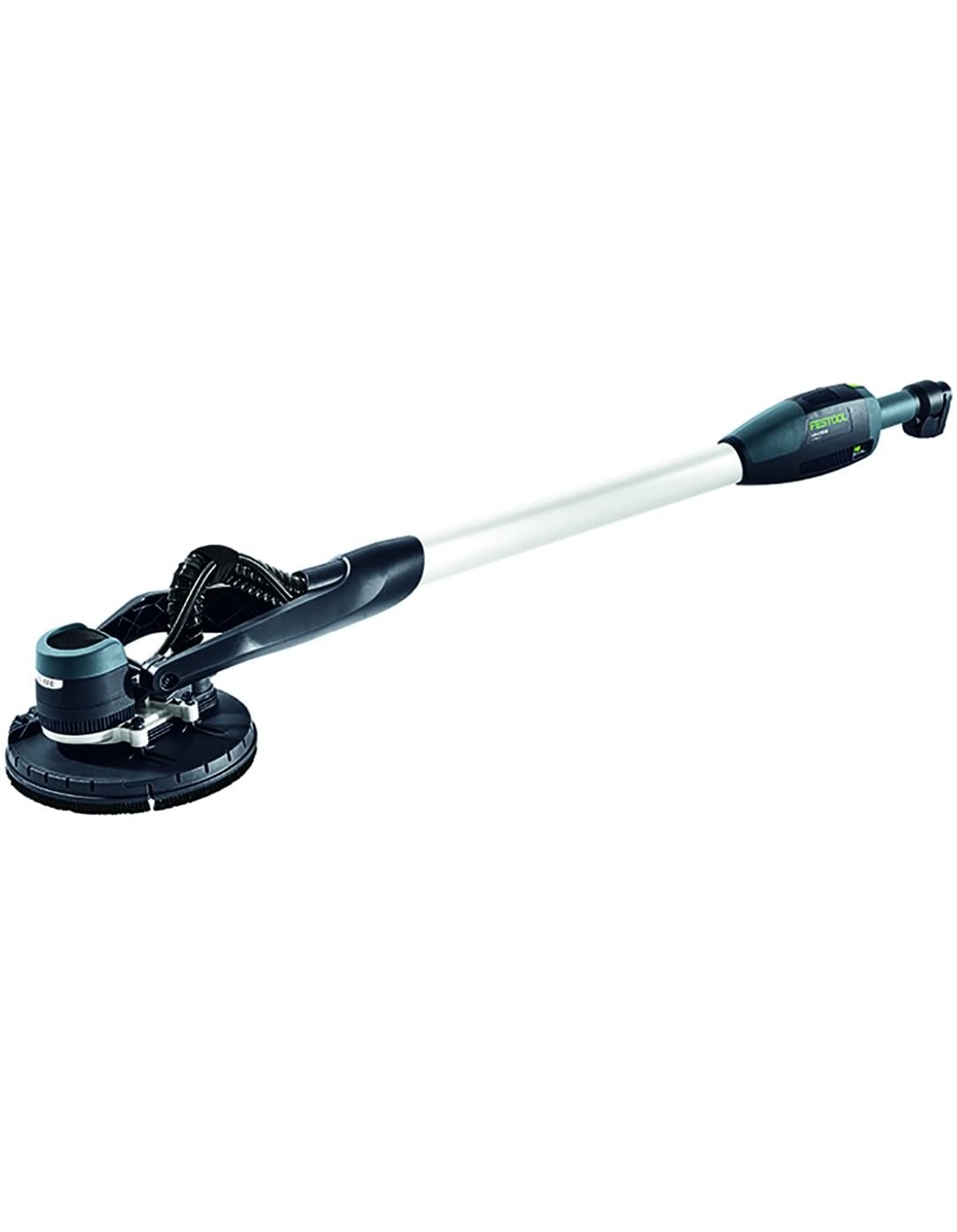 Why we love it?
Festool has forged this masterpiece in such a refined fashion that regardless of a large sanding head it's remarkably lightweight.
With its flexible head design, it supports much easier sanding and greater freedom of movement.
The device setup is quite simple and its intuitive controls are really impressive.
It's easy to work with it as it responds really well to your desired movements. You'll bear minimal fatigue during work.
Being a single-piece machine it's easy to set up and sand with. The overall experience is quite carefree.
| | |
| --- | --- |
| Pros | Cons |
| ✅ EC tec brushless motor | ❌ Bit pricey |
| ✅ Wireless design | |
| ✅ Flexible head joints for tough surfaces | |
| ✅ Easy and quick setup | |
| ✅ Lightweight | |
| ✅ Innovative controls | |
| ✅ Dust control feature | |
| ✅ Latest technology | |
2. WEN 6369
Why we love it?
It has the variable speed adjustment feature making it ideal for a range of tasks.
You can change sandpaper much easily because of the hook and loop base pad.
Its automatic dust removal system is of intelligent design. It will remove the dust off through its extendable hose while simultaneously sanding the surface.
Six different sanding disc options are present for various work requirements. This makes it a great investment for individuals planning to do floors & ceilings along their walls as well.
| | |
| --- | --- |
| Pros | Cons |
| ✅ Great value for money | ❌ None |
| ✅ Effective for corners | |
| ✅ Minimal power consumption | |
| ✅ Easy to use | |
| ✅ Awesome Vacuum hose | |
| ✅ Variable speed adjustment | |
| ✅ Automatic dust removal | |
3. YATTICH YT-916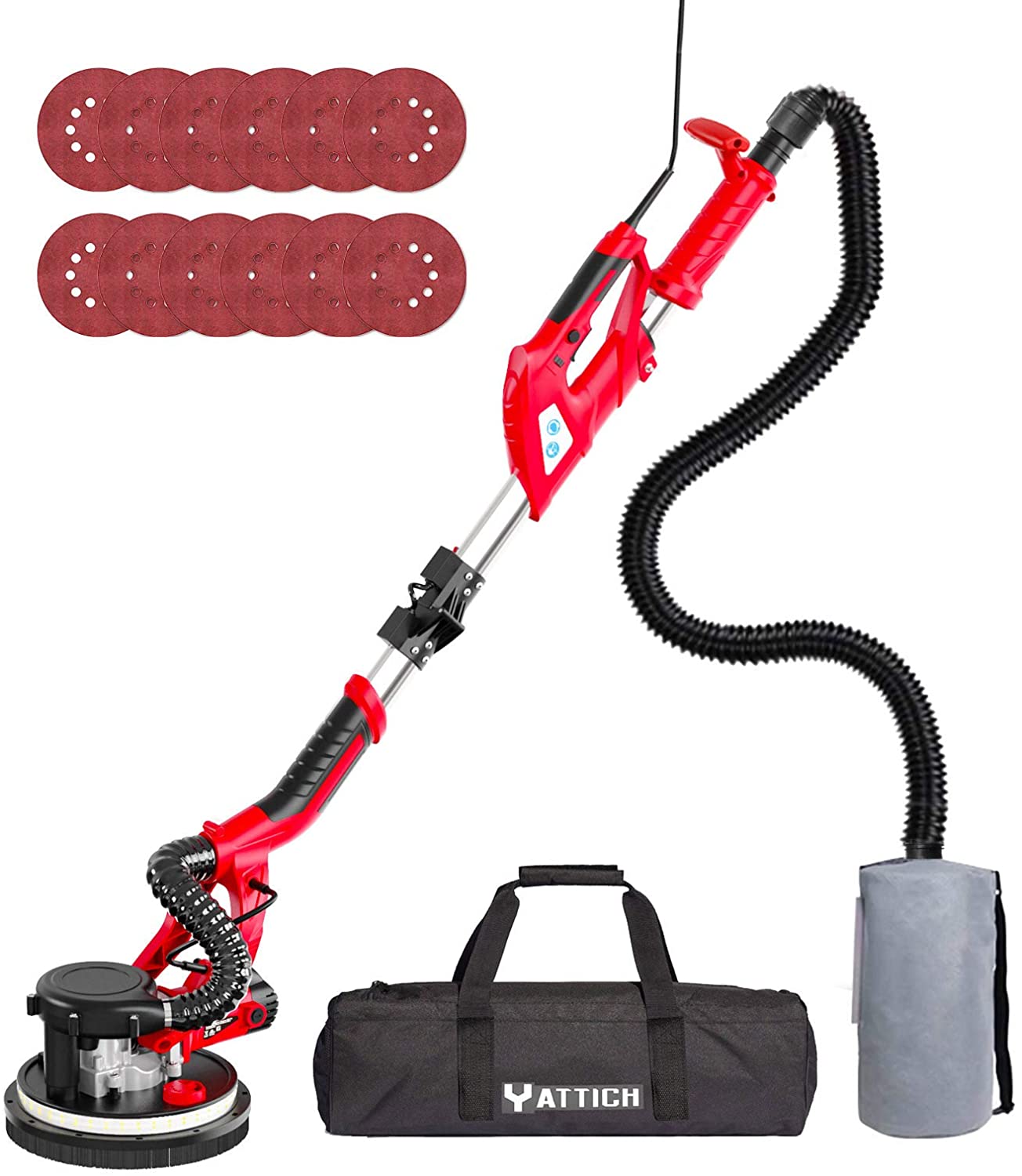 Why we love it?
The product has an extension pole that can reach up to 5.5 feet and hence you can easily reach every corner. Coupled with its affordability it's one of the greatest drywall corner sanders.
The vacuum system of this device is really effective. It actually has a 6.5 feet dust hose as well as zippered bag and hence it has the capacity to absorb 90% of the dust particles.
Speed adjustment is possible at 7 different levels. You can adjust the speed between 800 to 1750 RPM based on work requirements.
It has double-deck LED stripe lights. These slides will help you to work even in a darker work environment.
| | |
| --- | --- |
| Pros | Cons |
| ✅ Adjustable speed | ❌ Short power cord |
| ✅ In-built LED lights | |
| ✅ Effective Vacuum suction system | |
| ✅ All necessary attachments are included | |
| ✅ Easy storage due to detachable extension rod | |
| ✅ Lightweight and easy to use | |
4. Mophorn Drywall Sander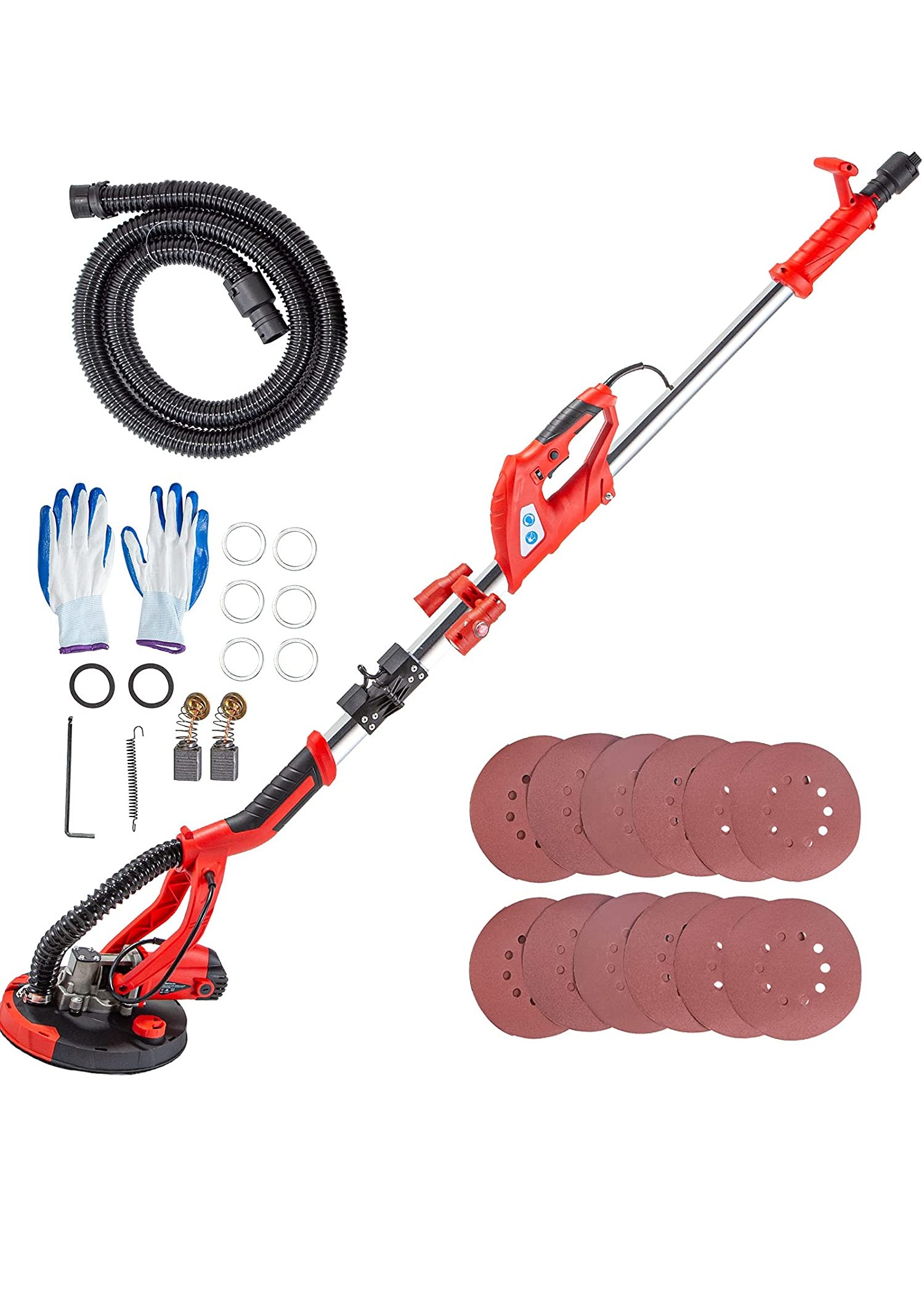 Why we love it?
LED lights are installed on this device and it means that you can easily work in a dark workspace. The product provides a brighter and safer work condition.
It has a very lightweight design. It is effective not just for private use but even for commercial use.
The product is effective for wide applications e.g draining and polishing ceilings, drywall, adhesive, exterior and interior walls, etc.
This design is foldable and it means that you can take it anywhere with you. The storage of the product is also easy because of this feature.
| | |
| --- | --- |
| Pros | Cons |
| ✅ Durable structure and greater efficiency | ❌ Build quality could be better |
| ✅ Dust absorption feature | |
| ✅ Heavy-duty sanding head | |
| ✅ Foldable design | |
| ✅ LED light has been added | |
5. TOKTOO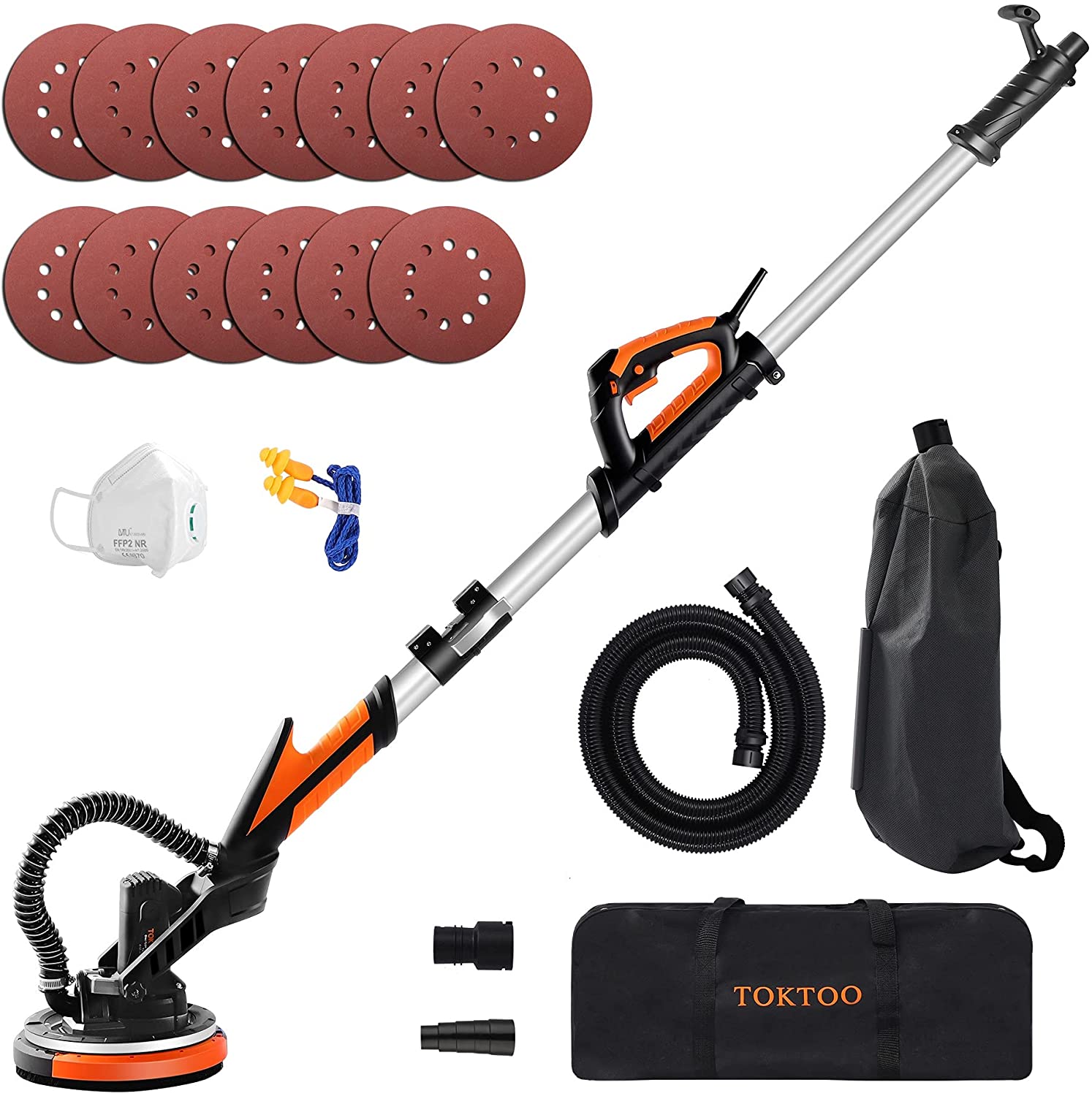 Why we love it?
The product has a foldable rod and which means that it is easy to store. You can adjust its extension rod and this extendable rod is effective to work on multiple Heights.
There are LED lights around the bottom that increase the brightness of the dark workplace. Therefore you can smoothly work in dark areas as well.
The adjustable speed of the product is another plus point that supports multitasking. With just a single device, you can perform multiple tasks and you can work on different areas.
The product comes with important accessories that may be required for sanding the drywall effectively.
You get great value for the amount spent.
| | |
| --- | --- |
| Pros | Cons |
| ✅ User-friendly | ❌ Not ideal for rough surfaces |
| ✅ Adjustable and flexible design | |
| ✅ Greater efficiency | |
| ✅ Innovative design | |
6. ALEKO Lightweight
Why we love it?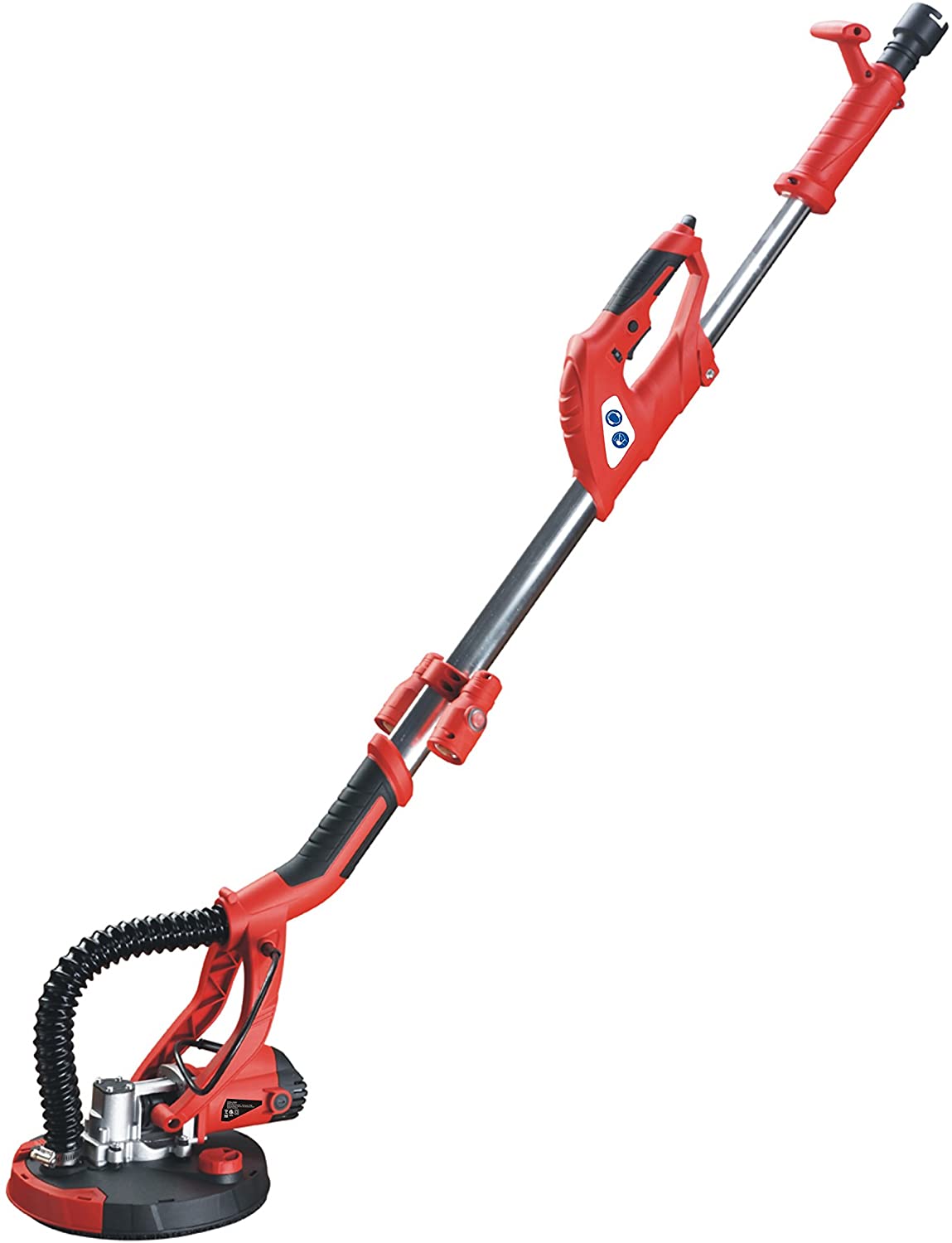 The manufacturing of the machine is highly professional because it is designed using industrial-grade parts. This study finish guarantee is the durability of the product.
It has Telescopic machine handles. These handles are adjustable and hence you can adjust according to your requirement.
Variable speed options are another plus of the product.
There is a hook and loop system and you can easily attach and detach the vacuum with the sander. The purpose of the vacuum is to collect dust.
| | |
| --- | --- |
| Pros | Cons |
| ✅ Versatile machine | ❌ Vacuum hose is a bit loose. |
| ✅ Budget-friendly | |
| ✅ Variable speed option | |
| ✅ All rounder | |
7. ZENY Electric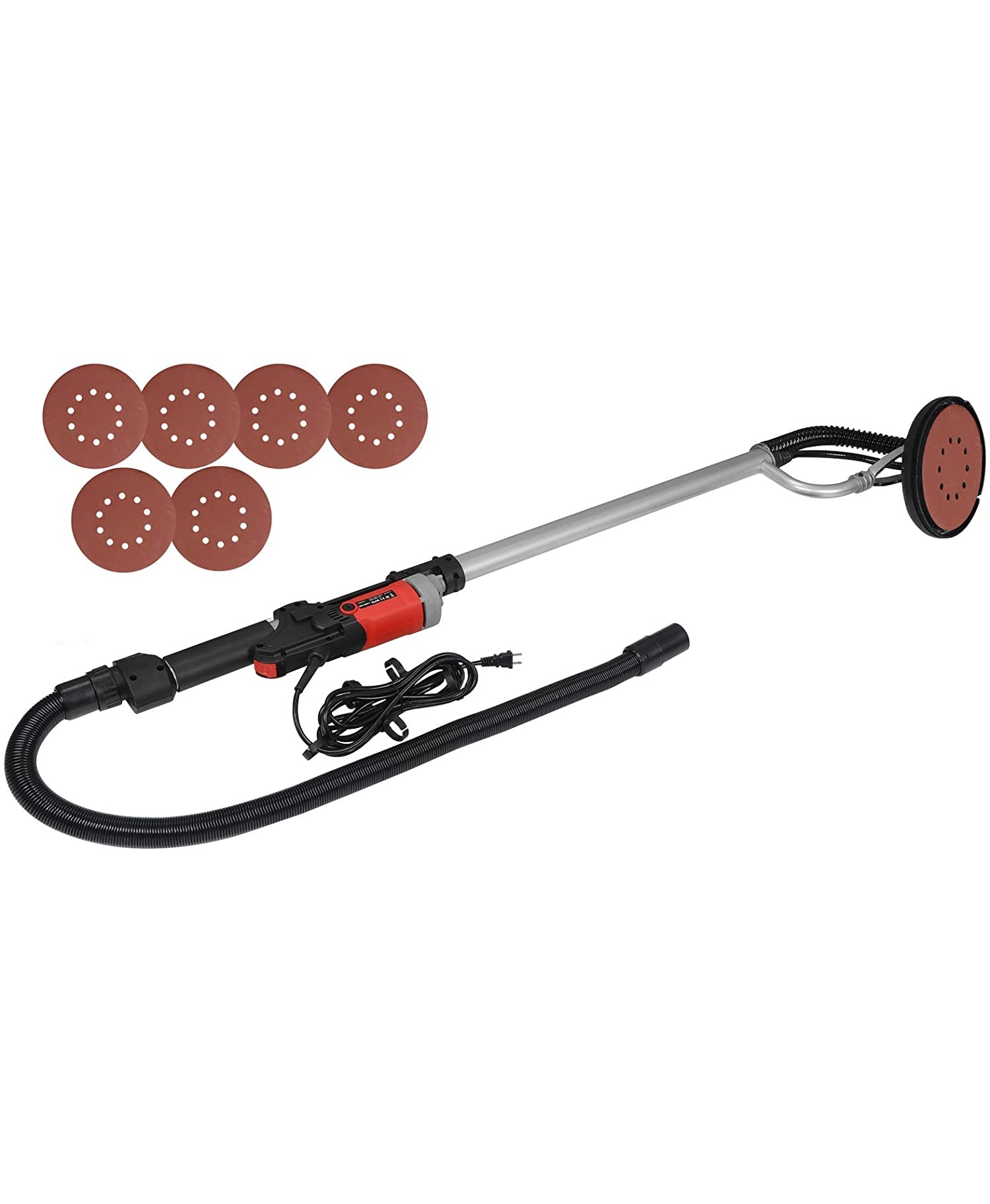 Why we love it?
The product has 6 different speed options. You can adjust the machine's speed anywhere between 1000 and 2000 RPM. It comes with 6 different hook and loop sanding discs.
The motor of this machine is highly efficient and it has dynamic power for the purpose of sending work. Because of its efficient Motor, the product is ideal for grinding drywall, exterior walls, interior walls, ceiling, etc.
All the necessary attachments or accessories are already included in the package. Using these accessories, you can accomplish sanding work on any type of surface.
The product is perfect for sanding the edges or even spaces. It is the reason that it has a removable sander base and detachable brush segment.
| | |
| --- | --- |
| Pros | Cons |
| ✅ No need for high pressure | ❌ Bit shaky to handle |
| ✅ Perfectly balanced | |
| ✅ Vacuum and dust absorption feature | |
8. BOSCH Orbital Sander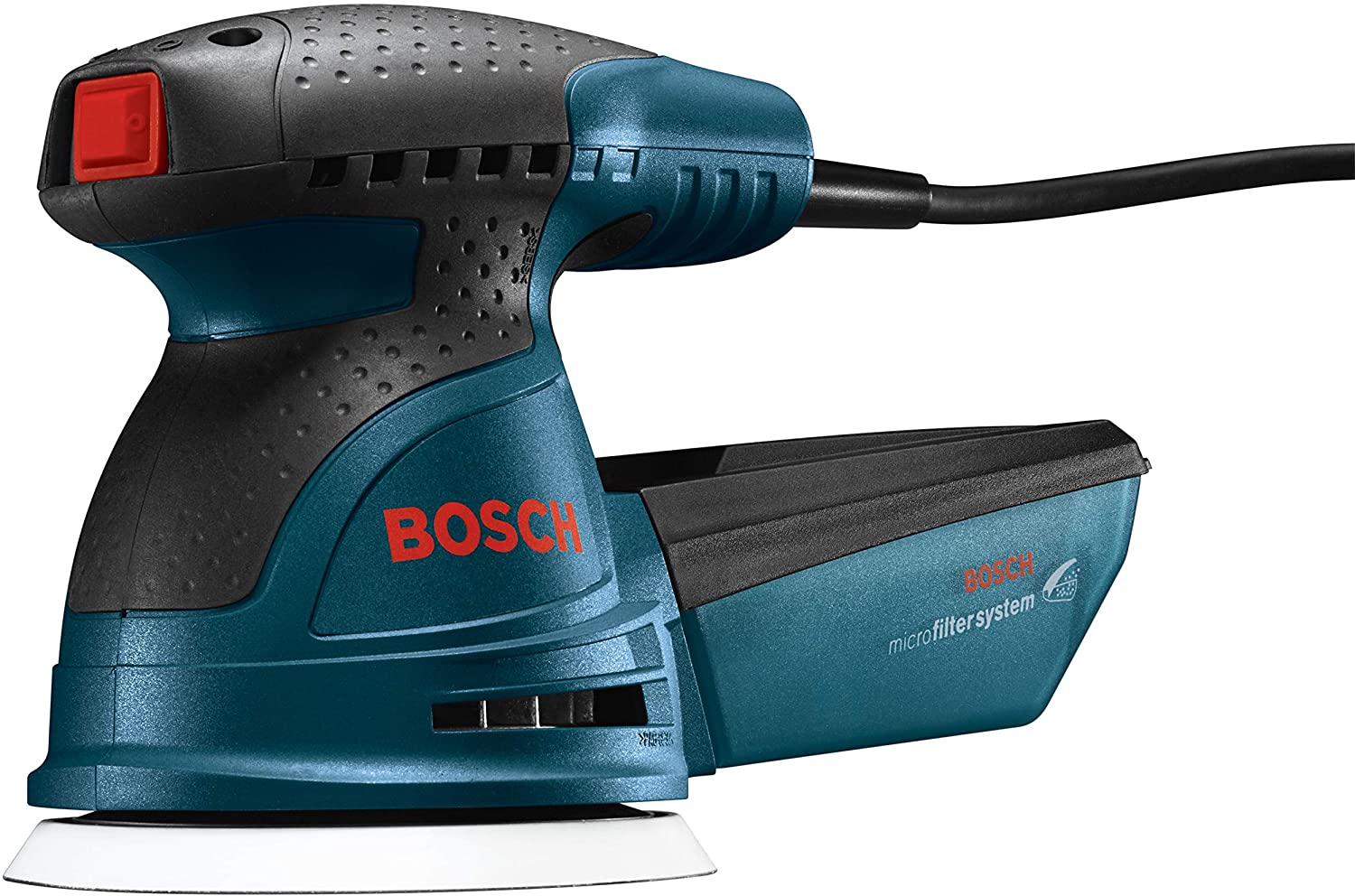 Why we love it?
It comes with the best drywall sandpaper for orbital sanders. Different sand pads are included in the package for free that will cover various jobs.
The product is really great because it is versatile in its functioning. You can sand on edges as well as corners easily.
Because of the lowest vibration, it is highly convenient to use.
There is a microfilter dust canister having an integrated paper filter. This canister is highly efficient in collecting and absorbing all the dust.
| | |
| --- | --- |
| Pros | Cons |
| ✅ Lightweight | ❌ Not suitable for wet sanding |
| ✅ Durable and efficient | ❌ Not for hard jobs |
| ✅ Comes with standard sanding pads | |
| ✅ Really cheap | |
| ✅ Ideal for small projects | |
Conclusion
We have discussed 8 different drywall Sanders and they all are considered the perfect electric sander. However, you may choose the sander according to your own choice, comfort, and budget. Professional contractors and even non-professionals are using electric drywall Sander are because they save time and are easy to use. If you have selected the best power, Sander, for drywall out of the products that we have discussed today then what are you waiting for! It's time to grab your product and start the job right away!
Buying Guide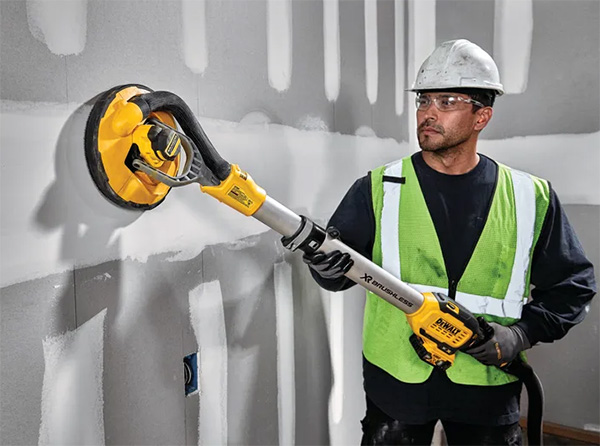 It is a challenging task to choose the best sander for ceilings & sheetrock. There are so many models out there that you may get confused. This is where our buying guide will be helpful to choose the great sander for walls. Before ordering the tool, you must go to the following factors. Before ordering the tool, you must go to the following factors:
Purpose
You may have any purpose of purchasing drywall, Sander. Do you need a sander for a DIY light task for you want it for professional work? Do you need the drywall sanding head for home use or for any other place? Are you looking for an orbital drywall sander or the hand Sander? Hence, considering the purpose is really important.
The motor of Electric Sander
If you are looking for the best electric Sander for drywall then you must take into consideration the motor power rating of different products. You will get a clear idea about the performance of the product from its power rating.
Ease of use
You must know that there are many drywall sanding tools available out there and all are different in terms of their ease of use. Whether the tool is lightweight and heavy? Does it come with a flexible head or not? Is it portable or not? Is it effective in dust management or not? These are different aspects to consider.
Price
The prices of drywall Sanders differ from model to model based on different factors. Two different brands may offer the product with the same features but at different rates. It is because the reason that well-reputed brands usually sell the products at Higher prices. There should be a balance between price and the quality of the product.
Frequently Asked Questions
Here are some further queries answered for you.
Q. Can I use a sander on drywall?
Yes, a sander can be used on drywall. In fact, there are many types of Drywall Sanders available out there. You can choose any sander considering your own choice and budget.
Q. What kind of power sander you can use for drywall?
If you are looking for a power Sander for drywall then you must opt for a dedicated dustless Drywall Sander. It is because of the reason that these sanders come with an extension pole and dust collecting system that make your job much easier.
Q. Is it better to wet sand or dry sand drywall?
Wet sanding takes a lot of time. You would of course like to complete the job within less time. If you want to prepare the drywall for paint immediately then you are suggested to opt for dry sanding.
Q. Which is better orbital or palm sander?
Both are wall sanding tools but choosing between orbital or Palm Sander depends on the requirement of the job. If you have a larger area to work on then orbital Sander is a better option. However, if you are looking for a smaller and lightweight device then Palm Sander for drywall is good to use.
Latest posts by Ethan Thompson
(see all)