1. Introduction
Are you looking for different ways to sand your furniture to give it a brand new look?
Or are you thinking to sand the timeworn paint off your home or any other place walls?
You're at the right spot.
Then let us just tell you one thing: sanding is one of the most tedious jobs. Not only does it require extra effort but it is time-consuming as well. The right sander for exterior paint removal makes this tough job easier and gives the perfect finishing to the surface as well. 
At the same time, choosing the right sander to remove paint is also important. For that, you need to know, how to choose the right sander according to your surface material.
But before jumping in to the list of the sanders to remove paint from wood let us tell you about two popular types we'll mostly be covering; a random orbital sander and a belt sander. 
The random orbital is more recommended because it works perfectly for wood projects and does not leave any scratches on the material. Whereas the belt sander is swift in working but it is more on the antagonistic side. 
Consider reading our much more detailed Buying Guide at the article's end.
Keep Reading for the Exterior Paint Removal Sanders list after this buying guide below
Before You Check our List
You need to know a couple of things to look for in a paint removing sander. Here are some points to consider before spending your hard-earned money.
Power of Sander:

If the wood sander isn't powerful enough, it won't really do much for you. Even if your purpose simply might be paint removal, you'd still prefer buying a product that is more capable and versatile. And believe us when we say this, power adds to the versatility. Luckily we've only included products here that are tough & durable.

Speed of Sander: The importance of speed varies from job to job. When we say speed, it isn't just the velocity we're talking about but also the ability to maintain pace when tackling tough projects. We've only included products here that won't disappoint.
Keep Scrolling for the Top Sanders list
Knowing Your Purpose: This is perhaps the most important factor. Researching your purpose well will enable you to invest in a product that suits your needs in an ideal way. Each type of sander has a specific purpose. So keeping that in mind we've added machines that are kind of like all-rounders.

You might want to check out

our guide on sanders

to better understand the different options and what will work best for your needs.

Adjustable Speed: Variable speed control is a feature that accompanies most modern sanders. You'd obviously need different speeds for different jobs. So this feature is something you'll be utilizing a lot.
Dust Collection or Vacuum connectivity: Sanding can be easy if done with the right sander, but cleaning after the job is done will be quite frustrating for most people. So make sure to invest in something that has a dust collecting system, or alternatively has Vaccum connectivity options.
Now Let's Dive In!
2. Best Sanders for Exterior Paint Removal 2023
Here are our picks for the top Sanders for Exterior Paint Removal you can buy right now:
As said before, sanding any material is a hard job to do manually. But with the help of a machine, you can make your life easier and save time as well. Buying the right machine according to your demand is not as simple as buying any laptop or mobile phone, especially for a beginner.
Doing the task wrong can create stubborn scratches or make the surface of your wood, wall, or car's exterior uneven. But with the help of the right electrical device, your task can be done quickly with quality results.
So, first, let's have a look at the top sanders to remove paint, and then we'll be giving you all the basic and advanced information that you'd possibly require before buying the machine.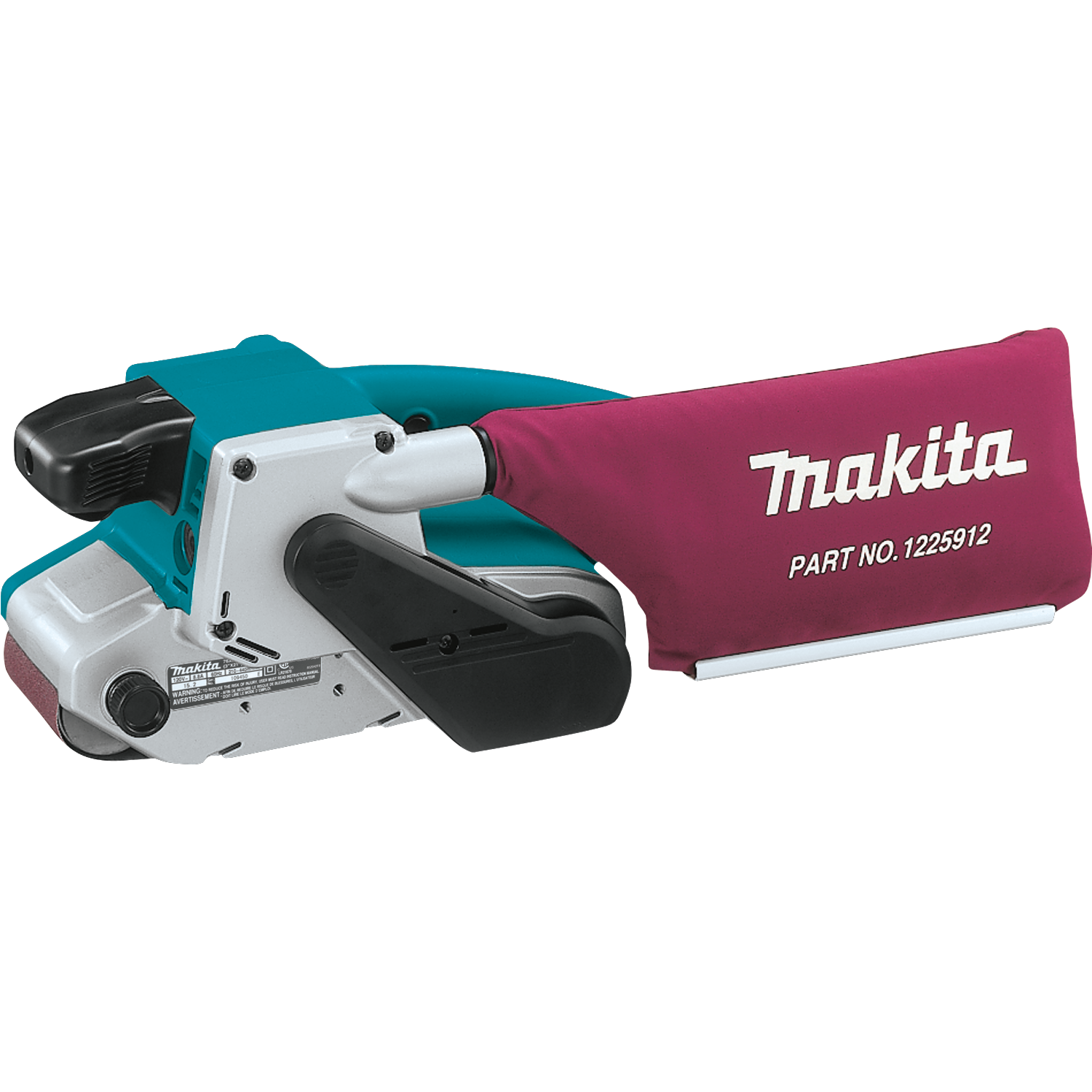 [Editor's Choice]
a. Why We Love It? 
Easy to use especially for beginners.
Comes with a dust bag which leads to zero mess in the room.
Has multiple options to control the speed.
The handle is designed in such a way that is very comfortable to work with.

This belt sander for paint removal works for both wood and metal.

Talking about power, its motor is 8.8 AMP (120 Volts) that comes with electronic speed control.

| | |
| --- | --- |
| Pros | Cons |
| ✅ 8.8 AMP motor with inane power | ❌ No case included |
| ✅ Front grip design feature | |
| ✅ Noiseless sander (85dB) | |
| ✅ Great power at low speeds | |
| ✅ Best for DIYers | |
| ✅ Smooth, seamless sanding | |
| ✅ Easy and comfortable to use | |
| ✅ Ideal for shedding off paint | |
| ✅ Immense power at high speeds | |
| ✅ Best value for money | |
Unlike most sanders on this list, this device is a belt sander that provides power unmatched by any other type of device, even in the belt sander category.
The belt size of this electronic machine is 3" x 21" with a belt speed of around 690 – 1,440 ft. /min, which in general is high speed. This product promises that it is the fastest sander paint remover and delivers. The overall length of the machine is 11-5/8" and the weight is 9.5 lbs.
b. Works for Multiple Professionals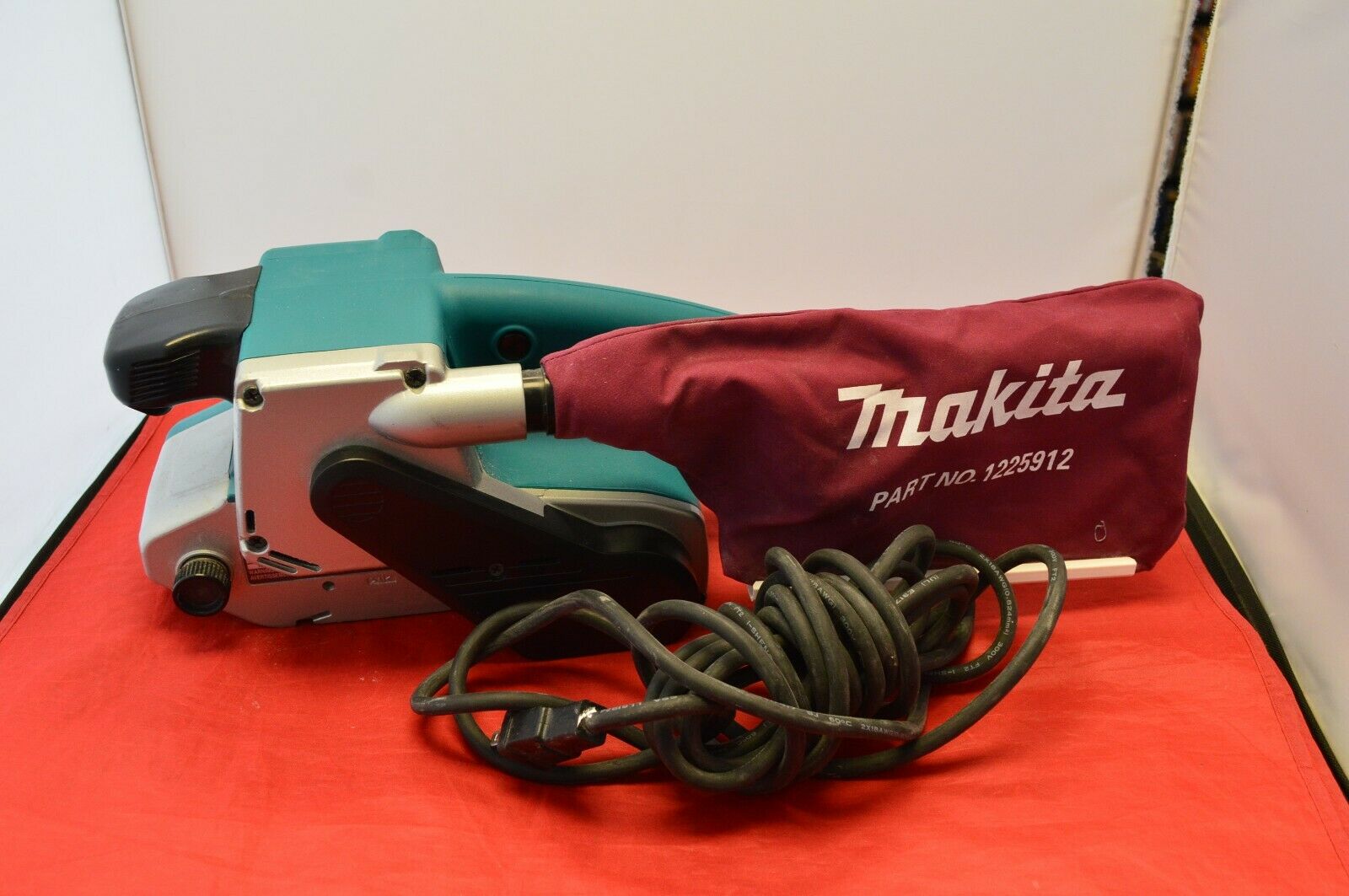 One of the best features of this machine is it works for almost all job types. It is not only usable for the painters but handy for the deck builders, carpenters, floor installers, woodworkers, and other contractors who may need a sturdy sander.
c. Comes With Dust Bag
Its dust bag feature is the highlight of Makita 9903. No one likes a messy room with sand all over the place where you are working. It comes with a dust bag, whose function is to collect all the dust particles as you work. This bag might not be that spacious but it is really easy to empty and reinstall.
d. Auto Tracking Belt System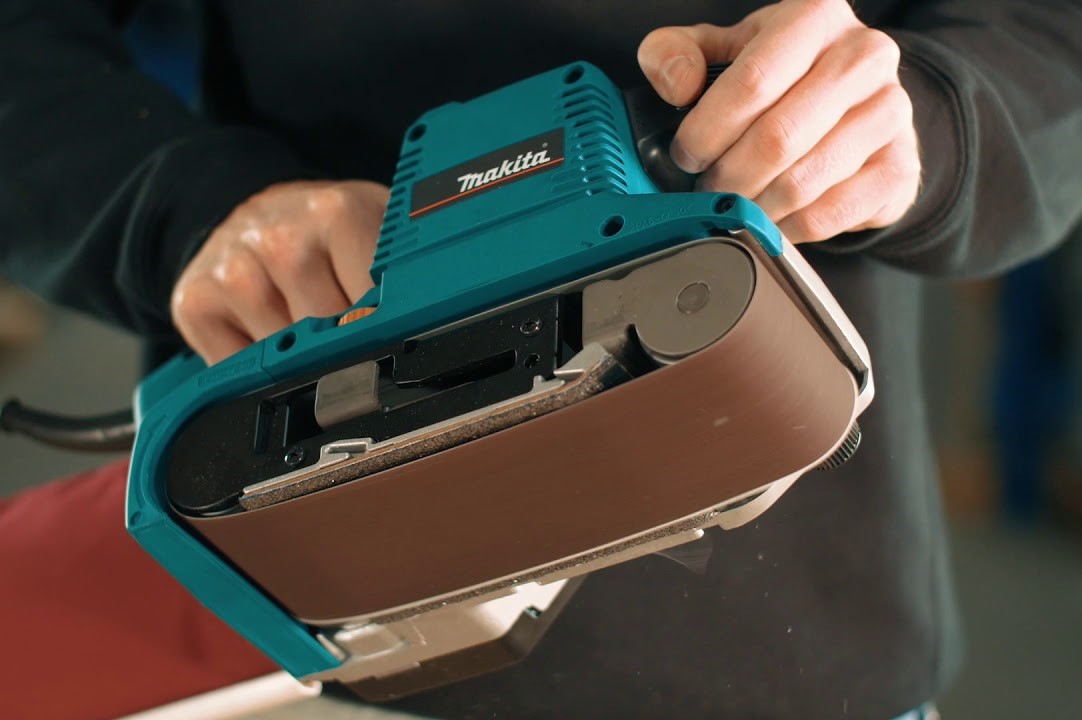 Adjusting the belt is one of the biggest problems in all the sanders. If the belt is loosened then it will fail to sand the surface of the wall, wood, or any other material evenly. This belt issue is one of the reasons why the materials get damaged. But not with this sander as it comes with an auto-tracking belt system feature. This system keeps the belt in the perfect position as required hence resulting in zero damage.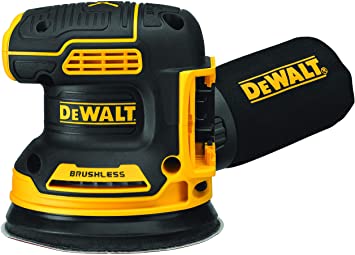 a. Why We Love It? 
Dewalt 20V comprises brushless motors which enable efficient operation without the fear of overheating.

fear of overheating.

Excellent speed control feature 

It has low height due to which means you can work closely to the surface 

Its grip is molded by texturized rubber for easy sanding.

This paint sanding machine has a 5Ah battery.

| | |
| --- | --- |
| Pros | Cons |
| ✅ Works an hour non stop | ❌ Not for really tough jobs |
| ✅ Great maneuverability | |
| ✅ Full speed control 8,000 to 12,000 OMP | |
| ✅ Rubber overmold grip | |
| ✅ Dust sealed switch for longer switch life | |
| ✅ Low height enables greater sanding control | |
| ✅ 3 years of warranty | |
This is one of the best sander for exterior paint removal with a total length of 10.38 inches. The depth is 7.25 inches and height is 6.2 inches. It weighs a mere 4 pounds. The orbit of this sander is 5 inches. This unit is powered by a 3 Amp motor.
b. Electricity Power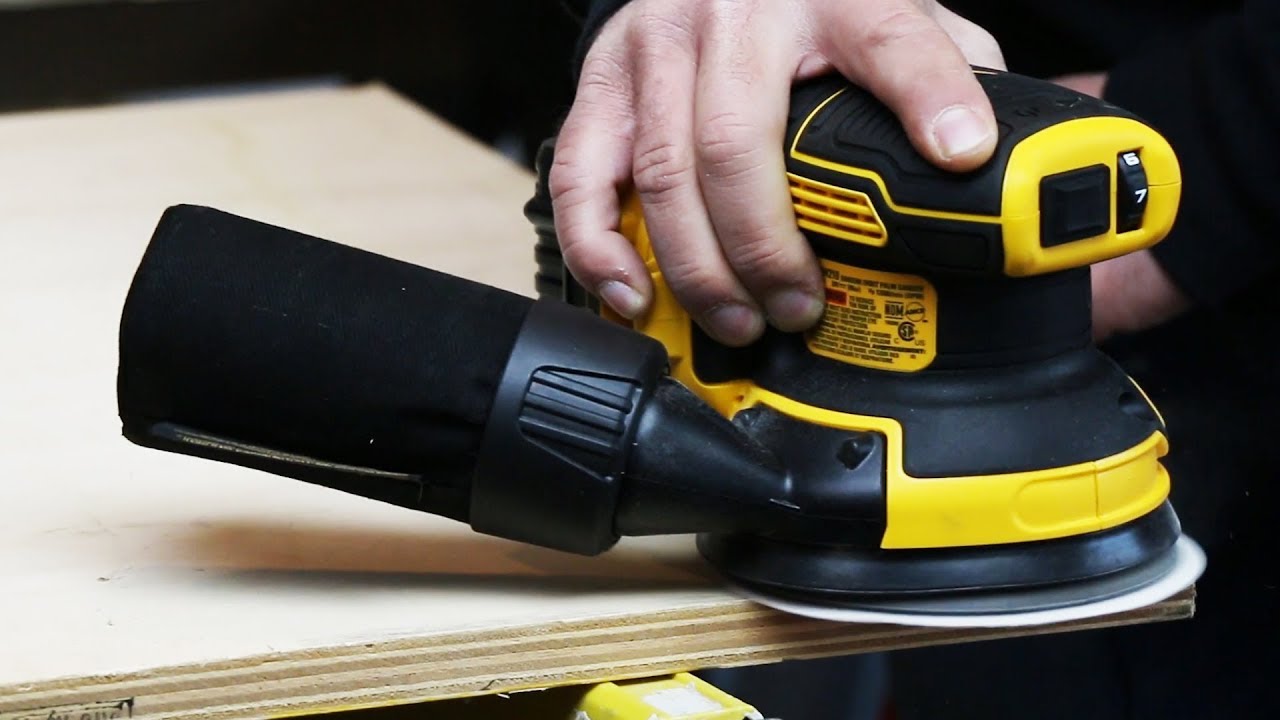 If you are looking for a user-friendly and easy-to-use sanding machine then you should be buying this one. You also get a small battery with this sander so you aren't always dependent on a wall outlet for power.
c. Hook and Loop Pad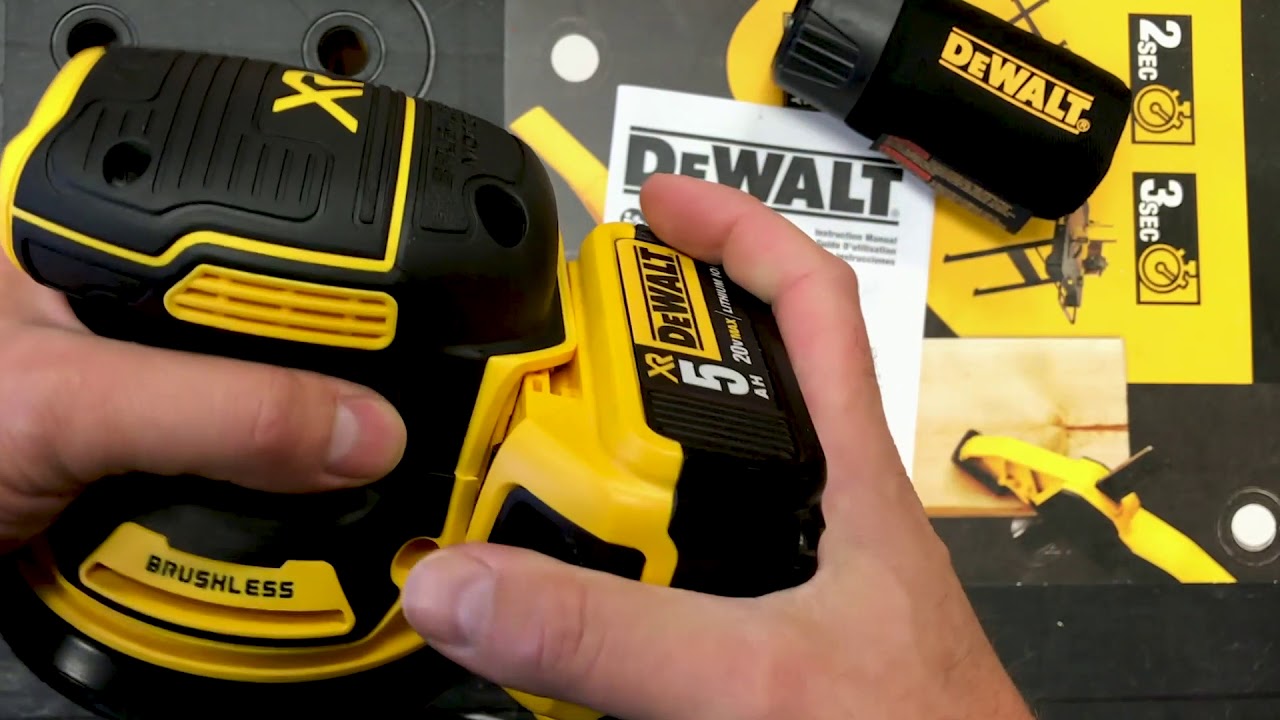 The pad is somewhat like sandpaper and grit type. Its hook and loop texture gives the surface an outstanding finishing with zero marks. So, if you want a perfect surface then go for this machine as it has proven to be perfect for a variety of surfaces.
d. Dust Collection System
This sander for walls has a dust collector which captures all the dust the machine creates. Another great thing about it is the dust collector is locked by a one-handed locking mechanism.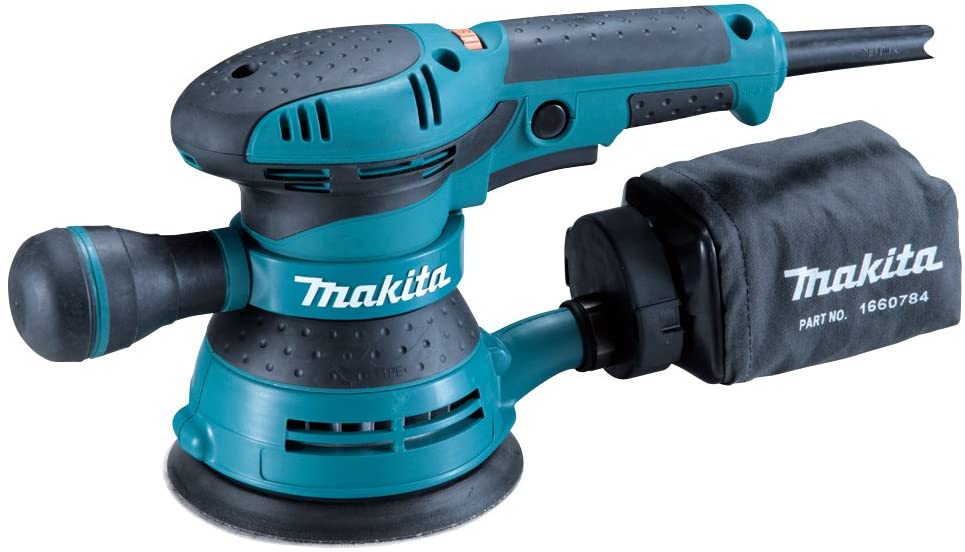 a. Why We Love It? 
It has extremely smooth and high-speed sanding with 3 Amp.

We love variable speed and BO5041 also comes with this feature.

It has a built-in dust collector 

It has the option to sand with two handles.

Its ergonomic palm grip is very comfortable.
The power is immense for a 3.0 Amp motor

| | |
| --- | --- |
| Pros | Cons |
| ✅ Changeable front handle | ❌ Cord a bit problematic |
| ✅ Orbit pattern is swirl-free | ❌ Dust bag could be better |
| ✅ Comfortable rubberized grip | |
| ✅ Powerful voltage (120V) | |
| ✅ Quality build | |
This sander for removing paint from wood has a height of 11.42 inches, depth of 3.15 inches and a height of 7.87 inches. The disc diameter of this sander is 125 mm and the orbit diameter is 2.8 mm.
b. Multiple Speed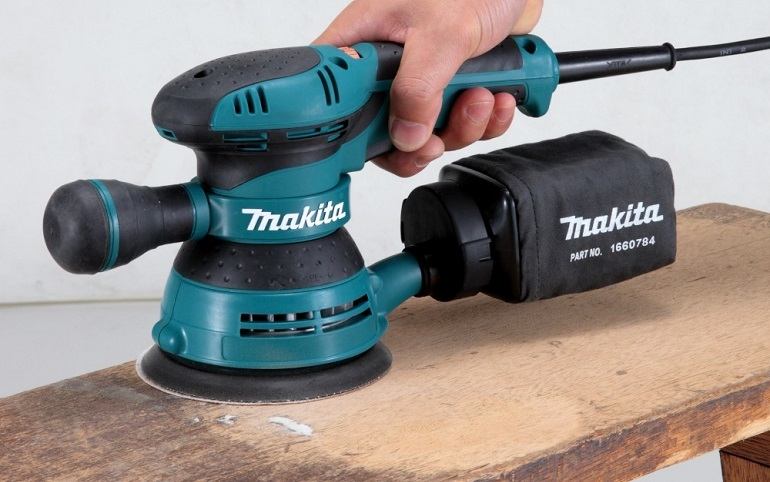 If you are wondering how to achieve light sanding in between coats of paint then this can be done by changing the speed of your machine. For that case, this sander is amazing as it comes with multiple speed settings. The speed of this sander can be changed from 4,000 to 12,000 RPM.
c. Removable Handle
This belt sander paint remover has this amazing feature in which you can attach a front handle. So, that you can control the machine with two hands. This feature makes it easier for the user to do his job with full control. If the housing of the sander comes in a way then the handle will be rotated.
d. Comfortable to Use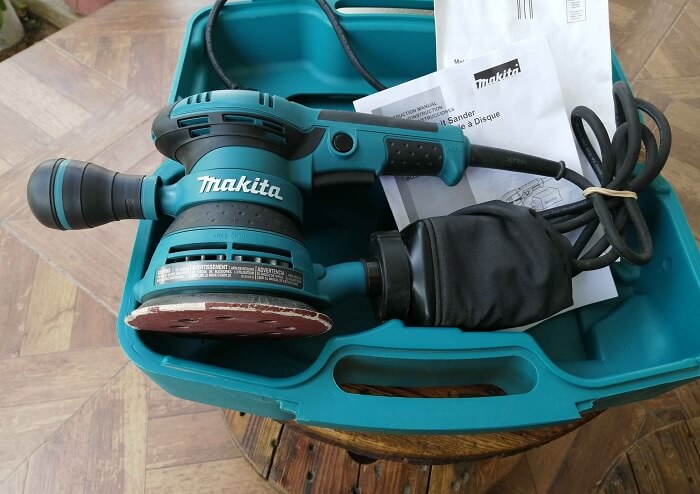 Working for hours with a sander can make your hand sore. The main reason for this is the hard handle. But in this machine, the handle is texturized with the rubber which makes the grip extra comfortable and you won't feel soreness in your hand despite using it straight for hours on end. All in all, this device is very comfortable.
This is perhaps one of the best sanders to remove paint from wood & other material.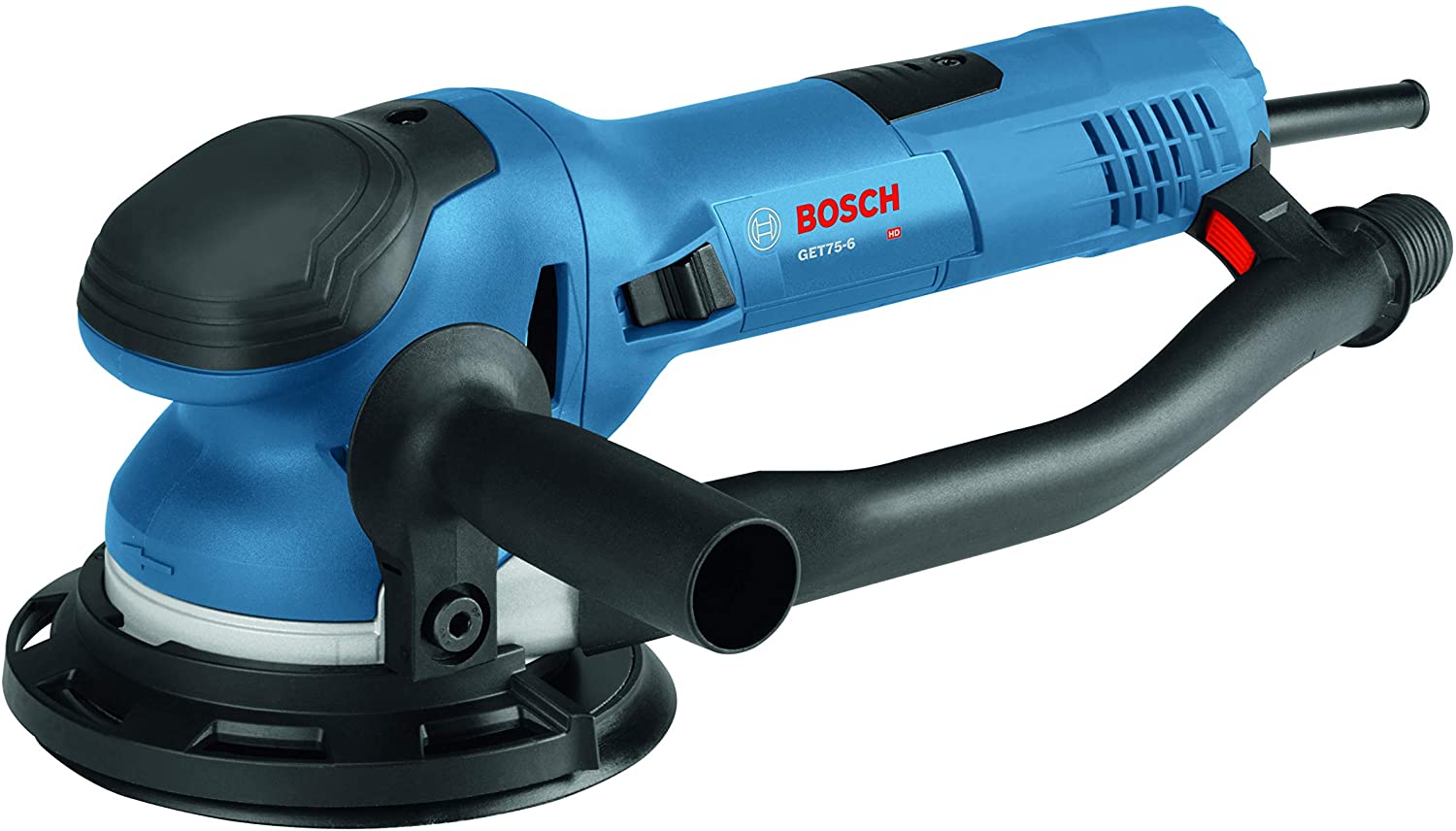 a. Why We Love It? 
It has an upgraded dust collecting system.

Has a side handlebar for great support and control.

Can also be used for fine flooring, woodworking crafts, inlay, carpentry, and many more tasks.

This already well-equipped sander comes with extra accessories.

The source of the power is corded electricity.

The hook and loop pad of this sander is microcellular which gives the surface a fine finish.

| | |
| --- | --- |
| Pros | Cons |
| ✅ User-friendly & lightweight | ❌ No backup pads available |
| ✅ High quality | |
| ✅ Gives perfect finishing | |
| ✅ Vacuum connectivity option | |
| ✅ Great for DIY | |
It has to be the best sander for exterior paint removal not for its features only, but because of its shape as well. The length of this machine is 15 inches, the depth of it is 6.3 inches and the height is 5.5 inches. This equipment makes sure to give you all the comfort with its side handle as well as through its dimension.
b. Advanced Dust Collecting System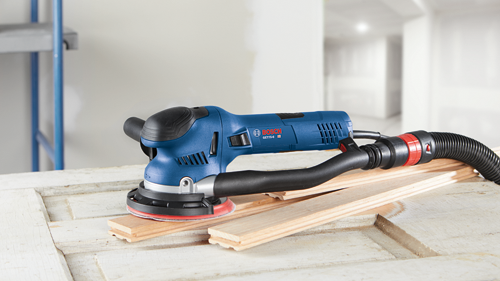 Dust collecting is an amazing feature but this advanced dust collector having a vacuum attached with it will surely surprise you. It is a paint sander with a vacuum which means if you use a dust collecting system that is based on vacuum then the passive dust collection system will increase your productivity.
c. Dual Sanding Modes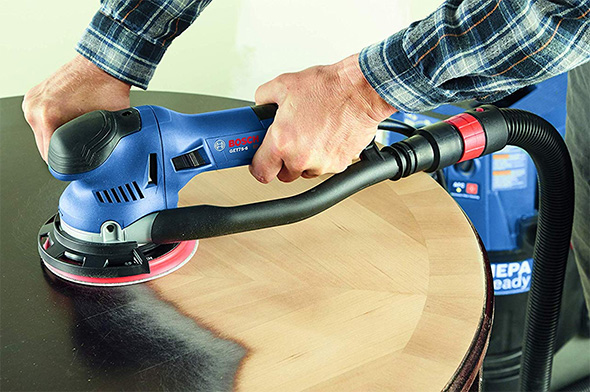 It has 2 modes; random orbit mode and aggressive turbo mode. 
Random orbit mode is used for the removal of normal stock and for final finishing. In fact this is one of the best random orbital sanders for this type of work. 
Whereas, aggressive turbo is used to remove the stock with 5x the normal speed.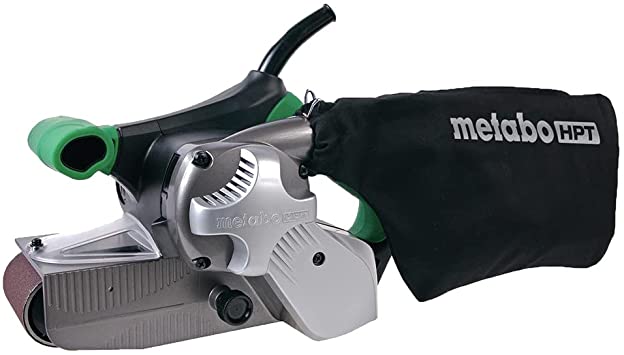 a. Why We Love It? 
A great electric sander for walls, it has an efficient dust collector.

The grip of the handle is very comfy

Metabo HPT Belt Sander is one of the powerful machines in the category.
Sander's tracking window is transparent which allows the user to keep track of work.
The speed dial, handle, and front cover are replaceable and can be upgraded easily.

| | |
| --- | --- |
| Pros | Cons |
| ✅ Sanding surface and sanding belt visibility | ❌ Sanding bag touches forearm, especially if you're right-handed |
| ✅ 9Amp powerful motor | |
| ✅ Comes with the auto-tracking belt system | |
| ✅ Very comfortable handle grip | |
| ✅ Does not make high pitch noise | |
This sander for great for walls. The length is 6 inches which is rather small in size but makes it easy to use. The depth of it is 6.75 inches and the height is 4 inches.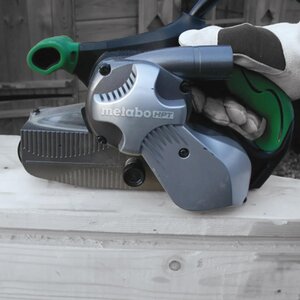 b. Great Performance
The best thing about this machine is the texture of the handle. Apart from not making your hand hurt, it also does not make your hand sweaty. Also, this machine reduces vibration as well which helps to improve accuracy, performance and comfort.
c. Dust Collector
Since the dust collector bag of this machine has to be fitted on the left side so it makes it easier to give great finishing on the corners of the surface. Also, despite its size the dust collector of this sander for removing paint works amazingly. So, if you are looking for a small size sander then this one is for you.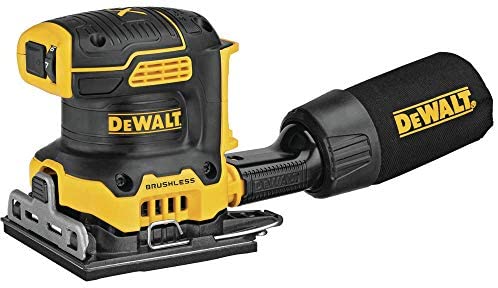 a. Why We Love It? 
This sanding-off paint machine consists of a brushless motor that has a variable speed option.
The design of this machine is low-profile making it ideal for paint stripping.
It comes with a dust collector along with a dust handy as well.
The power source of this machine is a 5.0 Ah battery.
It comes with a paper clamp that gives an easy paper installation option.

| | |
| --- | --- |
| Pros | Cons |
| ✅ Brushless motors give a great finishing | ❌ Feels heavy after attaching the battery |
| ✅ Efficient dust collector | |
| ✅ The grip is rubber textured | |
| ✅ Paper clamp available | |
| ✅ Budget friendly | |
| ✅ Powerful motor | |
| ✅ Versatile | |
The length of this power paint stripping tool is 9.34 inches. This machine is long because of its elongated heavy handle. But the great thing about it is the handle is rubber texturized which makes it easy to hold and comfortable to use. The depth of the machine is 5.96 inches and the height is 6.21 inches, which is a low profile design. It has a good capacity battery making it one of the best handheld sanders.
b. 7-Speed Dial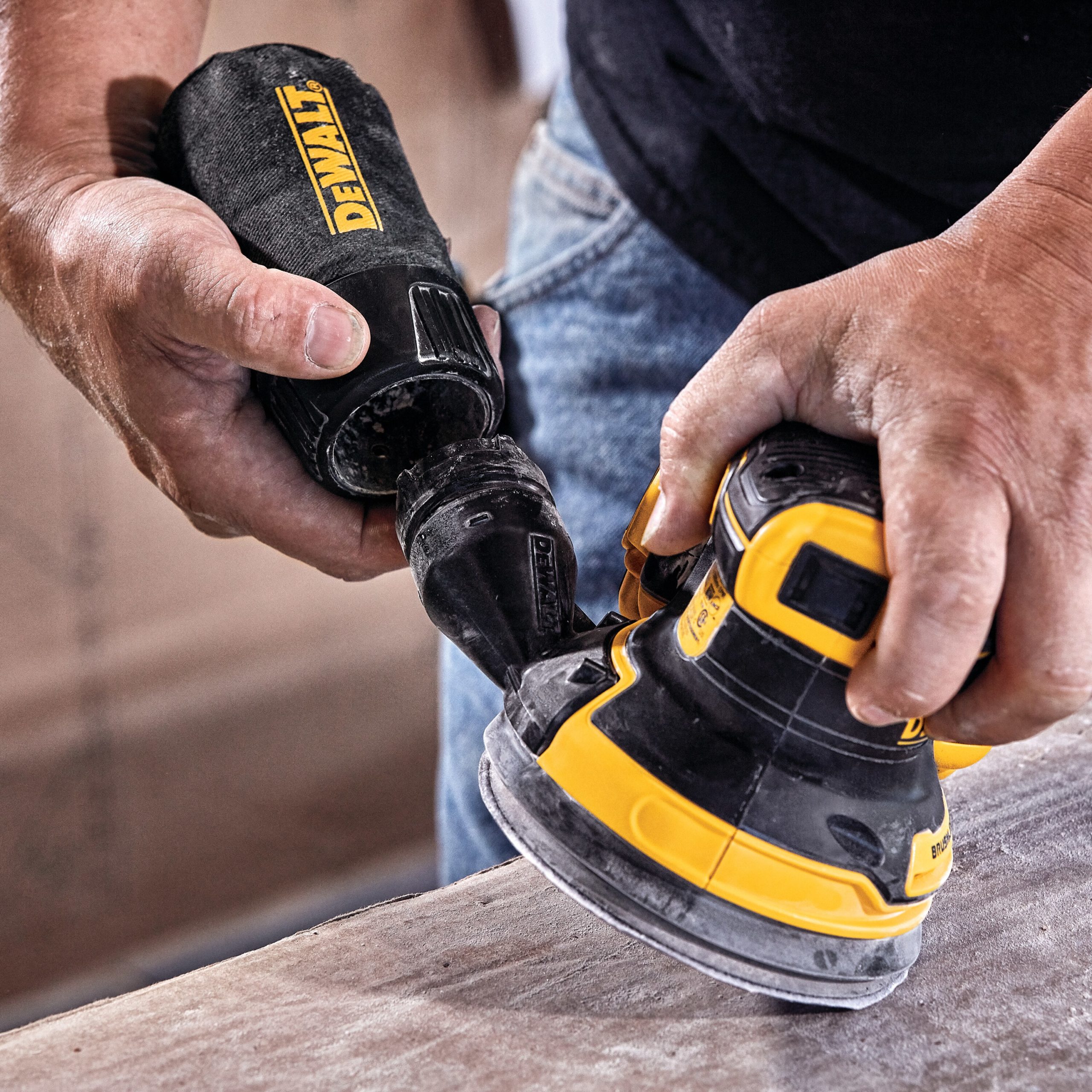 It has a variable speed option from 12,000 to 14,000 RPM that is achieved through a 7-speed dial. This electric sander to remove paint helps to match the speed of the application.
c. Dust Collection Port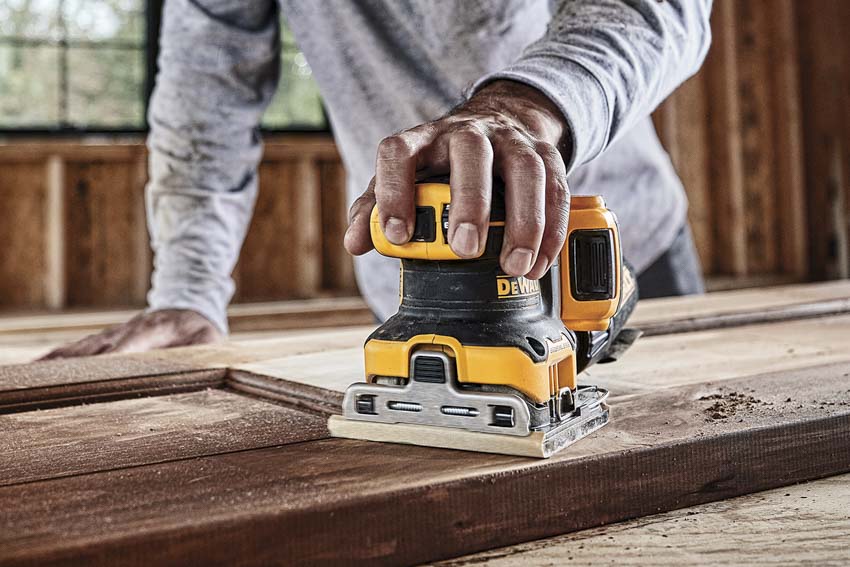 If you are someone who is extremely dust conscious or someone who doesn't consider buying equipment without a dust collector then this one is right for you. As it comes with a dust collector port which will attract all the dust particles and will not make any mess in the room.
d. Brushless ¼ Sander
Unlike other machines that come with loop and hook connections, this one comes with a sandpaper clamp. That is because of brushless ¼ sander, it helps the machine to get closer to the surface and gives precise sanding and detailed finishes.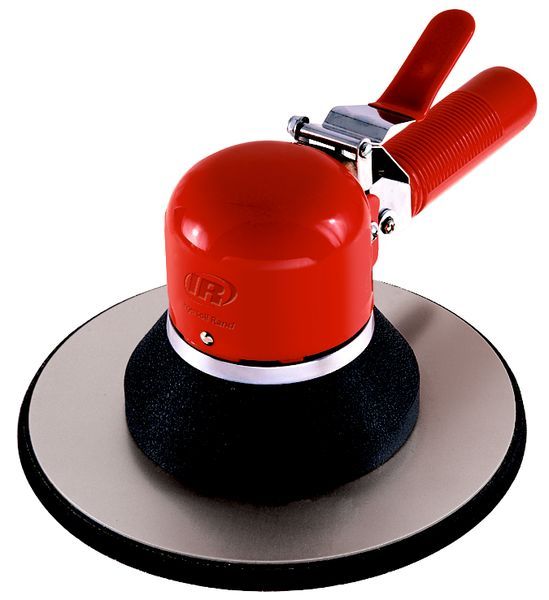 a. Why We Love It? 
Its dual-action pad motion provides you with effective rotational motion.
This machine comes with very low vibration.
Its orbital sander is heavy duty and is powered by an air source.
The ball bearing design of this electrical device is well balanced.

| | |
| --- | --- |
| Pros | Cons |
| ✅ Low vibration | ❌ Doesn't have a dust collector |
| ✅ One year warranty | ❌ No dust Collector |
| ✅ Easy to use | |
| ✅ Dual-action pad motion | |
The size of this best sander for walls is not huge but this machine is very heavy. The height is 5.7 inches, the depth is 12.4 inches and the length is 9.2 inches. And its fitted with an 8-inch dual action pad.
b. Dual Action Pad Motion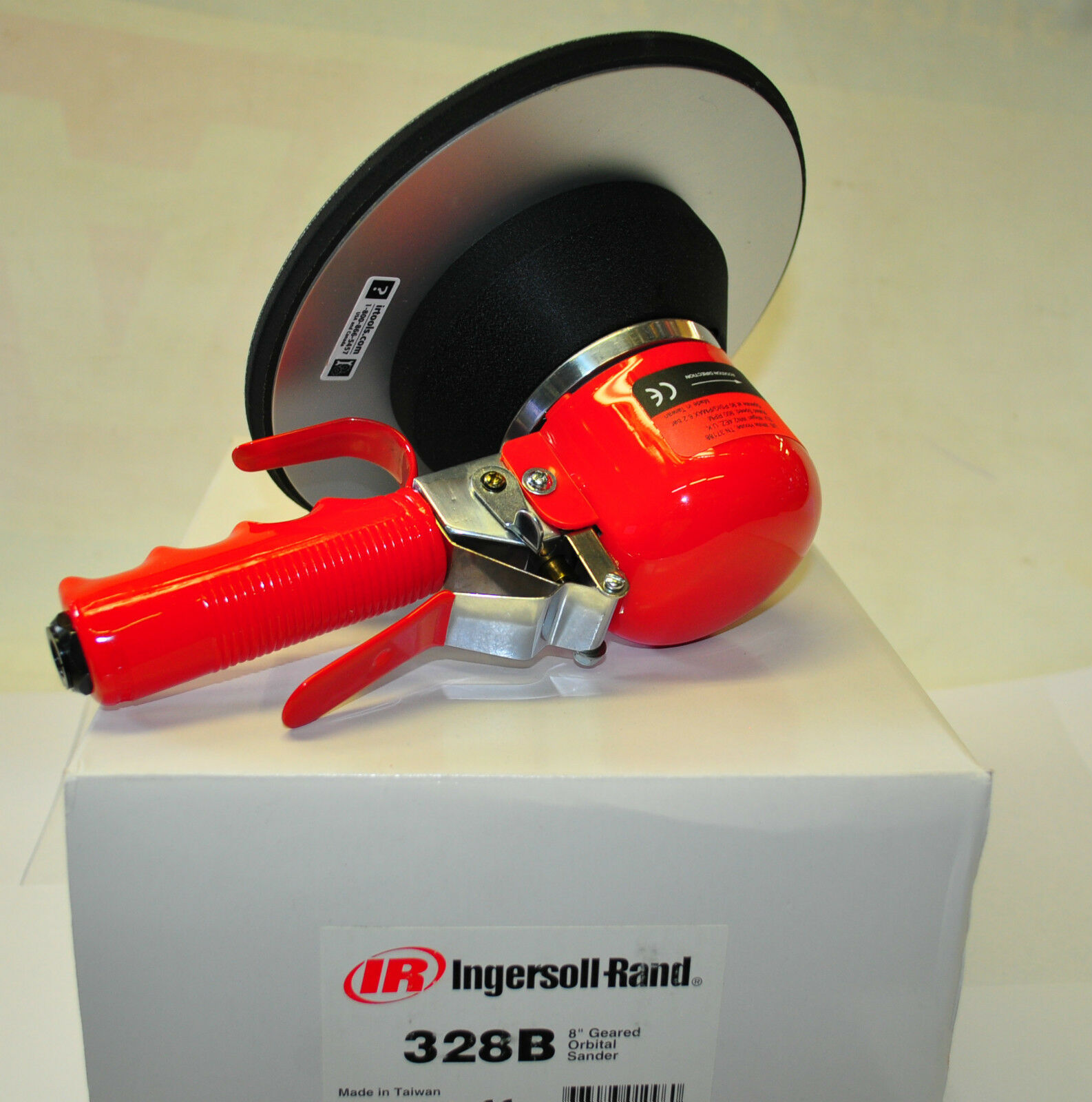 This feature is the highlight of this machine. The dual-action means two motions a rotation that functions in central action whereas the eccentric axis moves around the orbit. Both of these features work simultaneously which gives a great finish to the surface.
c. Very Powerful
This is the best electric sander for walls because the horsepower of this machine is 0.25 that also provides the users with 825 free RPM. Since it is powered by an air source the user fills it with 4 CFM of air intake. This intake is required if you want ideal performance.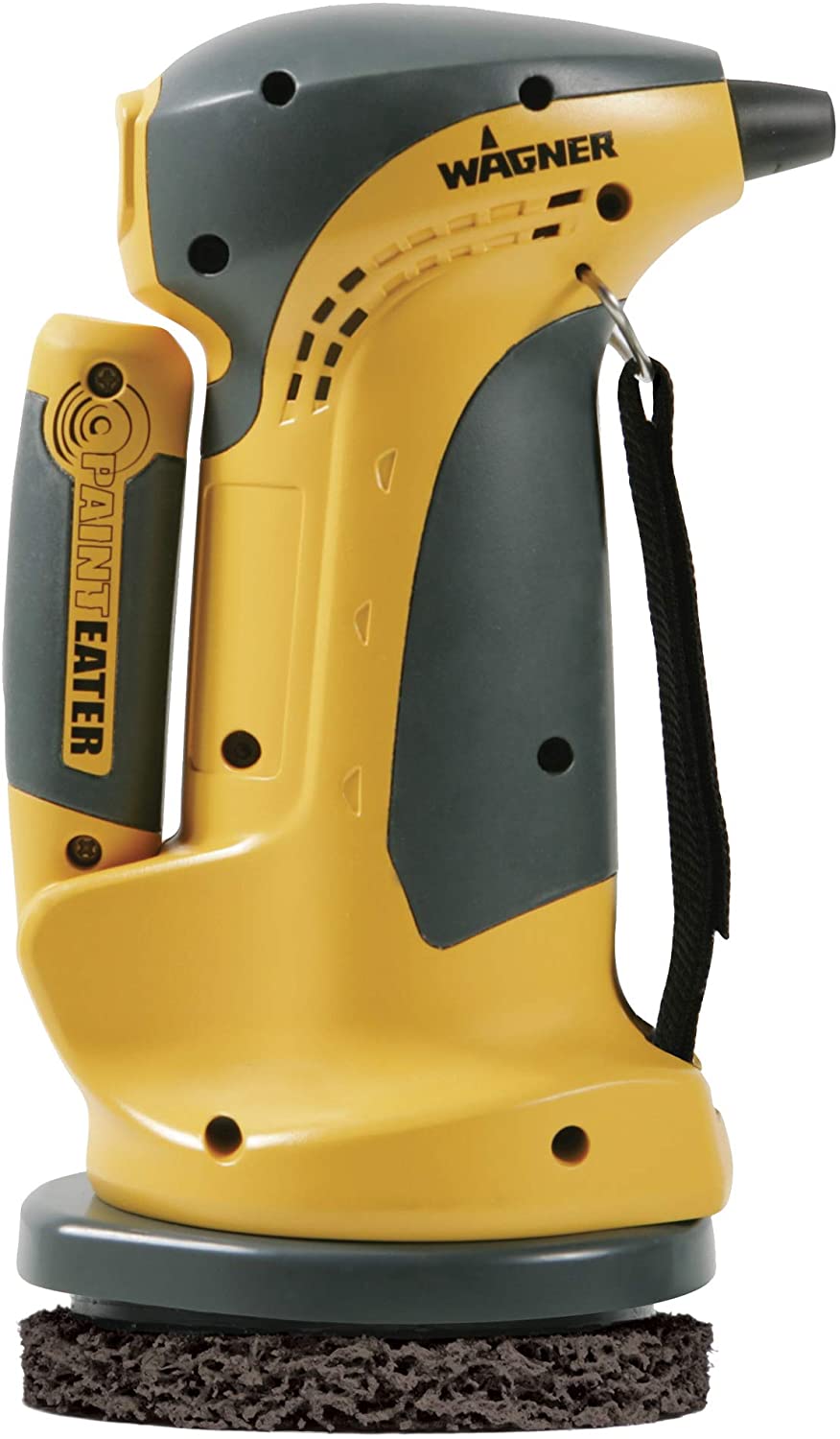 a. Why We Love It? 
This sander for exterior paint removal has an efficient spinning fiber disc giving a perfect finish to already chipped wood, car, steel, etc.
Also, a great sander for cars its disc gets attached to the surface so well that it doesn't damage it.
Can easily switch between one-hand or two-handed operations.
If the sander is on edge, it can be used to give a definite shape to the surface.
It comes with an adjustable handle as well.

| | |
| --- | --- |
| Pros | Cons |
| ✅ Removes paint without damaging the surface | ❌ Not good rough surface |
| ✅ Very powerful | ❌ Small disc for big projects |
| ✅ The handle is adjustable | |
| ✅ Great control | |
This sander with 4-1/2" inch disc might be tough on paint but it is versatile in terms of surfaces. So, if you are conscious about your surface getting damaged because of the sander then no need to worry about that.
b. Versatile Disc
This sander of 4-1/2" disc inches might be tough on paint but it is versatile in terms of surfaces. As it easily adapts to the surface and gives them whole control. So, if you are conscious about your surface getting damaged using the sander then no need to worry about that. As the great thing about this disc is, it does not damage your surface at all.
c. Paint Removal
Its a great sander for paint removal tasks. We all agree that paint removal is a tough and monotonous task. But Wagner Spraytech makes the paint removing process easier than ever.
3. BUYING GUIDE – Sander for Exterior Paint Removal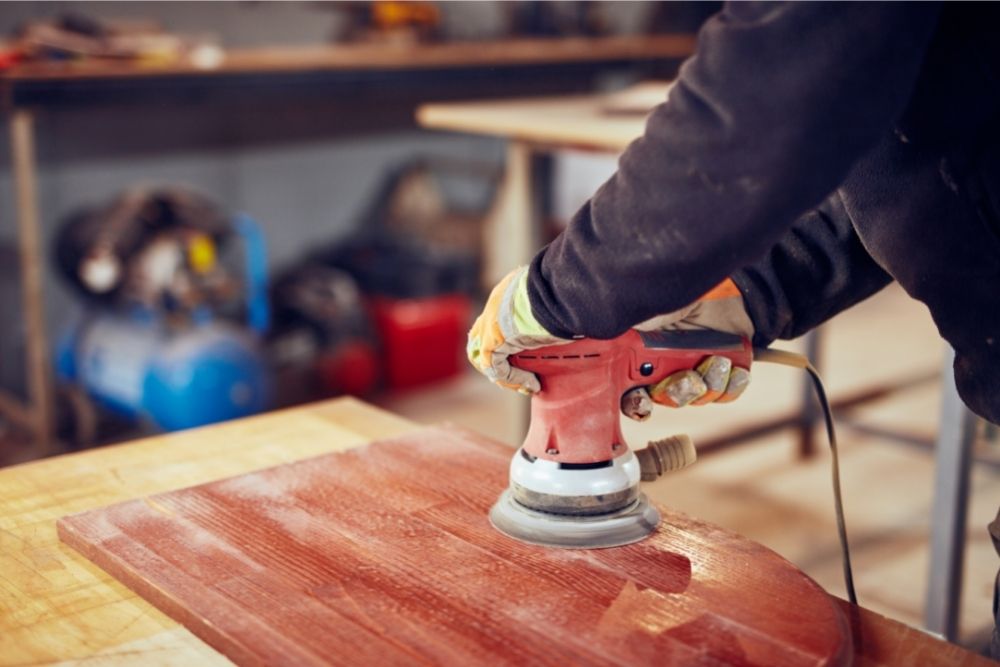 Here are all the important things you need to know/questions you need to ask to make sure you are getting the right product for the task. Theres a lot of differnet kinds of sanders on the market and choosing the right product for the job will make all the difference.
i. Things to Consider Before Buying
a. Power
Always make sure to buy a sander that is powerful enough to remove the paint off the surface. 
If we talk about the power quantitatively then the average power is 3 Amp whereas if you are buying a machine for for more demanding projects then 6 Amps will be the minimum.
b. Speed of the Sander
If you are getting this electric sander for walls, wood or any other surface don't forget to check its speed. The device works more efficiently if the speed is higher. Makes sure to check the RPM is 3600 or more. 
Now, if you are wondering what RPM is? It is rotation per minute. The faster the RPM the quicker it gets the job done and the smoother the finish. Ideally, you want a sander with variable speed so you can adjust it for different situations/projects. 
c. Plus Point For Speed Lock
If you are planning to work on a long-term project then look for the speed lock feature as well. This helps you to lock on speed so you arent constantly pressing down on the trigger.
d. Should Be Easy To Use
There are so many machines out there in which changing sanding pods or paper require is more complicated than it needs to be. So, make sure to opt for a machine that is easy to use as it will save your time.
e. Dust Collecting System
Sanding can get pretty messy pretty quick so it really helps to have a dust collecting system on the device. Also, don't forget to attach the vacuum to it.
f. Low Noise and Vibration
To get the smooth results you want a low vibration machine. Lower vibration levels also means the machine is a lot easier and more comfortable to handle. Also, low noise machines help to save your ears and make it a bit more comfortable to work with the machine.
g. Weight and Manageability
It should be lightweight and easy to manage. Don't make the mistake of buying a machine with short cords.
h. Cost & Maintenance
Lastly, be sure to invest in something that provides the most value for money & has low maintenance. We've got you covered here as all the products included in the list below are surely the ones that provide a bang for each penny spent
ii. Frequently Asked Questions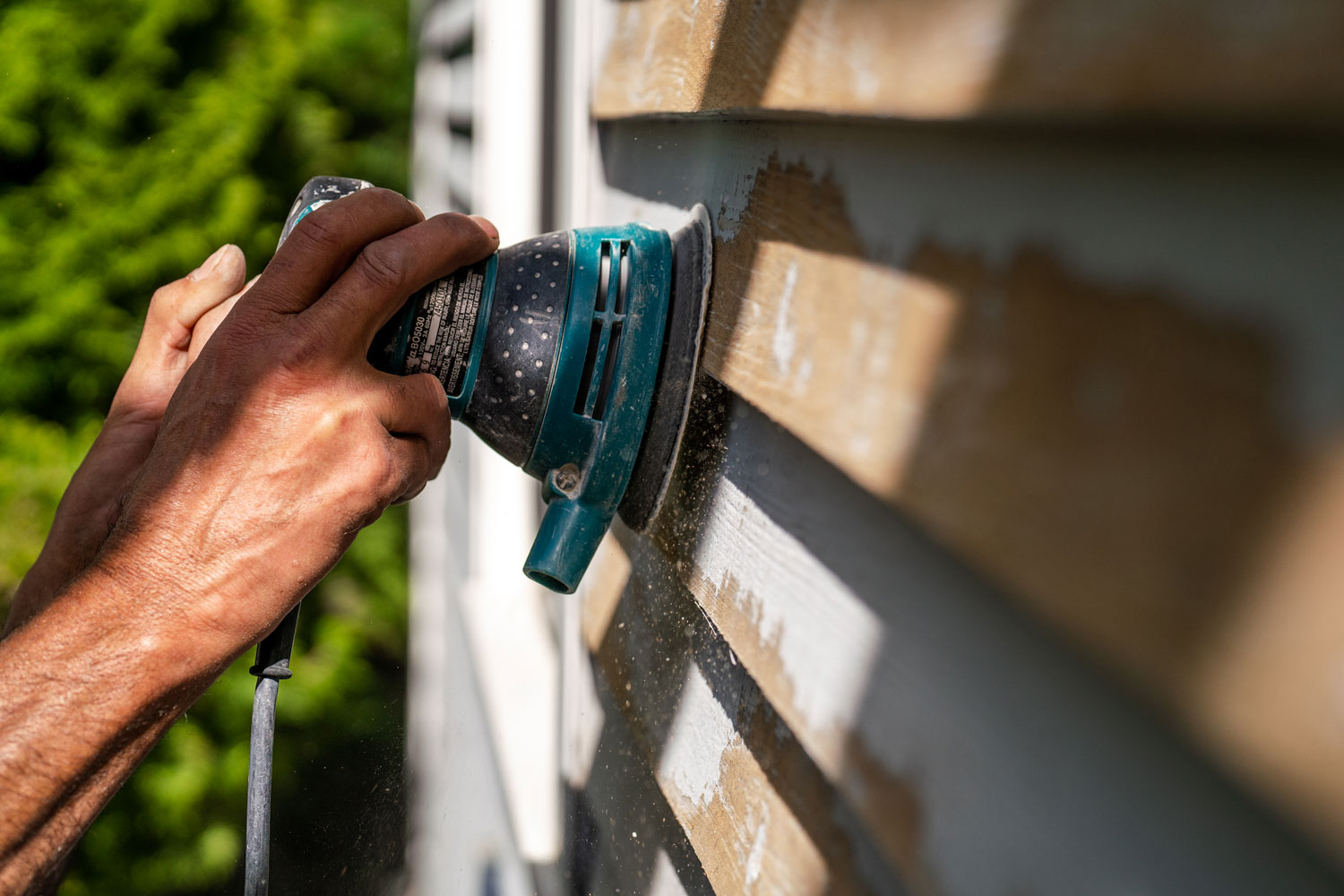 Here are some common questions you still might have:
a. How to choose the best sander? 
Choosing the right  sander can be tricky. The main things to look out for are; what features you need and what is your budget? Then look at the features and consider all the things that we have mentioned above and go for it.
b. How to take care of your sander? 
It is not as tough as it seems. Here are a few pro tips to make sure your sander lasts:
Don't use it on wet surface

It would be better to sand a rough surface manually before using the sander

Wash the disks regularly

Don't use it continuously for long hours as it might heat the machine

Don't put too much pressure on the machine

Store the machine in a dry place.

Use voltage protection to prevent overvoltage damage to the motor
c. Where can I buy the perfect sanders?
You can buy them in brick and mortar store. However, buying online saves time and money, you get better deals, and you also get to see detailed reviews about the product so you can make a more calculated decision.
d. Why is orbital sander better than all the other types? 
That is because it has more orbits per minute. Which brings great finishing to the surface and they are easy to control. They are often considered best sanders for refinishing furniture. Also, they are much calmer compared to other types.
Here are a few great tips on how to properly use the orbital sander.
e. Can we use an orbital sander to remove exterior paint? 
Yes, you can! But make sure to follow all the safety precautions. As in wearing the goggles and breathing masks to avoid yourself from the dangerous dusk particles. Also, don't put a lot of pressure on one spot and keep the machine moving.
f. How many types of sanders are there? 
There are so many types of the sander. But the common and the famous ones are; belt sander paint remover, orbital sander, shaft sanders, power drywall sander, and arbitrary circle sanders. 
And the most used ones are the belt and orbital sanders.
4. Conclusion
So, which one of the above-mentioned products is most suitable for you? 
We hope this review helps you out choosing your best sander! 
Do not hesitate to reach Team WoodyManReviews if you still have any questions or need suggestions. We're always there to help & accommodate our esteemed users. You can contact us at the given info. We'll reach back as soon as we can.
Latest posts by Ethan Thompson
(see all)