All wood crafters own wood planers. Period.
A skilled woodworker can breathe new life into a rough and thick woodblock by crafting original woodwork. But no magic spell can allow a plainer woodwork
A wood planer can elevate the wood crafting skill by adding more perfection to the required material. No matter if it's a home planer or a professional grade wood planer, you need to buy it carefully for more extended use.
Buying the right wood planers is no more a nightmare.
Join me by reading the guide so that you can have apt knowledge of buying your best wood planer.
What is a wood planer machine?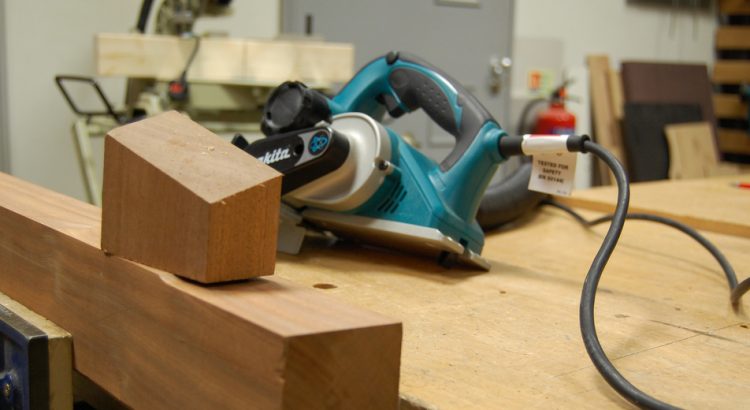 To get a professional touch to the wood projects, you need to trim your woods to fix them according to the design more precisely.
This perfection can be achieved through tools when you trim your wood. 
Wood Planer is one of the tools that help you resize your wooden boards. It sharpens your wood boards, makes their thickness aright, or flattens the surfaces to prepare the right material for your woodwork projects.
You can call it a surface planer.
Let me explain its usage a bit more so that you can define your needs more clearly before getting a one for you.
What does a planer do to wood?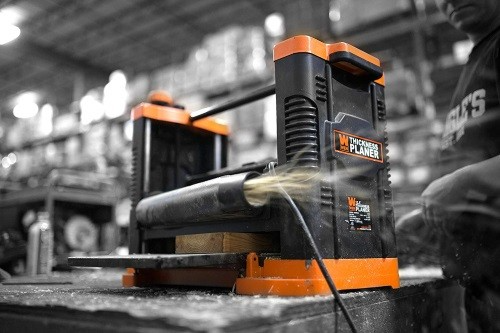 A wooden block with rough edges and thick surfaces can not serve you for your wood projects at all.
All you need to do is get a hand on a power wood planer to shape your most perfect construction blocks.
Wood planers are available in different sizes and weights to accommodate the workspace and nature of work.
Can you imagine the scraping of a butter block with a knife? Yes, the wood planer does the same with woodblocks.
The types and jobs of wood planers vary. But most commonly, a planer can
Smooth the surface of the wood

Trim the thickness of the wood

Squaring the wood
Wood planers are supported with powerful motors that allow a one-pass transformation.
Larger wood planers mostly consist of a cutter head with cutting knives, a roller for drawing the wood board through the machine, and a table that can control the board's thickness.
Portable and handheld wood planers not only differ in their construction but also in their job.
How do you use a wood planer?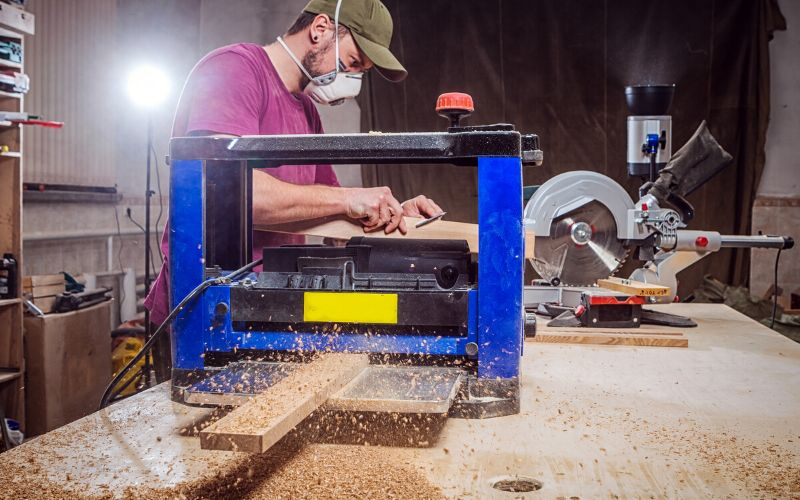 A power wood planer is an excellent option to trim your board more evenly beside a hand wood planer.
To finish your board more uniformly, make sure that you put the board rightly in the power wood planer.
 Wood planers are easy to use and prepare your material for the next project in no time.
Create a reference face of the board that should be laid flat on the wood planer's table.

The moment the board is in contact with the in-feed roller, it will grip it to draw through the cutter.

The cutter head will clear the rough surface of the opposite side.

The outfeed roller will help the board to eject.
Reference face can be made through the first pass through or from Jointer.
Caution: Keep the lower face surface flat. The feed roller pressure can deform the board if it's not flat.
What are the different types of wood planers?
I have been telling you many times that there are numerous types of wood planers that not only look different, but they also perform differently.
In detail, let's discuss the 5 major types of wood planers so that you can classify them according to their work and your needs.
Manual hand wood planers
These types of wood planers are made for manual use. They are comparatively smaller and portable.
Hand wood planers are available in block planers, smooth planers, jack planers, etc. They are good portable wood planers.
Why are they worth buying?
They are less costly

They are not noisy

They may help you flatten the surface in areas that a powered planer can't reach.

They are portable
Electric hand wood planer
These wood planers also fall in the portable and compact class. They are handheld, yet they are powered by cord or batteries.
These portable wood planers are more commonly used as they are great time savers.
There are further two types of the powered handheld wood planer, straight and curved.
Straight planers are mostly used to shape the wood and smooth the surfaces. They are suitable for carpenters, home manufacturers, and also for homeowners.
Whereas the curved planers are designed to shape the wood into arches and arcs.
Why are they worth buying?
They are fast in performance

They are portable

They are more practical in their functions with wider cutting heads.
Benchtop wood planers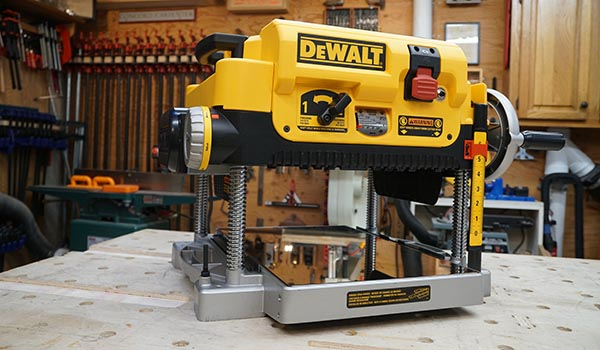 A wood plane machine that rests on the benchtop to plane your wood boards is a benchtop wood planer.
It planes the wood and adjusts its thickness, and with its 6 inches wide cutting head, it allows different lengths and widths to go through. The tabletop planer is lightweight as compared to the stationary planer.
Why are they worth buying?
They are good for shorter and thinner boards.

They are more budget-friendly than stationary planers.

They are lightweight and easy to manage.
Stationary wood planers
These planers are mostly used for professional-grade work.
It is heavier as compared to the tabletop planer. They can do the job without a benchtop position.
Stationary planers are more powerful and fast in their performance.
Their wider cutter heads allow them to deal with a variety of wood lengths and widths.
It can be more expensive than the other options discussed before.
Why are they worth buying?
They are good to handle various lengths and widths.

They are more powerful and faster.

They are more suitable to meet professional needs.
2 in 1 Planer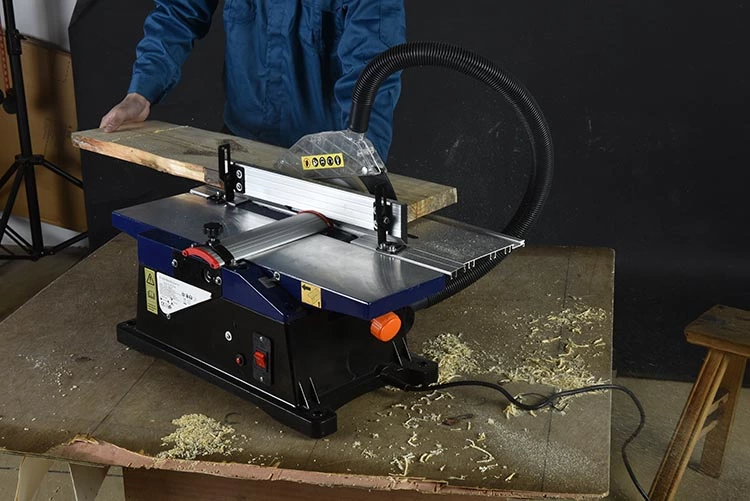 2 in one planer performs more functions. One planer can be your planer as well as a woodcraft jointer or a molder too.
This can cause lesser expenses and the hassle of switching to two different tools. It's also attractive as it saves the energy and cost of maintaining the two tools.
Jointer helps in squaring the boards.
Molder helps in molding the thickness.
Why are they worth buying?
They are good for saving money, energy, and time.

They are more functional.

They can create a perfect material for any woodwork job.

They are equally good for professionals as well as homeowners.
Are wood planners worth it?
Do you think you can go for your next DIY project or professional work without actually trimming your wood?
If not, then you definitely need a thickness planer.
Wood planers are required at each role where you think the perfection of the material is involved.
A door in your living room may be stubborn enough to open smoothly. How are you going to fix that?
Yes, it can be a wood planer that can ease a concerned homeowner's job or help the professional glue some smooth and well-trimmed planks to make a woodwork job look perfect.
A variety of wood planers and their details will help you buy a one that meets your work demands. So, choose one that is desired to finish the work without much hassle.
The right choice will present the fact that it was worth buying a tool.
So, make it a home planer.
What should I look for in a planner?
To buy a powered wood planer, I would recommend considering some factors that can add real value to your purchase.
The knowledge of a product can help you buy the most required thing.
So, let's check the factors that are worth considering before buying a powered planer.
Cost
I know the most important factor is the cost of buying any product. But tools are not diverse in terms of the price range, so fix your budget and check the versatility.
Other than buying a budget planer, add value to your purchase.
 Most of the wood planers are also backed up with a warranty. Warranties, most functional parts, and constructional designs add to the worth of a product by allowing a top-notch performance. 
Moreover, the maintenance cost can also cause a good budget for you. So consider these into the cost of your tool. Buy a user friendly low maintenance wood planer.
Motor power
The first and foremost factor that will affect your wood trimming experience is the motor's power performance.
There are a variety of power motors dedicated to the planers. Other than size, the nature of the job also determines the power of the motor.
Mostly 5 to 6 amp power is considered good by indoor woodworkers. Yet you can add more if you need to work on larger projects at the larger workplace.
Feed rate
Feed Per Minute is a measurement that adopts a speed while you put the woodblock in the plane machine, and it applies the action of trimming to it.
The lower the FPM, the slower the machine feeds the wood.
So, if you are a professional looking for a wood planer for woodwork at a fast speed and accurate performance, consider this rating as well.
Some other essential parts
After speed, cutting depth, and cutting blades hold great importance in an electric planer's performance. Carefully read the specifications.
Carbide blades are more durable, and they also deliver good results as compared to HSS. Blades will determine the cutting depth and the bed width also add into the form.
So, to get the desired results, set your bed/table properly, adjust the width according to the wood board as this can bring the right trim to the surface.
You can also consider the length of the cord according to your work area. 
Longer cords are better so that they can have a good reach. If you need to transport your tool more often, winding a long cord can be a hassle. So always consider it according to your needs.
In order to make your tool more versatile and convenient, check the location of the chip. Left or right locations are more functional that allows greater ease of use.
User-friendliness
While selecting your most desired wood planer, keep the complexities of its operations and other functions in mind. Try to find a user-friendly wood surface planer that can be easy for you and fulfill your needs.
Efficiency
Do you think the efficiency of a tool depends upon its speed only?
Let me clear this myth.
The efficiency of a tool is completing a task within the required time with all its desired finish.
So if your surface planer has got power, sharp accessories, appropriate construction design, you have reached the right tool. 
Safety
Your safety is our topmost priority.
So, keep all the safety measures in mind before buying and even while using the wood planer.
Read the manual instructions carefully before the installation or operation.

Place the

surface plane

r at a safe place so that you can keep children and pets away from it.

Always check the cord properly before switching on the wood planer.

Always use a dust mask, goggles, and earplugs while operating the

wood planers

to avoid any serious harm or injury. 

Don't put wood blocks until the blades are at the highest position.

It's preferable to use a push blocker.

Never left a wood planer or jointer unattended.

Never exceed the limited capacity of the wood planer by putting an extra size of wood.

Maintain your tool timely and clean beforehand after every use so that particles or any other liter don't harm its performance.

Keep updated the dust bags and other accessories.

Avoid any contact while operating.

Avoid loose dress at the workplace and also tie back your hair or any other accessories.

Unplug the tool after each use.
Some top brands for wood planers
DEWALT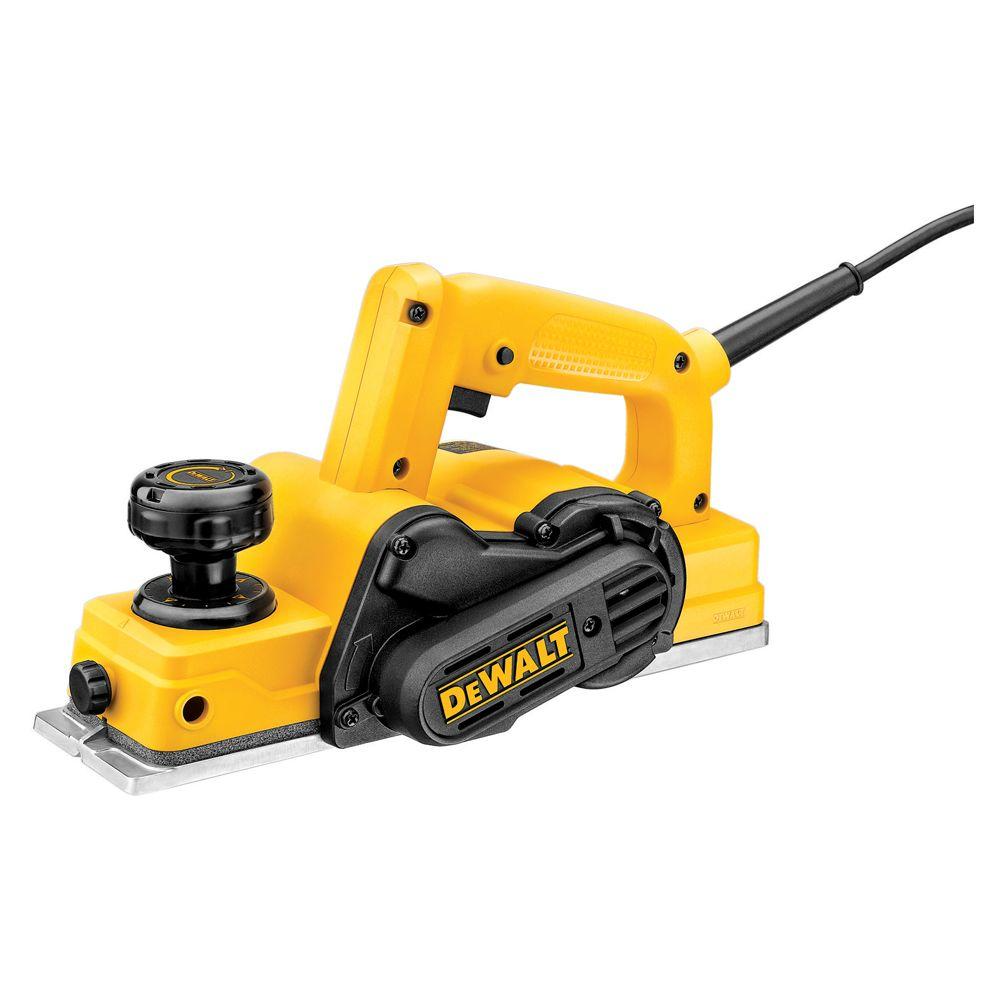 DEWALT is a reliable name in the tools industry. Years after years, they have maintained their top spot by delivering durable and top-performing tools.
As far as the wood planers are concerned, DEWALT manufactures the most functional parts. Variable speed with a wide base and sharp yet durable cutting knives make the DEWALT wood planers outstanding.
Moreover, they offer quiet and constant operation for the perfect outcomes.
User friendly quality with well-made construction is applied to all the tools made by DEWALT.
Their bench planer may cost comparatively higher, but their quality is worth that price.
WEN
This brand is going to offer a fast feed rate that is remarkable, along with other functional features.
WEN is a preferable brand by many professionals as it is not only delivering durable top-performing tools and budget-friendly tools.
Fine cutting knives with tune depth adjustments the thickness planer by WEN is presenting a perfect finish to your boards.
Most of WEN's models are made to deal with raw stock, so if you mostly deal with raw stock, WEN is your true mate being a budget planer too.
Also, check out their bench planers!
Matika
Matika is known for its compact designs and sleek looks.
Its wood planers are made lightweight and more easily portable.
Matika is nonetheless any of the others in terms of quiet and smooth operation. These wood planes are good in their speed and planning. The only thing not allowing it a higher spot is their high prices.
Lumber planners are good at Matika with fast speed and variable adjustments.
Porter
Another reliable name among the tool makers. Many professionals like the portability and built of the Porter tools.
The surface planer by Porter is made with dual dust extensions that help them achieve smooth planning.
Moreover, it's the most convenient tool made by Porter. It's lightweight, and its depth adjustment qualities made it perfect in terms of performance.
They are good as a budget planer.
Grizzly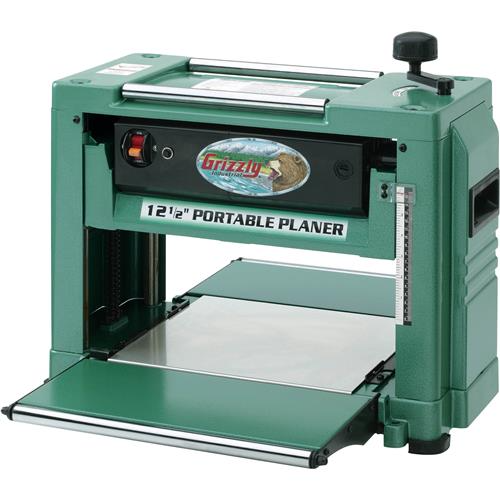 Grizzly is making its place among tools manufacturers. Its best features for wood planers are its fast feeding speed and perfect planning. Though it has hardly a three-blade cutting head yet, it's marking its name high by an impressive performance.
It's also made lightweight and easy to transport. Its accuracy in work is not matchable.
Its bench planer falls in the range of low priced products that you can easily afford.
Delta
Delta is another attractive option in wood planers. It has three knives and a cutter lock that can provide a peace of mind while working with your wood planer.
To some extent, it can cause maintenance problems. Other than that, their good speed and feeding rate can finish the wood more precisely.
Delta is there in the business for more than 90 years. It provides attractive warranties and powerful performance to tools to know their customers and their needs very well.
Wood planers by Delta are perfect for casual use.
Essential Features of Wood Planers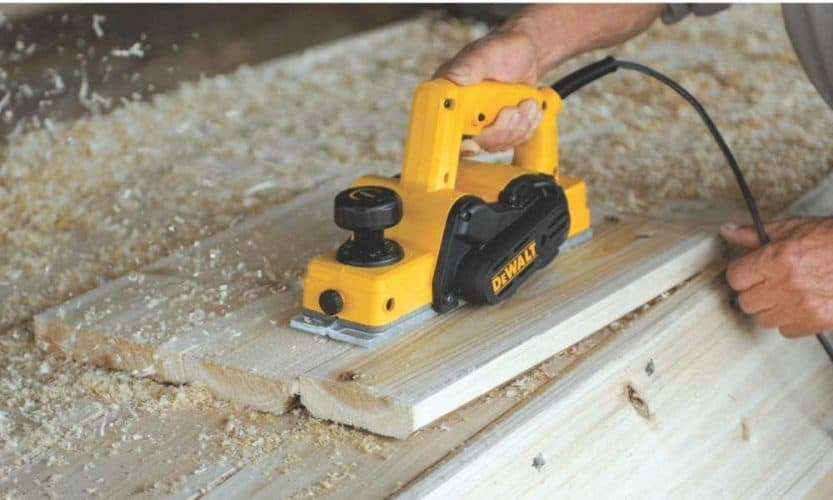 Wood planers are given some outstanding features so that you can create a perfectly smooth material for your upcoming woodwork job.
 Let's check the features in detail to know the right features before you buy it.
Features:
Thickness
Whether it's your workshop or home where you are going to use your wood planer, it should be easy to handle and serve the purpose well.
Handheld wood planers can also make the surface of the board smooth and even. But it can take more time and energy to reach perfection. If the board is not straight and you are working on its thickness, it may not result in the desired way.
So, an electric wood planer is more appropriate for making the surface even, trimming the board, and cutting it into a well square shape.
There are various types and sizes of the thickness planer that can be bought according to the nature of the job.
Yet the most commonly used wood planers are electric hand held wood planers and benchtop wood planers.
Stationary wood planers can also be a good option for professionals. The rest of the types are more expensive and serve well for larger work areas.
So thickness can be achieved well with any thickness planer, and you can analyze this feature by looking into the details of its parts.
Cutting depth
The purpose of buying a wood planer is to cut the wood properly and even shape, so it depends on how raw your stock is.
If you need to clear your wooden boards to a certain roughness level, you may have to pass it through many times to get the required result.
So cutting depth can tell you how many passes you need to get a clear and formed material to achieve a plainer wood.
Many of the wood planers offer cutting depth 1/16th of an inch at a time. You can also find a wood surface planer with a 3/32nd inch to complete the job in lesser passes.
But be careful while selecting a wood surface planer according to cutting depth if you are dealing with softwood and delicate work. Deep cutting can cause tear-outs or ruin your material at once.
So, in this case, you can opt for a less deep cutting planer with more passes to reach the desired result—a perfect plainer wood.
Dust Collection
Many high-end wood planers offer dust collection facilities that lead to a cleaner work area and top performance with a clear tool bed. It can also lead to a less hassle of maintaining your tool.
Benchtop wood planers are mostly added with dust collection ability. 2 ½ inches to 4 inches dust ports are designed to get dust collection more easily.
You can also add a converter to attach to the dust port to collect dust efficiently. Small portable wood planers lack this feature.
Conclusion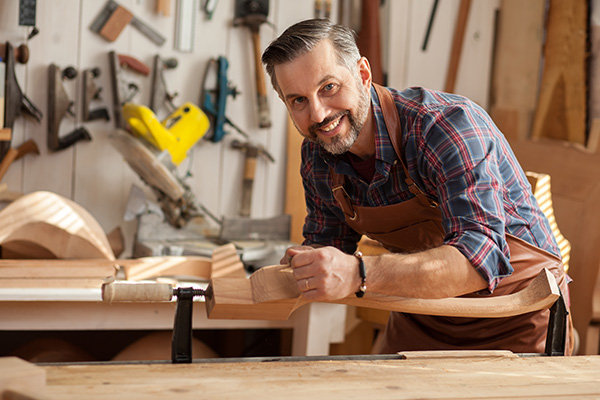 Be it a home planer or a professional aid woodcraft jointer, invest in rightly.
These tools are going to take the place of your woodwork burden by adding a skilled performance to your craft.
Choose wisely and get your mate to add depth to your work more than before.
Latest posts by Ethan Thompson
(see all)