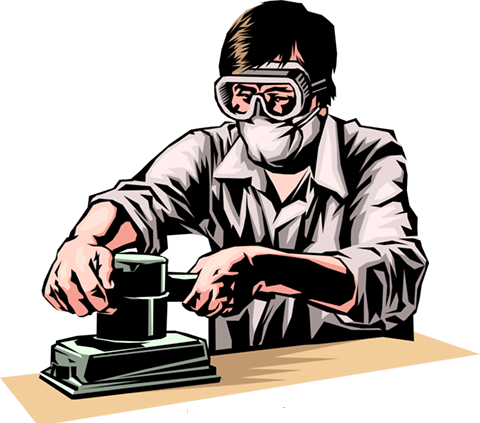 Sanding isn't that difficult when you invest in the right sheet sander.
Sheet sanders are meant to exceed the efficiency of any sanding job when you are working on wood and a variety of other material surfaces. Because though giving a good workout to your arms sounds good, using sandpaper to manually rub surfaces isn't the ideal way to go! The fast motion of electric sanders assures tackling large jobs easily. Hand sanders come in handy when you need particular precision for detailed work only.
But first.
Points to Ponder
When you are buying a Sheet Sander there will be a dozen options to choose from. But what is the ideal Sheet Sander for you? We have noted down some features to look for in your Sheet Sander. The goal is to improve comfort, efficiency, and portability for you.
Integrated dust collection: Every worker needs to keep their workspace neat.  With a sheet sander that features a built-in dust bag, you can remove the reusable bag to empty the mess once the work is accomplished.
Look for Ergonomic grip: A rubberized ergonomic handle purpose provides you comfort, which you will appreciate if you work long hours.
Pressure indicator: This will help you get a perfect finish as you can keep a check on the pressure. It illuminates when ideal pressure is applied. It makes it more convenient to get an even finishing off your surface.
Cordless design: Moving your Sheet Sander around is a norm for regular workers. Thus, a cordless portable design is important. You can also look for lightweight power sanders.
Keep note of these things in your mind when shopping for electric or battery-powered sander tools. Your ideal Sheet Sander doesn't have to have all these qualities, but it has more to do with your sense of comfort and its portability to cater to your construction needs.
Apart from that, another thing is to consider the nature of your workload and the kind of material you want to sand. These basic requirements shall be based on your needs.
Now Let's Dive in!
Best Sheet Sanders 2023
Here are our picks for the Top Sheet Sanders that will do it just right.
1. Makita BO3710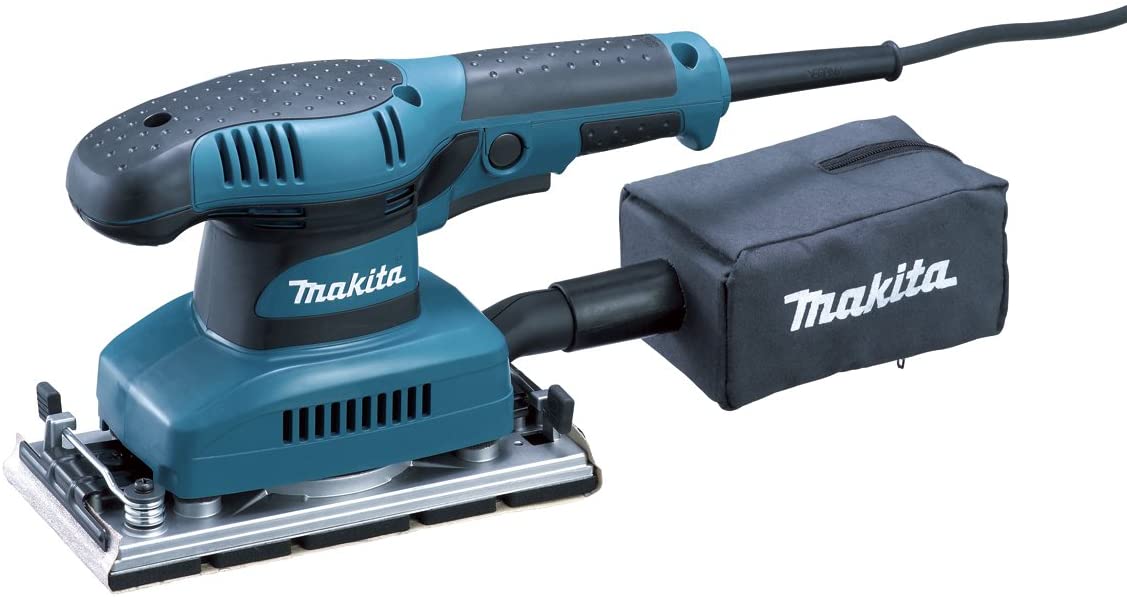 Why do we love it?
The machine is known to yield with great speed and give finished results.
Its resourceful design makes it possible for it to work long hours.
It is safe, and user-friendly all the while being easy to handle. Made with precise design to avoid accidents.
The sturdy body makes sure it will avoid any kind of damage and is not capable of getting broken.
This sheet sander contains sample material for you to experiment with for learning purposes.
The ergonomic rubberized grip and the unique handle design make up for a better fit and comfort.
| | |
| --- | --- |
| Pros | Cons |
| ✅ 11,000 OPM for increased efficiency | ❌ No carry bag included |
| ✅ Built-in counterbalance system | |
| ✅ Double insulated | |
| ✅ Dust bug with huge capacity | |
| ✅ Built-in vacuum cleaner. | |
| ✅ The aluminum cast shoe base | |
| ✅ Ergonomic rubberized grip | |
| ✅ Big 2-finger switch for trigger | |
2. DEWALT 20V MAX XR (DCW200B)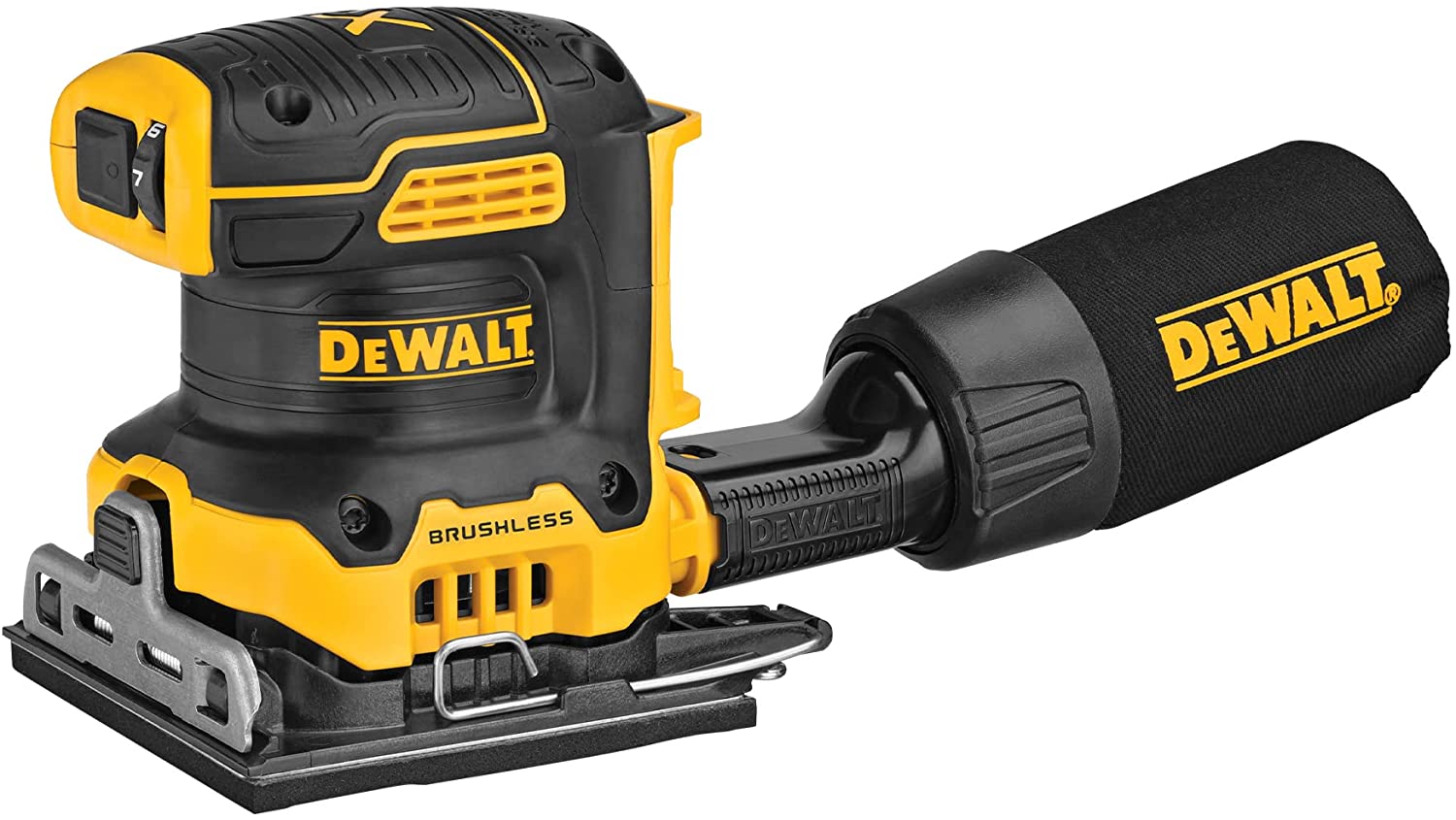 Why do we love it?
This sheet sander is a user-friendly product and worth it for professional work.
The texture of this sheet sander is of rubber as an oversold grip for sanding in comfort.
It is accessible and efficient in operation so it makes delicate tasks easy.
The precision of work and portability provided by its design is ideal.
| | |
| --- | --- |
| Pros | Cons |
| ✅ Robust operation | ❌ A little difficult for beginners |
| ✅ Holds paper securely | |
| ✅ One-handed locking dust bag | |
| ✅ Speed ranging from 8,000 - 14,000 OPM | |
| ✅ DWV010 or DWV012 dust collectors | |
| ✅ Low profile height | |
3. DEWALT DWE6411K
Why do we love it?
It operates at a high speed and gives precise results with its 3 AMP motor.
Works on multiple surfaces smoothly work efficiently in versatile settings.
It provides safety and a mess-free environment.
It is tried for longer working hours, without causing glitches.
The precision of this model is its lightweight design.
With all its qualities, it isn't costly.
| | |
| --- | --- |
| Pros | Cons |
| ✅ Foam pad for sanding plan | ❌ No dust vacuum |
| ✅ Medium grit type | |
| ✅ Rubber feel of the mold. | |
| ✅ More efficient features of the paper clamp. | |
| ✅ Locking dust-port system | |
| ✅ A separate counterweight lessens the vibration | |
4. Ryobi P440 One+ 18V
Why do we love it?
The product is worth every penny because of its remarkable workload.
It is conveniently usable and assists you work on masterpieces proficiently.
It has a long-lasting battery time.
Has an intrinsically designed body that's thought out for maximum efficiency.
It's quite an affordable option.
| | |
| --- | --- |
| Pros | Cons |
| ✅ Built with high-carbon steel | ❌ Doesn't come with a battery. |
| ✅ Has over 40 minutes of runtime | |
| ✅ Cordless quarter-sheet sander | |
| ✅ Weighs 2.30 pounds | |
| ✅ A Unique 1/4 sheet design | |
5. SKIL 7292-02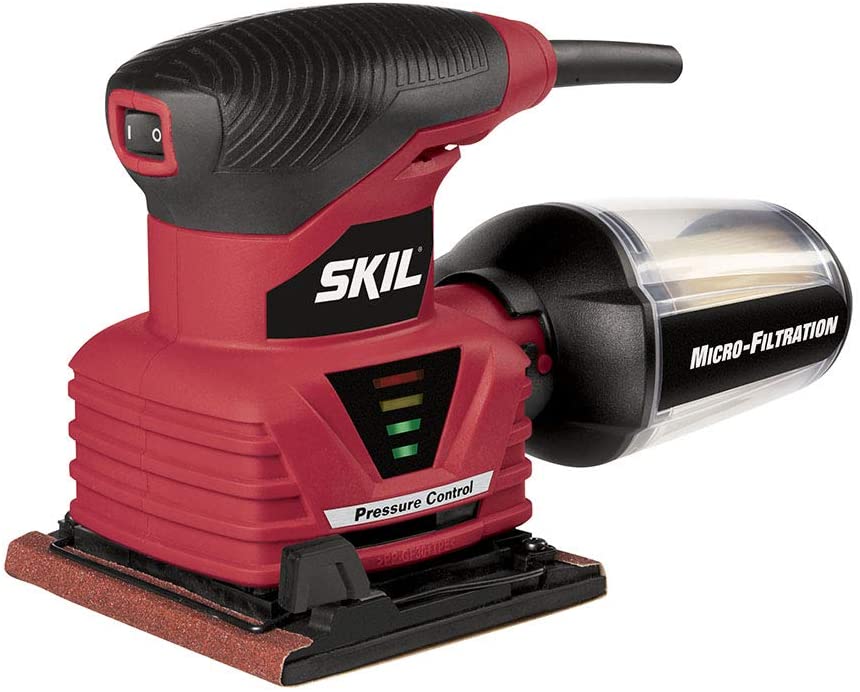 Why do we love it?
It has outstanding pressure control technology.
It runs on the voltage of 120 volt
The power source of this sheet sander is corded electricity.
It is efficient in getting the work done with an elegant design.
It has a soft grip manufacturing especially to add to the comfort of the person working.
| | |
| --- | --- |
| Pros | Cons |
| ✅ Dust-sealed switch | ❌ Covers less area at a time. |
| ✅ Micro-filtration to capture fine dust particles | |
| ✅ Built-in vacuum adapter | |
| ✅ Small and lightweight | |
| ✅ Pressure Control Technology | |
6. BLACK+DECKER (BDEQS300)
Why do we love it?
The efficiency of this sander is exceeding the price range it comes in.
This is fitted with an amperage capacity of 2 Amps motor for removal of particles with 1,600 orbits every minute
This Sander gives you a 270-degree flush sanding clearance so you can work with better clarity.
It has a Soft grip paddle switch which assures comfort and proficiency.
This comes with one BDEQS300 Sander, one Sheet Sandpaper, one Paper Punch, and one Dust Bag
| | |
| --- | --- |
| Pros | Cons |
| ✅ Tri-layer filtration | ❌ Corded, limited work area |
| ✅ High-performance dust collection | |
| ✅ Ideal for finish sanding | |
| ✅ Not too pricey & powerful machine | |
7. WEN 6313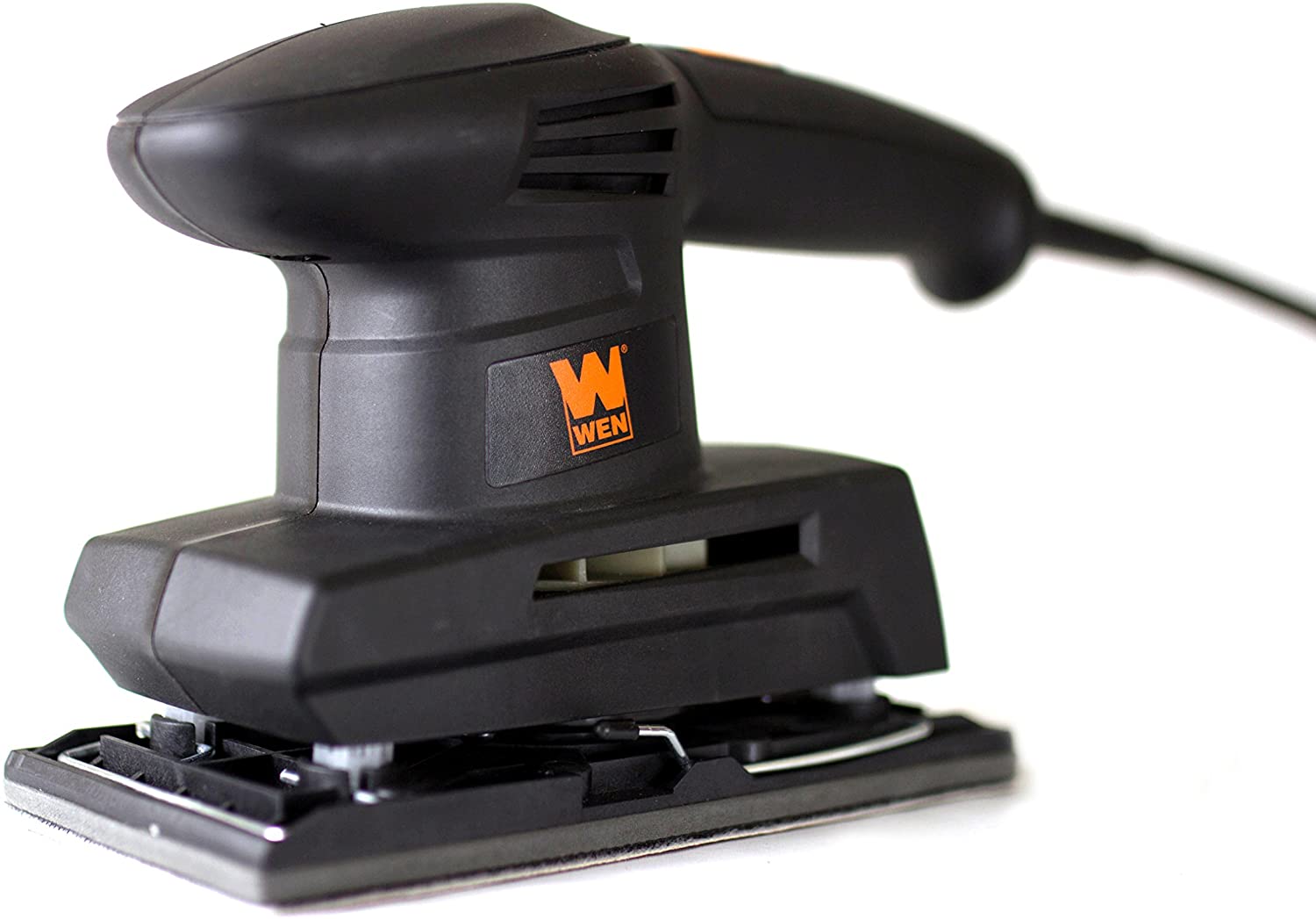 Why do we love it?
It is inexpensive and money well spent.
It is easy to handle and works with proficiency.
This is an ideal machine when your focus is on details and delicate finishing.
This Sander is lightweight, easy to move around in the working area.
Its power source is through a corded electricity wire.
The model frame is beautifully designed with thoughtful easy handling.
This is an affordable product.
| | |
| --- | --- |
| Pros | Cons |
| ✅ Lightweight design | ❌ Covers limited area being a corded machine |
| ✅ Dust collection bag | |
| ✅ Velcro base pad | |
| ✅ Features a 3-5/8 x 7-3/8 inch surface | |
| ✅ 2 amp motor | |
Buying Guide
We have ranked all the machines from top to bottom, ranging from the best to the least favorite. Note that all these Sheet Sanders are the ones that we have shortlisted from dozen other options in the market. So none of these are really a compromise. The trick remains in what you want to buy.
This is a review to help you make this decision easier, but I'm sure every option looks ideal after reading all this. So what is the best Sheet Sander actually?
The sander that is perfect for your needs is the best Sheet Sander for you!
Still indecisive? Well, I have this simple evaluation guide for you. After going through it, I'm sure you can understand your needs better, and this decision will look a tad bit easier for you.
Consider your area of work.
Now, this is something you should first take note of. Are you working on sanding paint or working on sturdy surfaces? This should be your topmost priority to look for the product that can bear with your workload, a product that won't bail out on you. This compatibility can be in size, prowess, speed, and the area it covers.
Compatibility with your work environment
Some workers stay cooped up in their offices or workstation while working. Corded sheet sanders are ideal in this case, but you must keep in mind that if you are one of the workers with an unspecified workstation, it will be trouble. In short, if you need to carry your equipment around, then the Best Sheet Sander for you is one that is fitted with a battery.
And there comes variety in them too. Your everyday workload will decide the type of powered battery you are looking for.
Availability & parts replacements
Take a note of this beforehand, because things take turns when you are in a workshop all the time. Many parts can be damaged, and not every part replacement is available readily. So just take a little detour and survey this aspect for your ideal Sheet Sanders.
Power Source of the sander
There are two main sources of power of a sander. They are Corded and Cordless. Corded sanders have electricity as their power source while Cordless ones contain batteries.
You should always know the power source as it will determine the power of its motor and its weight. Cordless sanders will be less powerful and will have more weight as the battery will be heavy.
Honestly, corded sanders are better but as the battery technology has been improving quickly, it is advised to consider cordless sanders especially when you want your sander to be portable.
Base Plate of the sander
This feature is the best and most essential feature to consider if you want a perfectly flat finish of your surface. It's the area you will be attaching your sander paper to. Mostly with hook and loop or the clamping systems. Some sheet sanders can stick on paper to their base plate as well.
Most of the sanders nowadays contain holes in the base plate for the removal of sawdust. It lessens surface scratches too. It should be remembered that the foam part will be damaged after a little time.  You will have to get a substitution of the base plate or get a new one.
So, our advice is to think of this feature and the price the replacement pad will cost before you buy a sheet sander as some replacement pads seem to be really expensive.
Sheets of the sander
A sheet sander uses regular sandpaper that is exactly fitted to its size. Obviously, you can get paper sheets that are readily cut with holes present in them already. They will cost more than the generally used sheets. You can just get the regular paper and punch holes in them with a punching machine to make the process more economical for you.
Some sanders have hook and loop systems too while some come with sticking sandpaper sheets. These ideas are more time-saving but will cost you more as well.
Final Verdict
To save your time and energy, you need to find the most suitable Sheet, Sander, for yourself in accordance with your needs. Keep these points in your mind, reevaluate your options and get yourself the Best Sheet Sander!
Frequently Asked Questions
Below are a few questions that you might still have.
Q. Is an orbital sander better than a sheet sander?
It depends on your needs. The orbital sander randomizes the motion of the sanding pad so in terms of power it is better than the sheet sander. But as it is orbital it doesn't work well in corners or square edges.
Q. Is a sheet sander good?
It is a wonderful tool in case you are looking for sanding between coats of paint or such works. Much better than the alternatives, of course
Q. Which is the best sander for DIY?
Though it totally depends on the scale you are doing this DIY work you are doing but orbital and sheet sanders both work efficiently for this sort of work.
Q. What type of sander will give the best finish?
Random orbital sanders do an amazing job when it comes to finish-sanding wood. Sheet Sanders are sufficient for such needs too.
Latest posts by Ethan Thompson
(see all)