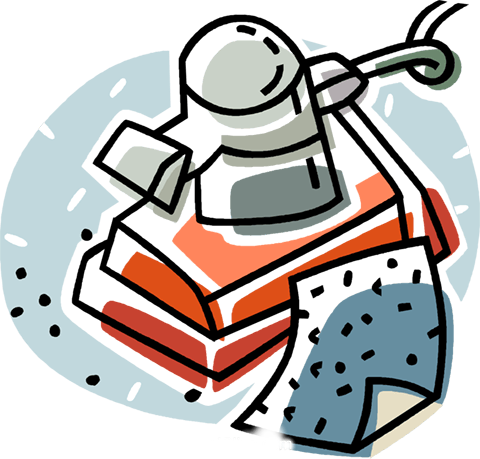 Is creating well-maintained and properly finished materials via sanding becoming a difficult and time-consuming task?
Don't worry because we've got the perfect sanders for woodworking that'll surely your issues.
Sander machines are a great way to build useful wood materials and show your creativity. There are plenty of incredible choices available in the market for the best sander for wood and other materials. These sanders are incredible tools for cutting out extra materials, refinishing and polishing, cleaning paint, smoothing surfaces, etc. We have presented a good guide below to get your hands on.
Choosing the best sander for woodwork might become a tricky task. Still, we have made that easier by assembling the necessary factors before opting for a particular machine that perfectly fits all of your woodwork needs. If you're looking for a deeper analysis, tune in for our Buying Guide at the end.
Keep reading for our list of Sanders for Woodworking.
Points to Ponder
In woodworking, there are different skills, and each skill requires a distinct tool. You might be unaware of the factors you need to examine before buying the best sander for woodwork that fits your needs. Here is a shortlist of these factors. Check out the buying guide for comprehensive assistance to opt for the best sander for wood in 2023.
Power: Every sanding machine has different power levels. However, it is better to consider the power level of every model. The power level you need depends on the hours and extent of work taken from the machine.
Size and Weight: Both of these are considerable factors while opting for a sander. Choose the size according to your workspace so that you don't have to worry about where to place the machine. And it's better if the sander is lightweight as it will be portable and easy to use.
Dust extraction: A lot of dust is created while sanding, which can be messy as well as unsafe. So it's better to check if the machine comes with a dust bag. It will help the woodworker to get rid of the post-work cleaning.
Best Sanders for Woodworking 2023:
Here are some of the top Sanders for Woodworking available:
1. DEWALT 20V MAX ORBITAL SANDER
[Editor's Choice]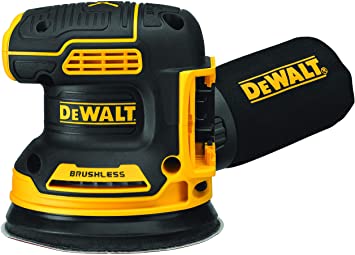 Why we love it
It's a treat to handle thanks to it' great maneuverability.
The lightweight of the machine makes it easy to sand in hard awkward places.
Its ergonomic design makes it versatile and offers amazing performance.
It has a hook & loop mechanism that makes changing sandpapers really easy.
Has a wide range of speed ranges from 8,000 to 12,000 OPM thanks to Variable Speed Control.
| | |
| --- | --- |
| Pros | Cons |
| ✅ Powerful Motor | ❌ No batteries included |
| ✅ Cordless Device | |
| ✅ Velcro technology on the sanding disc | |
| ✅ Rubber grip with texture | |
| ✅ Works continuous long hours | |
| ✅ Great value for money | |
| ✅ Very efficient dust bag | |
| ✅ Tackles fairly rigorous jobs | |
| ✅ Beginner Friendly | |
| ✅ Quiet and seamless operation | |
2. MAKITA

BO5041K 5″ RANDOM ORBIT SANDER
Why we love it
• We love the Makita random orbit sander due to its efficient working
• It provides a cleaner work environment to the users
• The machine is durable and lasts for a long time
| | |
| --- | --- |
| Pros | Cons |
| ✅ Improved dustbag | ❌ Pay extra for battery and charger |
| ✅ Refined finishing | |
| ✅ Greater speed | |
| ✅ User friendly | |
| ✅ Fit for first-timers | |
| ✅ Sturdy build | |
| ✅ 3.0 AMP motor | |
| ✅ 4,000 to 12,000 OPM speed range | |
3. BOSCH RANDOM ORBITAL

ROS20VSC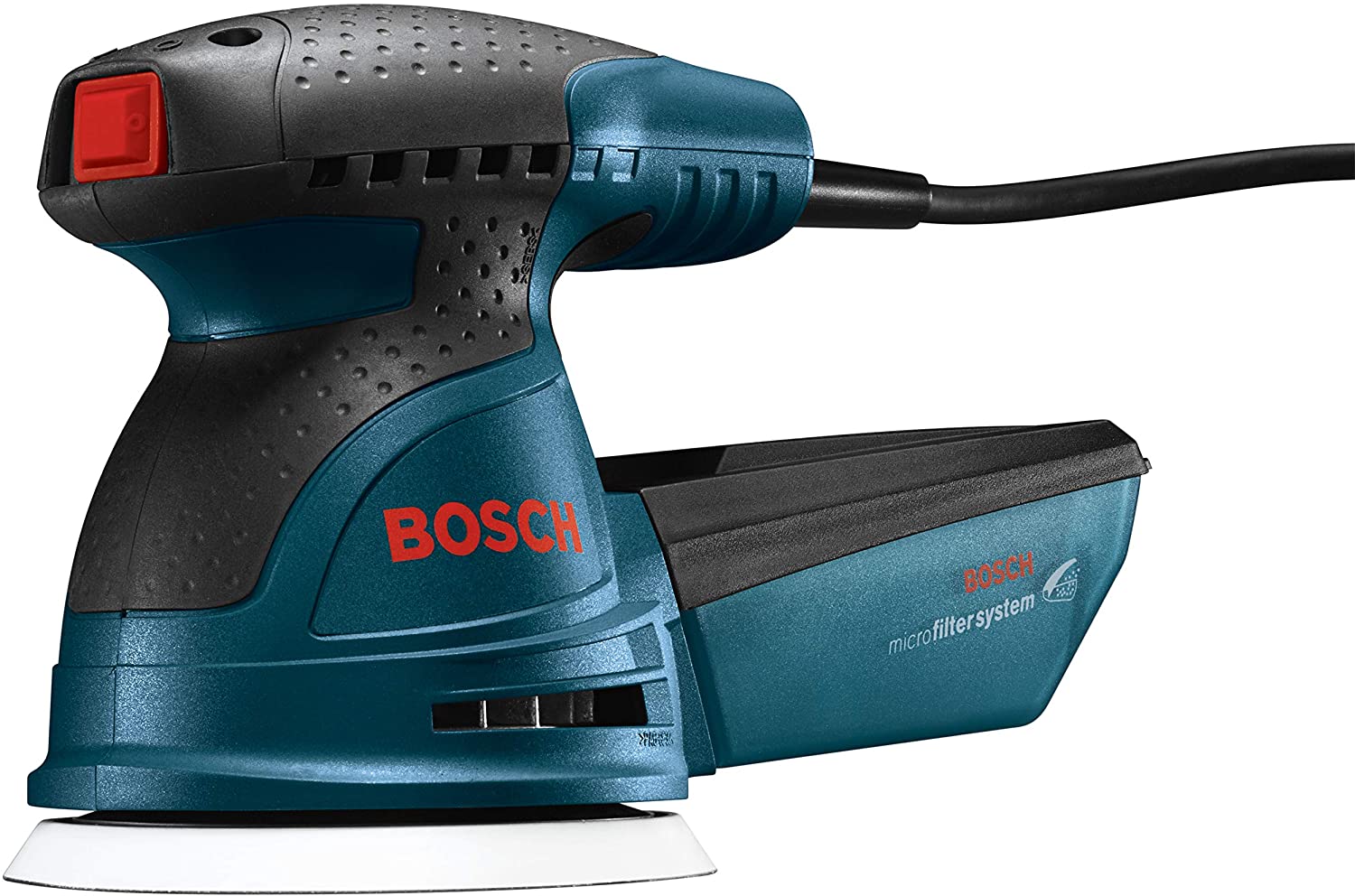 Why we love it
A powerful tool for removing stock and allowing for considerable user control.
The machine diminishes the swirl marks and provides a well-finished surface.
It delivers a soft grip and comfort to the woodworker
Makes really less noise while operating.
| | |
| --- | --- |
| Pros | Cons |
| ✅ Dual dust collectors | ❌ Build quality could be better |
| ✅ Lessens swirl marks | |
| ✅ Reduced vibration | |
| ✅ Durable and compact | |
| ✅ Greater control on sanding | |
4. DEWALT PALM SANDER
Why we love it
We love the Dewalt palm sander because of its significant quality and great battery.
The machine offers great durability.
It is easy to use and hold, resulting in an excellent performance.
This is perhaps the cheapest quality sander you may find in the market.
| | |
| --- | --- |
| Pros | Cons |
| ✅ Good battery life | ❌ May overheat sometimes |
| ✅ 2.3 AMP motor | |
| ✅ Adjustable speed | |
| ✅ Reduced vibration | |
| ✅ Portable | |
5. PORTER-CABLE RANDOM ORBIT
Why we love it
We love the porter cable random orbit sander because of its excellent adhesion.
The machine is lightweight and easily portable.
It ensures high overload protection and great control.
| | |
| --- | --- |
| Pros | Cons |
| ✅ Well balanced | ❌ Bad vibration |
| ✅ Easy handling | |
| ✅ Topnotch polishing | |
| ✅ Quality device | |
6. ROCKWELL SONICRAFTER
Why we love it
Looking for the best sanders for wood? We prefer the Rockwell sonicrafter machine because of its versatility.
Moreover, the appliance comes ready straight out of the box with all the necessary tools.
We are amazed by how slight it vibrates at any speed and is comfortable in use.
| | |
| --- | --- |
| Pros | Cons |
| ✅ Precise working | ❌ Bad customer support |
| ✅ Good warranty | |
| ✅ More power | |
| ✅ Slippage prevention | |
7. INGERSOLL RAND AIR

300G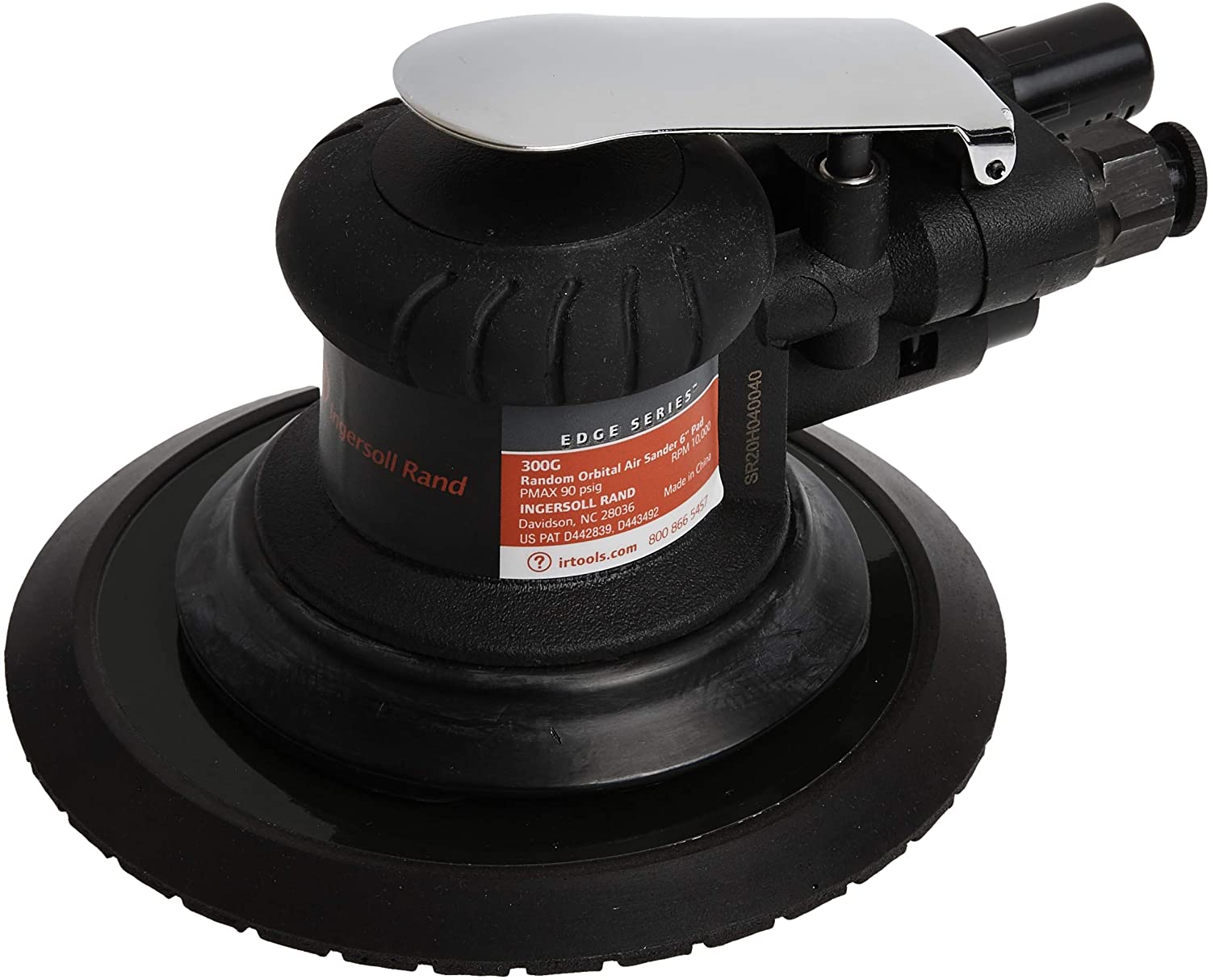 Why we love it
We would rate a 5 star to the Ingersoll orbital sander because of its great value for money and easy use.
The weight of the tool is less than 2 lbs, making it ideal for every user.
The ergonomic grip of the sander has become another reason to love it.
| | |
| --- | --- |
| Pros | Cons |
| ✅ Flawless performance | ❌ Poor instruction guide |
| ✅ Low vibration | |
| ✅ Ergonomic design | |
8. RYOBI RS290G 2.6 Amp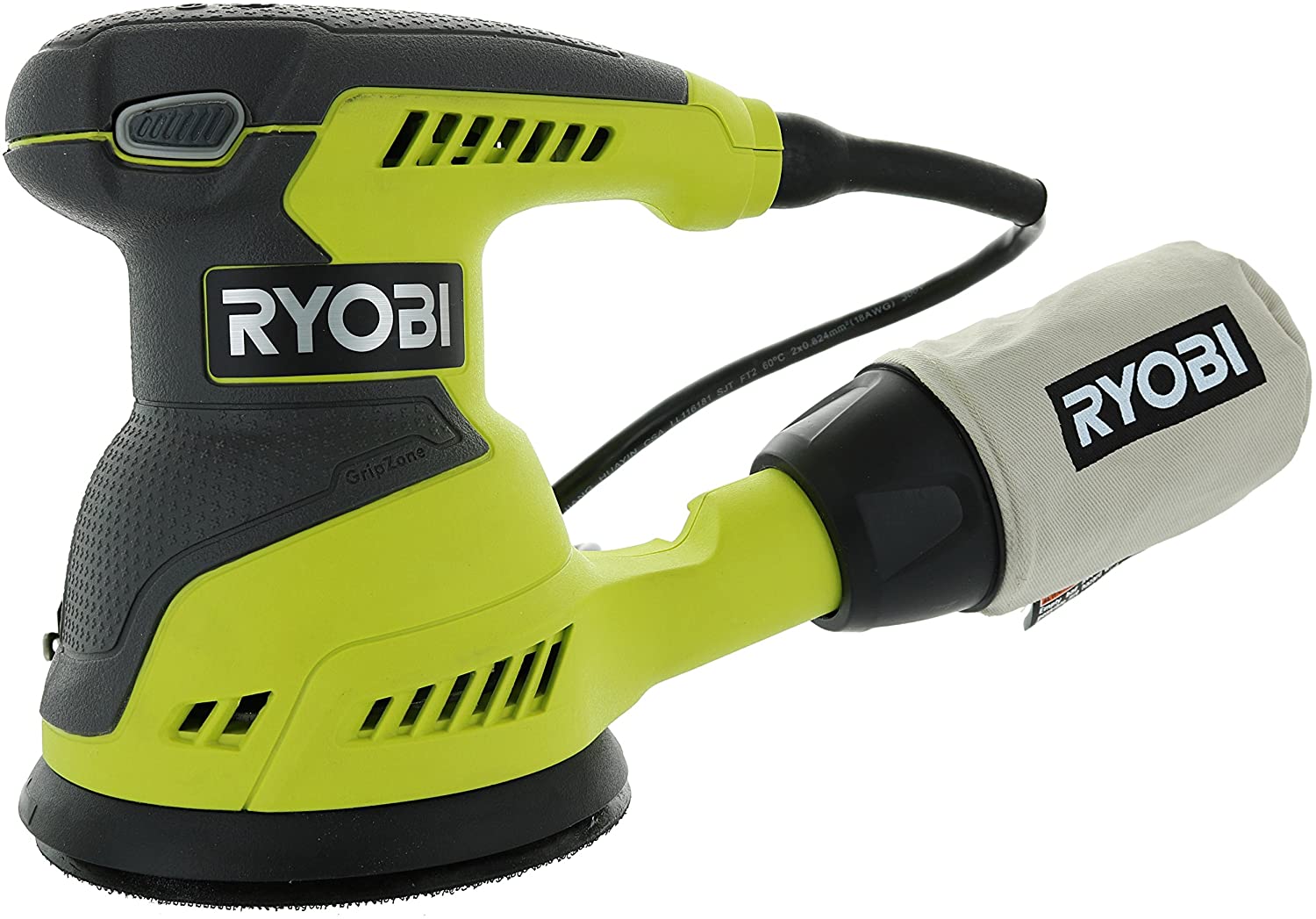 Why we love it
We love the Ryobi random orbital machine as it is the best power sander for wood because of the amazing battery life it provides its users.
What's better than a machine that is easy to use? The Ryobi is the best wood sander option for woodworkers as it is easy to hold and work with.
Another great factor that makes us choose this product is its maneuverability and lightweight.
| | |
| --- | --- |
| Pros | Cons |
| ✅ Good cleaner | ❌ Packaging complains |
| ✅ Strong sander | |
| ✅ Wireless and portable | |
9. ENERTWIST 20V CORDLESS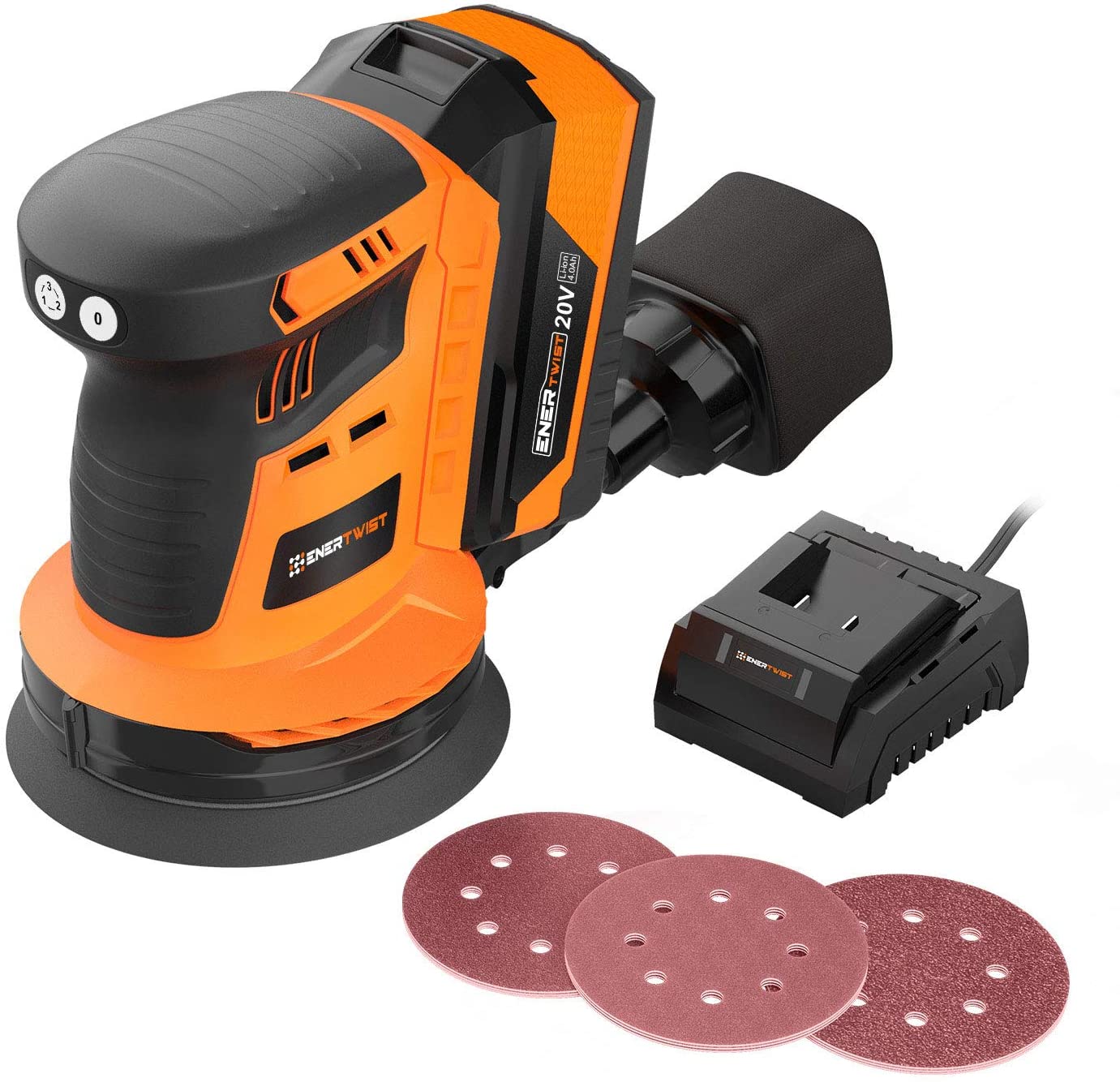 Why we love it
The Enertwist cordless orbital sander is a good option because of its convenient ergonomic innovation.
The machine has a brushless motor which allows it to run for a longer time.
It is not limited to any cord; hence provides great portability.
| | |
| --- | --- |
| Pros | Cons |
| ✅ Cordless | ❌ A little jumpy while using |
| ✅ 3-speed electric control | |
| ✅ Hook and loop system | |
| ✅ Replaceable pad | |
10. BLACK+DECKER

(BDERO100)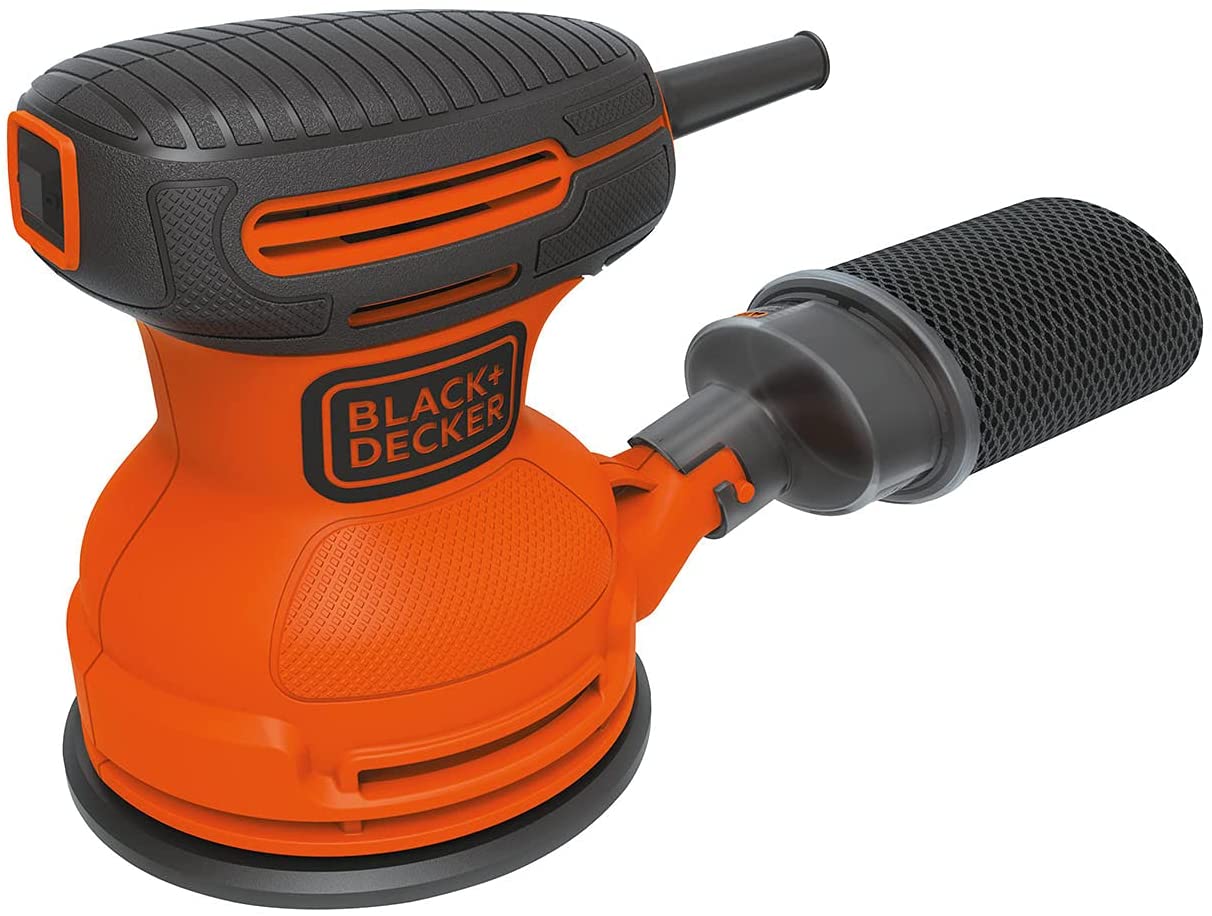 Why we love it
We love the Black+Decker random orbit sander model because of its comfortable grip handle.
Besides, the machine has a built-in dust collection bag.
It has a random orbit motion that ensures the prevention of any swirl marks.
| | |
| --- | --- |
| Pros | Cons |
| ✅ Compact | ❌ Heats up after continuous jobs |
| ✅ Great for smoothening & paint removal | |
| ✅ Paddle switch | |
BUYING GUIDE – SANDERS FOR WOODWORKING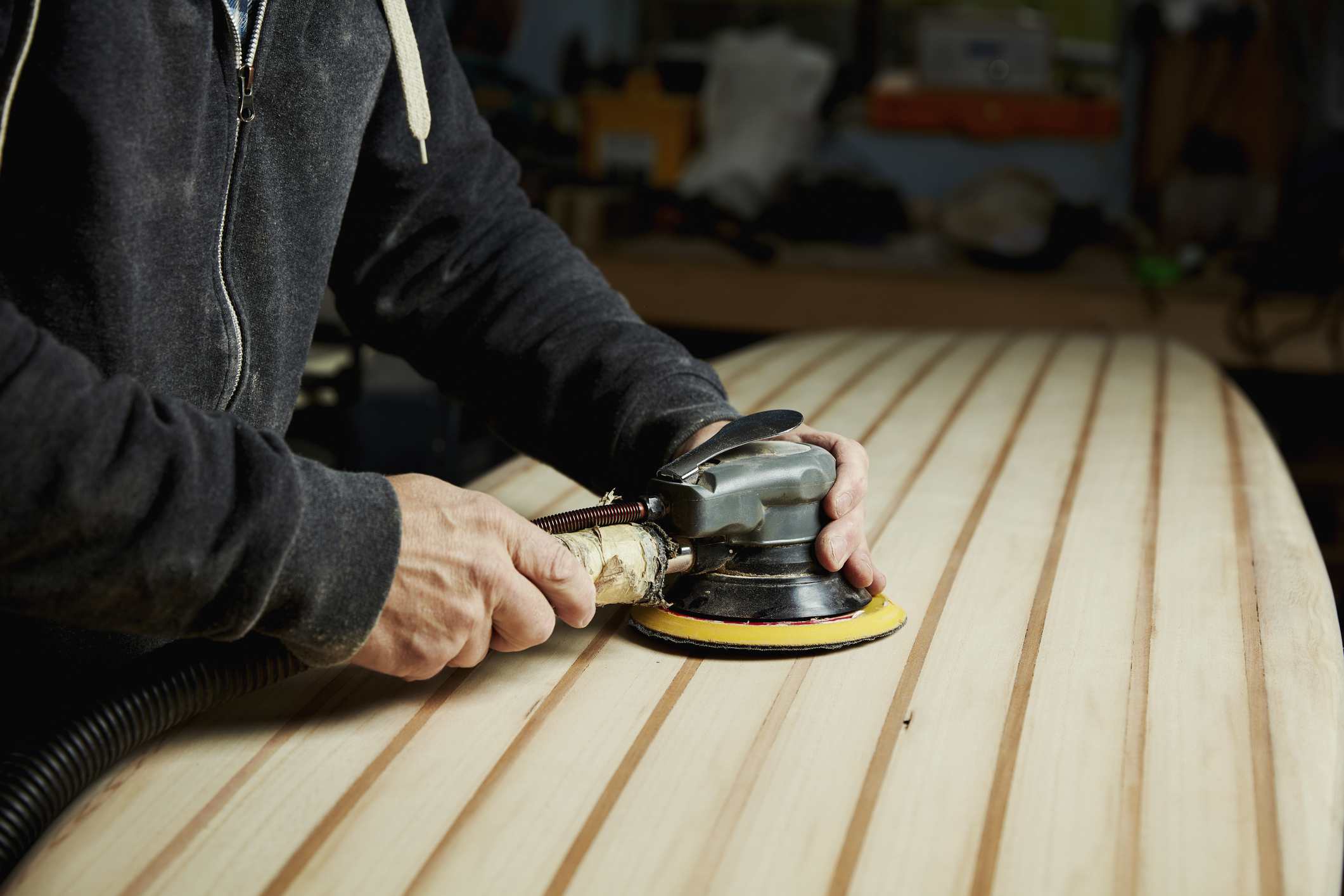 We shortlisted the top ten market competent sander machines for woodworking. But it might still be tricky for customers to select the right product.
Don't be troubled as we are here for your further assistance with an elaborated buying guide. Review the comprehensive factors that you need to consider before you opt for a particular product.
Our detailed guide will assist you in finding the perfect sander. We have gathered all the related answers to your queries in the guide below. Review for getting the best piece of advice.
Factors to Consider Before Buying a Woodworking Sander Machine
The perfect finishing and refining of a wood item are dependent on the sander machine a woodworker use, making it a challenging task to opt for the best woodworking sander.
In such a circumstance, we will throw light upon a few noticeable factors that a woodworker should consider before buying specific wood sanding tools or sander machines.
YOUR NEEDS
Are you looking for a machine to measure your parts or just smooth the surface? Do you want a certain surface finishing, focused material removal, or both? What is the nature of your work? Do you want to remove paint, refine, craft furniture, or do cabinetry? How much time will you run the machine? All of these queries anticipate the selection of the best orbital sander for furniture according to your requirements.
SELECTION OF MACHINES
There is a great variety of sanding machines available in the market, all with different sizes, shapes, functions, and prices, etc. The best value orbital sander doesn't refer to the lower-cost machine, but the altogether points up (features, machine type, head type, options, lead duration, size, etc.).
HEAD TYPES
There are four basic head types of sanding machines: Knife, Orbital, Wide Belt, Brush. Knife planers are built to remove large material pieces rapidly. The brush head helps to wipe out sharp edges. A wide belt head helps in the finishing of materials. The orbital head is used for smoothing the surface. You can select any of the four head types that suit your needs well.
ABRASIVES
An abrasive is a prominent denominator in any sanding machine. Use the appropriate abrasive of good quality for your machine. It will help you optimize the machine performance and minimize consumable expenses. Moreover, it boosts the production speed along with giving a fairer finish.
MANEUVERABILITY
The best sander for woodworking is the one that must have good maneuverability to provide an easier and controlled movement to create good quality and well-finished materials.
ERGONOMIC DESIGN
Make sure your selected sander is ergonomically designed to provide you comfort while working. It will increase the efficiency of your work.
What is woodworking?
Woodworking is a fun skill that includes the making of things from wood. It includes furniture making, furnishing, cabinetry, carpentry, etc. It is a creative skill that incorporates cutting, molding, and assembling wood pieces to build decorative as well as useful items.
Use of sanders in woodworking?
Hands can accomplish woodworking, but for a perfect and quick result, sanders are necessary. These best handheld sander tools are used to smooth out the rough edges, paint removal, refining. Woodworkers use sanders for polishing, cleaning, and smoothing purposes.
Frequently Asked Questions regarding Sanders for Woodworking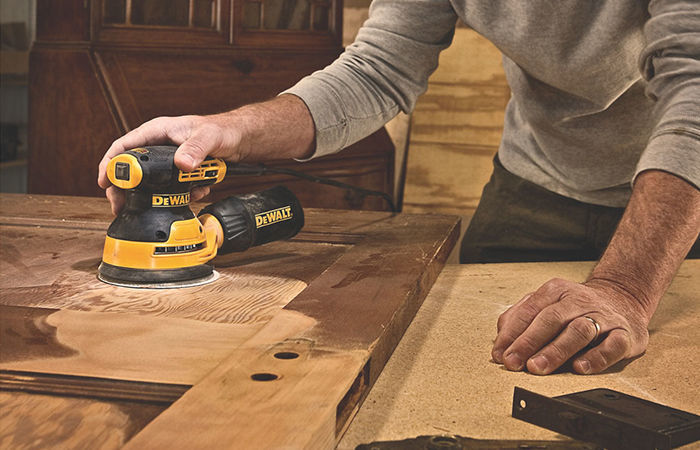 Here are some important questions you may need answered below:
Q: Are orbital sanders good for wood?
Orbital sanders are versatile in use and can be a good choice to work on wood. These are known to be promising sanding machine for wood as it provides good wood polishing.
Q: What is the difference between an orbital and a random orbital sander?
Both are differentiated based on their movement. The orbital sander moves in a circular motion, whereas the random sander moves in an irregular pattern.
Q: What should I look for before buying a sander?
You need to consider a few factors, such as;
Size and weight
Overall features
Your needs
Q: Are random orbital sanders better than sheet sanders?
Random orbital sanders are better than sheet sanders as they are more powerful and removes several membranes of bumpy materials. Sheet sanders might leave swirl imprints on your stuff, so it's safe to say that a RO sander is the best sander for woodworking.
Q: Are sanders dangerous?
Yes, they could be hazardous if not handled with proper care and treatment as they might create a fire or explosion. Ensure the safety norms before running the machine.
Q: Which type of sander is best for refinishing furniture?
A palm sander can be a good choice for refinishing furniture items as they work better for large projects.
Q: What is the best sander for woodworking?
A few of the best sanders are:
• DEWALT orbital sander
• BOSCH random orbit sander
• ENERTWIST cordless orbital sander
Q: What are electrical sanders used for?
An electrical sander is a powerful tool for the better smoothing and finishing of the surface. It is a good tool for woodworking.
Q: Are orbital sanders better than palm sanders?
It depends on your work requirement. Orbital sanders are better to work with larger pieces, whereas palm sanders could be used for smaller pieces.
Q: What is the use of random orbital sander?
A random orbital sanding machine is used widely for fanatical smooth sanding. It can also be used for refinishing, polishing, and much more.
CONCLUSION
Woodworking is a creative skill, so a woodworker must use the best sander for woodworking to create productivity and use. Sanders is a must-add to the bucket tool for woodworking. Reviewing this article will allow you to get the best guide about sanding machines for woodworking. Surveyed the article well? You are now ready to go out and opt for the best market-competent sanding machine.
Latest posts by Ethan Thompson
(see all)