I am sure all of you will agree when I suggest
Every DIY enthusiast must own an electric furniture sander
Who doesn't adore pristine and shiny furniture? Well, nobody. Furniture is an indispensable part of our homes, and keeping it shiny and polished is every home owner's dream. An electric sander can prove exceptionally helpful in this respect. From repairing doors to polishing furniture, there are many sanders in the market for fulfilling your needs. To make an informed buying decision, you'll need to know about the most commonly used types of sanders available online and offline.
If you want a far more comprehensive take, consider reading our Buying Guide at the bottom.
The list for our chosen Furniture Sanders are given below
Types of Furniture Sanders
Belt sanders: Belt sanders are used for heavy-duty sandings, such as sanding floors and joists. These sanders are only capable of back and forth movement. These machines are very powerful and noisy. They are large in size and weigh around 6-7 kgs.
Finishing sander: A finishing sander is used for fine finishing work. For wooden projects using a finishing, the sander can make a real difference in the end result. A finishing sander is ideal for furniture for a high-polished look.
Random orbital sander: A random orbital sander can sand as well as polish your furniture. It is not powerful enough for sanding the floors, but a random orbital sander can be an excellent tool for sanding wood and metals. Random orbital sanders are affordable, and they are the ideal choice for home-based use.
But what type of sander should you really choose? It all does come down to purpose but still, there should be a perfect type.
What is the perfect type of sander for furniture?
A random orbital sander is considered perfect if you want a multi-functional sander that can both grate and polish your furniture. Other sander types will also work e.g palm sanders & corner sanders, but an orbital sander is a jack of all trades when it comes to sanding wood.
Now Let's Dive In!
Best Furniture Sanders 2023
Here are some of the top Furniture Sandersavailable in the market right now:
1. Makita BO5041
Why do we love it
It offers variable sanding speeds for you to adjust according to your furniture.
It comes with a rubberized palm grip and handles for added comfort.
Has an adjustable front handle for sanding in corners.
This machine has a 3.0 Amp motor for fast sanding.
It has easy-to-use controls.
| | |
| --- | --- |
| Pros | Cons |
| ✅ Comfortable grip | ❌ none |
| ✅ Lightweight | |
| ✅ Lock-on button for continuous use | |
| ✅ Affordable | |
| ✅ Powerful motor | |
| ✅ Ideal for furniture finishing | |
| ✅ Quick & smooth sanding | |
| ✅ Rubber palm grip | |
| ✅ 3.0 AMP motor | |
| ✅ Variable speed 4000 to 12000 OPM | |
2. DEWALT Random Orbit Sander
Why do we love it
Has a low height which allows the user to get close to furniture.
Comes with a 3.0 amp motor makes it a good power sander for furniture.
It has improved dust collection features.
Contains rubber molds for improved grip and added comfort.
The dust port is designed to fit the dust collectors snuggly.
| | |
| --- | --- |
| Pros | Cons |
| ✅ One-handed dust bag locking | ❌ Bit heavy |
| ✅ Shorter height increases precision | |
| ✅ Improved comfort | |
| ✅ Updated dust collector | |
| ✅ High powered | |
| ✅ Dust-sealed switch | |
| ✅ Universal Quick Connector for vacuums | |
| ✅ Texturized rubber grip | |
3. Ryobi RS290G 2.6 Amp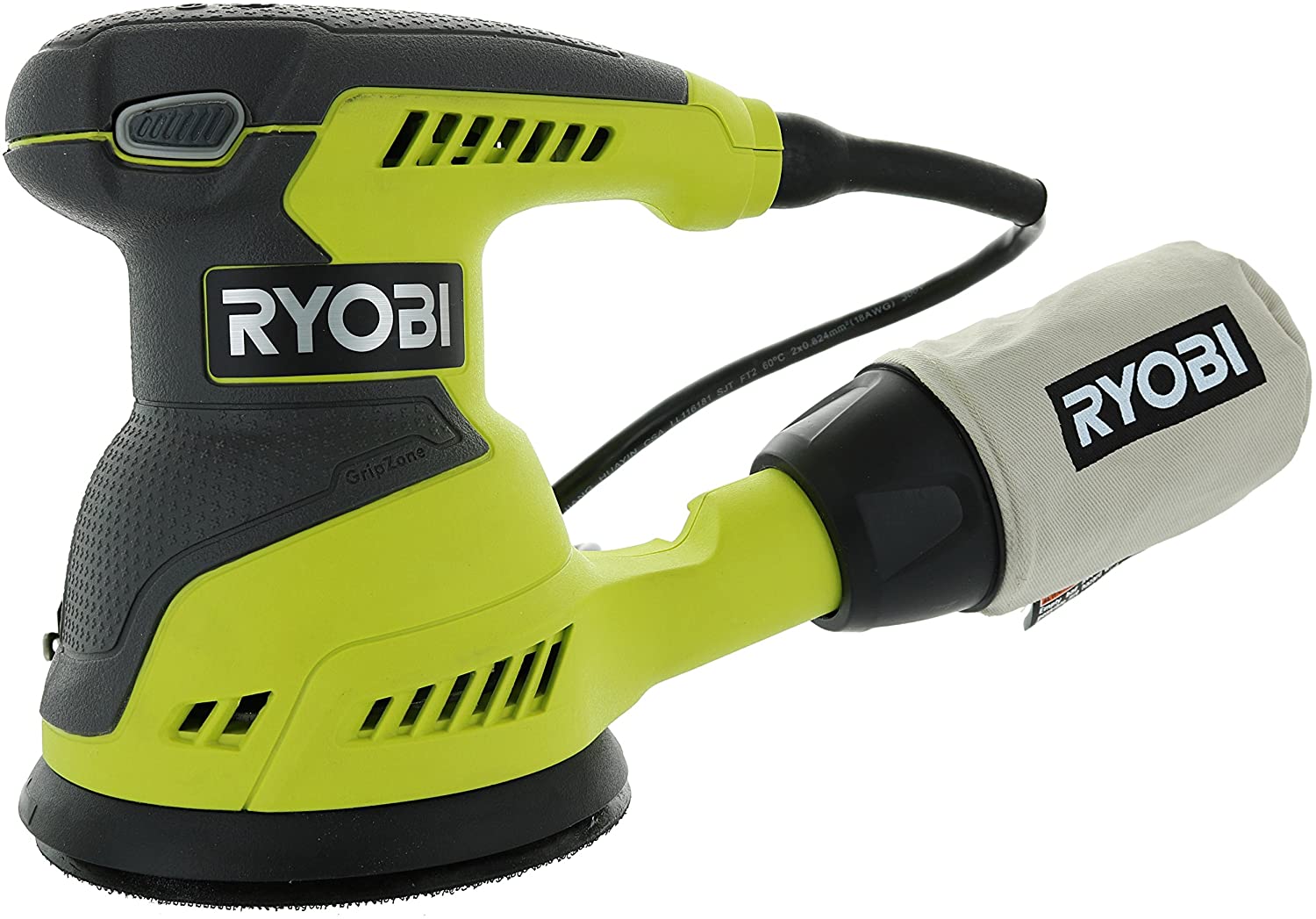 It comes in a funky and unique neon green color.
One of the top sanders for wood furniture because of its convenient hook and loop system.
Its handle is covered in good-quality rubber.
It comes with advanced dust collecting features.
| | |
| --- | --- |
| Pros | Cons |
| ✅ Ergonomic handling | ❌ Single-speed |
| ✅ Removable dustbag | |
| ✅ Powerful motor | |
| ✅ Easy pad replacement | |
4. Metabo

SV13YST 230w 2.8 Amp
Why do we love it
It is a palm sander for furniture with a 5-inch random orbit.
It is quite compact and can work efficiently for more extended periods.
Its sandpaper can be easily changed.
It provides a comfortable grip because of the soft rubber.
230 W powerful motor provides variable speed.
| | |
| --- | --- |
| Pros | Cons |
| ✅ Works continuously without heating | ❌ Dust escapes now and then |
| ✅ Adjustable speed | |
| ✅ Comfortable grip | |
| ✅ Reduced vibration | |
5. WESCO 3.0A Orbital Sander
Why do we love it
It has low vibrations for a comfortable grip.
It is one of the ideal furniture sanding tools because of its powerful motor.
It has Advanced dust collection features.
It has a comfortable, rubberized palm grip.
Great after-sale services.
| | |
| --- | --- |
| Pros | Cons |
| ✅ Powerful sanding | ❌ Weak low-speed torque |
| ✅ Less noise | ❌ Considerably heavy |
| ✅ Less vibration | |
| ✅ Built-in vacuum | |
| ✅ Eight vacuum holes | |
6. Jellas Orbital Sander
Why do we love it
Its carbon brushes make it more long-lasting than most sanders.
It is an excellent sander for furniture restoration because of its adjustable speeds.
It has a very user-friendly design.
This machine has substantially high dust collection efficiency.
It has a movable front handle for sanding corners.
| | |
| --- | --- |
| Pros | Cons |
| ✅ Retains wood texture | ❌ The location of power switch isn't ideal |
| ✅ High dust collection efficiency | ❌ Heavyweight |
| ✅ Labor-saving dual action | |
| ✅ Wear-resistant material | |
7. BLACK+DECKER Random Orbit Sander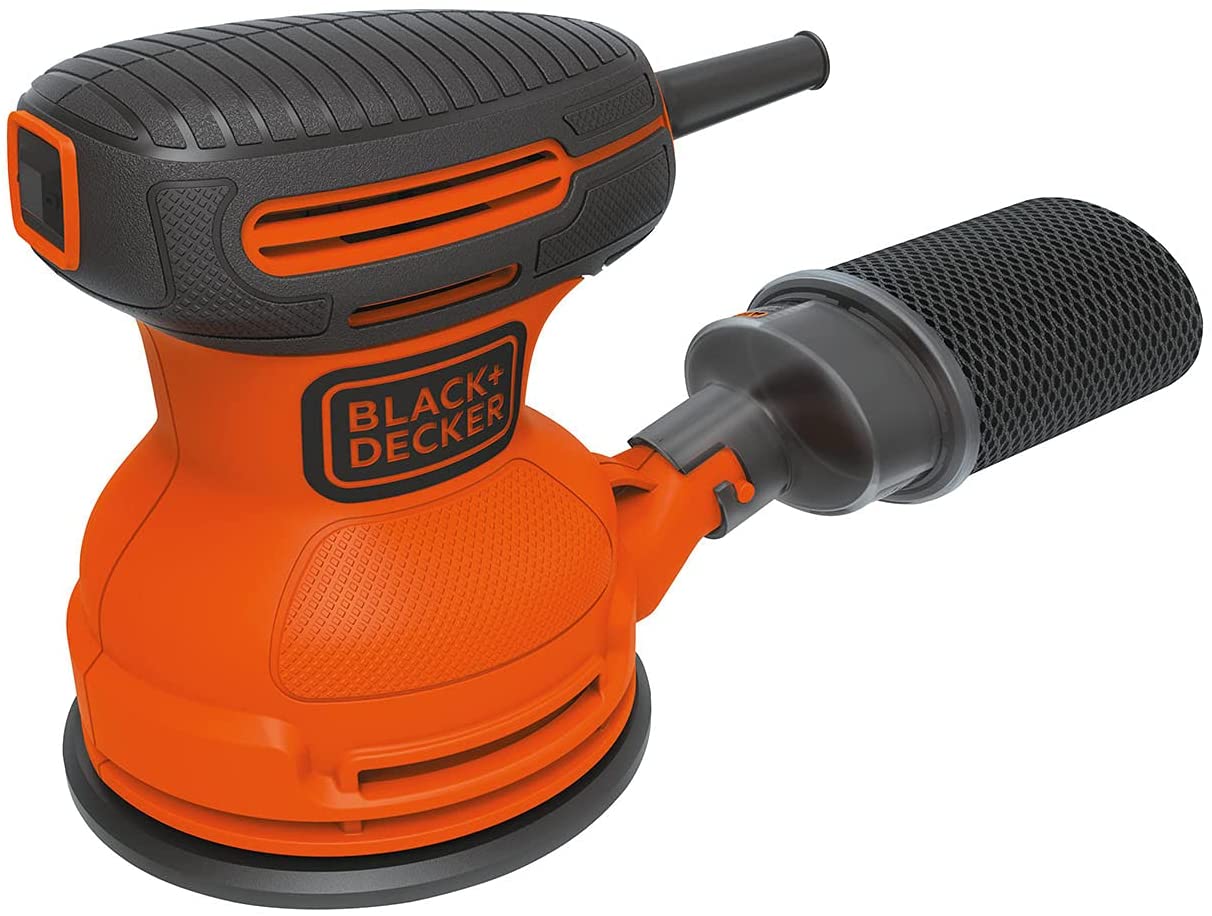 Why do we love it
Its compact design allows for easy shifting and carrying.
It has a hook and loop system for effortlessly changing emery paper.
It has an extremely effective system for dust collection.
This sander comes with a paddle switch.
It comes in several different packages.
| | |
| --- | --- |
| Pros | Cons |
| ✅ Lightweight | ❌ Prone to accidental presses. |
| ✅ Compact design | ❌ Cannot sand metal well |
| ✅ Ergonomic handle design | |
| ✅ Paddle switch | |
8. PORTER-CABLE 20V MAX Random Orbital Sander
 Why do we love it
It is very lightweight.
It has a refreshing black and red design.
It has a low profile for greater control when sanding.
It has a durable and dust-proof switch.
It has a detachable dust bag for easy cleaning.
| | |
| --- | --- |
| Pros | Cons |
| ✅ Cordless | ❌ Battery & charger not included |
| ✅ Compact size | |
| ✅ Lightweight | |
| ✅ Rubber grips | |
| ✅ Affordable | |
Buying Guide:
To make an informed buying decision and choose the best furniture sander as per your needs, you need to have some basic understanding of the types of different sanders and their uses. In this buying guide, we'll inform you about the basics of sanders and what type of sander suits your needs.
What is a furniture sander?
A sander is an electric tool that uses sandpaper to smooth out abrasive and uneven surfaces. A sander can polish, clean and smooth out the surface of materials like wood, metal, marble, rubber, etc.
How many types of sander are there?
Furniture sanders can be of many types. You should choose a good sander according to your needs. Following are the most commonly used sanders
Belt sander
Random orbital sander
Finishing sander
Disc sander
Which type of sander works great for home?
A random orbital sander works well for both personal and professional use. It can sand as well as polish furniture easily. It is a very powerful tool, and it is handy for newbies as well as users who know how to sand furniture. If you want to buy an electric sander for furniture polishing or refinishing, an orbital sander is your ideal bet.
When to use a furniture sander?
You can use a sander for the following purposes
Flattening, smoothing, and polishing wooden surfaces.
Leveling tabletops.
Smoothing out metals or plastic surfaces.
Refurbishing old furniture.
Polishing old furniture.
Smoothing out abrasive services.
Leveling and polishing marble.
Fixing doors and cabinets.
There are countless uses of sanders, we have just mentioned a few common ones.
Frequently Asked Questions:
Q: What is the right way to sand wood furniture?
To remove the remaining bits of wood. Use a powerful sander and attach medium-grit sandpaper to it. Sand the wood with patience until you start seeing results.
Q: Does an orbital sander work better than a palm sander?
The answer to this depends upon your intended use. A palm sander is small and lightweight, and it works well with wood but if you want to work with metal, buy an orbital sander.
Q: What is the perfect sander for woodworking?
The Makita BO5041 sander is one of the greatest sanders for woodworking. It is lightweight and has a powerful motor with adjustable speed.
Q: What type of sander is the best?
A random orbital sander is considered the most ideal because of its multiple uses, such as polishing and sanding. It is also very economical & easy to handle even for inexperienced individuals.
Q: Is it better to strip furniture or sand furniture?
Stripping is considered superior to sanding in most cases, except for the furniture already flaking. But this varies from job to job. Some old wood might not react well to strippers.
Q: What's better orbital or belt sander?
A belt sander is very powerful, but it doesn't work well with the furniture. For furniture, an orbital sander is awesome.
Q: What grit sandpaper is great for wood?
A 170-220 grit sandpaper works great for wood. This will enable you to get maximum output & produce effective finishing. It's a fact that's tested.
Latest posts by Ethan Thompson
(see all)