Wood Sanding can be a tedious task.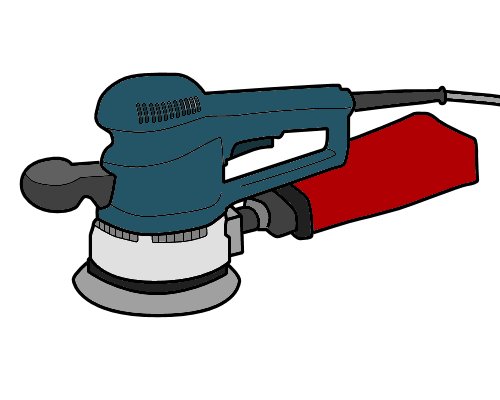 But with the help of the right tools, you will be able to do it fast and without any headaches.
If you add a solid detail mouse sander to your arsenal, you'll be able to significantly improve your overall sanding quality and can keep regularity in your work.
Detail mouse sanders are often overlooked, but they are exceedingly helpful. They make your sanding work with a significant level of quality improvement that can only be done through these small machines. Today we'll be showing you a list of the perfect detail sanders available in the market currently, giving you a detailed review of each one of them.
What's more?
They are very portable, economical, and lightweight, making them an excellent tool for all your detailed sanding work that you'll only be able to do using this object. If you are looking for power, versatility, or quality in your detailed mouse sander, this article will be helpful in narrowing down your search.
You can Jump to the list below.
Detail mouse sanders are usually inexpensive, small, and lightweight. But it doesn't mean that all of them are built the same. Since low-quality sanders easily and quickly break down, you have to choose a detail mouse sander that will balance both your quality and money.
Below is our list to help you choose a good mouse sander, having the durability to justify your investment and at the same time tackle your upcoming tasks.
But First
Things to Consider
Power: Before getting a detailed mouse sander, you should decide how much power you want the motor of your sander to generate. If the power your motor generates turns out to be less than needed, it would hinder your sanding work.
Weight: Remember, detailed sanders are supposed to be easily carryable. They are portable, and so you should buy a lightweight sander rather than a heavy one.
Vibration: Vibration is an important factor to consider when buying a detail sander. You need the divide to vibrate well enough so that it can sand your surface conveniently.
Ease Of Use: The rubber grip, little vibration, and less weight make the detail sander really comfortable and convenient to use. Mainly when you'll have to use the sander for a long time and in weird positions.
Mouse Sander Uses
As its name tells, detail sanders are a great handy tool used to achieve the perfect detailing in any of your surfaces. You can smooth a corner in between two joints while hiding its visible marks with a detail sander.
A detail sander does the sanding work more proficiently than any other sander.
Now Lets Dive in
Best Detail Mouse Sanders 2023:
Here is our list of the top mouse sanders in the market right now.
[Best Performer]
Why we love it?
The hyper lock blade change system of this sander prevents any slipping during usage no matter what the speed or angle is.
It is a universal fit. You can use it with any blade or sander for more convenience.
The kit of this sander contains 10 blades, sanders, and pads, for you to get started asap.
The powerful motor of this sander won't stop even while using it on heavy loads for a long time.
The LED work light is great for having a look at what you're doing while sanding the tight spaces.
Is very versatile and reliable as well with a 3-year warranty.

| | |
| --- | --- |
| Pros | Cons |
| ✅ 10,000 to 19,000 oscillations per minute | ❌ none |
| ✅ Hyperlock blade change system | |
| ✅ Slippage prevention | |
| ✅ Gets into tight spaces | |
| ✅ Powerful 4.2-AMP Motor | |
| ✅ 2-speed modes | |
| ✅ Comes with 10 accessories | |
| ✅ Free Carry bag | |
| ✅ 3-year warranty | |
| ✅ Multi purpose tool | |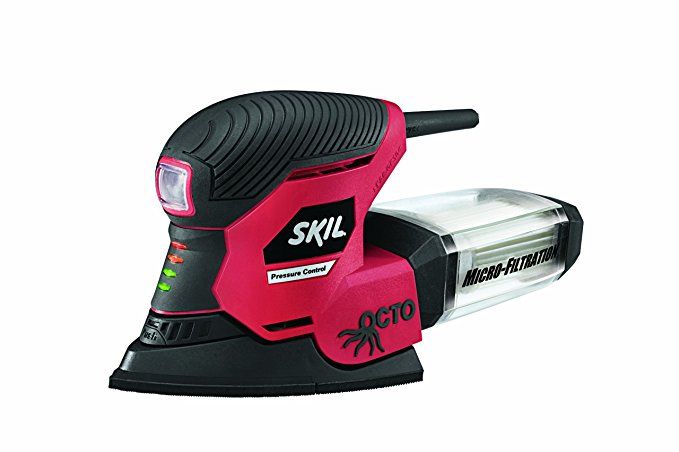 Why we love it?
Through careful balancing and ergonomic design, it has low vibrations. So, it can be used for a long time without your wrist or hand hurting.
The pressure control feature knows the pressure you are applying to the detail sander and indicates high pressure through its LED light.
The eight sanding attachments it comes with will let you get into smaller areas where its triangle head cannot get into.
Not only does it come with eight accessories, it also has 32 sanding paper sheets to get you started asap.
The carry bag from this kit makes it convenient for you to carry it around.

| | |
| --- | --- |
| Pros | Cons |
| ✅ Can easily handle awkward corners | ❌ Dust collector needs improvements |
| ✅ Control features are superb | ❌ Build quality could be better |
| ✅ Helps you get an even finish | |
| ✅ A great sander for small jobs | |
Why we love it?
The motor of this sander has a high performance with 12,000 OPM speed.
It includes 12 pcs sanding papers in its kit for sanding of surfaces like table legs, chairs, furniture, walls, and cabinets.
The 6 vacuum holes allow the collection of maximum dust inside the dust canister.
The counterweight balance of this sander prevents hand or wrist pain due to vibration.
This detail sander has a 2-year long warranty.
The multiple features this sander contains make it high value for money.

| | |
| --- | --- |
| Pros | Cons |
| ✅ Budget-friendly price | ❌ Average build quality |
| ✅ Copper motor with high performance | ❌ Bulky and large design |
| ✅ 12 free sandpapers | |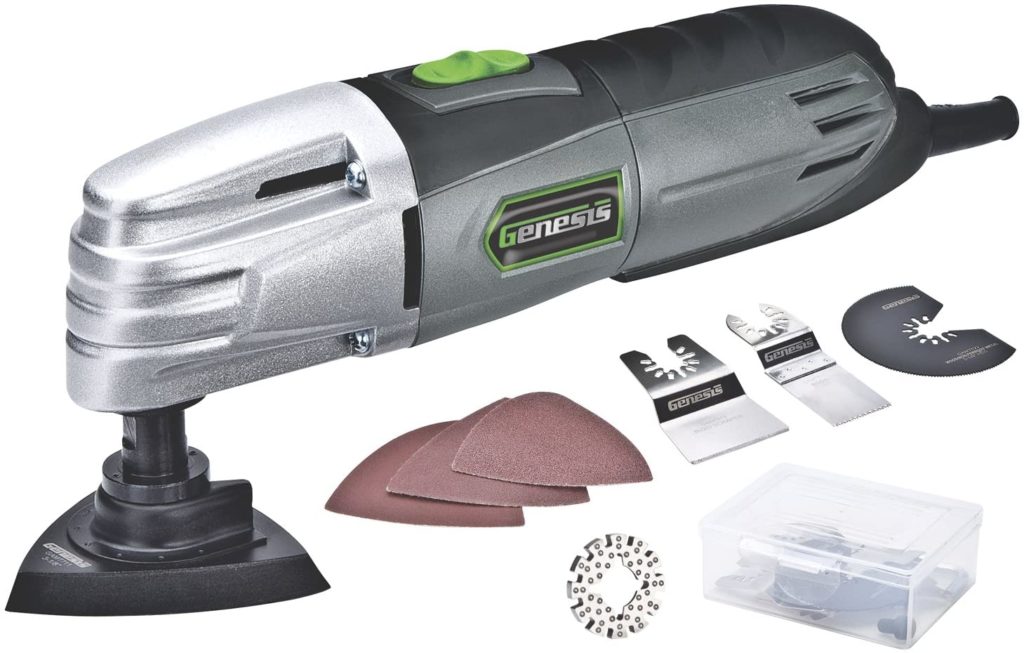 Why we love it?
The various features of this sander make it a multifunctional tool. It can be used for remodeling, restoration, and home repair.
When you're planning to change the hardwood to softwood, the 22,000 OPM speed of this sander lets you do it easily.
The 19 piece tool set this sander contains makes it economical as compared to other sanders.
The tool-less system of this sander lets the heads get into their position with a 6-pin flange design.
The motor of this sander is 2.5 amp which helps in making your sanding work quick and convenient.

| | |
| --- | --- |
| Pros | Cons |
| ✅ Great capability in a budget | ❌ No dust collection feature |
| ✅ Can sand corners and edges closely with its shape | ❌ Not for heavy use |
| ✅ Diverse and versatile capabilities | |
| ✅ Great for home DIYers | |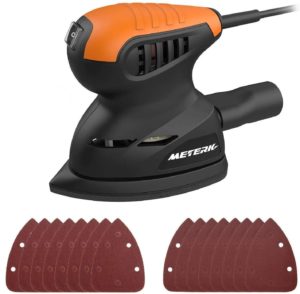 Why we love it?
This Sander is compact, has 1.0 AMP power which is great for polishing, painting, and sanding small areas.
It has a high-performance dust collection system with strong suction of dust making your work area clean while grinding.
The buckle connection of this sander keeps the sanding box from falling off while working.
The kit includes 16 pcs of Sandpaper to sand different surfaces such as metal, plastic, wood, and other ones with hard-to-reach areas.
It comes with a self-adhesive disc which makes the changing of the sandpaper convenient.
The ergonomic handle of this sander makes it easy to hold without causing fatigue to your hand or wrist.

| | |
| --- | --- |
| Pros | Cons |
| ✅ Efficient electric motor | ❌ Design is bulky and large |
| ✅ Consumes less power | ❌ Short power cord |
| ✅ Self-adhesive disc | |
| ✅ Comes with easily replaceable sandpapers | |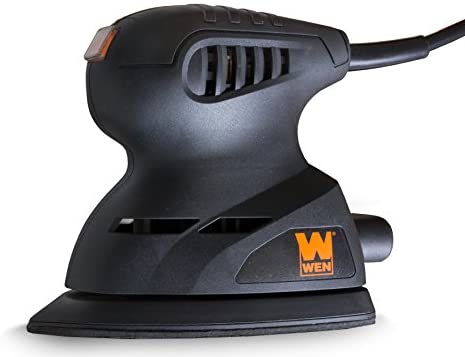 Why we love it?
It has an orbit speed of 13,500 orbits per minute.
It has a base of Hook & Loop.
It is very lightweight which is merely two pounds.
It has a compact design.
Its grip is ergonomic.

| | |
| --- | --- |
| Pros | Cons |
| ✅ Ergonomic design gives comfort of use | ❌ No dust collecting tray |
| ✅ Budget-friendly | ❌ No variable speed |
| ✅ Dust removal feature | ❌ Palm grip can be restrictive sometimes |
| ✅ Powerful 1 amps electric motor | |
| ✅ 1 year warranty | |
Why we love it?
This sander has a compact design with dimensions of 7 x 6 x 4.25 inches.
As it is compact and portable, it can fit into tight and smaller areas making your work easier.
The sander weighs only 1.8 pounds. This makes it lightweight and prevents hand or wrist pain.
The features this detail sander contains make it really economical as compared to most of the best detail sanders available.
The speed of this sander is 14,000 Oscillations per minute for efficient and quick sanding.
The Hook and Loop accessory changing system makes it really convenient for you to change the sandpapers.

| | |
| --- | --- |
| Pros | Cons |
| ✅ Lightweight (2.16 pounds) | ❌ Smaller in size than the average detail sander |
| ✅ High sanding speed | ❌ Some users raise questions over quality |
| ✅ Budget friendly | ❌ Not for heavy use |
| ✅ Value for money | |
Why we love it?
This sander has 3 position grip control with an ergonomic design which makes the usage of this sander comfortable.
The variable speed trigger of this sander makes it a multifunctional detail sander.
This sander is easy to control as it is compact in size and is lightweight.
This mouse detail sander is a really budgeted sander as it has great features and costs little as compared to other models.
This sander gets into the smallest areas because of its design. The finger attachment this sander has can reach spaces where other sanders cannot too.

| | |
| --- | --- |
| Pros | Cons |
| ✅ Fits easily in tight places | ❌ Fragile finger attachment |
| ✅ Has a dust collecting system | ❌ Limited scope of use |
| ✅ Easy to control | ❌ Build quality could be better |
| ✅ Great value for money | |
| ✅ Compact design | |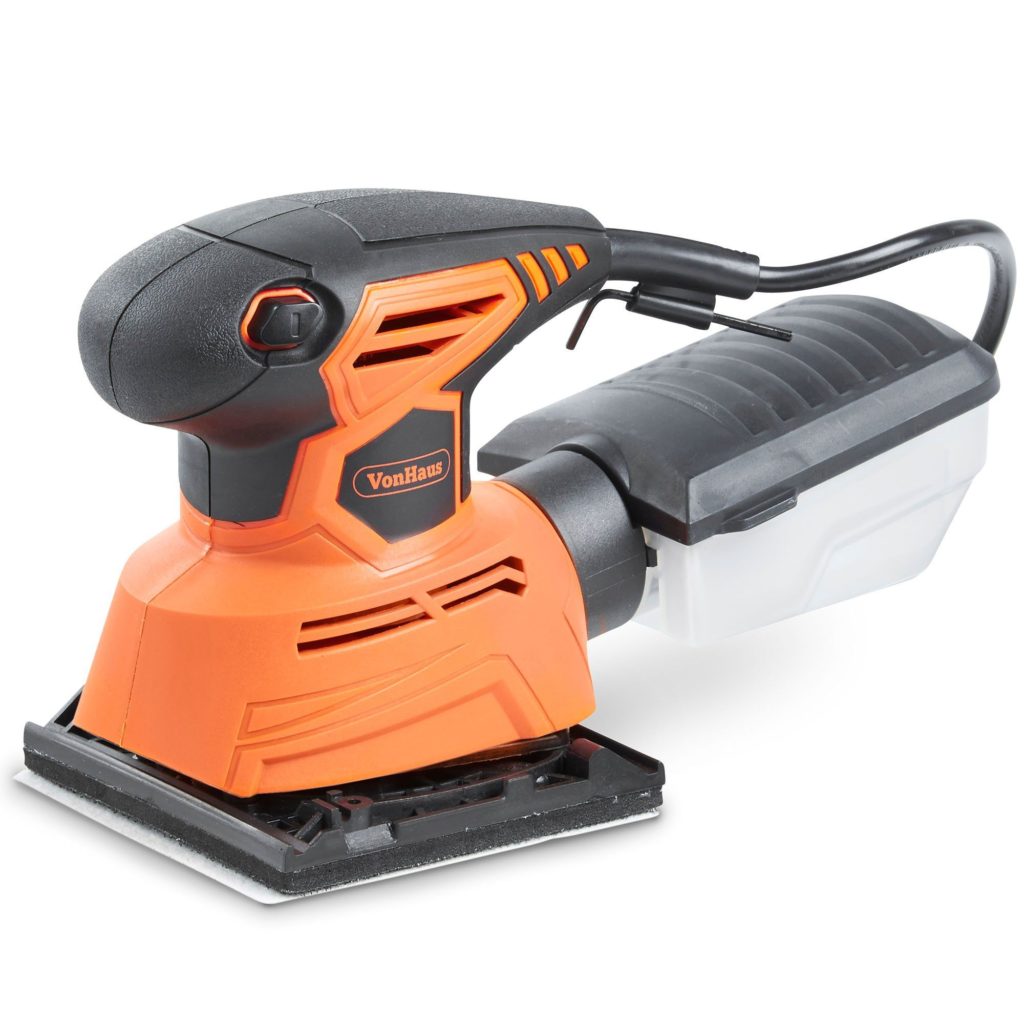 Why we love it?
This detail sander comes with a hook and loop base for changing sanding heads conveniently.
This one is a balance sander that prevents wrist and hand fatigue.
It includes 6 changeable sanding sheets for medium or fine wood and metal or plastic applications.
The two-in-one design of this sander lets you use it for open, flat areas as well as for small tight corners.
The dust collection box of this sander has a small capacity but you can attach a port to collect dust particles easily.
This sander is ergonomically designed and is lightweight for a comfortable usage for a long time.

| | |
| --- | --- |
| Pros | Cons |
| ✅ Good Build | ❌ inefficient dust collector |
| ✅ Versatile | ❌ Difficult to use for vertical jobs and awkward positions |
| ✅ Easy to handle | |
| ✅ Comes with 6 sanding sheets | |
| ✅ 2 year warranty | |
[Editor's Choice]
Why we love it?
The fan inside the dust collection port is in the center of the sander and it collects dust from the holes across the whole plate.
It has various cooling vents on the top and the bottom of the sander that help in preventing the motor from overheating when you use it for a long time.
The rubber material of this sander is on the top of the sander where you will hold it adding comfort in your hold.
The machine has low noise and smooth low vibrations that don't transfer to your hand while you sand it.

| | |
| --- | --- |
| Pros | Cons |
| ✅ 12 free sandpapers | ❌ Power cord is a bit short |
| ✅ User friendly | |
| ✅ Minimal noise | |
| ✅ Great for the DIY projects | |
Buying Guide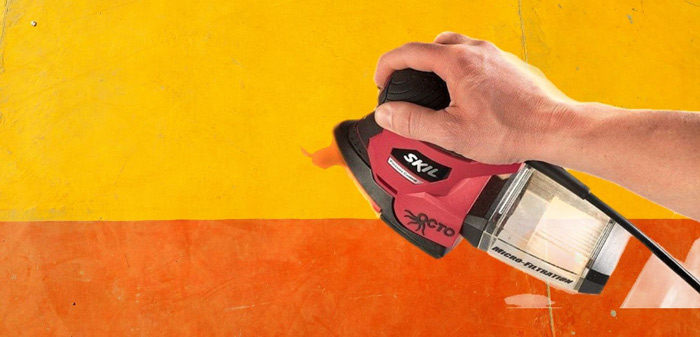 Here are some things that are extremely crucial to know before making any purchase.
Power Sources
You can find two different kinds of power sources i-e: operated and battery operated.
You must be aware that power sources will determine the motor power of your sander and its weight as well. Corded sanders are supposed to be more powerful and lighter as the battery in the cordless sanders tends to be heavy.
Cordless sanders are perfect for little work and as they are generally smaller, they are the best for the places that are hard to reach. They are the best if you don't have access to power mains.
Dust Collection System
While sanding, the sander can produce a lot of dust, which can be dangerous for someone's health. If a sander comes with a dust collection system, it can help you manage the collection of dust and keep your workplace tidy.
There are a whole lot of options in this regard. First is an integrated system that comes with a microfilter with the dust collection system. Except that, some systems come with an exterior extraction system that is supposed to be attached to a vacuum cleaner.
Both of these options have their own pros and cons. If you attach your sander to a vacuum cleaner, it can be hard to carry it with you as the vacuum hose comes in your way. But, it works the best to prevent dust from filling your work environment with dust.
An interior dust collection system works great too but it will have to be emptied repeatedly which can slow down your working speed.
Still, have some questions after reading our mouse sander reviews? here are the answers to some of the most common questions.
Do you want to join your furniture corners?
Then a detail mouse sander is for you. You can easily use it to get your furniture joints, hidden ages, and corners that are hard to access and reach. In order to get a smooth finish, a detail mouse sander is always recommended and used.
What is a detail mouse sander?
A detail mouse sander is a type of wood sander that helps you sand wood surfaces with high detail and precision. Its compact design and shape help you sand in tight and small spaces.
Is a detail sander and mouse sander the same thing?
Yes, they are. As a detail sander is small in size, easy to hold, and lightweight it is also called a mouse sander. Some may also refer to it as a small detail sander.
Can I use a detail sander in the place of a regular sander?
If you do sanding regularly then a detail sander is not ideal as it is not for your regular projects. Detail sanders are only made for extra finishing and smoothing on your small projects. You can also buy a detail sander besides your regular sander because in some cases you will need both at the same time.
Detail sanding tools are important for most small projects that require great precision.
How is a palm sander different from a detail sander? 
For sanding and finishing complex shapes and sizes such as hidden joints, edges, grooves, and corners, a detail sander is ideal whereas for a smooth finish and for finishing flat and large surfaces a palm sander is an ideal fit.
What should you look for when choosing a detail sander?
Orbit Speed
Before you should buy any mode it is very important to check what is the Orbit Speed of a detail sander. You need to check this thing as a first priority so that you can differentiate the quality of the detail sanders. I think you already know about the feature orbital tool head of a detail sander if you have read this article or if you are acquainted with the detail sanders.
With the help of the electric motor of a detail sander, the sanding papers orbit that is simply attached. So it is highly important to check the given orbit speed of a detail sander. You will get more power with a higher orbit speed as expected.
The unit of measuring orbit speed is OPM or orbit per minute that is counted on the number of orbits in a certain period of time. Generally, you can adjust the orbit speed of a detail sander by triggering the variable speed switch.
Motor Speed
An electric motor is used in the detail sanders for power requirements, mentioned earlier. In a detail sander, a tool head is always powered by its motor. If you want to buy a powerful detail sander it is handy and highly important to check the power output of a motor.
The power varies in the models of different detail sanders just like other power tools and the power is 0.8 amps or 1.2 amps given.
Size and Form Factor
Most of the detail sanders are small and compact. Because of almost all the detail sander out there for finishing and for precise and proper control. So you should always check the form factor and size of a detail sander before buying one. Usually, into small corners and tight spaces any detail sander fits easily which is compact and small.
In your workshop or garage or even in your toolkit a detail sander takes less or small space and that is why it is easy to store. Besides, you can easily take any detail sander from one job place to another that has lightweight and small size. So you should search for a detail sander that is lightweight and small.
Warranty and Durability
You should always look for a detail sander that is long-lasting and you can use it for a long period of time. Buying a detail sander that uses metal parts instead of using plastic parts and the one that has excellent build quality is the easiest way to ensure the quality of a detail mouse sander.
Can I wet sand when using a detail sander?
Some specific sander brands of the detail sanders have the feature of sanding on wet surfaces. If you buy one of them then you can easily sand on wet surfaces. Otherwise, you should avoid sanding with a detail sander on a wet surface as it may damage your tool.
Can I use hand sandpaper instead of a detail sander?
The answer is yes. You can use hand sandpaper instead of a detail sander. However, if you use hand sandpaper you have to put more effort than a detailed mouse sander. As a detail mouse sander comparatively demands less effort. So, rather you should use a detailed hand sander in order to finish your work with less effort and more quickly. After all, finishing a project in time is important and effort is also important to relieve fatigue or tiredness and keep healthy.
If you want to finish a very delicate and small piece, you may even look for a micro detail sander.
References:
The Granularity of Dust Particles when Sanding Wood and Wood-Based Materials
Occupational Exposure to Wood Dust in the British Woodworking Industry
Latest posts by Ethan Thompson
(see all)