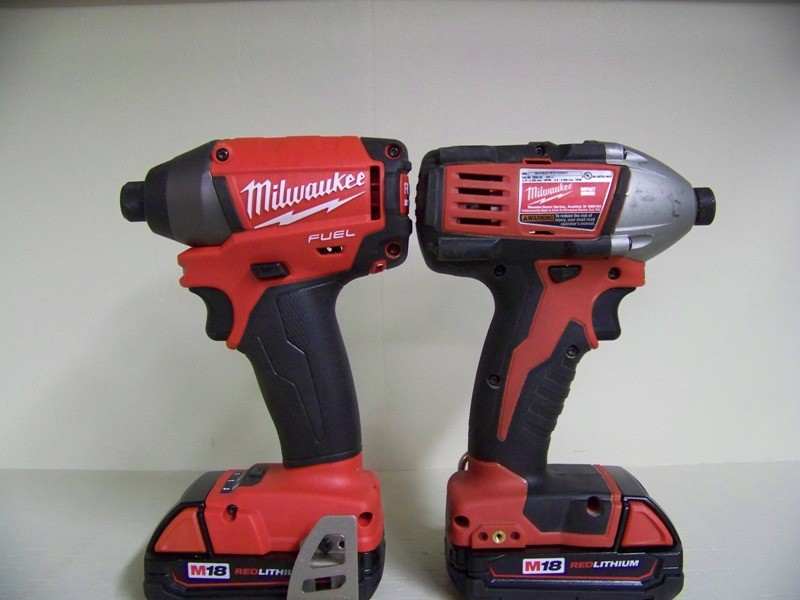 In 1924, Milwaukee was established in America for power tools. It is globally known as the oldest power tools manufacturing company.
The hype for Milwaukee is authentic as the company delivers high-quality and durable products. In 2012, the company introduced a line of brushless tools called Fuel, and which is unique from their existing brushed tools. The M18 and M18 Fuel are always in competition with each other. The other well-known tools of the company are M4, M12, and M28, these all are different grades of Milwaukee tools.
Almost all of the products are designed for professional use. Mechanical, electrical, plumbing sectors, construction, and many more professions use these power tools in one way or another. The M18 got its name from the lithium-ion battery used in them, and from the name, it is obvious that it has an 18-volt battery. Similarly, M12 utilizes a 12-volt battery. M18 and M18 fuel used batteries of the same power, but they still have some differences as some models are Fuel while others are non-fuel.
M18 vs M18 fuel
He4re is everything you need to know about how both these items fare against each other. Read till the end to get a complete & nuanced view. This is a very significant comparison.
M18
It is one of the cordless and non-fuel power tools from Milwaukee. In 2008, Milwaukee upgraded their M12 system and named the new series M18. The battery of this series is more powerful than the previous one. When talking about Milwaukee m18 vs fuel, it should be noted that fuel and non-fuel series of power tools are designed to be durable, long-lasting, and proficient. These power tools are ideal for professionals such as workers, carpenters, and builders, etc.
The M18 non-fuel series is known for being lightweight. These are cordless, so there is no issue with transportation; they can easily be carried from one place to another. Because of an ultimate powerful battery of 18-volt, it is assumed that more than 200 products of the series use the same battery.
You can easily use this versatile battery in almost all products of M18 power tools. The company is best in providing ergonomics and lightweight tools that result in high-quality products. In the M18 series, you can get either brushed or brushless power tools. In a more advanced world, usually, people go for more developed brushless tools. Although, there is no compromise on quality and performance in brushed tools.
M18 fuel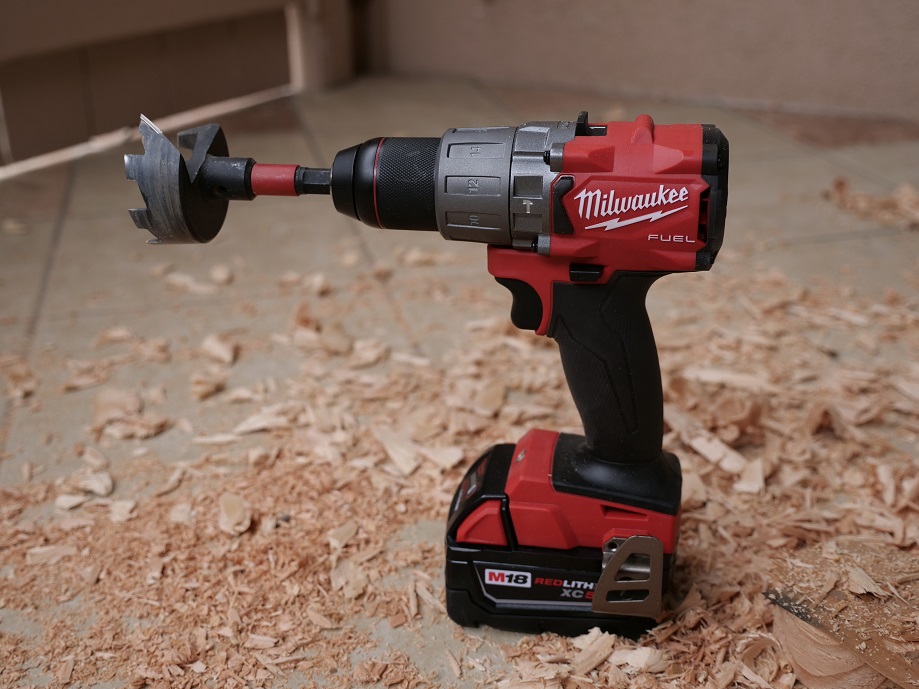 In 2012, Milwaukee planned to upgrade its newly introduced M18 series and launched cordless power tools. The aim was to enhance the performance of the tools and make their handling more convenient. So immediately many electric workers shift to this cordless tool rather than keep using the regular M18 series. In the M18 fuel series, you will get better durability, performance, powerful battery, and increased run-time, all credit goes to the brushless motor.
According to workers and contractors, having more run-time and the ability to handle construction issues better make this tool worth buying. Redlithium batteries and the Redlink Plus system significantly increase the value of this power tool. This is designed specifically for contractors and offers better control of vibrations and protection from water and heat. The fuel series is equipped with similar batteries as M18 but there are several other features that make this tool great.
M18 vs M18 Fuel Comparison
When we are arguing about Milwaukee fuel vs non-fuel then it is noted that the only difference between them is not to lie in a brushed or brushless motor. Some M18 tools also come with a brushless motor. Milwaukee tools have three trademark technologies of the company as Power state brushless motor, proficient Redlithium batteries, and competent Redlink plus software communication system. There are rumors that the term FUEL stands for Find Ultimate Energy Levels, originated by the group of engineers at the company.
However, there are many similarities between Milwaukee M18 vs fuel but the major difference is the use of Power state brushless motor. This motor is known for enhanced efficiency and improved proficiency due to REDLITHIUM high-demand lithium-ion batteries. It is also assumed that some devices by the company do not have the torque and drive that are the characteristics of the Fuel series.
Another important point of the M18 vs M18 fuel debate is their compact size. Many workers and contractors were continuously demanding compactness in the size of the company as the bigger size is difficult to handle and transport. These power tools have Redlink plus software that controls the power supply from the battery. Therefore, these tools are manufactured for giving high performance.
Milwaukee fuel vs brushless
Almost all of the M18 fuel has a brushless motor and similarly, some M18 non-fuel tools also have a brushless motor. So the main difference between this fuel and non-fuel lies in the fact that the M18 series is equipped with a powerful and robust Power state brushless motor which is 4 times more powerful than the regular motor.
According to research, the performance of the M18 series is 30-50% more than the regular M18 version. This difference is not a minor one but it is so significant that it influences the drivers and hack all. The performance of fuel series power tools such as M18 fuel blower, wrenches, and circular saws are more than the non-fuel series of the power tools. According to the M18 fuel blower review, fuel blower outperformed non-fuel blower by a factor of almost 50%.
Better control
One of the major points in Milwaukee M18 brushless vs M18 fuel is the control factor over the motor of the tools. At lower speed, control over the brushless motors is deciding factor in this debate. In brush motors, the vibrations are inherent because brushes produce vibrations when colliding with each other so it becomes very difficult to control at a high speed. The issue of proper control becomes worse at low speed because vibrations produced at lower speed are produced by the material created so it creates less precision in the function.
Every worker demand to have more control over their tools but with the brushed motors having full control can be a challenge due to the high number of vibrations produced by the brushes. Brushless motors are responsible for creating and producing fewer vibrations. Hence, with the brushless motors, you can get ultimate control over the power tools at high speed and even at low speed. The vibrations are minimized in the brushless motor so you have more control over the tool.
Fewer parts
In the M18 fuel vs M18 brushless debate, a number of parts involved in the manufacturing of a motor can be an important point. In most brushless motors, fewer parts are involved. In motor with brushes, fewer parts are used so there are chances that it may go wrong with less parts. When you can get maximum work done by using fewer parts then it is a good and appreciable thing.
Manufacturing of brushless motor involves a fixed magnet that is surrounded by an electromagnet, an inner motor, the circuit board that is involved in controlling the signals of the polarity. By fewer parts, we mean that in the function of the motor, fewer things are involved so it may go wrong. The parts of fuel M18 do not need replacement frequently.
Higher speed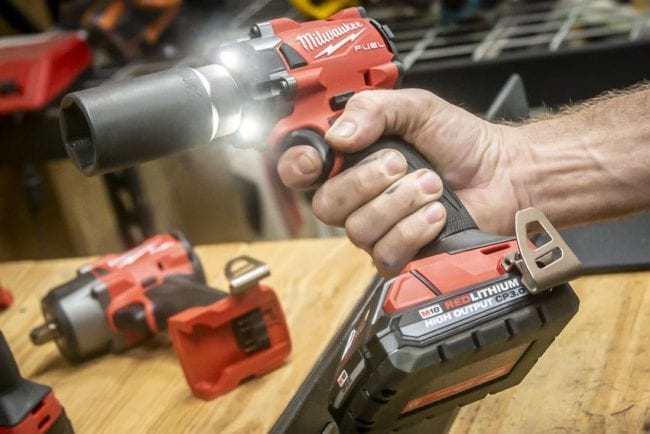 In M18 vs M18 fuel, the speed of the motor plays an important role. In brushless motor fewer parts are utilized so there are chances that the motor can increase its RPM. You can get high versatility and potential with high speed. You can power the motor through tougher and harder material by putting less heat and pressure on the motor.
Generally in Milwaukee M18 brushless vs M18 fuel argument, the M18 fuel series are known for higher speed in its operation and functionality. It is due to a brushless design that you can get high speed in power tool because without brushers there are less in the way of operation. The tool is called versatile when you are able to work with it even at high speed. There is always an option for adjusting the speed according to the need and demand of the moment. Some projects can be done at low speed while some need high speed.
Lower heat levels
Heat levels can be regarded as the important point in the Milwaukee M12 fuel vs non-fuel and M18 series. It is noted that the motor with the brushes heats up more quickly than the motor without brushes. If the tool produces more heat then it means that it will significantly decrease the life span of the parts of the machine.
Similarly, less heat indicates the increased life span of the parts and enhanced performance because you can operate the device for a longer period of time. The power tools always tend to release heat because of friction produced within the parts. The quality of brushless motors is that they produce less heat than the brushed motor. If the machine does not heat up quickly, then you can use the tool for an extended period.
Lower energy requirements
In M18 vs M18 fuel debate, the level of energy required to operate a motor is a deciding factor. A brushless motor needs less amount of energy to operate so it will take less power from the battery. It indicates that the battery of your motor will last long to perform a similar task. While on the other hand, more friction is produced in brushed motors due to the high rate of friction is produced inside the machine.
The power tools that are operated by the battery always tend to find ways for saving its power and energy. That is why we have brushless motors in the M18 series. Less power is required to operate a brushless motor while more power is needed to start a brushed motor. So, the battery timing of brushless motors is more than the brushed motors. You do not need to recharge the battery of your power tool after every use. Once fully charge your battery, and you can use this battery for many tasks without worrying about the power.
Safety
The element of safety should be considered when arguing about Milwaukee fuel vs brushless. It is assumed that brushless motors are safe to use because of the technology installed in them that has the ability to minimize the risk of sparking. This is mainly due to the lack of physical connection in brushless motors, which is comparatively higher in motors with brushes. The brushes of the motor produced friction and resultantly it will produce vibration. So you can easily lose control over the machine.
When no spark is produced then there will be no chances of the burning of the machine. Moreover, brushless motors are safer to use in a flammable environment. A brushless motor is designed to provide high-level protection and safety and it also increases the safety of the power tools. When a power tool with a brushless motor is operating inflammable material, then there is no chance of burning the machine. So it is safe to use the brushless motor in an environment where there are more chances of flame production.
Lower maintenance
In M18 vs M18 fuel conflict, the level of maintenance should also be considered. Generally, brushless motors are easy to maintain. In a brushless motor, fewer parts are used for it is easy to locate the problem and fix it without much hustle. So, you can repair your motor without brushes in less time and back to work quickly as compared to the motor with brushes.
You can repair your brushless motor on your own if you have little knowledge about the motors. You can also repair it from any professional at minimum cost as there are no complex and complicated tools are involved in the manufacturing.
In brushless motors, fewer parts are involved in manufacturing brushless motors so it is easy to maintain and at minimum cost. In comparison to this, motors with brushes` created with more parts so it becomes complicated. When your brushed motor is worn-out then more time is needed to repair the machine and make it workable. The repairing cost of the brushed motor is also more than the brushless motor. The brushed motors are more complex and complicated to repair because many parts are used in manufacturing the brushed motors. So, only professionals can repair it with more cost than the brushless motor.
What is the difference between m18 and m18 fuel?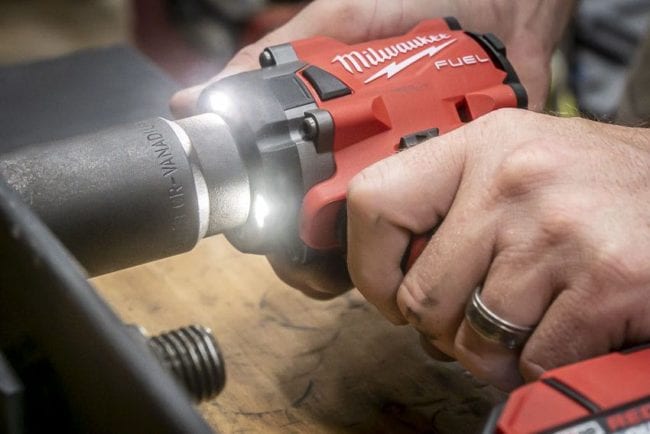 Mostly when people argue about Milwaukee fuel vs non-fuel, they thought that the difference between them is that one comes with a brushed motor and the other has a brushless motor. All tools of the Milwaukee are equipped with Power state brushless motor, a more efficient Redlithium battery, and a Redlink Plus communication system. The full form of the Fuel series is Find Ultimate Energy Levels. So you can expect outstanding performance from these power tools. Fuel wrenches, circular saw, and cordless drill are all Milwaukee tools brushless.
So the conflict of Milwaukee brushless circular saw vs fuel endorsed that the performance of brushless circular saw is enhanced than the regular one. Due to the Power state motor and Redlithium battery, the circular saw performs exceptionally, showing more durable and promising results.
While the regular saw has some security risks and also has high maintenance. Milwaukee claimed that their fuel series will give you unmatched performance and a high level of durability. Every tool of this series will boost performance, and completely change the game of power tools in the market.
When did Milwaukee m18 come out?
In M18 vs M18 fuel debate, it is necessary to discuss the beginning of the company and how they evolved their groundbreaking series called M18. Milwaukee started in 1924 in America by manufacturing and assembling power tools. In 2012, the company decided to launch the second generation of its already existing power tools.
M18 came out in 2012 and grow exceptional growth. The performance and growth of the M18 series also include the M12 version which uses a 12-volt battery. In 2015, Milwaukee decided to upgrade its tools to cordless and brushless motors. The Milwaukee 18v fuel impact the global market in such a way that rapidly contractors and workers shifted to this newly launched series as they were waiting for something outstanding from the company.
Milwaukee combined its own brushless motors with extraordinary electronic technology and developed lithium-ion batteries to push the boundaries of cordless power tools. They utilized their Power state brushless motor, Redlithium battery technology, and Redlink Plus Intelligence system to manufacture their Milwaukee M18 series.
Conclusion
The debate of M18 vs M18 fuel is concluded by saying that both the M18 and M18 fuel series are exceptional power tools by the company. Both series have similarities and differences simultaneously. In the same way, both M18 and M18 fuel have different industrial applications. There is no doubt about the outstanding performance of both series but you can choose according to your need and demand. Before buying a power tool, it is recommended to go through our informational article so you can have first-hand knowledge about these power tools. If you more powerful and durable product then you should consider the M18 fuel series, as they are a more advanced and developed series by the company. In comparison to this, if you want a big-sized power too then your answer should lie in the M18 regular version.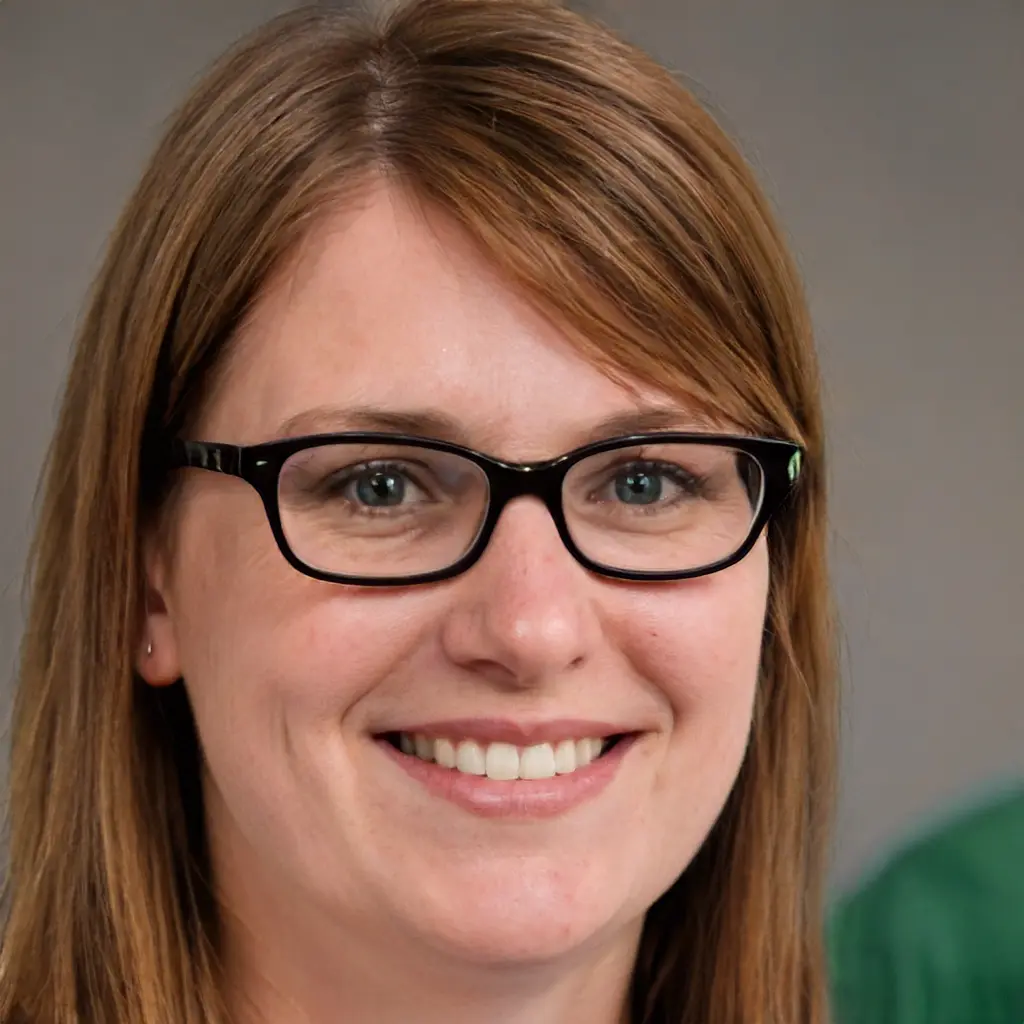 Latest posts by Olivia Mitchell
(see all)