Looking for a perfect lathe chuck to gain more control over your creations?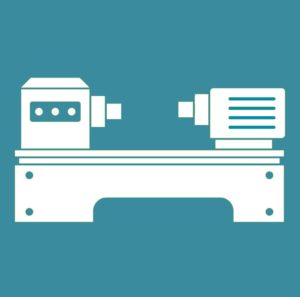 It's hard to pick up the best one as there are several different types available in the market.
But don't worry
In this article, we'll cover all the best wood lathe chucks you can buy for your wooden pursuits.
Wood lathe chucks are a miraculous set of products. They help in turning a simple piece of wood into an antique piece. Lathe chucks are the holding devices. They keep the wood in a specific place or the specific direction while you are working on them.
Choosing the ideal wood lathe is one of the most crucial things for a woodworker because it decides the quality and sophistication of the work. A good woodchuck gives you greater flexibility and holds over your piece of wood, and also it allows you to work with freedom, so you can put all your focus into designing the wood.
There are several products in the market. Choosing the ideal one among the many is a hard choice to make. But we will help you in this regard, first of all, we will tell you some of the qualities or features that you should be looking for while buying. And in the second section of this article, we will be reviewing the best product in the market. So, if you want to be a professional woodworker, then make sure to read the article to full length. It will help you to get your best chuck mate.
Factors to consider
Here are some important factors to consider before buying any lathe chuck.
Buy a universal chuck: Before choosing any chuck, make sure that it is universal. A universal chuck is compatible with most of the lathes. Universal chucks are the best value for your money because they can work with all the lathes. All the chucks in the market are not universal. Some companies produce chucks that are compatible with their lathes only. Their chucks are not compatible with other lathes. One should avoid those chucks that have a narrow range of lathes.
Keep Scrolling for the Lathe Chucks list
Buy a durable wood lathe: Lathe chucks is a product that you don't buy or replace every day. It is a type of lifetime product so; it needs to be durable. Chucks are of versatile materials, but the most common and suitable material is stainless steel. Cast iron is less common and less substantial, and it is less resistant to changing environmental conditions. So, before purchasing, make sure that you are investing in a chuck made of stainless steel.
Interchangeable jaws: Interchangeable jaws are a crucial feature to look out for while buying. This kind of jaw has a self-centering ability, and it will change its size automatically while working on the wood of different sizes. Interchangeable jaws are a bit expensive, but they are worth buying. All the modern chucks have the self-centering feature. Besides the interchangeable jaws, some products came with specific jaws designs like dovetail jaws. These types of jaws are put together, specifically to hasp onto a turned-shaped tenon.
Accessories: The best type of woodchuck is the one that comes with all the necessary accessories. There are two benefits of choosing chucks with accessories. First is, you will not need to spend extra time finding compatible accessories, and second, you will be saving money. All the woodchucks on our list have all the crucial accessories with them. The general accessories of the chucks include a wrench, a gear key, a spindle, and a storage case.
Main types of chucks?
Three jaw chuck i.e used to hold circular and hexagonal objects
Four jaw chuck i.e. independent chuck
Collect Chuck
Are wood lathe chucks universal? 
A self-centering lathe chuck uses jaws, interconnected by a scroll to hold the workpiece, these self-centering chucks are also known as universal chucks. These chucks are used to hold circular as well as hexagonal workpieces and are usually used when precision is the priority.
How does a wood lathe chuck work?
Chuck actually holds your object tightly, so you can shape the object according to your will. It keeps the object in place while spinning. There are different types of wood lathe chucks that are used with different lathes to work on different shaped wood pieces.
Let's Begin
Best Wood Lathe Chucks 2023:
So here are our picks for the top wood lathe chucks:
Why we Love it:
It comes with a wide range of jaws, and all the jaws have the self-centering ability.
It is compatible with C-type accessories.
It is a universal chuck, and it can work with the lathes of most renowned companies.
Come with a complete set of equipment.
Super easy to maintain and use.

| | |
| --- | --- |
| Pros | Cons |
| ✅ Budget-Friendly | ❌ For smaller lathes |
| ✅ Added safety features | |
| ✅ T- handle jaw helps tighten objects | |
| ✅ Highly versatile | |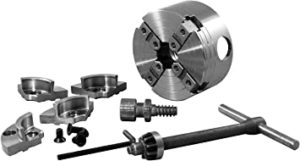 Why we Love it:
It has a spindle lock, which is an anti-release spindle lock. The spindle lock keeps the chuck in place while working.
It is vibration-free which enhances precision.
One-handed adjustment gives a powerful grip.
It also has the t-handle jaw for easy handling of objects.
Economical chuck that's really worth it.
Easy to handle and clean.
It comes with four pairs of solid griped jaws.

| | |
| --- | --- |
| Pros | Cons |
| ✅ Lightweight | ❌ Needs adaptor for lathes other than Nova |
| ✅ Precision machines | |
| ✅ Easy to clean | |
| ✅ Minimized runout | |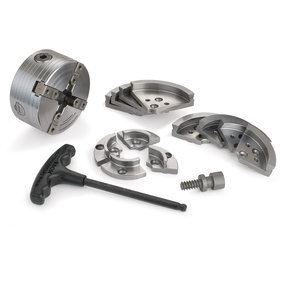 Why we Love it:
Ideal for handling heavy-duty and demanding tasks
Has the auto stop feature
Open backplate for easy cleaning and maintenance
It gives a super grip over the wood
Has the large holding capacity
It comes with 4 jaws
Made of e104 elite machine steel

| | |
| --- | --- |
| Pros | Cons |
| ✅ 500 mm Diameter swing | ❌ Expensive adaptors |
| ✅ One head tightening feature | |
| ✅ Gearing system | |
| ✅ Steel machinery | |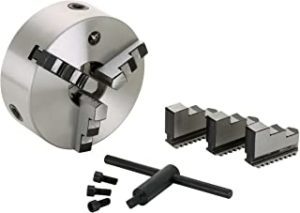 Why we Love it:
It has self-centering jaws for the better fixing
Has the reversible jaws technology
It is a dual wood lathe; it can be used for large and small lathe chucks.
It has a small size, so it is easy to work with
It is lightweight
It is a reliable unthreaded chuck, and it fits finely over the lathe

| | |
| --- | --- |
| Pros | Cons |
| ✅ Small in size | ❌ Does not withstand pressure |
| ✅ Lightweight | ❌ Not a good option for professionals |
| ✅ No battery required for operation | |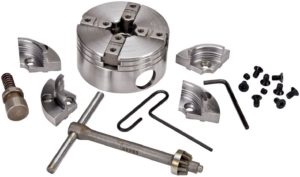 Why we Love it:
Anti-release spindle function for excellent grip
It is a universal chuck and fits almost all mini and midi lathes
Made of extreme quality durable material
Auto-stop jaw feature for safety
It comes with the replacing and repeating warranty
Jaws have the dove tile angle for better fixing over the workpiece.

| | |
| --- | --- |
| Pros | Cons |
| ✅ Good clamping range | ❌ Works with the small lathes only |
| ✅ Highly Durable | ❌ Adapter needs to be purchased separately |
| ✅ Wider clamping range | ❌ Suitable for a specific size of objects |
| ✅ Smoother operation | |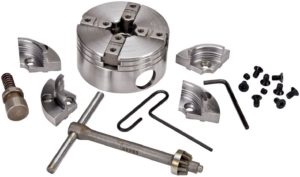 Why we Love it:
It is a compact and efficient woodchuck.
It is made of high-quality steel
It has two pairs of jaws that have the super grip
It has the chuck keys that give you more and better grip
The jaws are of extreme quality material, and they are super effective in keeping the workpiece in place
It comes with a wrench and handles for effective handling

| | |
| --- | --- |
| Pros | Cons |
| ✅ Small in size | ❌ Suitable for specifically sized workpieces |
| ✅ Composed of high-quality material | ❌ No auto-stop jaws |
| ✅ Relatively Lightweight | ❌ No anti-release lock function |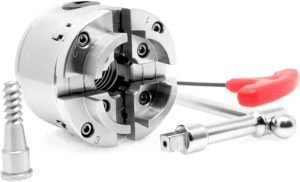 Why we love it:
It has 4 versatile jaws, and all the jaws have the self-centering function
It can be used for the versatile function
It is universal chucks; it can be combined with most of the lathes
Pilot holes have a 2 to 3.2 inches diameter, and it fits efficiently around the workpieces
Internal jaws have the 1.6 to 2.8 inches diameter
It is one of the most economical and efficient chucks of the market

| | |
| --- | --- |
| Pros | Cons |
| ✅ Good value for money | ❌ Tightening tools are not durable |
| ✅ Good size range | |
| ✅ Can install screw chuck according to need | |
Why we Love it:
The pack includes two jaws and a wrench, and a mounting screw.
All the jaws have the self-centering ability.
It is made of high-quality steel, so it is super durable.
The mounting plate fits the chuck efficiently on the lathe.
It is compatible with 1″ * 8 TPI thread
Rotating mechanism help in the self-centering of the jaws

| | |
| --- | --- |
| Pros | Cons |
| ✅ Comes with a self-centering feature | ❌ Requires backplate for mounting |
| ✅ Affordable price | ❌ The gear plate function is rough |
| ✅ Good quality build | |
Bonus Products:
Some of the most amazing products we just tested are the following:
Gizzy Wood Lathe chuck
Easy wood tools chuck
Buying Guide:
There are thousands of products in the market. All of them are advertised as the best product on the market. All the products have a bright side, and all of them have some cons. If you are confused and don't know which woodchuck is best for you? Then we will tell you some features that you should be looking at while purchasing.
Efficiency and effectiveness
All the products might seem the same, but there is a huge difference in performance. The performance of the woodchuck depends on its jaws and its structure. A chuck that made a strong bond with its lathe usually gives a strong grip on the workpiece. Unfortunately, you can't judge the effectiveness of any chuck without seeing its performance. But the chuck that has less vibration while working and has a tight grip jaw is usually preferred.
Look for a self-centering chuck
Self-centering is the basic feature of the jaws. The self-centering feature helps the jaws to hold the workpiece of different sizes effectively and efficiently. The self-centering ability helps jaws to change their size according to the workpiece. A better grip means a greater hold. The better the grip, the neater your work will be.
Easy change jaws
Try to look for a chuck whose jaws are easy to change. Usually, chucks require very little effort while changing the jaws, but changing the jaws could be tricky in some. To look for the jaws setting read the details provided by the manufacturers. Buy the product after understanding the mechanism involved in changing the jaws.
T bar operation
T bar operation is for the one-hand tightening operation. It is a handle over the chuck that makes the handling of the chuck, easy and makes it more efficient. T bar is a type of feature that you should be looking at if you are a beginner woodworker. Although it looks like a simple handle, it will ease your life in many ways.
Jaw number
Jaw number is also a crucial factor to consider. Today there are a lot of chucks in the market with a variable number of jaws. Usually, the chucks have 3, 4 to 6 jaws. The higher the number of the jaws, the better will be the woodturning, but it does not work in all cases. Because the higher number of jaws will make the centering difficult. Ideally, the chucks with 3-4 jaws work best. 3-4 jawed hucks are suitable for large and small workpieces.
If you are working with the square workpieces, then 3 jaws will not work for you, then you need to go to 4 jaws. 4 jaws chucks require a little extra work for the proper setting, but they give excellent hold on the square pieces.
Jaw type
After the number of jaws, you need to look for the jaw type. The specific shape of the jaws has great importance in the woodworker's life. There are two basic types of jaws, serrated and dovetail. Serrated jaws are the special jaws, that are specific for holding metals. These have bumps or small elevations that give excellent hold over the metal. The other type of Jas is called dovetail jaws.
Dovetail jaws are plain jaws. These types of jaws are best for holding and woodturning. Dovetail jaws have smooth jaws, and they don't leave any marks on the wood.
Lathe size
It was impossible to cover the buying guide without including lathe size. Lathe size is one of the most crucial things to consider while purchasing the woodchucks. There are three basic types of lathes, mini, midi, and large size lathe. All three types have their benefits and drawbacks.
The mini-lathe has a swing of twelve to fifteen inches between the centers and eight to ten inches swing over the bed. As the name is showing, the mini lathe is best for turning small objects like pens, small bowls, small boxes, and containers. The main advantage of this lathe is that you can work on mini workpieces, and also, they are super affordable. If you are starting your woodturning career. Then we will recommend you to buy mini lathes.
Midi lathe has twelve to fourteen inches swing over the bed, but these lathes are a bit costly. They are suitable for turning large furniture pieces. Midi lathes also need a stand for work, some lathes come with the stand, and in some cases, you need to buy them separately. The advantage midi lathe is its adjustable speed. You can pick the speed that best suits your workpiece.
Large-size or full-size lathes are best for commercial purposes in the industrial sector. Full-size lathes have powerful motors, and they come with some staggering features. They have the widest diameter swing of 22 inches. They are super costly, but they are the best choice for Turing of the large furniture workpieces, and there is wide use of the full-size lathes in the architecture industry.
Cost
Cost is one of the most determining features. It is true that with money you can buy high-quality products, but there is no relationship between money and quality. There are products in the market that have excellent performance with an average price. At the same time, there are a lot of products in the market with high prices without having remarkable performance. An ideal woodchuck is the one that has the economical price but gives the premium quality work. Also, it is better to choose a product or company that is giving you a replacement or repair warranty.
Frequently Asked Questions
Here are some questions that may come to your mind before choosing the perfect wood lathe chuck for your woodworking.
Let's get into it
Q. What is a wood lathe chuck?
It is an essential tool in woodturning. It is basically a clamp that is specialized for the purpose of woodturning. It holds your object firmly so that you can easily shape it whichever you want. You'll find our picks for the best woodturning chucks in the list above.
Q. What is the Best wood lathe chuck?
Here are our top three picks for the best wood lathe chuck 2023:
PSI Woodworking CSC3000C Barracuda Wood Lathe Chuck system
NOVA 48232 G3 Reversible Wood Turning Chuck
TEKNATOOL SUPERNOVA 2 Chuck W/2″ JAWS & WOODWORM SCREW
We've reviewed these efficient chucks in our reviews list above.
Q. Which is the best wood lathe chuck for money?
Grizzly Industrial H8032-3″ 3-Jaw Woodchuck 5/8″ Unthreaded
Delta Industrial 46-461 Reversible Nova G3-D Woodturning Chuck
WEN LA4444 4-Inch 4-Jaw Self-centering Chuck set
Find these wood-turning chucks rated in our reviews list above.
References & Sources:
Preparation and wear behavior of woodworking tools coated with superhard layers
Turning Wood with Richard Raffan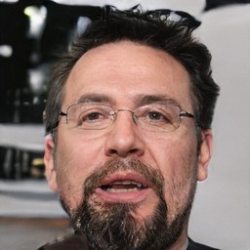 Latest posts by Doug Mahoney
(see all)