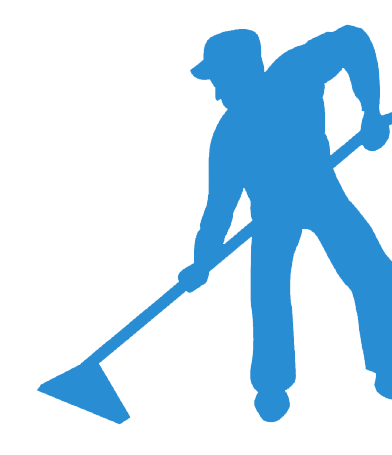 Cleaning wood floors manually is a suicide mission.
If you got a lot of hard-sealed flooring in your house then getting yourself a wood floor cleaner machine will be a deal-breaker for you. They are much more advance in functioning than your regular bucket and mop. Not just in its functions but it will make your floor looks spotless doubtlessly.
And we all can agree.
Cleaning and the sanitizing floor are a major part of daily chores. That's why owning a cleaner machine will make your task ten times easier. So, below are discussed all the great features this electronic device holds for you along with the top eight machines that you should consider while making the decision.
TYPES OF CLEANERS
Before we get into the reviews let us inform you, there are three types of cleaners;
ROLLER CLEANERS: These have two compartments; one for the dirty water and the other one for clean water. Due to these, these cleaners make the floor clean, clear, and dry. These are a great choice.
SPINNING MICROFIBRE PADS: They work similarly to that of the roller cleaners, but they are way gentler than them. They are the perfect match for the wood floors that need extra care.
STEAM CLEANER: Whereas, steam cleaners evident from its name use steam, high temperature, to wash the dirt from the floor. This one disinfects the floor and makes it look spotless.
Now Let's Dive in!
Best Wood Floor Cleaner Machine 2023
Here are our picks for the Top Wood Floor Cleaner Machines that'll tackle any type of cleaning job you'll throw at them.
1. TINECO FLOOR ONE S3
[Editor's Choice]
Why do we love it? 
Will vacuum and wash your floor simultaneously with the dual function feature.
It's cordless and lightweight rendering it highly portable.
Strong suction power sucks all the debris and dirt.
Because of the high-powered battery, extended work hours are possible.
The Self-cleaning cycle keeps the machine clean from the hair, dirt, and any sort of wreckage.
For your feasibility an LED display keeps you updated.
Doesn't make chaotic noises while functioning.
| | |
| --- | --- |
| Pros | Cons |
| ✅ Cordless machine | ❌ Battery takes 1.5 hours to charge |
| ✅ Connects with WIFI | |
| ✅ Comes with 2 rollers and 2 filters | |
| ✅ Quiet operation | |
| ✅ Two separate tanks | |
| ✅ Rapid dust suction | |
| ✅ Strong sturdy build | |
2. KENMORE BU4050
Why do we love it?
Has 2 powerful motors that bring out effective brush rotation providing the force for extra powered deep cleaning.
There is a bag fill indicator as well. So that it informs you about it being filled up or not.
Its wand can be expanded to clean off the cleanings and the walls with high heights
Its HEPA filtration is everything that will keep the air purified from 99 percent of dirt.
It has no touch bag technology with quite a lot of space.
Its operation is quiet as well with an LED light illuminating the floor.
Lift-up technology makes it easier to move around.
The brush roll automatically cleans the hair particles.
| | |
| --- | --- |
| Pros | Cons |
| ✅ Lift-up canister | ❌ Not cordless |
| ✅ LED light to detect dirt | |
| ✅ Quite functioning | |
| ✅ HEPA filtration | |
| ✅ Hair elimination nozzle | |
| ✅ Double-wall for isolation of air flowing | |
| ✅ Double-wall for isolation of air flowing | |
3. BISSELL SPINWAVE 20393

Why do we love it? 
It mops the floor using pads, scrubbers, and a soft-touch mechanism.
These pads mop everything so brilliantly that the floor appears rejuvenated.
It works effortlessly on every type of floor, may it be hard floor, tiles, or any other.
This one comes with an on-demand spray feature.
It is lightweight easy to carry around.
It is a pet and toddler-friendly device with quiet operation.
| | |
| --- | --- |
| Pros | Cons |
| ✅ Easy to fill the tank | ❌ Might leave streaks |
| ✅ Comes with 2 scrubs and 4 soft touchpads | |
| ✅ Makes no noise while cleaning | |
| ✅ Lightweight & portable | |
| ✅ Compatible with multiple surfaces | |
4. SANITAIRE HYDRO CLEAR SC930A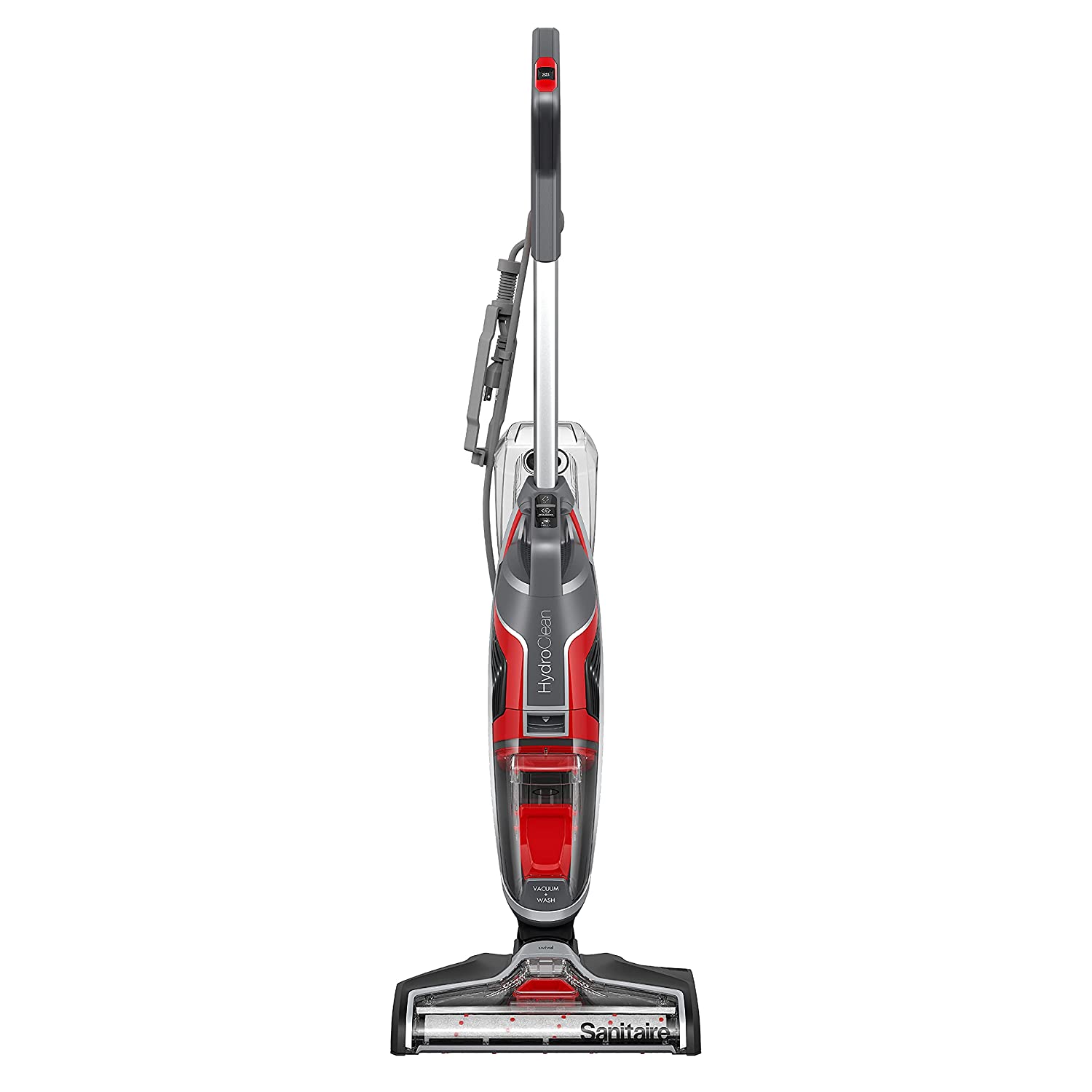 Why do we love it? 
This one vacuums and mops the floor seamlessly.
Its drying option that needs to be pressed after mopping works tremendously amazing. As it does dry the floor within seconds.
It saves your time and completes the task in half the time of what an ordinary mop takes.
Has a two-tank system, one to store the clean water for cleaning and the other to consume dirt water from cleaning.
The self-cleaning function automatically keeps on cleaning the brushes from all the dirt etc.
Its brush contains microfibers that clean the deck and dry it perfectly too.
There is an option to clean it sanitizing solution as well.
| | |
| --- | --- |
| Pros | Cons |
| ✅ Powerful brush motors | ❌ Expensive |
| ✅ Long power cord | |
| ✅ Easy to move around with | |
| ✅ Spare brush roll and filter | |
| ✅ Special sanitization option | |
| ✅ Extensive cleaning path | |
5. LIGHT "N" EASY STEAM MOP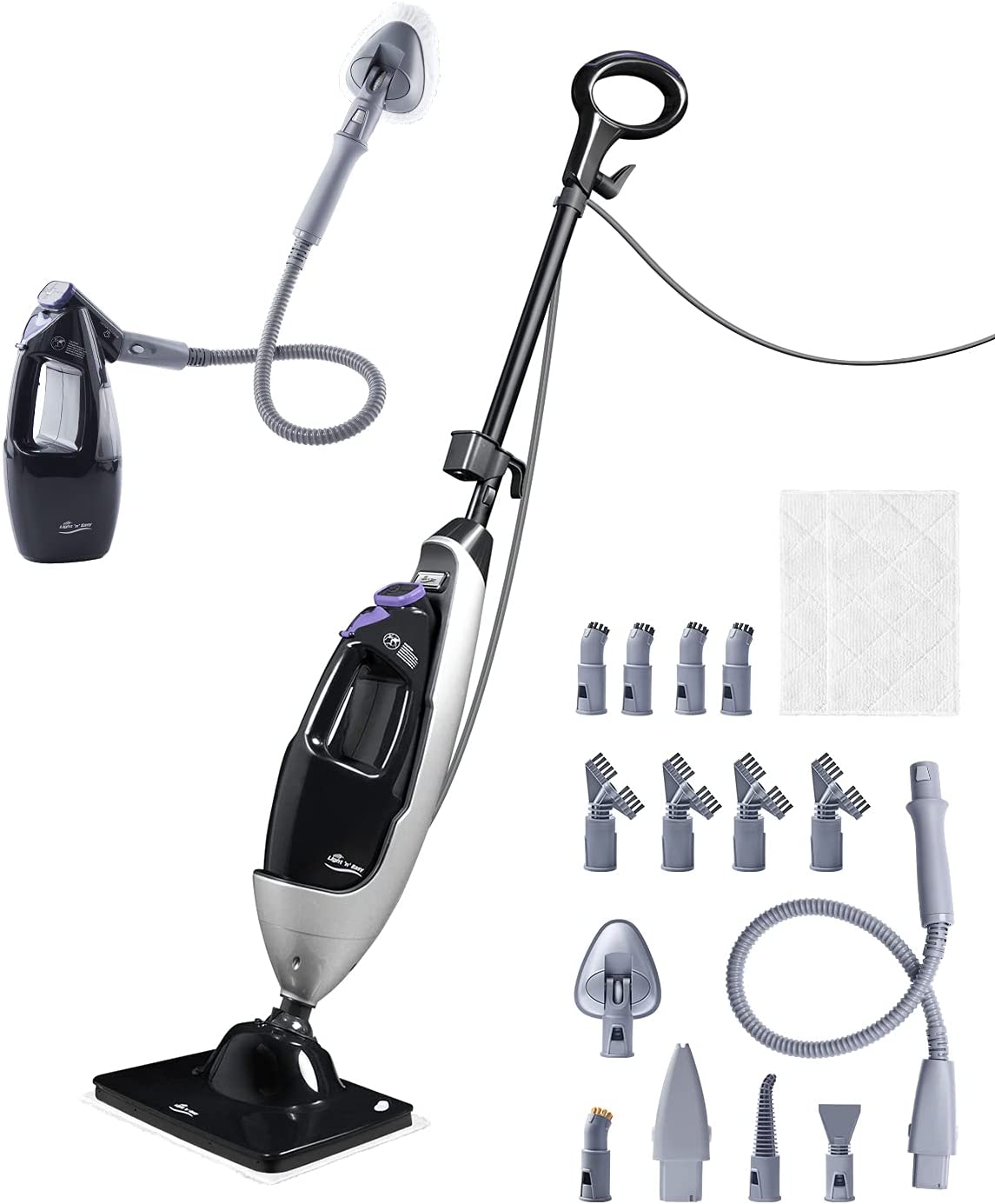 Why do we love it? 
It works as 2 in 1. First, through its steam's high temperature it cleans the dirt then dries it off instantly.
There are three different levels of temperatures, high, medium, and low.
This one works with all distilled and tap water as well.
The long cord of 20 feet doesn't make you limited to a specific place. You can maneuver easily wherever you would want to.
Being multipurpose in functioning, it can be used as a handheld steamer as well.
| | |
| --- | --- |
| Pros | Cons |
| ✅ Easy to assemble | ❌ No switch on/off option |
| ✅ Mop stands without support | |
| ✅ Cleans stubborn stains | |
| ✅ Comes with 8 accessories | |
| ✅ Multi-purpose design | |
| ✅ Great value for cash | |
6. MARK LIVE CORDLESS SPIN MOP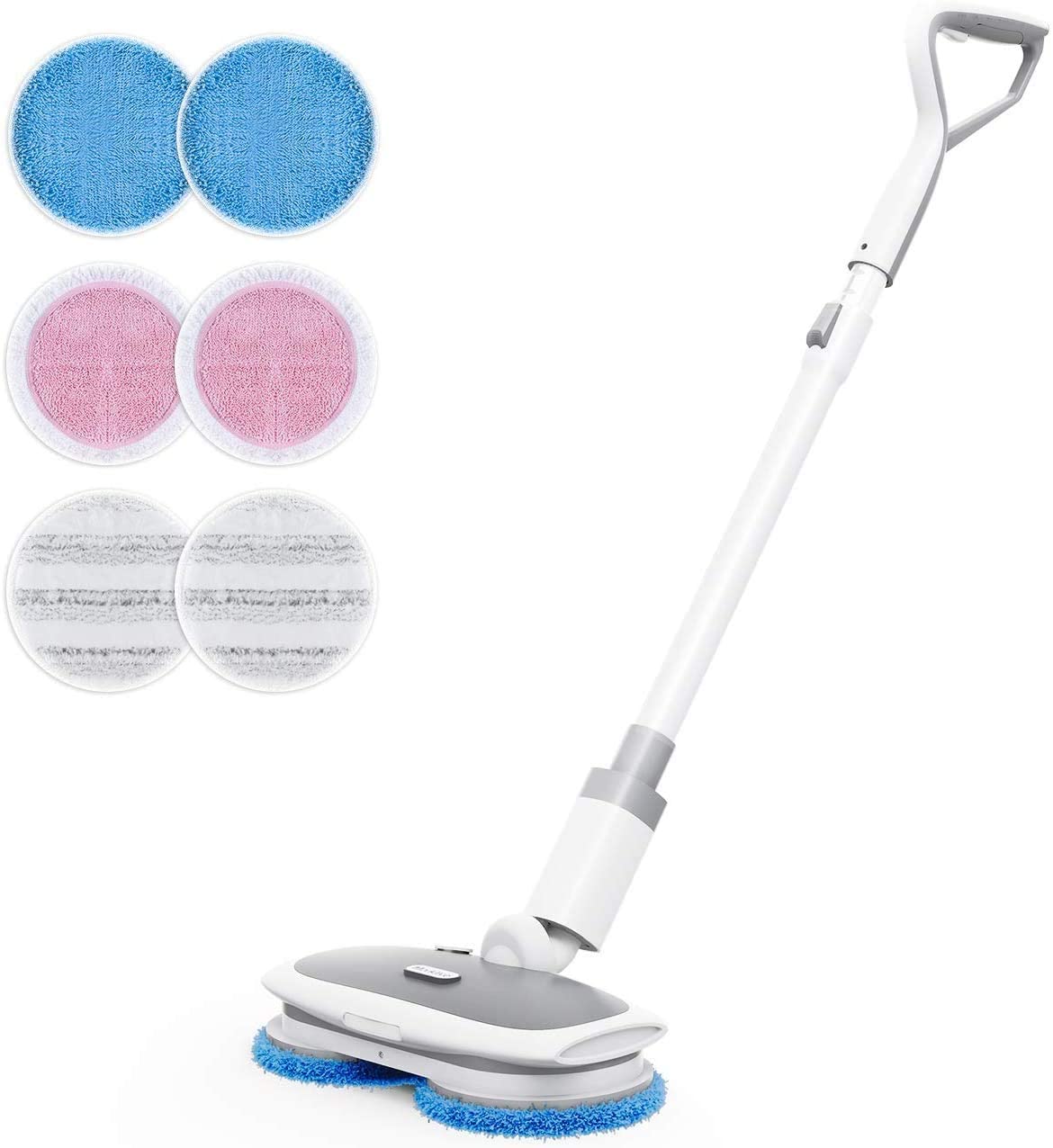 Why do we love it? 
It has a self-driving feature that will drag you for cleaning and doesn't require much of your effort.
Due to doubt motor rotation, the speed of it is very high.
It comes with a free magnifying modification that will adjust the handle easily up to any size.
It also has a 45-degree self-pressure design that will fit the mop with the floor for better friction and the 180 degrees will allow the mop to turn at any angle.
It comes with a smart control handle and LED lighting on the head for better guidance of the dirt.
This cordless electric cleaner has a free-standing design and adaptable shaft.
| | |
| --- | --- |
| Pros | Cons |
| ✅ Works for all floors. | ❌ The "sweep" function does an average job |
| ✅ Time-efficient | |
| ✅ Doesn't make noise | |
| ✅ Self-driving feature | |
| ✅ Wireless operation | |
7. CORDLESS ELECTRIC MOP
Why do we love it? 
This one comes with dual-motor spinning due to which it works with high speed.
The battery in it is detachable.
It is extremely lightweight and it has the option to stand free.
It is flexible and goes even reaches complicated places for deep cleansing of the floor.
It is highly adjustable that even a man with 6 feet can easily mop the floor with it.
It has LED headlights that will guide you to clean the floor even more cleanly.
This one can be rotated up to 180 degrees and 90 degrees, because of which it can be a move to left and right.
| | |
| --- | --- |
| Pros | Cons |
| ✅ Reusable pads | ❌ Battery runs out faster |
| ✅ Stand free | |
| ✅ Easy to store | |
| ✅Detachable battery | |
| ✅ LED available on head | |
8. BONA PREMIUM
Why do we love it? 
This one comes with the feature of the refillable cartridge so that you don't have to buy it again and again.
The secondary grip of the stand is comfortable, so you don't have to worry about your hands getting sore by using it.
The mop dispenses limited and the required amount of soap water to clean the more smoothly.
This Bona hardwood floor premium is really easy to use comparatively others.
It has a large head that covers a large area while vacuuming which indirectly saves your time.
| | |
| --- | --- |
| Pros | Cons |
| ✅ Time-efficient | ❌ There might be a leakage problem |
| ✅ Large mop head | |
| ✅ The comfortable grip on the handle | |
| ✅ Cartridge is refillable | |
| ✅ Limited mist sprays | |
BUYING GUIDE
Just like when you buy other items for your household and it requires so much thought process. Similarly, a machine to clean hardwood floors too requires some things and factors for consideration. So, all that is necessary for considerations are mentioned below:
WEIGHT OF THE CLEANER 
Your cleaner being lightweight is a necessary feature. Because you won't keep it on a single place but it requires to move from place to place. Sometimes, you might need to clean or mop the stairs as well.
Considering all these situations, if your cleaner will be heavy then it will become troublesome for you. So, while buying always opt for lightweight machines.
KNOW YOUR BUDGET
Now it being affordable will not justify the fact that these cleaners should be cheap in prices. Before stepping into the market, remember, if you want to get your hands on the best wood floor cleaner then there is a probability of it not being pocket-friendly.
Still, it is crucial to set your budget. So, know your budget and your limit before actually buying it but make sure it is rational.
LENGTH OF THE POWER CORD
There are so many great cleaners that are not wireless. So, if you are buying the power cord one then make sure to opt for the one with extensive length. Because you would want to roam with it in different places and not everywhere you would find a switchboard or extension.
PAD TYPE 
Pads are situated under the head of the cleaner. They are the one that comes directly in contact with the floor. So, the smoother they are the better it would be. Because the abrasive pads will take the charm and shine of the floor.
EASE TO USE
Since you are buying it to make your daily task easier. So, it should be easy to use. Because the complicated one will again consume your mind hence making it tougher for you.
CAPACITY OF TANK
The capacity of the tank will store clean water in the cleaner. So, if it will have a greater capacity then less you would need to go to your sink and refill it.
Frequently Asked Question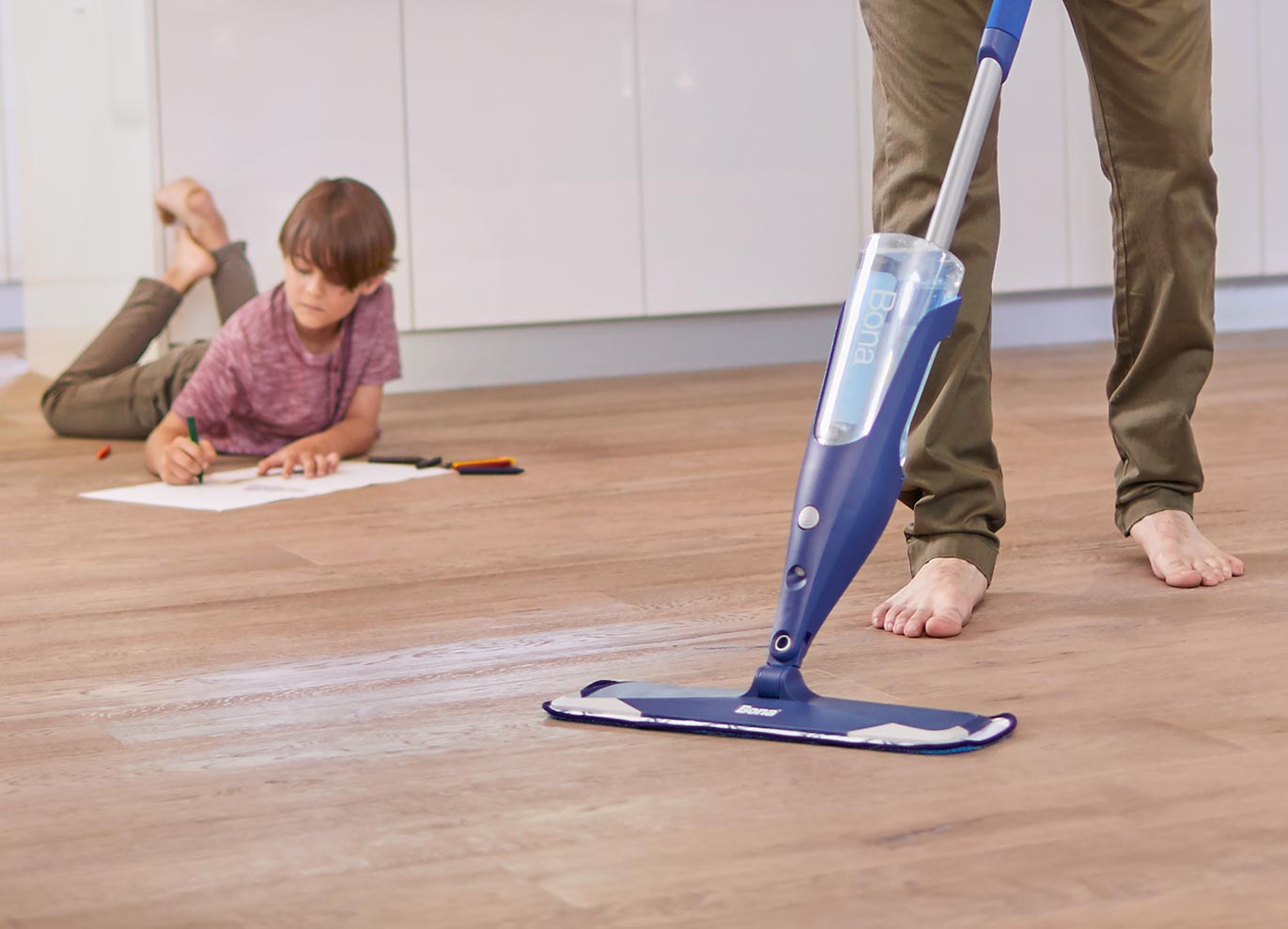 Here are some really important queries people usually have.
Q. What does professional use to clean their floors? 
Commercial wood cleaner products like Bona and many more mentioned above can freely be used by professionals.
Q. Benefits of buying a hard floor cleaning machine? 
They save your time, people with back pain can easily clean it, they are flexible and the cleaner can even reach complicated places, and they efficiently clean the floor.
Q. Can hard floors be cleaned with the steam cleaner? 
Yes, they can be easily cleaned by using them. Actually, it's a great alternative to manual cleaning because they aren't really that expensive.
Q. What are the best types of wood floor cleaner? 
Roller cleaners and spinning fiber cleaners are the best types to clean your floor.
Q. Where can I buy it? 
There are so many markets where you can buy it but Amazon is the perfect place to go for.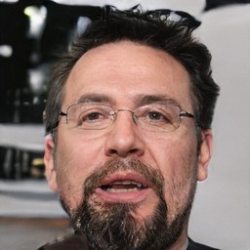 Latest posts by Doug Mahoney
(see all)