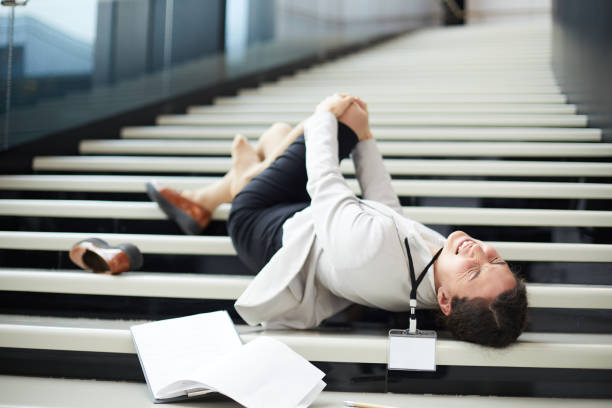 How to make wood stairs non-slip?
Despite daily use, wooden stairs can be quite slippery. They're hazardous for your family, especially for children and elderly members. If you are in a rush and want to go down speedily, then you can fall on your back by slipping from wooden stairs installed in your house.
There are different methods out there in the market to make your wooden stairs less slippery. The good news is that you can add carpet or stair runner to make your safe for children and other members of the family. There are lots of stair runner options available, such as transparent runner, anti-slip spray, and many others. In this article, we will try to answer your question of how to make wood stairs non-slip by discussing all the techniques along with their pros and cons.
How to make wood stairs non slip 2023
Here is all you need to know about avoiding unnecessary accidents on the staircase.
Are Wood Stairs too Slippery?
It is assumed that wooden stairs are too slippery, hence too dangerous and risky for all the family members. People installed wooden stairs in their houses to enhance the look of their houses. It is one of the first things that people will see at your place if they are present opposite your front door. So, it should look fantastic. In order to get the shiny surface of the stairs, treads need to be polished. This can be done by adding multiple layers of wax on the stairs, and these layers make your wooden stairs slippery.
How to make wood stairs non-slip?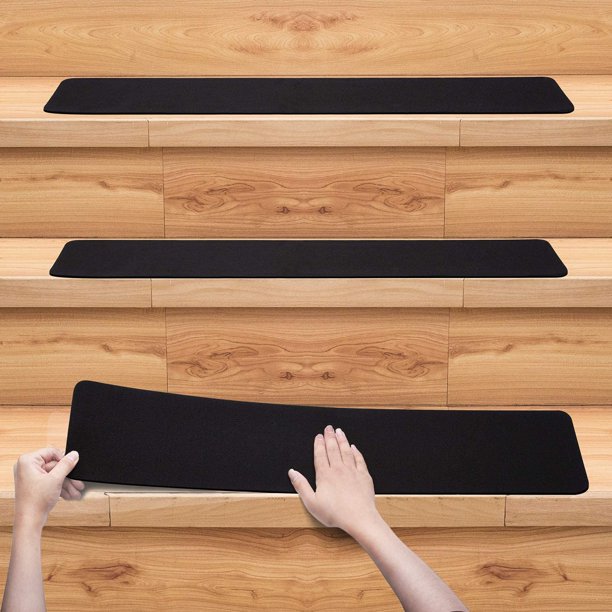 There are different methods and techniques that are used to make stairs non-slippery. You can add texture to your stairs, you can also use anti-slip spray and transparent anti-slip strips to make stairs non-slippery or less slippery. Let's discuss all the methods one by one.
Transparent Anti-Slip Strips
One of the most common methods of making stairs non-slippery is by adding adhesive transparent anti-slip slippery strips to the wooden steps of your staircase. By applying these, you can still see the shiny and beautiful finish of your stairs. You can find a roll of these strips in the market or any hardware store. There comes a roller with it to remove the air bubbles from the strips so that the look of your stairs will not be compromised.
These anti-transparent strips will perfectly stick on the steps and provide protection without messing with the look of stairs. You can use these strips on indoor and outdoor stairs. These days, these transparent strips are made up of environmentally friendly materials. These strips will give you a softer and smoother surface to walk on. You can easily clean these strips with water and a cloth. While finding an answer to the question of how to make stairs less slippery, you should note that removing these strips is a pretty challenging job.
Pros
Transparent
Indoor/Outdoor
Non-abrasive surface
Easy to clean
Cons
It may not come off easily
Can collect dirt around the edges
Air bubbles will appear if not installed properly
Stair carpet strips
Carpet cut in the size of your stair steps can be added to the wooden stairs to make slip-resistant stairs. These carpet strips are easy to install as they come with backpacking, so they do not need adhesive to stick to the steps. So it is safe for your stairs as they do not damage the texture and also make hardwood stairs less slippery. They also minimize the chances for the further installation of the stair runner.
There are different sizes and designs of carpet slips available in the market in order to fit wide and broad stair steps. Some have non-adhesive backpacking, while others have no-slip back. These strips are best suited for indoor stairs and modern stairs because now the focus on the manufacturers is on the product that is less damaging for the wooden stairs. But some people are still reluctant to use the strips of carpet because they think these strips will increase the slipperiness of the stairs. Although, the problem is not with the stripes but with the finish of your wooden stairs, as some stairs are not designed to add carpet strips on them.
Pros
Aesthetically pleasing
Different designs/colors are available
Non-adhesive backing
Cons
Can be expensive
Some versions are prone to movement
The backing can wear away after a while
Anti-Slip Tape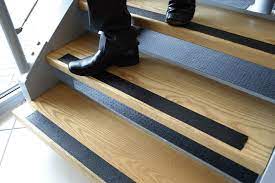 When you are thinking about making your stairs anti-slip stairs, then the option of adding anti-slip tape should be considered. There is considerable use of this rough black tape in commercial institutions. This tape is made to stick on all types of wooden stairs and work effectively on every floor and stairs. The structure of the tape is sanding paper with 80-grit and has an adhesive back so that it will stick perfectly on your stairs. This tape is suited for both indoor and outdoor stairs as it is waterproof. But it is not recommended to use in an area that has constant exposure to moisture, but it will easily handle the rain.
When you are adding tape as a slippery stairs solution, it is essential to note that removing the tape will be highly damaging for your wooden stairs. When you are removing the anti-slip tape, there are fair chances that the finish of your wooden stairs will come off along with the tape. Moreover, the texture of the tape is rough, so it will prove uncomfortable for children who used to walk barefoot most of the time. It is good to use in your workspace because it will provide guaranteed non-slipperiness to your staircase. But its rough surface and untidy finish will not be best to use in the house.
Pros
Cheap
Weatherproof
Effective
Cons
Do not come off easily
Very rough texture
Stair runners
In the discussion about how to make stairs less slippery, stair runners are always on the list. It is a carpet that runs along with the length of your staircase from top to bottom. A bright red stair runner is very common in fancy restaurants and modern houses. It will resemble the existing carpet in the house, but it has specific cutting to fit the length and width of the stairs.
If you are using it in your house, it will be costlier than other options because you will need a specific length and width that cover your stairs from top to bottom. In most of the slippery stairs fixes, this solution has complicated installation because you will need a pneumatic stapler, knee-kicker, and other tools for installing a stair runner in your house.
The runner will not entirely cover your stairs, so it will maintain the elegant look of the steps by and also make wood stairs less slippery. But it will cover the area of the most used steps, and the sides are naked to satisfy your aesthetics. In many solutions of how to make wood stairs non-slip, it prevents slips and falls to a greater extent, but it is very expensive.
Pros
Excellent slip-proof surface
Attractive, professional look
Comes in many different designs
Cons
Expensive
Difficult to install
Very rough texture
Anti-slip floor finish
An anti-slip floor finish for wood stairs will not become a hurdle in the beauty of your wooden stairs because of their transparent quality. There is a few options of finish you can choose from, such as matte finish, gloss finish. You can select the look of stair steps after the application of an anti-slip floor finish. But once you apply on the stairs and you want to remove because you do not like the look or you do not get the desired finish, then its removing is difficult. It will damage the finish and look of the stairs instead of removing the anti-slip floor finish.
This non-slip coating for wood stairs is water-based, so any scrubbing of material will result in destroying the original finish of your wooden stairs. If you want to apply this, it is recommended to test on an extra piece of the tread or the same kind of wood that is used in the construction of your stairs. If you get the desired look, then go for this on the stair steps. In the debate of how to make wood stairs non-slip, if you fail to achieve a neat look, then try something else.
Pros
Keeps the natural appearance of your wooden steps
Comes in either gloss or matte finish
Will last longer than other non-slip options
Cons
Time-consuming to apply
Once applied, very difficult to remove
It May require many coats to achieve appropriate surface texture
Anti-slip spray
The anti-slip spray is one of the most reliable options in the answer to how to make wood stairs non-slip. It is a much cheaper option than all other options used to make your wooden stairs less slippery. It is transparent, and it has the most straightforward application. But be aware of buying this spray from well-known brands because many brands failed to provide the non-slipperiness quality, resulting in discoloration of the stairs. It will change the appearance of your stairs to some extent.
Pros
Easy to apply
Quick anti-slip solution
Cheap
Cons
Durability is not good
Can change the appearance of wood
The application involves harmful odors
What to put on steps to prevent slipping?
You can add stair runners, paints, anti-slip floor finish, carpet strip, stair grips for wood, and non-slip polyurethane for wood stairs, with many other reliable options available in the market that is used for making wooden stairs less slippery. Some techniques are effective enough to make the stairs non-slippery. It is recommended to opt for the method that is best suited for you.
Conclusion
In order to sum up the discussion of how to make wood stairs non-slip, it is important to note that every method and technique has both pros and cons. It is wise to accept the flaws of every method. It would be great if you studied well before opting for any technique to make your stairs less slippery. As there are various methods that can lessen the slippery effect on the wooden stairs. In online and offline stores, you will find a wide variety of stair grips for wood that fulfill your purpose.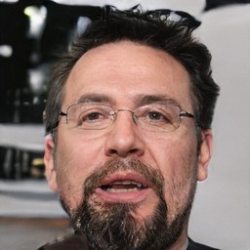 Latest posts by Doug Mahoney
(see all)