So, you have finally decided!
You know that the only way to satisfy your hunger for woodworking is to actually get your hands dirty (metaphorically).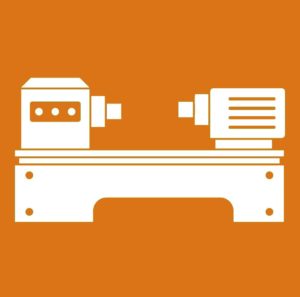 You want a midi lathe that not only helps you with the current project but will accompany you for years to come. Now, there is no option to turn away.
You've been researching a lot because you don't want to waste your money or passion.
But wait!
Why would you research when the research is already done for you? At WoodyMan Reviews, we have done all the homework so you can be sure that you're investing in the right tools.
Let's Dive in
How do I choose a lathe?
Primary factors that make a wood lathe worth buying include a powerful motor, a strong build with a solid base, lathe measures to hold larger pieces, and size. Depending on your needs, your desired specifications around the above factors may change. But a sturdy build and powerful motor never go out of fashion. Go for at least a  1 HP motor for mini and midi sizes. More commercial use may require multiple HP motors to keep the operations smooth. A strong base is a must to keep your lathe free of vibrations and movements.
The measurements of wood pieces you pursue turning can change heavily. Consequently, there isn't a specific swing capacity that makes a wood lathe perfect. Midi or mini wood lathe can be perfect for a novice but completely useless for a moderate to a large woodworking shop. You should know your needs about bowl sizes etc before you start searching for the best product for sale. Our midi lathe reviews are designed to help you make the right decision.
Use these midi lathe reviews from our expert woodturners to know which product will work best for you.
Best Midi Wood Lathes 2023:
Here are our top picks for the top midi wood lathe you can buy:
[Editor's Pick]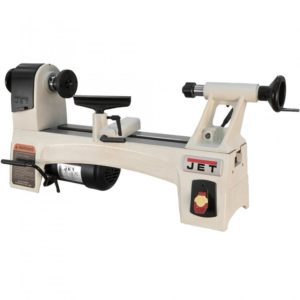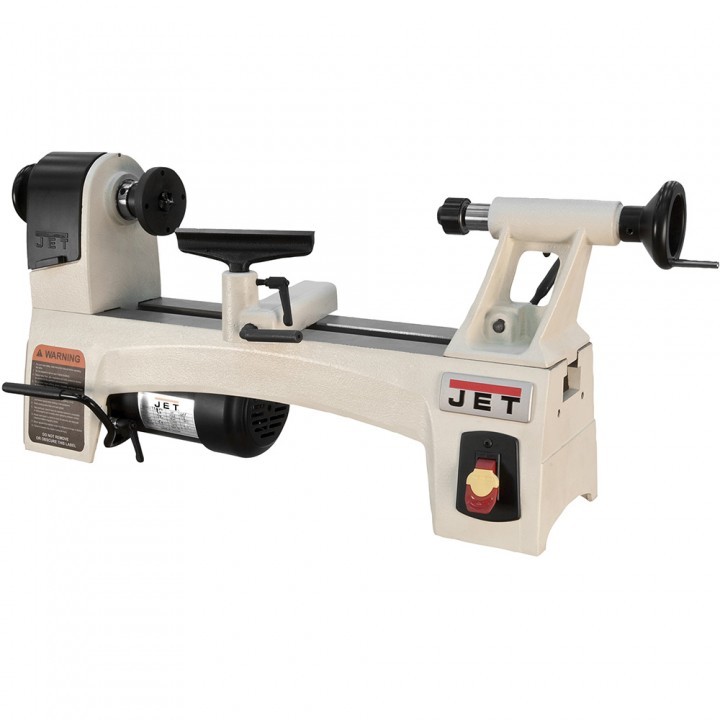 Why We Love It:
Variable speed control presents a wide range of speeds
Handles large bowls with ease
Seamless forward to reverse transition
Supports larger bowls
Exceptional build quality
Great after-sale service

| | |
| --- | --- |
| Pros | Cons |
| ✅ Variable speed control | ❌ Tool rack could be better |
| ✅ Variable torques to support larger bowls | |
| ✅ Optimal control module location | |
| ✅ Ratchet style belt tension system | |
| ✅ Large number of indexing positions | |
Be sure to check our pick for the best wood lathe for beginners.
Why We Love It:
Exceptionally user friendly
Easy transition to reverse rotations
Three different speed ranges
Extra-long tool rest

| | |
| --- | --- |
| Pros | Cons |
| ✅ Variable torques to support larger pieces | ❌ Lowest speed is 250 rpm |
| ✅ Easy, non-slip belt tension adjustment | |
| ✅ Strong motor | |
| ✅ Packs all features of industrial wood lathes | |
| ✅ Noiseless operation | |
 Learn more with this ultimate guide to a wood lathe.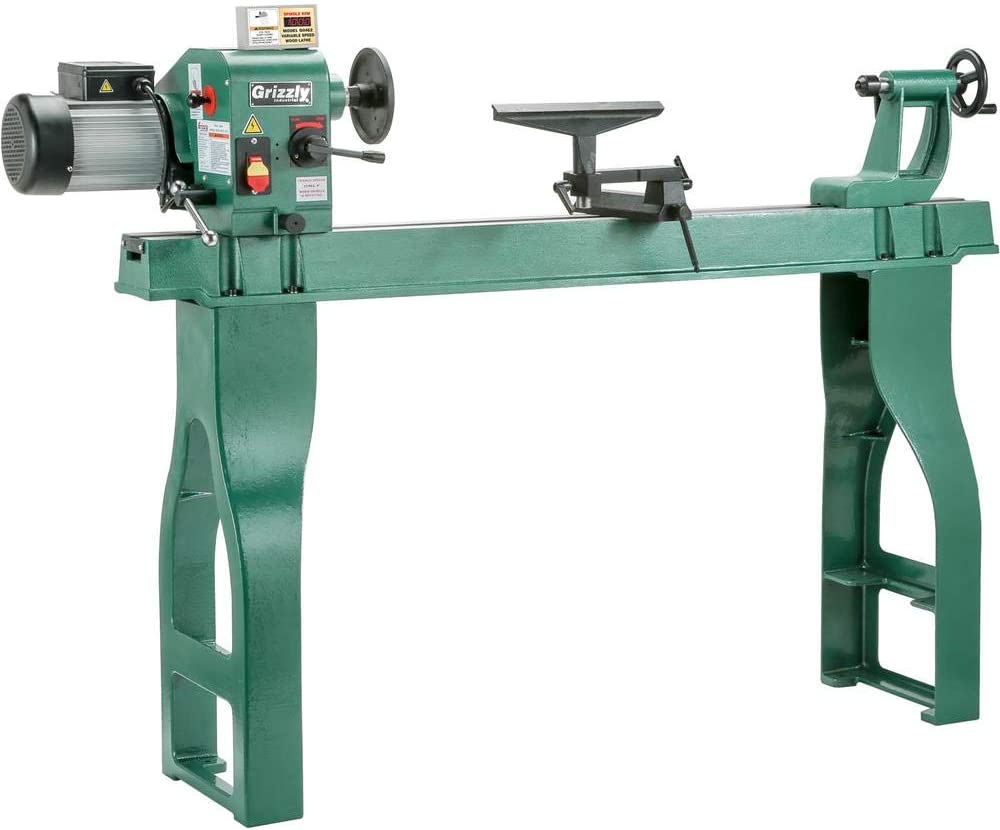 Why We Love It:
A great midi lathe for small scale turners and enthusiasts
Forward and reverse rotations
10 different speed options
Supports 16-inch diameter of wood
Motor: 2 Horsepower
Great value for money

| | |
| --- | --- |
| Pros | Cons |
| ✅ Easy to maintain | ❌ Maximum speed is 2400 rpm |
| ✅ Strong motor | |
| ✅ Exceptional build quality | |
| ✅ Cost-effective | |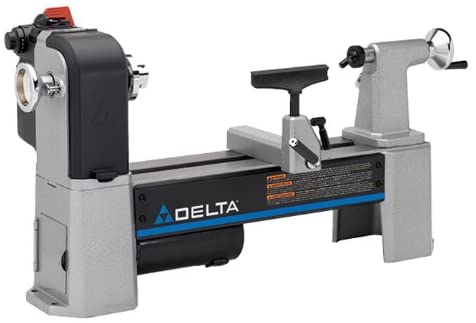 Why We Love It:
Supports wood with a diameter of 12.5 inches
Cost-effective
Relatively small footprint
Onboard storage for adjustment tools
Efficient system to adjust belt tension

| | |
| --- | --- |
| Pros | Cons |
| ✅ Variable speed control | ❌ No digital readout |
| ✅ Forward/ reverse functionality | |
| ✅ 24 indexing positions | |
| ✅ Long term warranty | |
Also check our picks for the best mini wood lathe.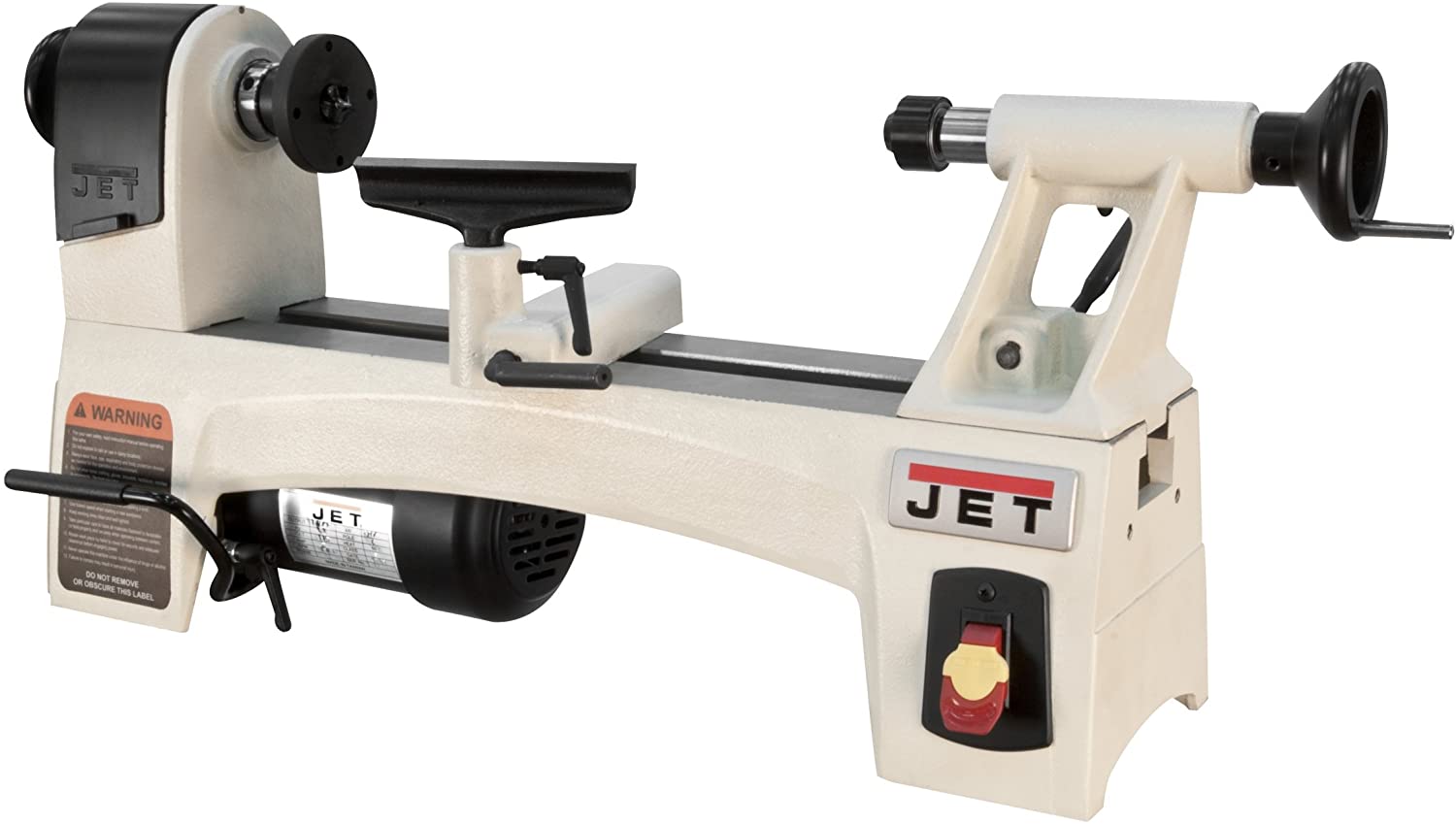 Why We Love It:
Six different speed points
Easier access to belts
Extension table available
Targeted towards beginners

| | |
| --- | --- |
| Pros | Cons |
| ✅ Easy to use | ❌ 10 inches diameter limit |
| ✅ Provides adequate speed | ❌ Few glitches in the design placement |
| ✅ 24 indexing positions | |
| ✅ Strong build | |
You may also like our comprehensive guide to wood planers.
Why We Love It:
Compact design
Strong build
Value for money
Great for learners

| | |
| --- | --- |
| Pros | Cons |
| ✅ Variable speed control | ❌ Lowest speed is 650 rpm |
| ✅ Supports up to 12 inches | ❌ Suitable for small scale projects |
| ✅ Highest speed is 3800 rpm | |
| ✅ Powerful battery | |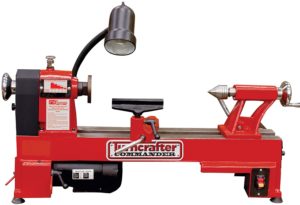 Why We Love It:
Compact design
Best for small scale users
Value for money
Two different sizes for tool rest 6 and 12 inches

| | |
| --- | --- |
| Pros | Cons |
| ✅ Multiple speed ranges | ❌ Lowest speed is 500 rpm |
| ✅ 24 indexing positions | ❌ Only 3/4 HP motor |
| ✅ Digital readout | |
| ✅ Speed can be as high as 3600 rpm | |
| ✅ 3 years warranty | |
Why We Love It:
Value for money
User friendly
Smaller footprint
Onboard accessory holder

| | |
| --- | --- |
| Pros | Cons |
| ✅ Supports up to 12-inch large bowls | ❌ Moderate motor power |
| ✅ Multiple speed ranges | |
| ✅ Large tool rest | |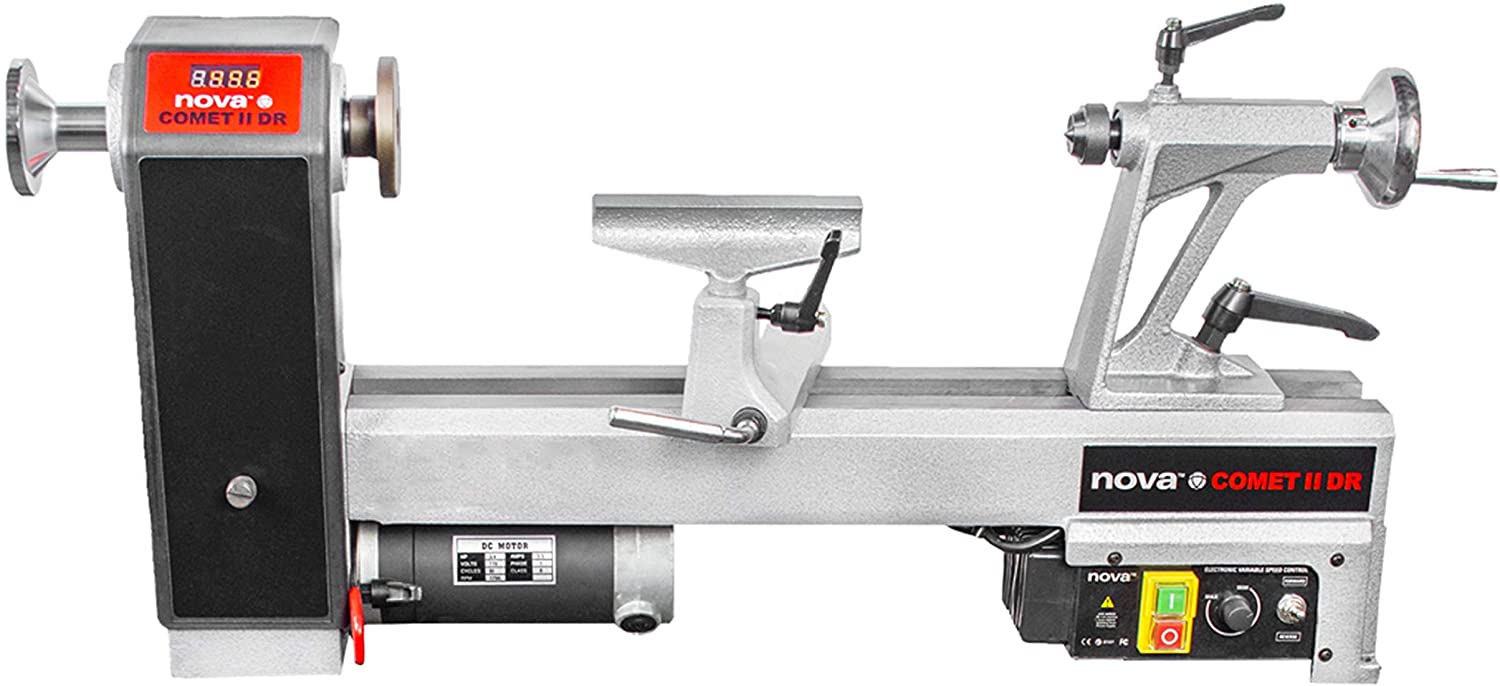 Why We Love It:
Cost-effective
Speed range 250 to 4000rpm
Beginner-friendly
Efficient belt change

| | |
| --- | --- |
| Pros | Cons |
| ✅ Supports wood with 12-inch diameter | ❌ Not so powerful motor |
| ✅ Variable speed control | |
| ✅ Reverse rotation option available | |
| ✅ Digital readout | |
| ✅ 1-year Warranty | |
| ✅ Bed extension accessory available | |
Why we love it:
Value for money
Variable speeds
Strong build

| | |
| --- | --- |
| Pros | Cons |
| ✅ Two tool rests | ❌ Only 1/3 HP motor |
| ✅ 2 years warranty | |
| ✅ Small footprint | |
Buying Guide
Wood lathes are crucial tools we use in woodworks. But what is the size, power, and speed that you should consider in your potential tool wood lathe depending on your needs.
What is a midi lathe?
A special type of lathe that aims to offer the power and turning capacity of a full-size lathe in a compact body. It is a great option that you can opt for if you're just starting out.
We certainly hope our midi lathe reviews will help you decide which product to go for.
Do you need a midi wood lathe?
If you are working on wooden products that are wider than 10 inches in diameter but not wider than 12 – 16 inches, you should look for midi wood lathes. These lathes are cheaper than commercial wood lathes and come in a size that is suitable for home and garage workstations or small independent woodwork setups.
What is the best lathe for beginners?
What makes a lathe ideal for beginners is its ease of use. It should be user-friendly in terms of daily use as well as low maintenance. Digital readout and control panel make an innovative method to add ease of experience to these lathes. If you're a beginner, midi or a mini lathe would be a good place to start out.
Lathes that come with automatic adjustment of speed and rotation direction are better than ones that require manual input.
What does beginner lathe produce?
Most turners start with turning wood into pens and bowls. As time progresses, they venture into creating bangles, spoons, goblets, and flowerpots, etc.
Which is the best power for a wood lathe motor?
Different lathes come with different powers of the motor. A mini lathe is likely to come with 1 Horsepower at most. Most of these lathes will settle for a lower value of horsepower. It is because these lathes don't indulge in heavy-duty work.
On the other hand, midi lathes carry more powerful motors. Usually, these start with 3/4 HP and can go up to 2 HP. The reason is simple! These lathes hold and manage heavier and larger pieces.
Commercial lathes take motors with more than one Horsepower.
What is the best speed for wood lathes?
Again, the speed depends on the task on hand as well as the product being turned.
As a rule of thumb, higher speed is better for smaller pieces; while larger pieces need lower speed. But that rule changes with the task at hand. Even larger pieces often warrant higher speed to be built with quality.
The commercial wood lathes come with the widest range of speed simply because these lathes have to handle the largest pieces at different tasks.
What is the best size of a wood lathe?
The size of the lathe is directly proportional to the size of the product it will turn. If you are willing to turn larger objects, you should go for bigger lathes. In such conditions, your best bet would be commercial lathes. However, buying such lathes would need considerable investment and you would only want to invest if you have regular use of these lathes.
On the other hand, if you are considering using this machine sparingly, and if your concerns are only smaller objects, you can do pretty well with smaller lathes. Mini lathes usually only turn wood pieces of up to 8 to 10 inches wide. Midi lathes turn bigger pieces of diameter ranging between 10 and 14 inches.
Space in your workshop may also make another defining factor of the size of lathe you would like in it. If you've got a small space, you may want to limit your hobby to turning pens or small bowls only.
Our midi lathe comparisons above are specially designed to give you all the info you need before buying any product.
References:
Wood Lathe Machine Analysis Using Taguchi Robust Method
Acceptability testing and development of a novel wood lathe balanced rest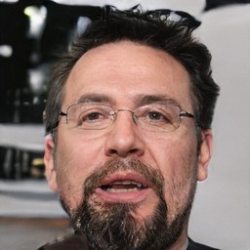 Latest posts by Doug Mahoney
(see all)