There are a LOT of options when you are looking for the best laser cutters in the $1000 price bracket. We understand that it might be hectic for you to research the market, scrutinize various products, weigh out their pros and cons, and then decide the final one. 
Luckily, we've already done the research and the testing for you and made a list of our top picks. 
If you are focussing only on the latest products then have a look at this article of ours that covers the 10 best laser cutters in 2023. 
1. Best Laser Cutters Under $1000
Here are our picks for the top laser cutters under $1000:
We also made a list of the Best Laser Cutters Under $500 if you are interested.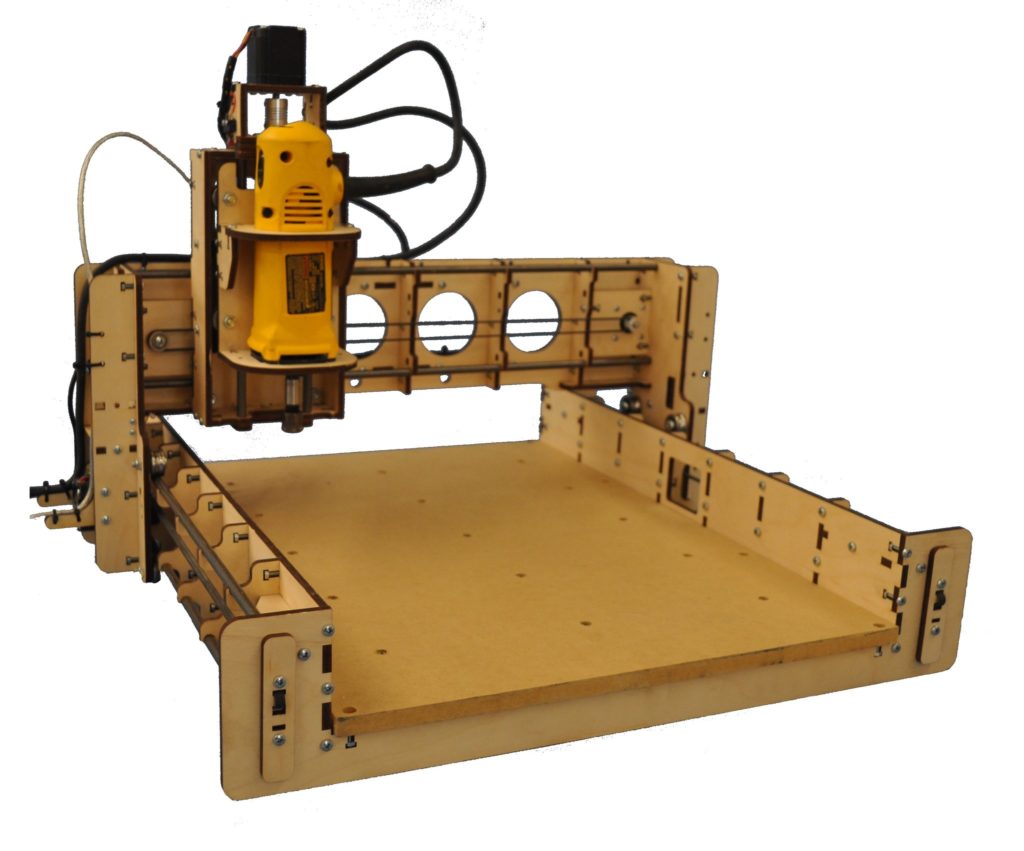 Why We Love It
Multifunctional (Laser Engraving + CNC Cutting)
Decent Cutting Area
Supports Multiple Materials
Compatible with Windows, Mac OS X & Linux

| | |
| --- | --- |
| Pros | Cons |
| ✅ SG20U supported rail system. | ❌ Non metal build |
| ✅ A rigid laser cut frame. | |
| ✅ Budget buy | |
| ✅ Power Efficient | |
| ✅ Arduino-Based Microprocessor | |
| ✅ Large work area | |
If you are looking for a budget product with high efficiency, then the BobCNC laser engraver is a fantastic choice. The expensive nature of laser cutters will no longer stop you from pursuing your crafting endeavours. This is a product that brings all the features from high-end laser cutters into an affordable machine that doesn't break your bank.
What's more?
This cheap laser engraving machine comes with a straightforward and user-friendly interface. Its easy to setup, easy to run and does both laser cutting/engraving work as well as CNC tasks. 
The cutting volume/work area is the largest you'll find in this budget range, and the end-results are close to professional-grade.
The price has been kept under $900, making it the best cheap laser engraver you can find in the market today. The product has a 4.5-star rating on Amazon, and the customer reviews second the rating.
The E3 is a CNC router that uses an Arduino microprocessor to interpret the g-code file which enhances response speed and compatibility.
The firmware is called grbl ( is pre-installed on the microprocessor and uses a USB port to receive serial port information (G-code) from software on the computer.
It is recommended to use UGS Universal G-code Sender Platform software to send the g-code text file to the controller.
From what we have observed, customers are highly satisfied with this inexpensive laser cutter for wood.

Why We Love It:
Multifunctional 3D Printer, Laser Engraver, and CNC Carver
High Printing Volume
Multiple OS compatible
User-Friendly Interface
Affordable

| | |
| --- | --- |
| Pros | Cons |
| ✅ Touchscreen | ❌ A bit heavy |
| ✅ Precise Printing | |
| ✅ Supports Various Materials | |
| ✅ Power Efficient | |
| ✅ Affordable | |
| ✅ Large Work Area | |
This product is among the best cheap laser cutters for home use and can even handle semi-professional use. The body is made entirely out of metal in order to improve precision in all three fields.
What's more?
With the Snapmaker 3-in-1 you get a CNC carver, laser engraver, and 3d printer in a single device. It is perhaps the only such device available in this price bracket.
A modern design and upgraded software make it on of the best cheap laser engravers available. The new software allows users to push in commands quickly and get results fast.
The software for this low-cost laser engraver is updated regularly. New features are added continuously to ensure that the customers have all the latest functionality. 
This machine can handle high volume printing which makes it suitable for professional or commercial use as well. It has a compact design making it an excellent choice for smaller spaces and its also easy to dismantle and store. 
The manufacturer offers you access to a user community on Facebook where you can find over 13000 active users of the product. If you need any help, just ask in the community. Of course, you can also get in touch with customer support for additional assistance. 
The easy setup, user-friendly software, and versatile functionality places this product among the best cheap laser cutters for home use and professionals alike. Its also an excellent starting point for newcomers to the field of 3D printing and laser engraving.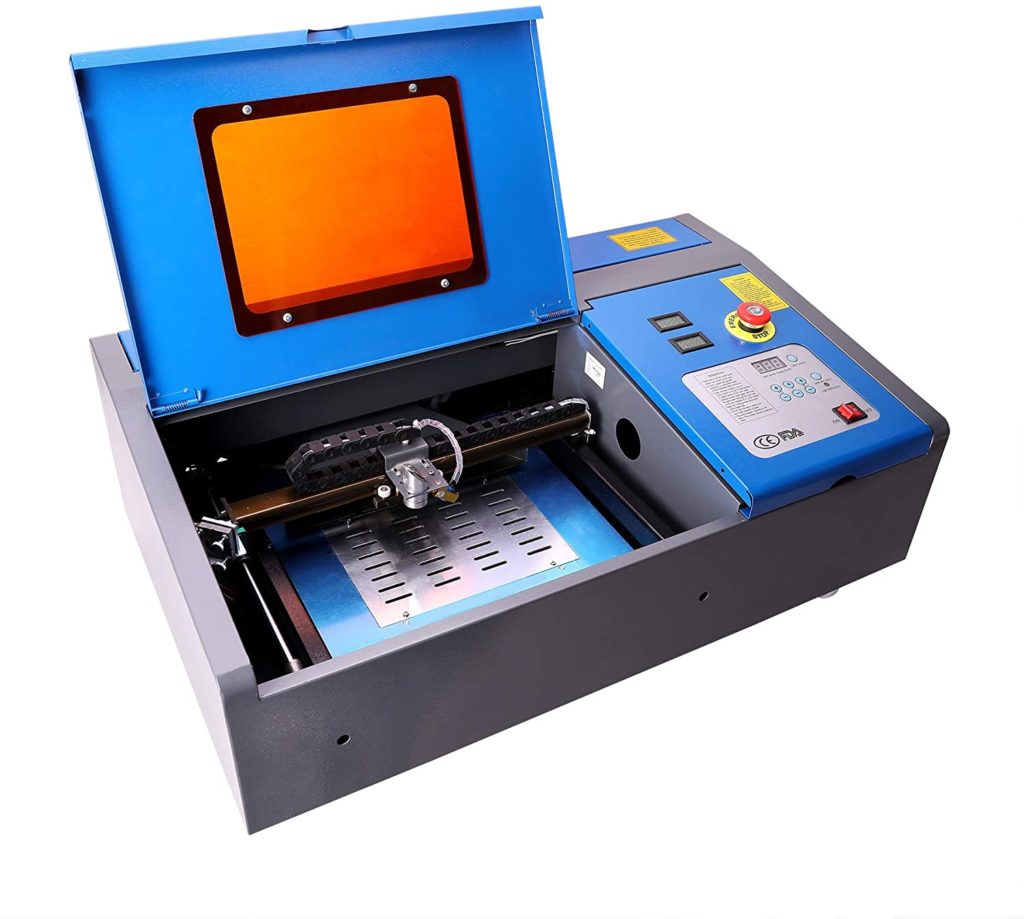 Why We Love It
Compact Design
Easily Movable
Highly Efficient

| | |
| --- | --- |
| Pros | Cons |
| ✅ Affordable | ❌ Not Compatible With Mac IOS |
| ✅ Large Work Area | ❌ Offline operation not supported |
| ✅ Enhanced Stability and Precision | |
| ✅ Compatible with 3rd party softwares | |
This low-cost laser engraver is equipped with a stability clamp for irregular items and a level board to keep your projects in place throughout the engraving process. The upgraded control panel now enables users to easily monitor the electric current thanks to the upgraded rotary adjusting knobs.
One of the best hobby laser cutters, its kept cool by a pre-installed exhaust fan, which provides improved ventilation performance, more comfortable operation, lower noise level, and greater portability.
The advanced red dot pointer will quickly highlight engraving points and mark the machine's path, identifying positioning sizes for an effortless project set up. This is a slightly heavier product than others on this list however the unit is equipped with four detachable locking wheels at the bottom for easy movement and fixation.
The upgraded 40W hobby laser cutter is ready to get to work right out of the box. It's fully compatible with CorelLaser & CorelDraw and most printers, scanning machines, and supports multiple formats including TIF, BMP, JPG, JPEG, WMF, EMF, and PLT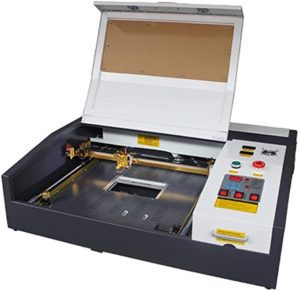 Why We Love It
Supreme Precision
High material compatibility
Adjustable Laser Focus
Easy assembly

| | |
| --- | --- |
| Pros | Cons |
| ✅ Large Working Area | ❌ Needs careful handling |
| ✅ Compatible With GRBL software | ❌ Doesn't work well with transparent items |
| ✅ Affordable | |
| ✅ Lightweight | |
| ✅ Compatible With Various OS | |
The LE-4040 home laser cutter machine has a 5000mW, Class 4 laser unit, which can engrave and cut different kinds of material such as plywood, cardboard, leather, acrylic, MDF, etc. With an adjustable laser focus and long durability, it is a great choice for the best laser cutter under 1000 dollars.
The laser power range is S0-S1000. The maximum engraving speed of this affordable laser engraving machine is 3000mm/min. The X and the Y-axis are belt-driven, which helps to reduce working noise.
Even beginners won't find it hard to set up as it only takes 10-20 minutes to assemble. The main parts are pre-assembled and do not require complicated installation. It is simple and easy to operate for professionals and beginners alike.
If you're an enthusiast who's thinking of setting up a home-based workshop, this may be the best home laser engraver available right now. Its compatible with GRBL software such as Lasergrbl, Grblcontrol (Candle), Lightburn, etc. It supports Windows XP/7/8/10, Linux, and Mac OS.
This engraving machine has a large working area of 40 x 40 cm (15.75 x 15.75 inches), which is plenty for casual or even professional engraving tasks. The desktop-size of the unit is optimal for home use and small business.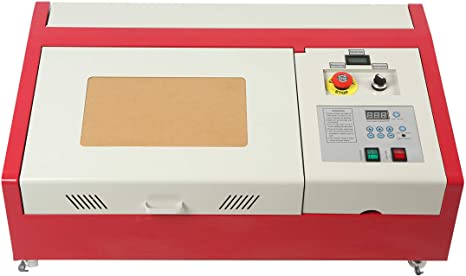 Why We Love It
Compact Design
Power Efficient
Fast Engraving and Cutting Speed

| | |
| --- | --- |
| Pros | Cons |
| ✅ Exhaust Fan Included | ❌ Heavy |
| ✅ Water Cooling Option Available | ❌ Only Supports Corel Draw |
| ✅ Affordable | |
| ✅ Laser Tube Life: 1300 Hours | |
With this home laser cutter machine, you can customize your patterns and materials with enhanced detail. It features the latest laser beam cutting technology to give unparalleled precision and detailing capability.
The durable body of this home laser cutter for wood prevents shaking when carving or cutting. Also, the high-accuracy stepping belt and a high-precision stepping motor are used for more precise engraving.
This cheap laser cutter adopts an advanced sealed-off 40W laser tube. The high-pressure discharge excites a high-concentration CO2 gas to produce a laser with a wavelength of 10.6um for engraving and cutting.
This CO2 engraver can be used on many non-metal materials, such as horns, leather, crystal, wood, fabrics, paper, Acrylic, and plastic. Perfectly suitable for seal engraving, cutting for advertisement, artworks, crafts and gifts, woodcut, garments, etc.
The manufacturer offers 24/7 customer care so you will always have help when you need it. 
Although it is surprisingly heavy, the weight helps with the unit's precision and accuracy. Overall, a great choice if you need power, versatility and accuracy for those intricate designs.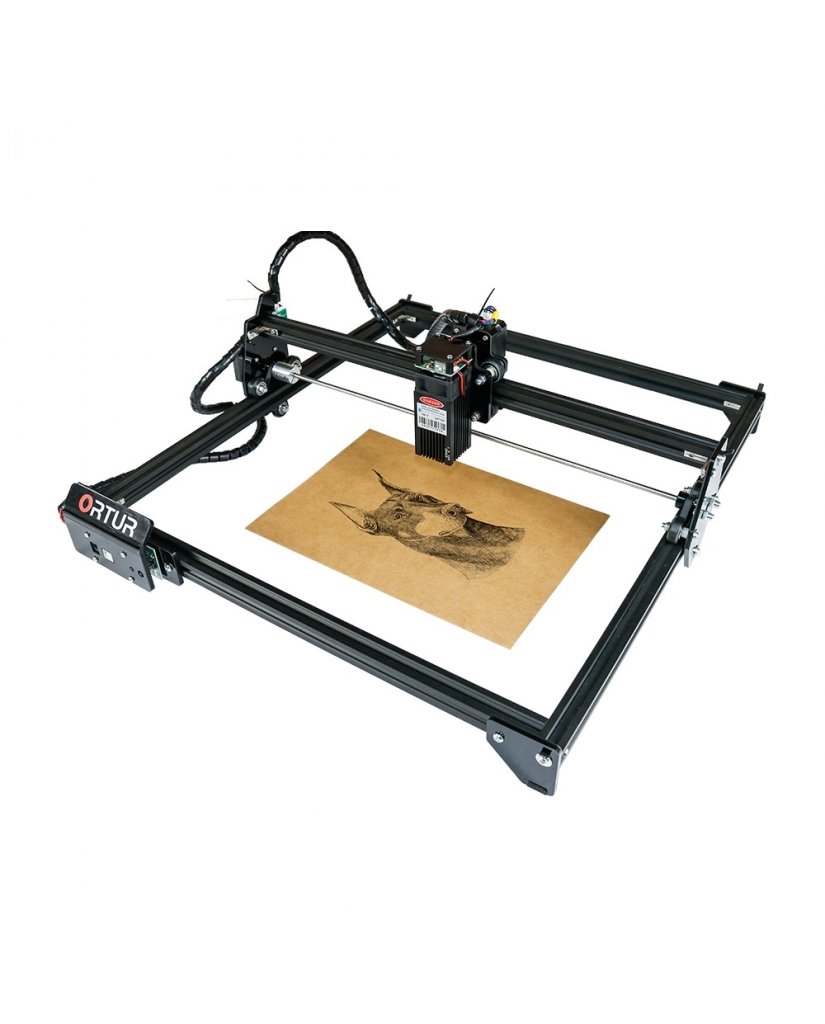 Why We Love It
Powerful Processor
Extremely Precise Engraving
Safe To Use

| | |
| --- | --- |
| Pros | Cons |
| ✅ Affordable | ❌ Difficult Assembly |
| ✅ Lightweight | |
| ✅ High Carving Speed | |
| ✅ Large Carving Area | |
The advanced firmware in the Ortur cheap laser cutter is smarter, faster, offers higher precision, and is easier to use. The specialized motherboard with STM32 MCU is a prominent feature that allows it to preprocess 32 instructions, support a baud rate as high as 921600.
Engraving speed can go as high as 3000MM/Min. (If we do not consider the laser carving result, the velocity of movement could be as high as 1000MM/S)
Excellent safety features make the Ortur home laser engraving machine super-safe to use. There is a G-sensor on the motherboard; if the machine detects unauthorized movement, the laser beam will stop.
If your computer system halted or the USB cable disconnected, causing the laser engraver to stop moving, the laser beam will stop to prevent fire.
If the laser engraver is left on and the users forget to operate and keep the laser beam stationary, power will be cut off if the motor stops moving, again to prevent fire.
The system uses LaserGRBL or LightBurn (It's the most popular paid carving software globally, very easy to use). The laser engraver for home use supports Windows XP, 7, 8, 10, Mac OS, and Linux.
The Laser power range is an incredible S0 – S1000. Compared to 8bits desktop laser engravers, which only have S0 – S255; Ortur Laser Master can control the laser beam more accurately and could even use the high power laser unit to "draw" a picture on paper, that the low power laser engravers can not do.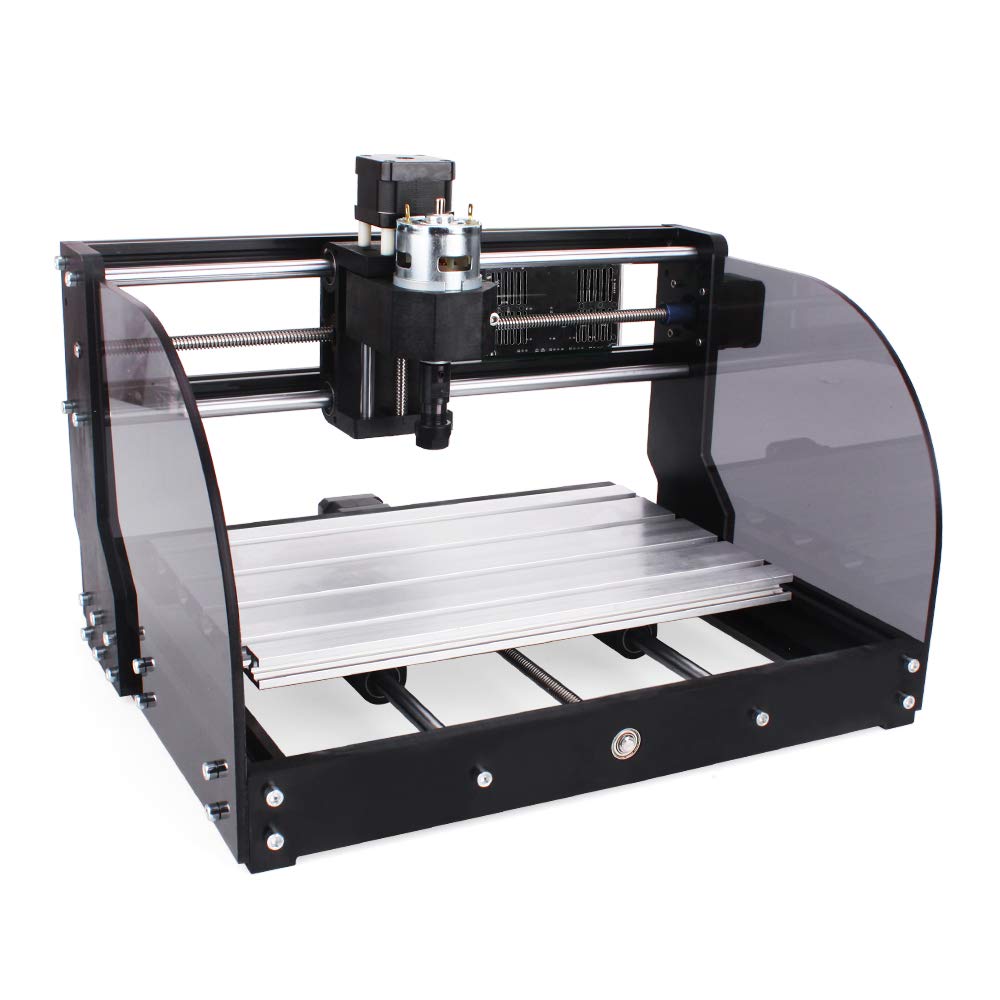 Why We Love It
Safe To Use
Large Working Area
Sturdy Design
Supports Various Surfaces and Materials

| | |
| --- | --- |
| Pros | Cons |
| ✅ Affordable | ❌ Does Not Work On Metal/Glass |
| ✅ Lightweight | |
| ✅ No File Downloading Required | |
| ✅ No Computer Connection Required | |
Safety-Driven Design of the CNC laser cutter engraver features two 5mm acrylic baffles on each side of the machine so that you can safely monitor the engraving process. This is an excellent tool for anyone new to CNC. It is able to carve text on many kinds of materials effortlessly.
This is one of the best entry-level laser cutters. It is excellent for those who are interested in CNC and laser cutting as you get both options with this product.
This product comes with a 5.5W 5500mW module. It can carve on wood, bamboo, paper, ivory, leather, flammable plastic, PCB, acrylic, ceramic/stone, metal surface paint, metal surface plating, etc.
The main limitation with this product is that it will not work on metal, iron, glass, 201/304 stainless steel, jewellery, or silver.
The effective engraving area of 300 x 180 x 45 mm (11.8 x 7.1 x 1.8″), the 3018pro-M can easily accommodate most projects.
Control software is GRBL; Spindle 775 spindle motor (12-36V) 24V:10000r / min. It supports several windows versions, such as Windows XP, Windows 7, Windows 8, and Windows 10.
The two primary advantages of the offline controller are:
There is no need to connect to the computer

No files need to be downloaded. You need to manually adjust X, Y, Z-axis locations as engraving starts; you need to manually open or close the spindle and the cooling fan.
Check out our picks for the Best Budget Laser Cutters, a recently updated guide on how you can optimize your cutter spend!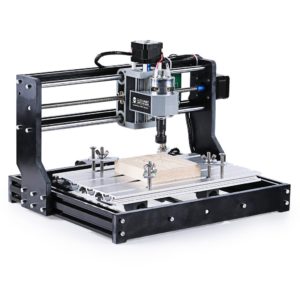 Why We Love It
Effective Engraving Area
Power Efficient
Robust Build

| | |
| --- | --- |
| Pros | Cons |
| ✅ Supports Almost All OS | ❌ Heavy |
| ✅ Decent Engraving Speed | ❌ Only Supports GRBL control (Candle) |
| ✅ High Precision | |
| ✅ Metal Build | |
 The premium power adapter with the 3018-PRO has brought safety improvements to the adapter, which is CE/FCC/UL-approved. The robust build is suitable for heavy-duty and long usage performance, as the input/output remains stable even when the unit works continuously. 
With an integrated mainboard and custom software, communications between the software and hardware are seamless by design.
The Genmitsu is one of the best laser cutters under 1000. It employs Grbl, high performance, open-source software for controlling movement, and runs on Arduino. 
This product comes with an offline controller; you can manually adjust X, Y, Z-axis without connecting to the computer or downloading files.
This home laser cutting machine can cut all types of plastics, soft aluminum, woods, acrylics, PVCs, and PCBs; the Genmitsu can be used on a wide range of projects and materials. 
2. FAQs
Here are a few things you definitely want to keep in mind when shopping for a laser cutter/engraver.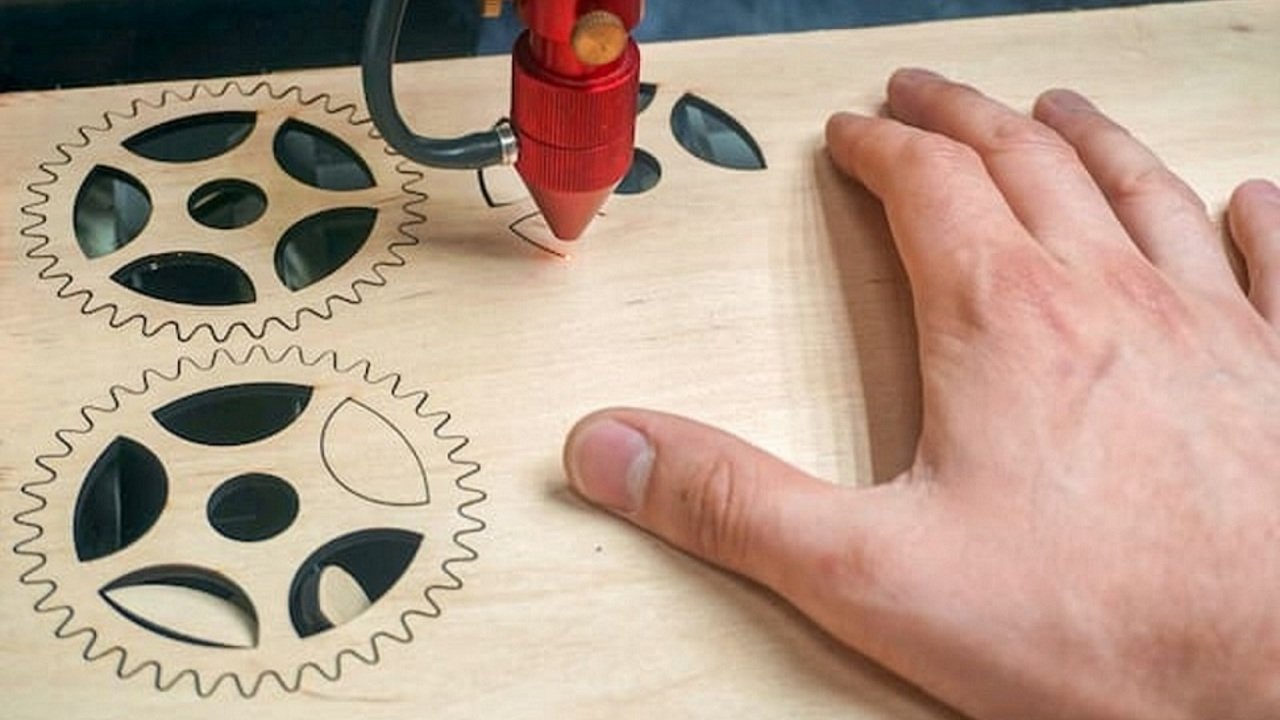 1. What Is A Laser Cutter/Engraver?
It is a machine that makes use of laser technology to slice through or engrave on an object. Using laser technology makes the process more accurate and much faster as compared to conventional methods.
2. What Are The Best Laser Cutters For Under $1000?
From our testing and research we have found that the BobsCNC Evolution 3 CNC Router Kit with the Router Included and Snapmaker Original 3-in-1 3D Printer are the best choices if you are looking for best laser cutters for under $1000.
They not only have some impressive features at a great price but also have high ratings and positive customer reviews so you can be confident that these are tried and tested products.
Our winner for the best laser cutter under $1000 is BobsCNC Evolution 3 CNC Router Kit with the Router Included.
3. Are Cheap Laser Engravers Any Good?
A cheaper laser engraver will use a less powerful laser. Whether the laser engraver is any good to you or not depends on your nature of use.
If you need to cut and engrave soft materials then this is no problem. You will typically need a higher-power laser (more expensive machine) when you need to work with hard materials like stainless steel, metal, etc. Also, more expensive laser cutters can usually accommodate larger projects as well. 
4. How Do I Choose A Laser Engraver?
It all boils down to your needs. Some of the main things to consider include:
High cutting accuracy.

High speed.

Good cutting quality.

Low noise level.

Low vibration.
That said, you also want to stick to products that come from well-known brands and products that have good reviews and ratings. Products with prices that are just too good to be true are usually just that. It would be a good idea to pay an extra $50 or $100 to get something that comes from a well-known manufacturer. 
5. What Can Laser Cutters Cut?
Most laser cutters can cut through soft wood, paper, cork, and most types of plastic quite easily. The rest depends on your laser cutter type, which will decide which other materials it can cut or etch through.
However, some laser wood cutters and engravers might not be able to engrave on transparent material as the laser can not be focused on transparent materials.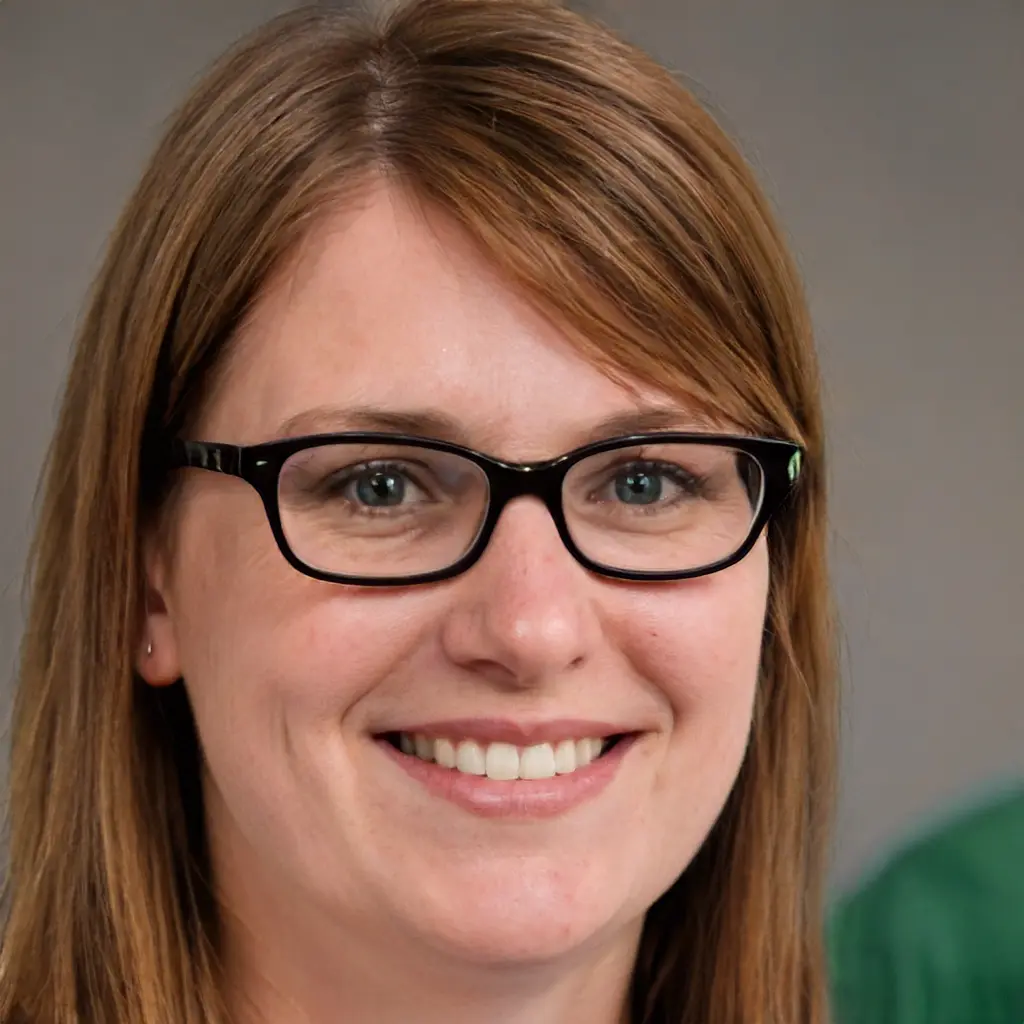 Latest posts by Olivia Mitchell
(see all)