Navigating the sheer number of laser cutters on the market can seem like a daunting task. If you're looking to start your journey in engraving wood or acrylic, you will likely be on the hunt for an affordable laser cutter that does the job well without breaking the bank. 
Luckily for you, we have reviewed the best budget laser cutters currently available for under $500 to give you a great starting off point, looking at the different features each engraver has to offer as well as analyzing the pros and cons of each machine. To make this handy guide complete, we have also answered your burning laser engraving questions below, so feel free to save this guide to come back to as you progress with your laser engraving venture.
Whether you're looking to try your own laser engraving project or set up a laser cutting side hustle, knowing the basics will put you on the right track. So without further ado, let's jump into the questions! 
What's The Difference Between A Laser Engraver And Laser Cutter?
Well, the basic answer is that laser engravers and laser cutters are the same machine with different names. Most laser machines have the function to engrave as well as cut; Whether they are called laser cutters or laser engravers is generally based on what their main function is. If the laser is largely used for cutting, it is usually referred to as a laser cutter and if it is used for engraving it is referred to as a laser engraver. 
Do cheap laser engravers work?
Most cheap lasers are diode lasers, so work perfectly well engraving materials like wood or acrylic. The biggest drawback of a cheap laser engraver is the potential low power of the laser module, which will engrave and cut at a slower pace than more powerful machines. 
If you are a hobbyist or only plan on engraving a few items every now and again, a cheap laser engraver is a worthwhile investment. You can expect about 5W of power for machines in the $300 price range and up to 10W for $500 laser cutters.
What can I use instead of a laser cutter?
Laser cutters are great for cutting or engraving with absolute precision, far surpassing traditional cutting methods such as sawing and chiseling by hand. One machine which has a similar functionality to a laser cutter is a Computer Numerical Control (CNC) machine, which uses computer software to accurately cut and engrave. 
Is laser cutting cheaper than CNC?
The initial cost of buying a laser cutter or CNC is relatively similar, and luckily they both come in budget-friendly versions. When it comes to running costs, laser engravers are quicker and therefore are turned on for less time than a CNC, which reduces energy usage and makes them cheaper to run.
The most expensive part of a laser cutter, however, is the laser itself, which needs to be changed periodically. The cost to replace the laser source can be quite a large sum, although it is infrequent. 
Are cheap laser engravers worth it?
If you are new to laser cutting or are just looking to cut or engrave a small amount of items, a cheap laser engraver is worth buying. If, however, you're looking to use your laser cutter professionally or extensively, you will likely want to spend a bit more money and get a better quality, more durable machine that is up to the task. 
A great thing about getting a cheaper laser cutter is that many have the option for additional add-ons to improve their performance later and add additional functions.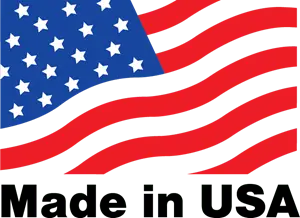 Some or all of the products showcased in this article may be made in the United States of America
Best Laser Cutter Under $500 in 2023:
Here are our picks for the top laser cutters under 500:
The KENTOKTOOL LE400 PLUS has a well-built, sturdy frame and boasts many great features including adjustable rollers and a 10W laser module for better engraving. This excellent laser can easily cut 15-20mm wood, 10-15mm acrylic and ultra-thin metal, but is also suitable for ceramics, stone, glass and more. 
This affordable laser engraver has been repeatedly tested and optimized to achieve great customer satisfaction – and it shows! The machine cuts at high power and high speed – 5-6x faster than a 5.5W laser – which results in crisply clean edges. The compressed light spot technology is a newly added feature and makes engraving more delicate and precise, while the upgraded 32-bit motherboard and laser module make the work more efficient.
The smartphone app enables you to directly upload photos from your phone to engrave onto your project. The machine even has an offline cache to store photos to engrave later, without the need to have your phone on.
Overall, this compact machine ticks all the boxes for an affordable laser engraver that has the power and tech to be used professionally. 
| | |
| --- | --- |
| Pros | Cons |
| ✅ 3.5" touch screen control panel  | ❌Manual focus |
| ✅ Phone app operation | ❌Not recommended for beginners |
| ✅ Suitable for use with many materials | |
| ✅ Easy to assemble | |
We finish with Kentoktool's official assembly instructions video to ensure you get up and running in no time!

The JICCODA 10W laser cutter comes equipped with a powerful 60W output machine. The laser itself is fantastic and can cut 10mm wood and 5mm acrylic at a high speed of 10000mm/min, making light work of engraving those ultra-fine details. But you are not limited to just wood and acrylic, this laser engraver can engrave a wide range of different materials, from leather to glass to food! 
If you're new to engraving, this machine can be a little challenging to set up and configure – although it does come with a handy instruction video to help with this. It also features an emergency stop button and alarm, which is useful when engraving projects don't quite go to plan. 
For the reasonable cost and the high-quality detail of the engraving it can produce, you get a lot of bang for your buck with this machine! 
| | |
| --- | --- |
| Pros | Cons |
| ✅ Good quality laser  | ❌No Z axis to raise height for thicker materials  |
| ✅ 24 hour customer service  | ❌Some compatibility issues with Lightburn software  |
| ✅ Adjustable belt tightness  | ❌Not recommended for beginners  |
Take your time to go through this comprehensive review of the Jiccoda cutter.

As one of the cheapest laser cutters we reviewed, our hopes were not very high when it came to the quality of the Comgrow Z1… But, we were pleasantly surprised by this little machine! The 5W diode laser module produces precise cutting and engraving and comes with a bunch of optional extras you can purchase for an even better engraving experience, such as a honeycomb bed for secure protection or a laser enclosure for soundproofing – Which you may want for this noisy machine! 
It is simple enough for a beginner to operate, making it a great starting laser engraver for those looking to give engraving a go. The Z axis is adjustable for cutting thicker materials, but given the low power of the 5W laser, it is better suited to thin, softer materials such as cork, hardboard or leather. 
The Comgrow Z1 will make an ideal first time laser for someone looking to get started in engraving without spending a fortune on their first laser cutter. 
| | |
| --- | --- |
| Pros | Cons |
| ✅ Great price  | ❌Low power |
| ✅ Easy to use and focus | ❌Noisy when in operation |
| ✅ Suitable for beginners | ❌No power switch |
Joshua's Z1 review is one of the most viewed laser cutter videos on YouTube, must watch!

The xTool D1 Pro comes in 5W or 10W, but to be within budget we have reviewed the 5W version. As with previous 5W laser cutters, the low wattage means that the machine is slower and has some limitations, like being unable to cut clear or lightly colored acrylic. It can also take a few passes to cut thicker, firmer materials and generates a lot of smoke when in use. 
Negativity aside – This machine does a good job of engraving to a high quality. It also has additional safety features, such as the anti-UV filter acrylic on the engraver module, which filters 97% of UV rays to keep your eyes protected. The engraver machine head is also equipped with a safety alarm which will sound if a fire is detected during operation.
The xTool D1 is compact and portable, making it a great addition to a workstation if you're looking to try engraving as a hobby. 
| | |
| --- | --- |
| Pros | Cons |
| ✅ Suitable for beginners | ❌5W model slow  |
| ✅ Great accuracy | ❌Smokes when in operation |
| ✅ Compatible with PC, tablet or phone | ❌Requires a few passes |
Another very popular cutter review, Chad will walkthough all of the ins and outs of the xTool D1 Pro.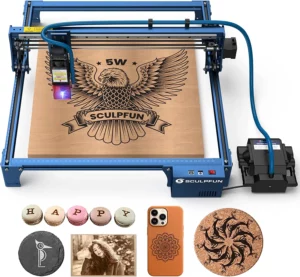 The SCULPFUN S30 comes in 5W, 10W and 20W versions, but to be within budget we have reviewed the 5W laser cutter.  Although the 5W model is at the higher end of the budget, it comes jam packed with features, including a 32-bit air-assist motherboard and automated air pump, which saves time, energy and frustration! 
The 5W dual laser output coupled with the air-assisted nozzle ensures highly accurate cutting efficiency and higher precision cutting and/or super detailed engraving. The setup instructions could definitely be more user friendly, but luckily there are YouTube videos to assist beginners with setting up the machine on Sculpfun's channel.
This machine really is great and has the functionality and durability to be used time and time again, making it the ideal laser cutter for a small engraving business or online shop. The software is easy to use and you can upload your own photos or designs to engrave. 
| | |
| --- | --- |
| Pros | Cons |
| ✅ Suitable for beginners | ❌Set up not very easy to follow  |
| ✅ Auto Air Assist feature | ❌Expensive item |
| ✅ Expandable X and Y axis  | |
| ✅ Suitable for a range of materials | |
Vintauri's Steve shows us a neat series of tests on the S30 to know all you need before you buy: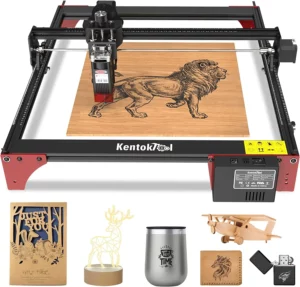 The KENTOKTOOL LE400PRO laser cutter is one of the easiest to set up – taking around 20-30 minutes to fully assemble – which is great if this is your first engraving machine. 
One of the best features of this laser cutter is constant fast focus, which means there's no need to manually adjust the focus before engraving, which is not only convenient but makes it more stable and also more accurate. The 5.5W laser power yields good enough power for precise engraving and cutting. 
The engraving machine's largest engraving area is 400x400mm2, which allows for a range of engraving requirements on different materials. It also has a movable knob that facilitates adjustment of the laser head height.
Overall, the KENTOKTOOL LE400PRO is a well priced bit of machinery that will make a great starting piece for a small engraving business or hobbyist.
| | |
| --- | --- |
| Pros | Cons |
| ✅ Fixed focus | ❌Not suitable for beginners  |
| ✅ Compatible with software like Lightburn | |
| ✅ Well packaged for easy set up  | |
Being one of the most talked about engravers, Kentoktools has provided us with an official promotional video, have a look!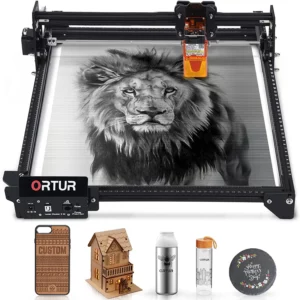 The ORTUR Laser Cutter boasts a 32-bit motherboard which is fast, accurate and easy to use – even for beginners! We also loved how easy to assemble this machine was, its modular design ensures you can access all the parts needed in the case of repairs and updates. The speed on this machine can go as high as 5000 mm/min, so you can get a lot of work done in less time than some of the other lower powered machines on the list. 
This machine comes with an air-assist nozzle as standard. It is suitable for a wide range of materials, such as paper, bamboo, wood, leather, aluminum, metal and glass, so you can really get creative with it! 
Its eye protection design is worth noting, too – It has a panoramic filter protective cover to protect your eyes, which filters out 97% of the UV light without the need for goggles. 
Overall, this machine is well priced and comes with a lot of useful features. It is easy to assemble and get to grips with, even for beginners. 
| | |
| --- | --- |
| Pros | Cons |
| ✅ Auto air assist nozzle  | ❌Adjusting speed takes some getting used to  |
| ✅ Powerful laser | |
| ✅ Panoramic filter cover  | |
| ✅ 1 year warranty | |
Quick ORTUR laser test for you research gobblers!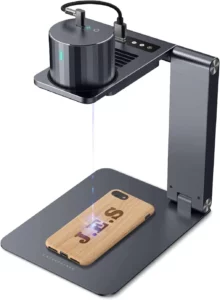 If you're looking for a sleek, compact laser cutter that won't take up too much room – the LaserPecker 1 Pro Mini is for you. This mini engraving machine can be folded up and only weighs 6.7 oz, making it completely portable.
It is the most expensive item we have reviewed and comes in just over $500, but this laser engraver is a 'plug in and go' model, without the need for complicated installation. It simply connects to your smartphone or tablet and you can start engraving immediately. 
Although it is great for materials like paper-board, fabric, wood and leather, it is not suitable for metal, stone or plastic, so only purchase it if you're not looking for an engraver that will work on those materials.
If you've got the money to purchase this great looking and easy to use gadget, we would definitely recommend this laser engraver. 
| | |
| --- | --- |
| Pros | Cons |
| ✅ Auto focus stand | ❌Not suitable for metal, stone or plastic |
| ✅ Compact design | |
| ✅ Suitable for beginners  | |
| ✅ 1 year warranty | |
Is this the fastest and most portable laser engraver? Unique design brought by the folks at LaserPecker. Let's check if it deserves the "PRO" badge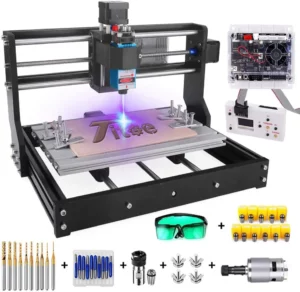 This engraver is different in that it is a 2-in-1 model which utilizes CNC and laser engraving. It is a bulkier machine at 17" diameter that takes up a considerable amount of workspace, but has an effective engraving area of 300 x 180 x 45 mm, so can accommodate most engraving projects easily.
The 3018 Pro comes equipped with its own software, so there is no need to download a separate subscription. You can simply open your photo and press start to engrave your chosen image. It works well on wood, plastic and leather, although it will not work on harder metals or stone. 
It also has a great 'offline controller', with no need to connect to your computer or smartphone. You can manually adjust the axes, open or close the spindle and open or close the cooling fan. Although you cannot use the offline controller at the same time as the computer, which will run into issues. 
This machine is on the cheaper end of the spectrum, but works well and yields enough power for accurate engraving. It would make a great starting engraver for someone looking to give laser engraving a go. 
| | |
| --- | --- |
| Pros | Cons |
| ✅ Own software included  | ❌Not suitable for hard metal and stone |
| ✅ Easy to assemble | |
| ✅ Suitable for beginners  | |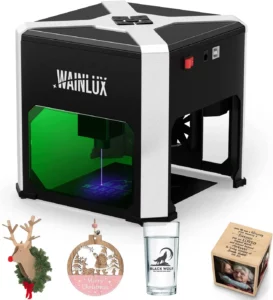 The WAINLUX K6 Pro Laser Engraver is another compact and portable laser engraver – the whole unit only measures 9.09 x 8.66 x 8.62 inches. It is the cheapest laser cutter we have reviewed and therefore the quality of the machine and the power of the 3W laser is not the best compared to others on the list, but it still has some great features!
It is user-friendly and is simple to set up and use – Simply connect via bluetooth to send your images to the engraver. It can engrave a diverse range of materials including acrylic, cardboard, wood, leather and cloth, although it is not suitable for transparent or translucent materials like glass or stainless steel. 
Despite its size, it still boasts safety features such as built-in protective lenses and a built-in exhaust van to limit smoke. It also projects a preview of your image before engraving, which is useful when designing your items and setting the alignment. 
Overall, this portable laser cutter is a great starting piece of kit for anyone looking to engrave a few items without breaking the bank. 
| | |
| --- | --- |
| Pros | Cons |
| ✅ Connects via Bluetooth  | ❌Low power |
| ✅ Great price | ❌Not suitable for metal, glass or transparent/translucent items |
| ✅ Suitable for beginners  | |
To finish off, we bring you another special format cutter, very portable too!

What is the best cheap hobby laser cutter? 
So there we have it, a comprehensive guide to the best affordable laser cutters currently available for under $500. All of these machines will be suitable for your engraving and cutting needs, but the machines that boast the best additional features are the KENTOKTOOL LE400PRO, with fixed focus, or the SCULPFUN S30, with the added auto air assist pump. 
Let us know which item you purchased and how you get on with it!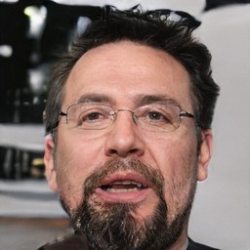 Latest posts by Doug Mahoney
(see all)