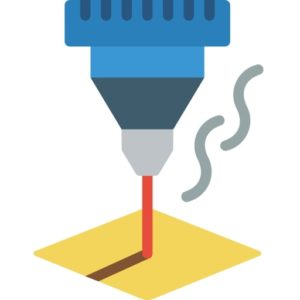 Who was that person who spent years crafting and woodworking without a great laser cutting solution?
Couldn't be you!
Or if he were you because of some joke of fate, it wouldn't be you anymore. You cannot live without getting the beauty enhancer of your woodworking projects and that's final.
So, now if you have decided to bring your laser cutter to its new home, you're at the right place. But before we jump to the list, here are a few important things that are vital to know in this regard.
You can also jump to the list of Laser Wood Cutters below.
What can you engrave using a laser engraver?
Laser etching of a photograph: Even an inexpensive laser engraver/laser cutter can easily engrave images onto plastic, metals, and other materials. It's possible that perfecting your talents will require some trial and error, so be prepared to put in some time and work. Overall, images with a variety of bright and dark tones are excellent for making the engraving pop.
Check our comprehensive list below to see which one fulfills the criteria of the best wood laser cutter for your woodworking needs? Each product from out of our listing below exhibits unique features and consists of majorly those that other machines of the league lack! We strive to bring in quality as well as variety.
Types of laser cutters
CO2: The CO2 laser is the most popular kind in our buyer's guide, and with good reason. A CO2 laser is created by passing an electrical current through a glass tube packed with CO2 and other gases.
FIBER: Fiber lasers are a recent technique in the realm of laser cutting. On an industrial scale, they are frequently used to cut thin metal sheets for production components. They are quite rare and pricey in desktop form, although they do have a number of advantages.
Effectiveness of laser cutting for cutting/engraving wood
Laser cutting is the latest technique for precise cutting, marking, and engravings on flat materials, including wood, metal, and acrylic, by releasing a beam of intense light through a manageable head.
How do laser cutters work?
In order to cut a material, laser cutters generate and then channel a strong and highly focused laser beam through it. The laser is deflected off the surface of a mirror and then passes through a lens to concentrate it before it impacts the material in the workspace, depending on the technology used by the machine in question.
What else can be engraved using a laser engraver?
Hardwood, leatherette, plastics, synthetic fiber, crystal, and other substances may all be cut using a laser engraver. Powerful engravers can be used to cut metals, porcelain, and jewels. Laser engravers are well-known for their versatility, which differs depending on the type.
Consider the materials that you want to engrave on
Laser engravers can work with a variety of materials. They are most typically used with hardwood, leatherette, soft alloys, acrylics, and cards. Some of these materials are simpler to deal with than others, and each will necessitate its own strategy and procedures in order to get the greatest results. Before purchasing your machine, it is critical to understand the material you intend to cut as well as the right cutting procedures.
Let's Dive in
Best Wood Laser Cutter 2023
Here are our picks for the top wood laser cutters available in the market.
[Editor's Choice]
Why We Love It:
BobCNC really is great value for money.
It is a beginner-friendly product, which is ideal for professional use too.
Compatible with third-party software, unlike most other products.
The working platform is accessible from three sides at the same time making delicate tasks easy.
The precision in the beam of this machine is extraordinary.
The frame of the laser cutter is rigid & remains unaffected from impacts and fall-offs.
This is quite an affordable product considering its specs.

| | |
| --- | --- |
| Pros | Cons |
| ✅ High level of precision | ❌ Needs to be assembled |
| ✅ Sturdy and stable build | |
| ✅ Offers a large working area | |
| ✅ Rigid laser cut frame | |
| ✅ Strong hold on item | |
| ✅ Ready-to-assemble kit | |
| ✅ Very Affordable | |
Why We Love It:
This device is highly lightweight and compact.
Innovative smart trace software, which allows you to keep a good trace of the project.
Safe for kids' projects, as it's perhaps the safest laser cutter.
Works on multiple surfaces, as it has a laser beam that is versatile.
This product has a resolution as great as 1000 dpi, which is huge and plays an important role in high precision.
With 1000 dpi resolution, the precision of the beam elevates to an exponential level.
The user interface and display of the interactive screen are quite user-friendly.

| | |
| --- | --- |
| Pros | Cons |
| ✅ Versatile 30W laser | ❌ Limited work area |
| ✅ 1000 DPI resolution | |
| ✅ Affordable professional machine | |
| ✅ Beginner-friendly | |
| ✅ Professional precision | |
| ✅ Powerful UI | |
Why We Love It:
This machine is fast & automated, it works well in various speed ranges, and is self-autonomous.
The cutter features quite an Easy setup and assembly. So, all you need is an assembling manual and the boxed-up unit.
Extremely precise due to the highly accurate laser beam. It can even cut and print up to 13,000 lines in an inch.
Safe for schools, laboratories, workshops, home, and commercial uses.
This machine is capable to use paper designs as well.
GlowForge works great with a widely spread system, that is, windows 7, windows 8, windows 9, Linux system, and Apple Mac systems.

| | |
| --- | --- |
| Pros | Cons |
| ✅ Large working area | ❌ Expensive |
| ✅ Engraves 1300 lines per inch | |
| ✅ Safe for home and school | |
| ✅ Preview mode available | |
| ✅ Can use paper designs | |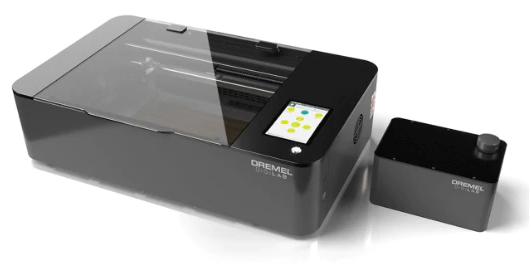 Why We Love It:
Extra dose of ventilation with help of the exhaust fan located sideways with the wall of the engraver avoiding over-heating issue.
The machine works at great speed and gives great and precise results.
Longer working hours due to the great ventilation because of the exhaust fan.
Safe, and user-friendly, the emergency stop ledge especially helps avoid accidents.
Its build is made of durable and robust material. Therefore, it isn't prone to damage or susceptible to break down.
The unit comes with sample materials that you can experiment with to learn.
The software that the machine works on is really user-friendly.

| | |
| --- | --- |
| Pros | Cons |
| ✅ Durable | ❌ Costly |
| ✅ Large working area | |
| ✅ Easy-to-use software | |
| ✅ Comes with material for cutting and engraving | |
| ✅ Work on multiple surfaces | |
| ✅ Industry grade build | |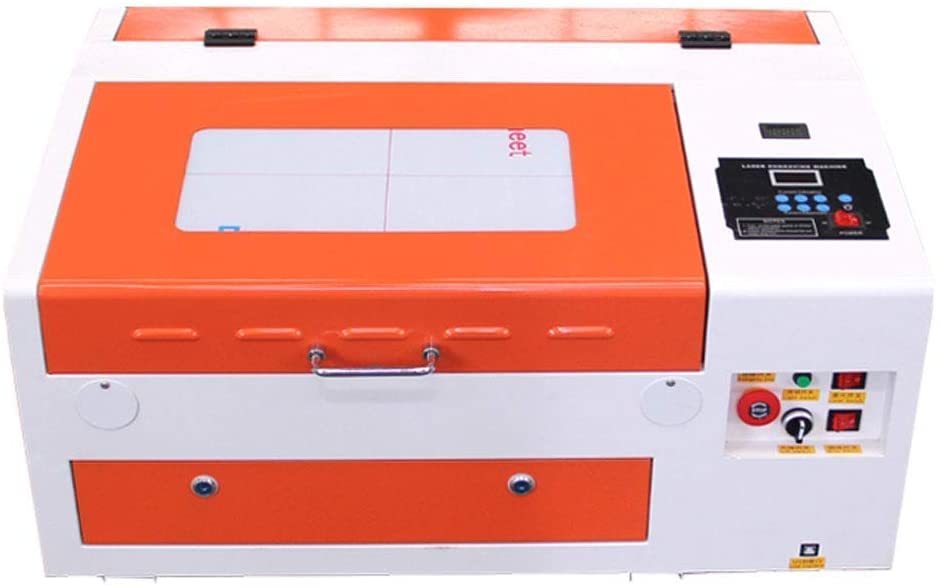 Why We Love It:
Fast & smooth function due to highly precise and accurate laser beam.
Considerable engraving area capable of handling large projects.
Tackles multiple surface types due to highly active laser beam.
Ready to install rotary axis help you disassemble and reassemble the delicate parts of the device making it portable.
There is a safety water release valve that helps enhance safety.
It has core laser software pre-installed.
Comes with an innovative feature called a flame retardant system.

| | |
| --- | --- |
| Pros | Cons |
| ✅ Safety water valve | ❌ Compatible with few versions of Windows |
| ✅ Cooling water temperature display | |
| ✅ Flame retardant system | |
| ✅ Comes with CorelLaser installed | |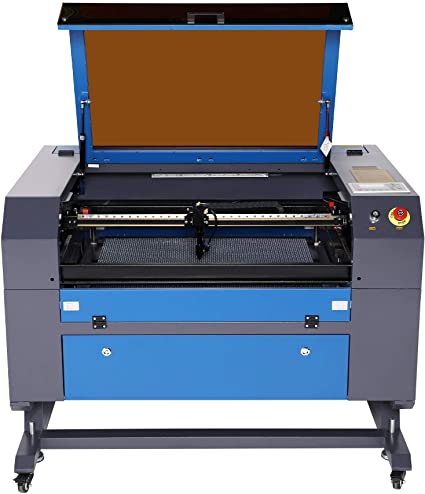 Why We Love It:
Works with multiple materials since it has a laser beam that's versatile.
Highly portable due to the compact design in spite of the large work area.
This laser cutter is made of a solid and strong material. As a result, it is not easily damaged or broken down.
The machine comes with sample materials that you may cut or engrave on to learn.
The software is very user-friendly and ideal for novice users.

| | |
| --- | --- |
| Pros | Cons |
| ✅ Built-in exhausts | ❌ Not for large scale projects |
| ✅ Red dot guide | |
| ✅ Compatible with third party vector software | |
Why We Love It:
Operate at high speeds & with precise results.
Works on multiple surfaces since it has a laser beam that's versatile.
The safety of the machine operator is a primary concern in this device.
Tried and tested for runtime and longer working hours due to improved ventilation by the exhaust fan.
The precision of this machine's beam is astounding.
The laser cutter's frame is sturdy & resistant to collisions and fall-offs.
The budget bracket within which this engraver is available is quite reasonable.

| | |
| --- | --- |
| Pros | Cons |
| ✅ Multiple functions | ❌ Costly |
| ✅ Tested for durability | ❌ Not for business purposes |
| ✅ Large working area | |
| ✅ Honeycomb work platform | |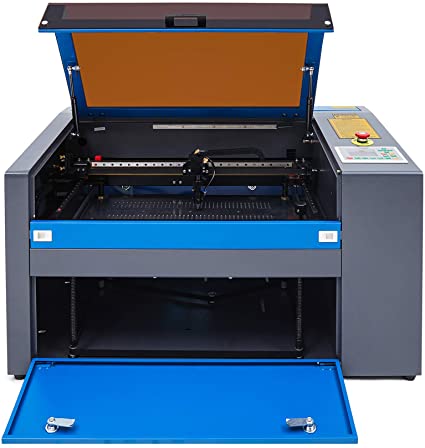 Why We Love It:
A large working area allows you to utilize this laser cutter for huge materials.
Works on a multitude of surfaces thanks to its active laser beam.
The machine works at fast speeds, producing great and accurate results.
This laser cutter is constructed of sturdy and durable material making it hard to damage or break down.
The machine comes with sample materials to experiment with if you're a beginner.

| | |
| --- | --- |
| Pros | Cons |
| ✅ Powerful laser | ❌ Not Beginner-friendly |
| ✅ Built-in ventilation | ❌ Expensive |
| ✅ Safe | |
| ✅ RUIDA Display | |
Why We Love It:
The machine works at great speed and gives great and precise results.
A large working area, including a large engraving area, allows you to use this laser cutter to engrave or cut large items.
Tackles most non-metal products, which is a quite unique feature as most of such machines are only good for metal products.
If your object is larger or uneven, you may fit it by using front and back pass-through tunnels.
The finest laser cutter also has a pass-through operating bed, so the user is not confined to working in tiny dimensions.
It has an engraving speed of 300mm per second and a cutting speed of 80mm/s, but speed isn't the only way it improves efficiency.
For a certain assignment, you can pick between two separate working platforms.

| | |
| --- | --- |
| Pros | Cons |
| ✅ Reasonable precision | ❌ Only works with Windows |
| ✅ Safety features and full enclosure | |
| ✅ Built-in ventilation | |
| ✅ Heavy-duty build | |
Best Wood Laser Cutter – Buying Guide
We enlisted the top 10 markets competent best wood laser cutter models. Some customers may sound confused about which one to choose yet!
Don't worry! We are here to help you. Before your final decision for a particular CNC laser cutting machine, just follow these guidelines for a better way to analyze a model.
This extensive article will definitely help you with choosing your best laser cutter without incurring lots of research. But if you are not sure what you are looking for and how to evaluate a potential laser cutter for your workstation, you should read this complete buying guide.
This buying guide answers all the questions which you want to be answered about the best choice available in the market and the best fit for the type of wood engraving you do.
Compatibility with multiple software and their supply
The software will be supplied with certain laser engravers. This is the situation with Full Spectrum Laser, which includes RetinaEngrave v3.0 browser-based control software with its unit. Because this program was created by the firm, it should perform flawlessly with its own equipment. Some equipment will necessitate the acquisition (and payment for) of your own laser software. You may use free ones, such as the famous LaserGRBL control software, but many users think that investing in quality software is essential for getting decent results from your laser cutter.
Adobe Photoshop: This program has features that will appeal to both experienced and inexperienced developers. It also has a mobile version that has less functionality than the PC version but can still produce high-quality photographs.
GIMP: GIMP is an abbreviation for GNU Image Manipulation Program. This software is free, but there is no question that it is a dependable raster software solution. GIMP comes with image editing capabilities such as transformation, selection, masking, filters, and brushes. It is simple to use and works with all operating systems.
LaserGRBL: is another free software that may be downloaded from the internet. It swiftly converts your ideas into GCode and is ideal for hobbyists.
Availability & parts replacements
A laser engraver is available to the consumer hardware store or retail chain. Nevertheless, you must check online if you want to see a wide choice of units and make sure you pick the one that best meets your needs. There are several possibilities available on Amazon.
What exactly is a CNC router?
A CNC router, like a laser cutter/engraver, has a separate tool head. Instead of a laser, it carves and slices into materials with a drilling bit.
What should I look for when buying a laser engraver?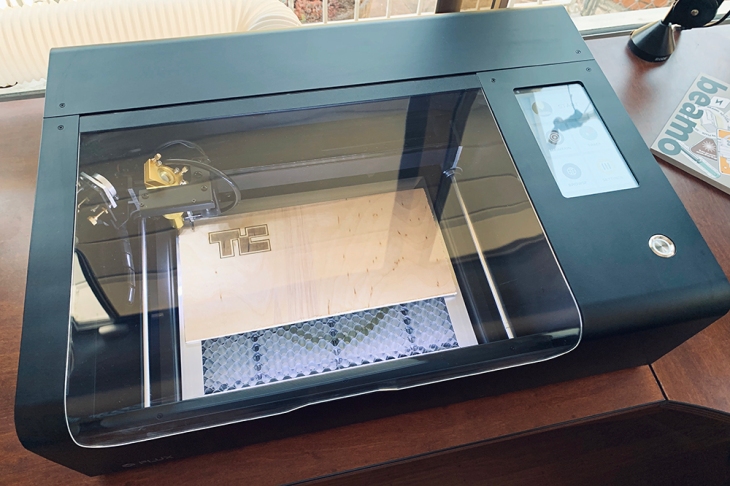 First of all, understand your craft's needs. As a woodworker, you should look for an engraving and cutting machine which works on wood and related materials like cardboard and paper. If the choice of material is wider in your engraver, it will prove to be a better choice for you. However, the bare minimum of wood cutting and engraving should be present before you decide on the best fit.
Don't forget about the budget. The prices of laser cutting machines for home use vary greatly. You can expect to spend between two hundred to ten thousand dollars on a single device. Before starting your research, decide on the budget you have for your machine and stick to it.
Understand the type of work. Most laser cutters also engrave on wood. However, you would want to be sure about this type of activity before you make the purchase.
Safety is a paramount issue especially if you are working at the beginner level or if you want to keep the device in a high traffic area of your home or office. See if the laser comes with a complete enclosure and lid. The best laser cutter for safety is one that can sense a lack of input from the user to automatically shut down.
Precision is the key measure if your projects require lots of details. This quality of engraving depends on various factors including beam width and spacing between lines it can engrave.
You should also consider the maintenance and repair of your device. It should be easy to clean. Inquire about the frequency of maintenance as well the whole process before investing. Know that some lasers have so much intense maintenance process that users are forced to call for a technician. Plus, you should be able to find its parts easily in the market.
Carefully analyze the technical aspect and compare them with other models as well. Technical aspects include the specialized software the machine uses to communicate with the overall cutter's hardware, structure, and design, the engraving area for designs, compatible software, and operating system.
Moreover, some advanced laser cutters can connect via Bluetooth and mobile apps. While others can connect with a USB port and computer. Choose the one that provides the best fit for your requirements in terms of technical aspects.
Warranty is a plus when you buy an expensive wood laser cutter! Every machine that costs hundreds to million dollars will need some maintenance after a couple of years. A machine part may break.
During maintenance or breakage, it matters how much it costs locally or internationally. If the company is offering an easy warranty policy and guarantee policy, it will cost you less and save your time. Hence, choose a model where you can claim and get refunded!
Before buying the laser cutter, consider the power capacity needed for your task. In the market, some laser cutting machines are light and consume less power. Less power capacity machines are mostly used at home.
Some cutting machines consume full wattage of power, and these machines are used commercially.
Exposure to laser light can damage the human eye retina and burn skin. Handle the laser cutting machines with extra care! Almost all laser machines have sealed Co2 lasers that emit invisible intense laser radiations.
These radiations have a wavelength of 10.5 microns and are invisible to the human eye. So, all companies that manufacture laser cutters provide special goggles so that you can operate easily. I hope these guidelines would help you get your best wood laser cutter for making your most creative and personalized designs.
However, if you want to cut more than 20 mm wood, it requires multiple laser beam passes.
What wood is good for laser cutting?
The laser cutting has exceptional results on Cork, Balsa, Baltic Birch Plywood, Cherry, White Pine, Alder, and Basswood. Softwoods are preferred for laser cutting as they have less distorted and hard grain patterns.
How long do laser engravers last?
The laser engraving system is best for craft jewelry. The working mechanism utilizes laser beam passes in short pulses needed to create quality artwork. These engravings last long up to 35,000 hours of life.
How thick can a laser cutter cut wood?
Most of the laser cutters work well with 0.5-12 mm thick material. Whereas there are many laser cutters cut 20 mm thick material too.
Any wooden material more than 20 mm should be cut through the CNC router for better performance.
Is plywood safe to laser cut?
Wood-like plywood or composite wood that contains glue is not a good option to cut with a laser cutter. These wood materials like plywood are ¼ inches thick that is not suitable for laser cutting.
MDF has the same thickness of ¼ inches, but that also has to bear a higher amount of charring while cutting.
What are the advantages of cutting with a laser?
The best wood laser cutter can offer more than one advantage in cutting wood.
Control: Laser cutters deliver good control over the beam. You can use its intensity, heat, and length to get the desired results.
Low power consumption: in comparison to other tools, laser cutters consume low power. They utilize 10kw, whereas others can go to 50kw.
Versatile usage: Laser cutters can go well with multiple materials.
Low maintenance: all laser cutters are easy to use and easy to maintain thus;, low cost as well.
Time-saving: These cutters allow to work efficiently, set up easily, and allow smooth finish and precise cutting in less time.
How does a wood laser cutter work?
Laser cutters with their powerful beam directed to the material that cut it by melting, burning, or vaporizing it. Finally, it leaves a smooth cut with a high-quality finish.
Can a laser cut a human?
The laser cutters need to be used carefully. Laser cutter machines are powerful and made with high-density energy that can harm human organs. They can damage sensitive human tissues. A powerful laser beam can burn through any brain tissue of retina tissue.
Are there different types of laser cutting?
Yes, laser cutters are available in different types that allow a variety of techniques for cutting. Three main types are well known for their performance, C02, fiber, and crystal.
What is the best laser cutting machine?
According to our criteria of accuracy and ease of use, the best wood laser cutter includes the best affordable laser cutter and home laser cutting machines.
 Beamo Laser Cutter & Engraver 30W Desktop
 BobsCNC Evolution 4 CNC Router Kit
 Orion Motor Tech CO2 Laser Engraver Cutter
Can you cut with a laser engraver?
Yes. Laser cutters and laser engravers are the same terms used interchangeably on the basis of your main aim. Mostly, CO2 flatbed laser machines include the features of cutting as well as engraving.
What can I do with a laser engraver?
You can engrave to create artistic wooden keychain holders, bottle openers, wine glasses, woodcut puzzles, wood rolling pin, glass spice jars, beer cap shadow boxes, coasters, crafts on ornaments, and many others.
Are laser cutters dangerous?
Yes, they can damage the skin and eyes of users. The other hazards include the possibility of catching fire or can produce irritating combustion effects. Therefore, place it in the cutter safely. Typically, it contains CO2 carbon dioxide lasers that produce radiations at the wavelength of 10600 nm.
How do I choose a laser cutter?
The process includes planning, researching the brand, and researching the machine you want to buy. Plan. You need to know your needs. Precision, material, budget, and ease of use are some factors you should plan out in this phase.
Know the supplier. The search for the best laser cutter doesn't start with the best product. Rather, it starts with the best manufacturer who makes this product. Look for a trustable brand. A laser cutter is a long-term asset and you would see yourself contacting the support more than once in coming years. Know if the brand is responsive to your needs. See if it's popular enough to have spare parts easily available.
Talk about the machine. Learn the essentials. If you want faster operations, go for advanced CO2 technology. You may also get some help from the power of the laser. Know how much the working area caters to what size of the engraving project.
Should I buy a laser engraver?
This question's answer varies according to your needs and capabilities. If you see yourself using your laser cutter frequently, you get a positive answer. Otherwise, you can always rely on the services of laser engraving businesses and professionals to lend you a helping hand. Or you may consider leasing the best laser engraver for wood without future commitments.
If you are a newbie in wood pattern designing and engraving, you can skip the worries. Most laser cutters are easy to use and learn.
Another factor that should influence your choice is whether you want an engraver or a cutter. Ask yourself if your projects focus more on cutting the wood or engraving it. If your work requires an emphasis on both tasks, you should buy the best laser engraver for wood separately from a cutter. Not only will this separation mean an increase in the turnaround but you will also get professional results for both needs.
How much does a laser cutter cost?
Well, the answer is a range between 200 and 10,000 dollars. If you only want your feet wet, you should go for the best affordable laser cutter available in the market. If you want more accuracy and detail and you are more passionate about your craft than a newbie, intermediate-level products will help you most. In the end, the laser engravers lying at the higher end of this range are meant for those hobbyists and DIY-enthusiasts who are venturing into their empire around craft-building.
Another factor that decides the price of these lasers is the safety measures it considers. The best home engraving machine which doesn't require a dedicated space in a workshop comes with complete enclosures so the laser beam doesn't escape the machine. Other lasers are more technical and less safe.
Speed and efficiency, thickness, and cutting and engraving areas also influence the price of the best mini laser engraver.
Which laser cutter should I buy?
The answer depends on your needs.
Safety is enhanced in Dremel, Growforge, and Beamo cutters. This excessive safety makes these lasers great choices for homes and offices. For the automated experience, Dremel and Glowforge make perfect choices. And you get the most power on a reasonable budget with most models of Orion.
What is the best wood for laser cutting?
Go for maple, basswood, alder, cherry, and poplar if you are serious about cutting and engraving crafts.
The quality of wood you are using for your wood cutting and engraving determines the quality finish you get for your craft. If you are using harder wood, you should expect a deterioration of the quality you get in the end. Also, the grain has to be smoother to help with cutting.
Another option that is widely used among woodworkers is plywood. The best quality of this engineered wood is that some of its qualities are specifically manufactured and marketed for laser work. Search for the thickness your machine can handle and forget all worries about the finished quality of your masterpiece.
What can a 100-watt laser cut?
A 100-watt laser can cut acrylic with a thickness of 1mm to 19mm, Balsawood with a thickness of (3.2mm to 6.5mm), Birch (0.9mm to 4.8mm), Cardboard (4mm to 6.5mm), and Plywood (5.6mm to 12mm) polyethylene foam, Silicon sheet, and transparency sheet.
Final Verdict
To save your time and energy, you must think about adding the best wood laser cutter to your tools. No matter if you need a consumer laser cutter for your home or small business; they can allow a smooth and perfect finish to your material.
Save your material from damage and choose the best wood laser cutter from our selection to speed up your performance with a reliable tool.
Though Beamo 30W Desktop Laser Cutter is our Editor's choice yet if you are looking for the best laser engraver along with your cutting needs, I would recommend you to get your hands on BobsCNC Evolution 4 CNC Router Kit the two in one champ.
References:
Design and testing of components for a low-cost laser cutter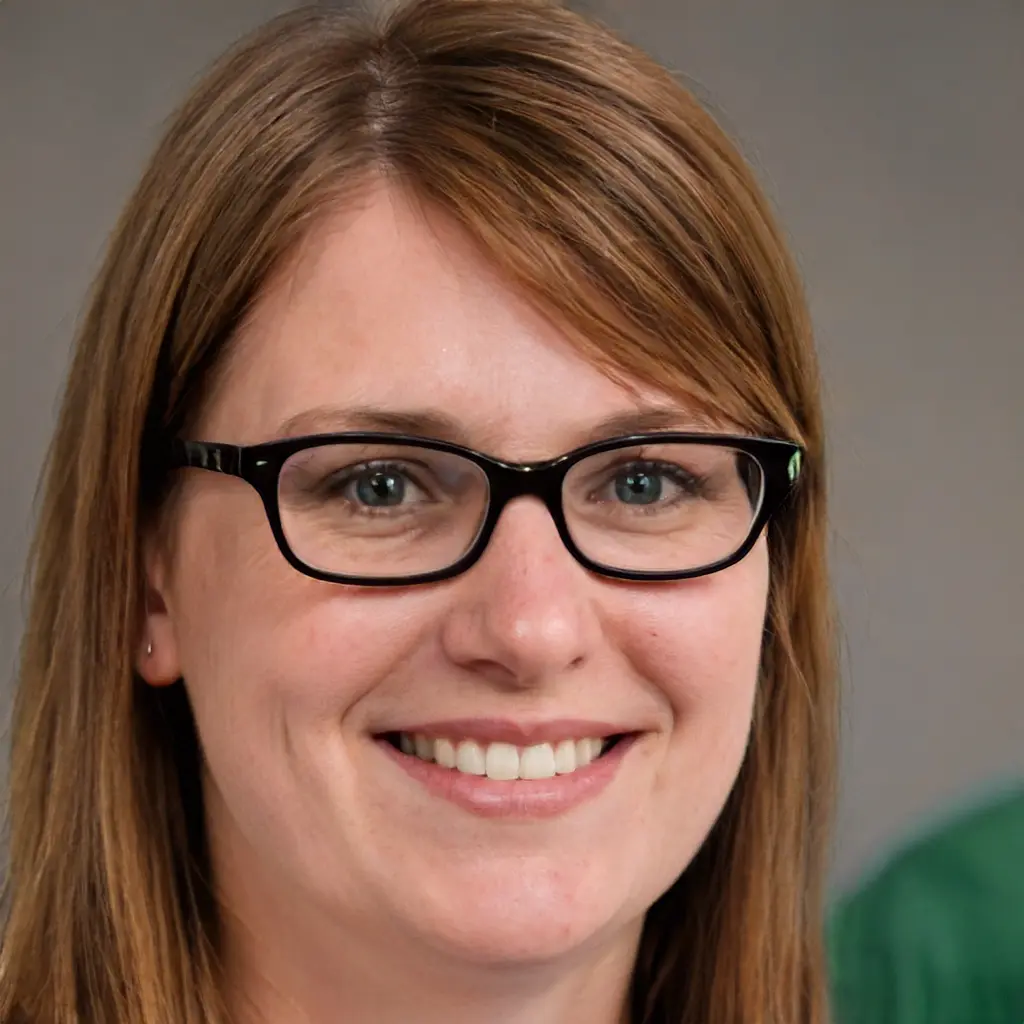 Latest posts by Olivia Mitchell
(see all)