Finishing your deck construction before the rainy season or building chairs to go around the fire pit?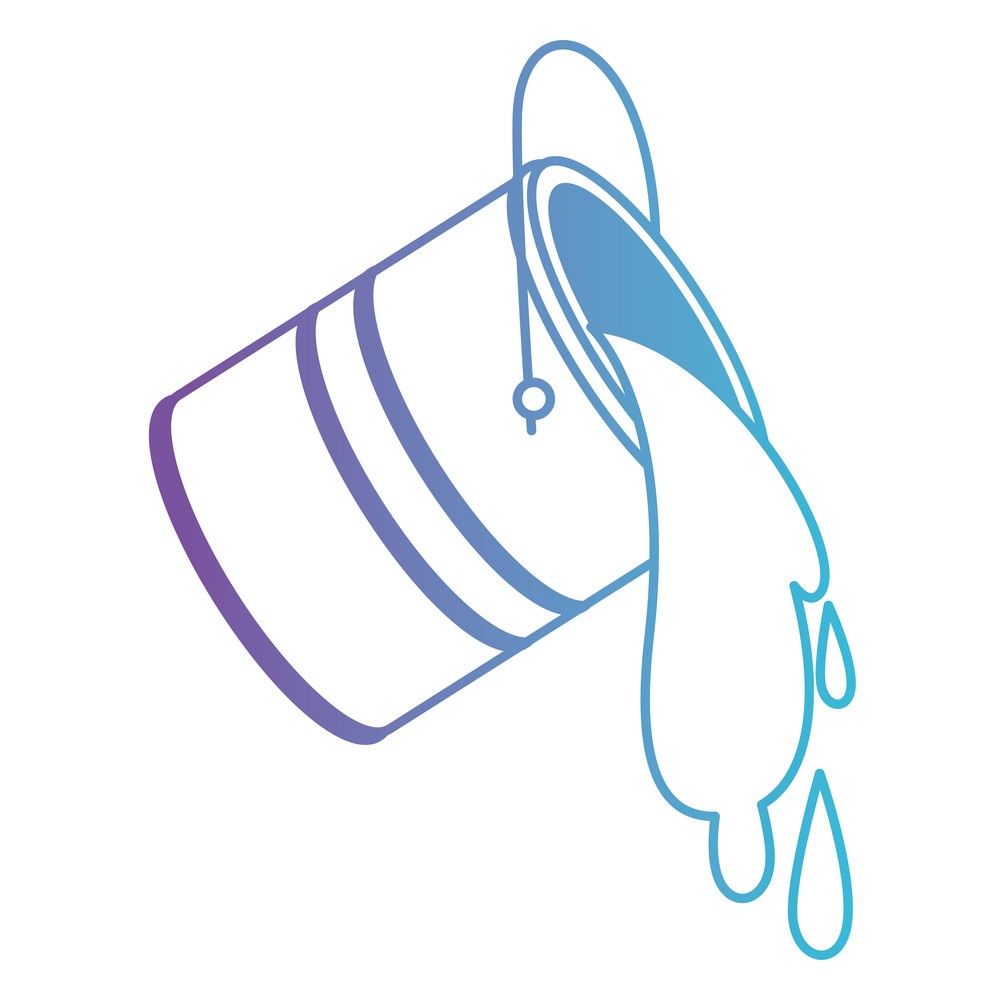 But tell me the fear lurking at the back of your mind. Is it the fear of rain, rotting, wood-boring insects, mold, oh there are so many?
Don't worry
You can easily find the perfect wood preserver that is a simple and easy solution to your many concerns. A good Wood preservative can serve you well years after years. It spares your energies and money to enjoy worry-free living.  No matter if it's just the wood preserver or combined with a paint of your choice, it strengthens your wooden surfaces for extended life. For the most amazing wood protection solutions check out our wood preservative reviews below.
But First!
What is a wood preservative used for?
Wood preservatives aid in the prevention of so many situations that might cause wood to degrade and disintegrate over time. Using a wood preservative preserves wood from the most prevalent causes of wood rot and decay, such as mold, fungus, alga, and wood-boring insects. Wood that has been kept, coated with an appropriate topcoat, and managed will survive for years if not decades.
Important things to keep in mind before buying:
There are mainly three principal types of wood preservatives. Available at the moment, Water-borne preservatives, oil-borne preservatives, and organic solvent preservatives define the categories in which they are used according to their specific properties. Each type contains different properties that have their advantages and drawbacks. You can choose anyone according to the needs and demands of your material in your specified circumstances.
Several types of wood treatment chemicals offer exterior wood protection to preserve the wood, but they allow deep penetration too. Wood preservative delivers an excellent coat, whereas the best wood treatment adopts the process of making the wood more protective such as timber treatment, lumber treatment, or pressure treatment.
How exactly do wood preservatives function?
The main components of wood preservatives are inorganic chemicals and insect killers, the most prevalent of which is Bug repellent.  Pyrethroids are synthetic materials that mimic natural daisy flower extract. Tebuconazole and Iodo propynyl Butyl carbamate are two more frequent components. When dry, most contemporary wood preservers are safe for humans, animals, and plants, so they can be used on barns, railings, wooden lattices, dog kennels, carriages, millwork, and other structures.
Lets Dive in
Best Wood Preservatives 2023:
Here are our picks for the top wood preservatives currently available.
[Editor's Choice]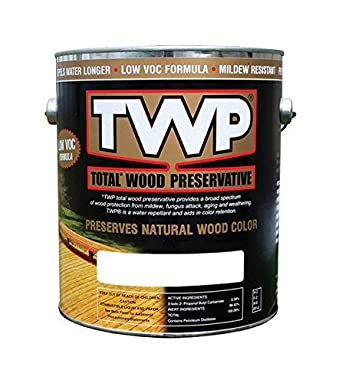 Why do we love it?
This wood preservative provides an even and smooth coverage to the surface on which it is applied.
The AMTECO wood preserver refreshes the wood exterior, giving it an ever-new look from the outside.
Once the final coat is applied, it brings about extraordinary results after spreading it over the wood.
It also bears unmatched protection against harmful agents like fungus, mildew, aging, and wreathing.
It is a solvent-based, extremely penetrative wood preservative for the external surface of the timber.
It is also usable on gardening shelters, railings, beams, doorways, and glass panels.
Excellent for refinishing woodwork in higher humidity environments.

| | |
| --- | --- |
| Pros | Cons |
| ✅ Low VOC Formula | ❌ Low consistency liquid |
| ✅ Preserves the natural wood color | |
| ✅ Ultraviolet rays protection | |
| ✅ Water repellant & Color Retention | |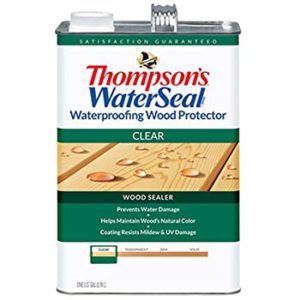 Why do we love it?
Mildew resistant coating due to the highly biocidal natured compounds.
Thomas water seal acts as a shield against water and sun due to the thicker clear coat or surface coat.
It is also slightly woody in color, gives off a fresh look, and refreshes the natural wood color.
The product tends to be Perfect for floors, railings, outside woodwork, and fittings.
it bears a high proclivity to protect from UV and fungal harm.
The oil-enriched recipe allows it to delve deeper into the surface and create a lengthy impression.
The final clear coat bears hydrophobic components which make the applied surface waterproof.

| | |
| --- | --- |
| Pros | Cons |
| ✅ Simple and easy to apply | ❌ Requires more coating |
| ✅ 1-gallon quantity | |
| ✅ No color, clear and Transparent | |
| ✅ Oil-based formula | |
| ✅ Waterproof Clear wood protector | |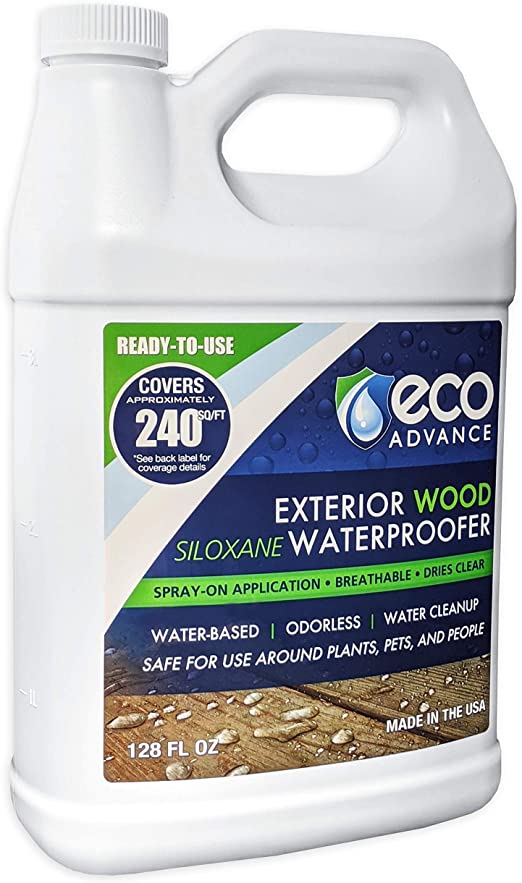 Why do we love it?
Long-lasting exterior wood protection owing to the high-end quality of product maintaining quality standards.
Is a product that bears the nature of being Eco-friendly, Safe to use around people, pets & plants.
Due to the hydrophobic components, it is Water Repellent works as a shield against water.
Dries quickly in less than 2 hours as it has evaporative components so that you are saved from additional hassle.
When combined with freshwater, it yields 1 gal of commercial-strength water repellent.
This substance is vapor porous, evaporates clear without affecting the surface look.
Dries clear with little to no alteration in the look of the surface.

| | |
| --- | --- |
| Pros | Cons |
| ✅ Water-Based formula | ❌ A bit too watery |
| ✅ Odorless | |
| ✅ Commercial grade water repellent | |
| ✅ 16 Fl Oz quantity | |
| ✅ White color but dry clear | |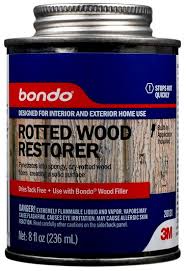 Why do we love it?
It acts to be A perfect rotted wood restorer due to the high-end protective covering.
Easy to apply with a built-in brush, which makes sit even easier for the buyer to apply the preservative by themself.
The restorer surface is waterproof and paintable because the finish coat is water repellant.
After the application and drying, it also Hardens the soft-spongy wood and stops the rot for a long.
It sets in far less than two hours, so you won't have to wait long.
Bondo® Wood Filler is applied to a solid base created by this formula.
It also tends to be long-lasting to a greater term as compared to the product.

| | |
| --- | --- |
| Pros | Cons |
| ✅ Stop and repair wood rot | ❌ Relatively expensive |
| ✅ Smooth and elegant finishes | |
| ✅ Stainable and paintable | |
| ✅ Dries clear | |
| ✅ 8 Fl Oz | |
Why do we love it?
Well-matched with aqua-based dyes due to the hydrophilic nature of the formula.
It is totally safe from all kinds of biohazards so it has no harsh fumes which may affect the people nearby
Protect wood from leaching, special thanks to the insecticides added in it.
Safe for livestock yards, animal shelters, and others such as workers at the farms, other animals.
It has no chemicals that are dangerous to health at its stated concentrations.
Since it dissolves entirely and doesn't leave any sticky residue.
It is very shrill as well, which helps it become easier to spread.

| | |
| --- | --- |
| Pros | Cons |
| ✅ Non-Toxic and VOC free | ❌ Slow leaching improvement |
| ✅ Easy and simple to apply | |
| ✅ Dries fast | |
| ✅ 1 Gallon quantity | |
| ✅ 3 times more long-lasting | |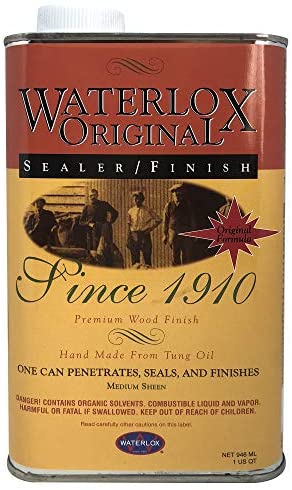 Why do we love it?
Compatible for maximum woodworking projects due to the high versatility in nature.
Non-toxic when dried and is extremely safe for humans, animals, and plants in the surroundings.
Exceptional adhesiveness even works on tile, brick, stones, and others.
Waterproof, long-lasting, and versatile product due to all the above-stated reasons.
For better color and hydro confrontation, you'll need lesser applications.
A natural, micro-porous waxy grease that permeates deeply into the wood.

| | |
| --- | --- |
| Pros | Cons |
| ✅ For both interior & exterior wood projects | ❌ Require multiple coats |
| ✅  No thinning required | |
| ✅ Quick dry | |
| ✅ Medium shine appearance | |
| ✅ Durable waterproofing | |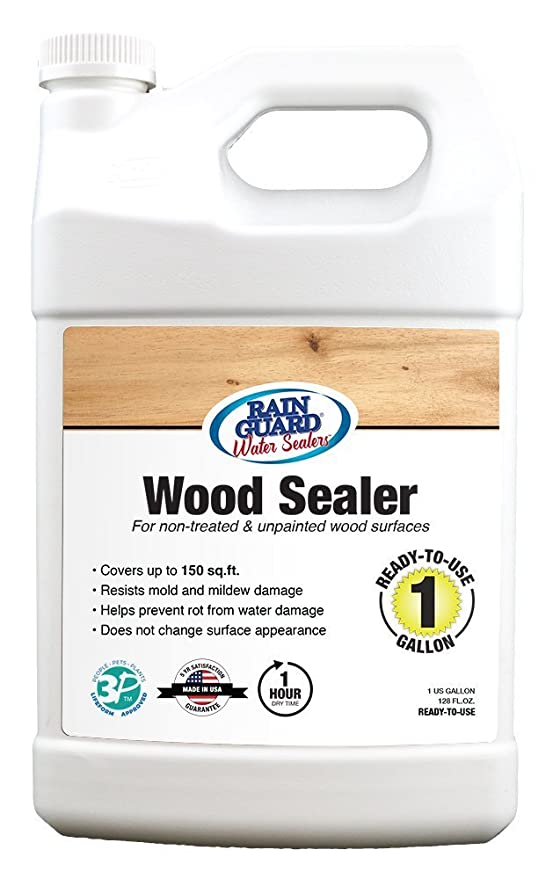 Why do we love it?
An invisible impact on the wood surface because of the translucent coating so it is always clear and clean as new.
Excellent water repellent for interior and exterior wood as it has hydrophobic constituents.
Ready to use a wood sealer as it evaporates within 1 hour of the application.
Protect against water, rain, ice, and snow for extended periods of time
UV stabilizers give non-yellow, lengthy timed sun protection.
Environmentally friendly — safe for plants, humans, and pets.
The company behind this item is "Rain Guard," and the title alone demonstrates the company's ardor.

| | |
| --- | --- |
| Pros | Cons |
| ✅ Environment friendly | ❌ Strong Odor |
| ✅ Cover up to 150 sq.ft | |
| ✅ 1-hour dry time | |
| ✅ Clear invisible appearance | |
| ✅ Helps prevent efflorescence | |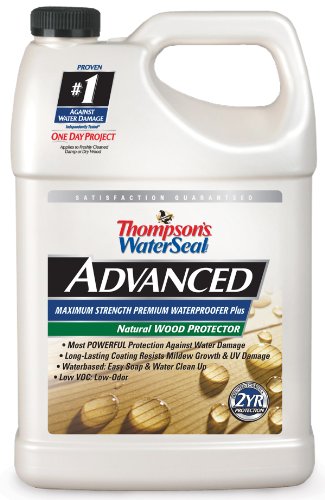 Why do we love it?
One coat layer provides powerful protection, so more and more coats aren't needed.
It also works against water damage, mildew growth, and UV rays due to the strong and dense use of quality components.
This wood preservative is made on Water-based formula means easy to clean up after application.
It also is great to be used in household settings as it offers very Low Odor and Low VOC.
If the preservative is damaged, the firm offers a two-year warranty.
Aside from shielding, it has a sleek, shiny appearance

| | |
| --- | --- |
| Pros | Cons |
| ✅ Single coating waterproofer | ❌ Relatively expensive |
| ✅ Instant dry | |
| ✅ Long-lasting | |
| ✅ Natural wood protector | |
| ✅  Works for pressure-treated wood | |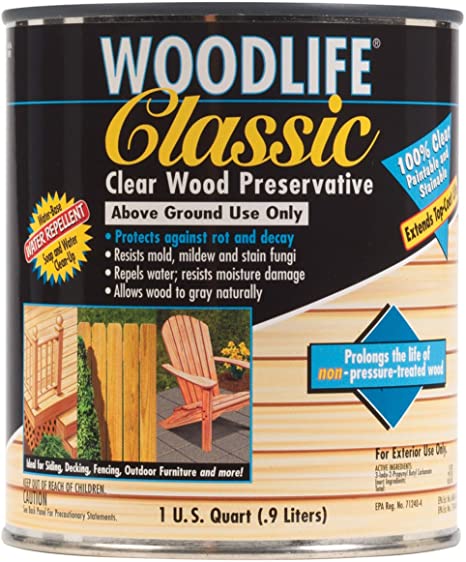 Why do we love it?
No more decay and rot issues because of almost a decade-long-promised protection and preservation.
Resist fungi, molds, and mildew to grow on the wooden surface or nearby.
Water and moisture resistance due to added hydrophobic components in the formula.
Allow the wood to get gray naturally and don't distort or delay the natural wooden process.
It happens to be the best-selling product of the brand.

| | |
| --- | --- |
| Pros | Cons |
| ✅ Easy to use | ❌ Above-ground use only |
| ✅ Durable | |
| ✅ Dries fast | |
| ✅ .9 liters in one can | |
| ✅ Excellent compatibility to any paint or primer | |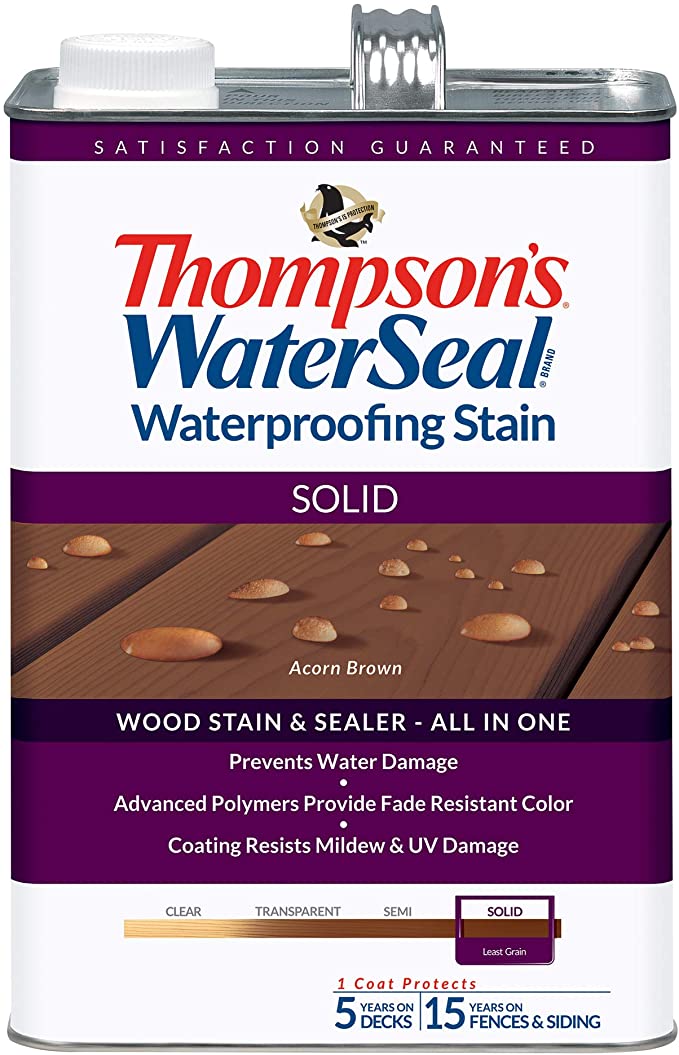 Why do we love it?
Solid stain wood preserver with amazing long-term staying properties.
Six natural wood colors will provide smooth coatings. This is unique to this preserver.
Waterproof paint along with fade-resistant properties make it a consumer choice.
Act as a sealer against mildew and UV rays with amazing preservation properties.
Aside from providing a smooth, clean coating, it also protects the hardwood surface.
It's ideal for use as well before adding epoxy paint, oil, or another wood finisher.

| | |
| --- | --- |
| Pros | Cons |
| ✅ Perfect wood stain and sealer | ❌ Pungent smell |
| ✅ Fade-resistant | |
| ✅ Waterproof | |
| ✅ Least grain on the surface | |
| ✅ Long-lasting up to 5 years on deck and 15 years on fences | |
Conclusion
Oiling can not serve the purpose of preserving your wood from damage, algae, wood-boring insects, and mold especially. So all you need is the best wood preservative that is safe to use. Keeping this in view, each of these wood preservers is carefully selected to live up to the safety standards even.
You can blindly invest in any of these products as per your personal preference and give your wood the care and attention it deserves.
Buying Guide for Wood Preservative
Let me address some of your concerns regarding wood preservatives so that you can confidently buy a great preserver for your residential or commercial needs.
Preservatives for wood come in a variety of forms that you need to know before buying:
Numerous wood preservative products are now based on similar formulations as a result of tighter restrictions on the substances that can be used. They might also have somewhat varying formulas and components, but they all preserve wood in the same way. Whether one transparent or colored preservative is required, as well as whether moisture or solvent-based solution is selected, is generally the decisive element from the user's perspective.
Clear preservers aid to keep the wood's natural beauty, whereas colored preservers double as a stain and a preserver. Most preservers were formerly solvent-based, but as rigorous V.O.C (Volatile Organic Compounds) laws are enforced by the UK, European, and global governments, more and more firms are switching to water-based solutions.
What happens if wood preservative isn't used?
Irrespective of whether you install your posts on the pavement or not, if you neglect to put the wood preservative, your posts will decay within 6 months.
What protects wood from rotting?
The most common causes of wood rotting can be mold, algae,wood-boring insects, fungi, or in some cases, harsh weather conditions. The wood preservative can easily prevent these situations to help the wood not to rot quickly. Ideally, the preservative contains a little amount of wax that offers good protection against weather conditions. There are other sealants that can be combined to give complete protection to your wood, such as wood oil or wood varnish.
What is the difference between wood preserver and wood treatment?
The treatments are mostly used for commercial use on a larger scale. Yet, both add great resistance to the material against insects or weather conditions to help it last longer.
References:
Stove Performance and Emission Characteristics in Residential Wood Log and Pellet Combustion, Part 2: Wood Stove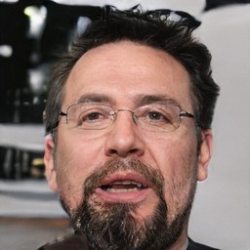 Latest posts by Doug Mahoney
(see all)