Do you have some DIY wood projects to complete at your home?
If so, then you surely need the most perfect wood glue. Being the most perfect glue for sticking two pieces of wood, wood glue is a versatile glue. It can be used on multiple materials like wood, porcelain, plastic, etc. But, choosing the right kind of wood glue that suits your home projects or hobby will rely on the kind of material you will be using. It also depends on if you'll be using the glue outdoors or indoors. Not all glues can be used for the same use.
From building furniture, making cabinets, or any other woodworking, to other outdoor tasks, wood glue can be a crucial part of every task. Continue reading to know in detail about wood glue and do check the reviews of the wood glues.
But First
Things to Consider Before Buying
Strength: The most important thing to consider before getting wood glue is the kind of task you need it for. Knowing this will help you decide the strength of the glue required according to your task.
Lifespan: You obviously don't want to buy glue only for it to get dry before even using it because of its short lifespan. If you need wood glue to use in your future projects too, you will have to choose glue with a better shelf life.
Drying time: While choosing a wood glue for your task, you will have to consider its drying time. Sometimes when the bond requires a long time to dry, it may be harmful to your project and will make it hard for you to finish your task timely.
Color: While using your glue for woodwork, you should be sure that you're using glue that leaves a natural wood finishing to blend in with its color correctly.
Now Let's Dive in!
Best wood glues UK 2023
Here are our top picks for the top wood glues available in the UK market right now.
1. Titebond 5004 ii Premium
[Editor's Choice]
Why do we love it?
This glue is approved by the FDA for indirect food contact.
You can use it for culinary hardware surfaces like wooden trays or cutting boards.
It is the best choice for all the different kinds of indoor or outdoor woodworking like softwood, medium wood, & hardwood, etc.
This glue has a thick consistency with a strong adhesion power.
Has been made to be used in temperatures over 55°F so you can easily use it in high temperatures.
The shelf life of this glue is 24 months which is really long as compared to other glues.
| | |
| --- | --- |
| Pros | Cons |
| ✅ Creates a great bond. | ❌ None |
| ✅ Highly water-resistant. | |
| ✅ Perfectly sand able. | |
| ✅ Dries quickly. | |
| ✅ The nozzle doesn't clog. | |
| ✅ Long shelf life. | |
| ✅ Great for Indoors, Outdoors & Kitchen use. | |
2. Gorilla Wood Glue
Why do we love it?
This glue is easy to apply & only needs 20-30 minutes to stick.
It completely dries in around 24 hours.
You can use this glue in both low and high temperatures.
This glue is water-resistant as it has passed the Type II water-resistance test. So, it is one of our best picks for outdoor usage.
You can also use it indoors for DIY tasks on multiple kinds of wood.
When you apply the gorilla glue, it has an off-white color but gives a natural finishing after drying up.
| | |
| --- | --- |
| Pros | Cons |
| ✅ Super strong binding. | ❌ Hard to clean Nozzle. |
| ✅ For Both Exterior and Interior use. | |
| ✅ Totally Water-resistant. | |
| ✅ Used on all kinds of woods. | |
| ✅ Dries fast. | |
| ✅ Thick consistency. | |
| ✅ Dries to a natural finishing. | |
3. Titebond 1416 Ultimate III Wood Glue
Why do we love it?
This glue is versatile. It can be used on a variety of different surfaces including wood, leather, and cloth.
The first drying time of this glue is 30 minutes. Later on, it requires 24 hours to set and dry completely. So, you can take your time to bind surfaces without worrying about the fast drying time.
This glue is totally water-resistant. It has a waterproof formula and has passed the Type I water resistance.
The strength of this glue is unbelievable. After it binds the wood, it won't come off until the wood breaks.
This glue is perfect for indoor as well as outside use as it is water-resistant and waterproof.
| | |
| --- | --- |
| Pros | Cons |
| ✅ Used indoors and outdoors. | ❌ A bit runny. |
| ✅ Easy to clean up. | |
| ✅ Leaves a natural wood finish. | |
| ✅ Strong Binding. | |
| ✅ Has a handy applicator. | |
| ✅ Water-resistant formula. | |
4. Evo-Stik EVORW500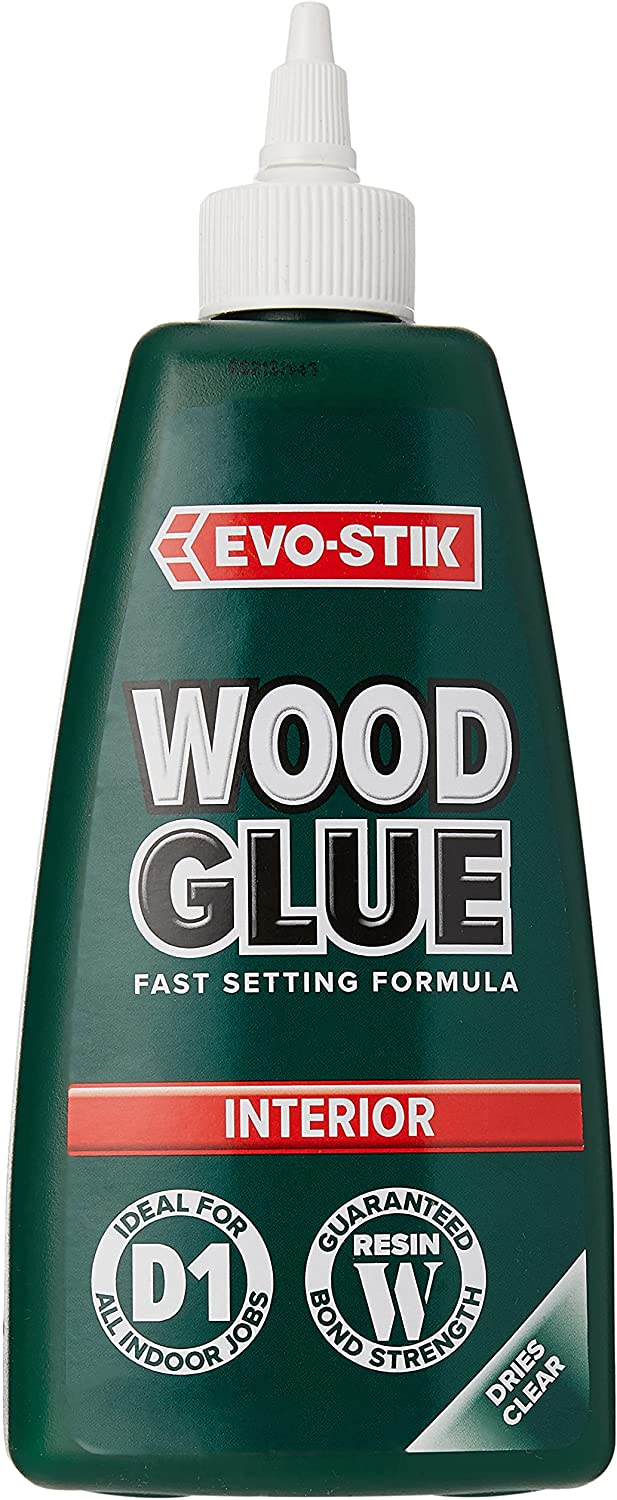 Why do we love it?
This glue is great as it sets quicker than other wood glues.
The strength of this glue is superior. It is a really strong glue for wood as it won't come off no matter how hard you try.
This glue is suitable for all wood types including hard and softwood.
The Evo-Stik wood glues form a binding stronger than the wood.
| | |
| --- | --- |
| Pros | Cons |
| ✅ Fast Dry Formula | ❌ Bottle Leaks sometimes |
| ✅ Water-based. | |
| ✅ Super sticky. | |
| ✅ Great Quantity. | |
| ✅ Leaves a clear finishing. | |
5. Everbuild SBRB25 SBR Bond 25L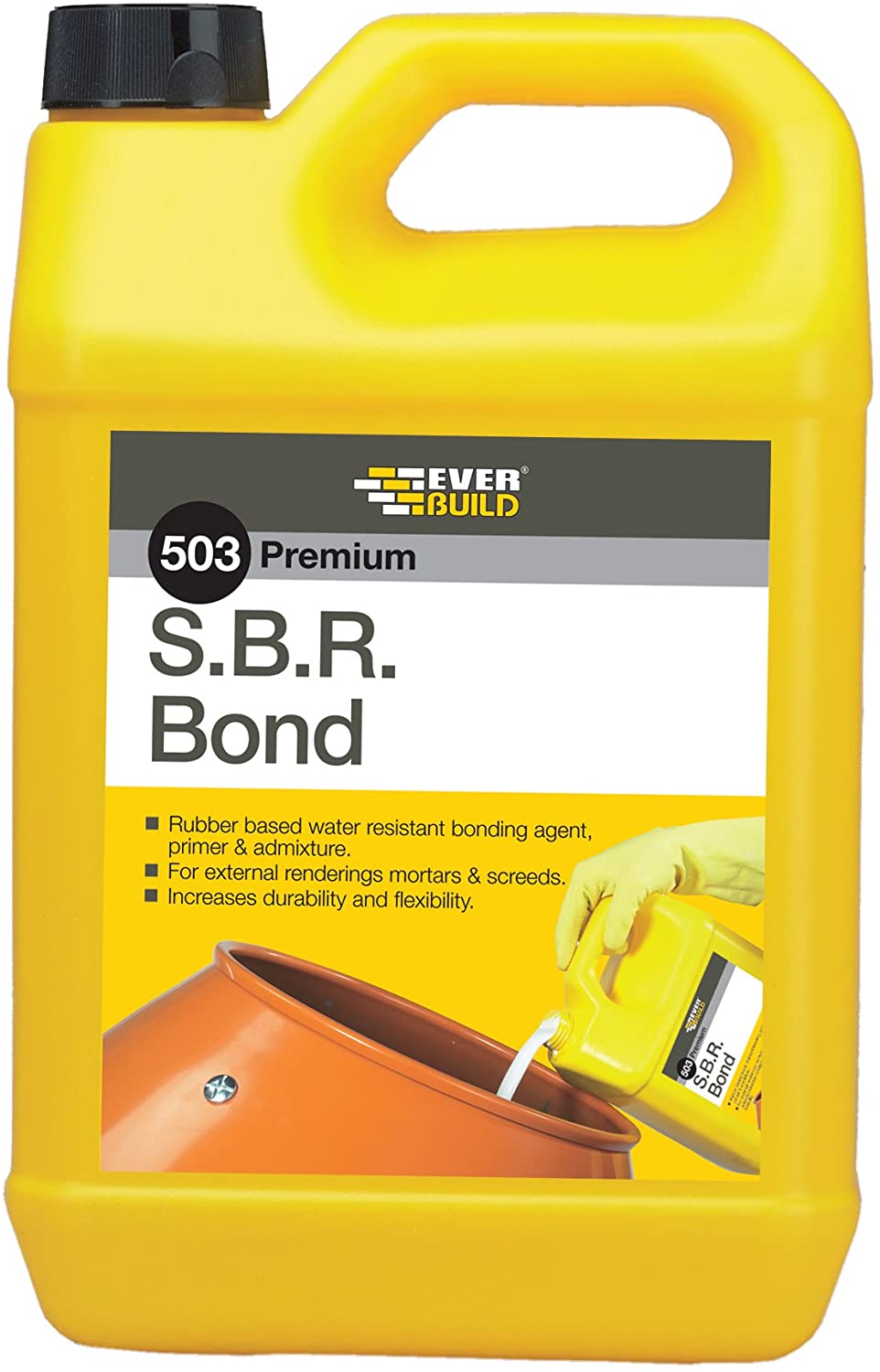 Why do we love it?
This glue is ideal for waterproofing the outdoor walls as it is waterproof.
It is a really strong glue for wood as it doesn't even separate the bonding.
This glue can be used indoors too for any kind of woodworking task.
The Everbuild SBR B25 is really versatile. You can use it as a sealer, primer, or wood glue.
| | |
| --- | --- |
| Pros | Cons |
| ✅ Great bonding strength. | ❌ Longer Drying Time. |
| ✅ Water-proof. | |
| ✅ Versatile uses. | |
| ✅ Value for Money. | |
6. Everbuild 502 All Purpose Weatherproof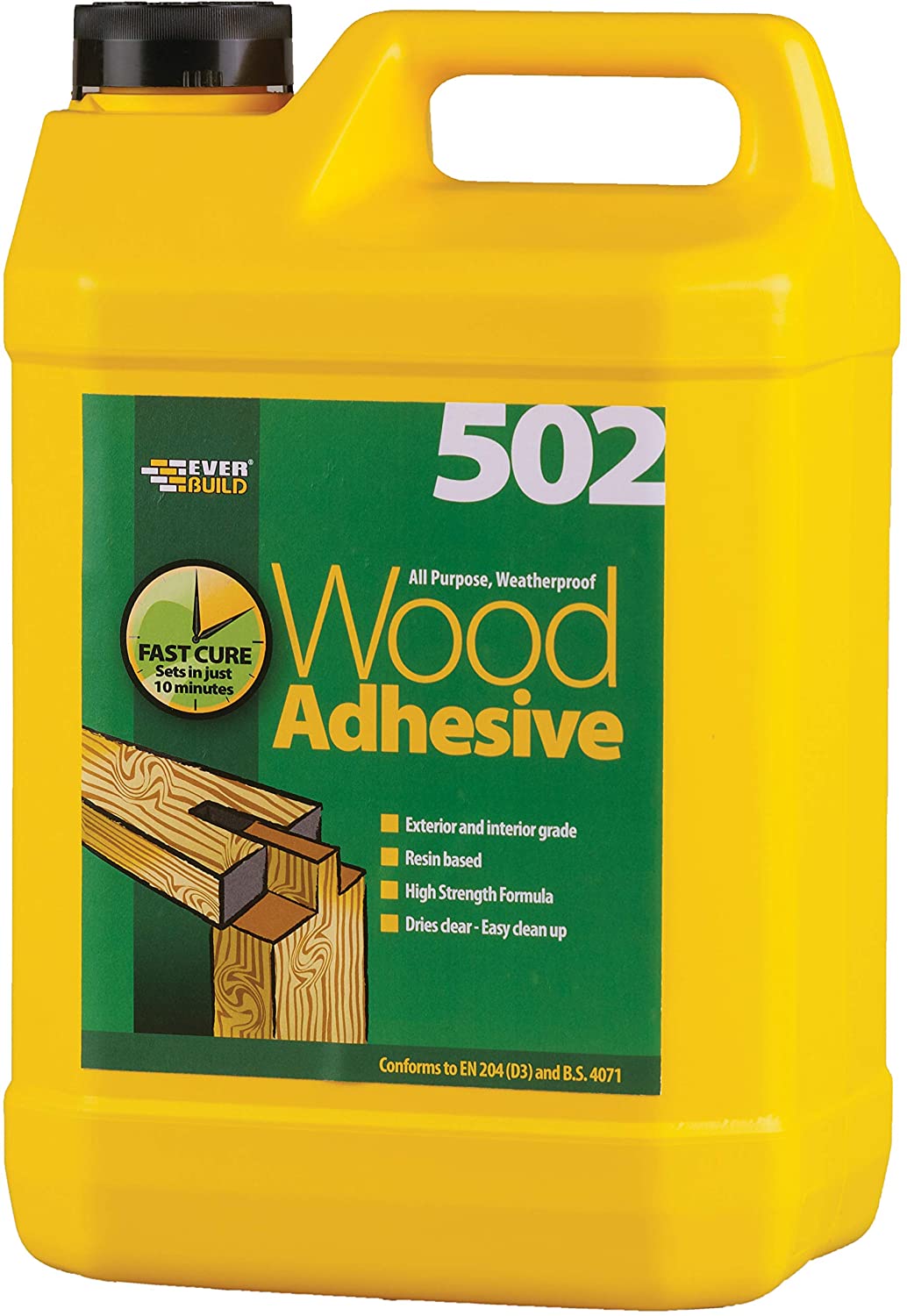 Why do we love it?
This wood adhesive is a high-quality glue based on resin.
You can use it externally and internally with high binding strength.
The rate of the development of binding strength is great which makes it the best wood glue for outdoor use.
The finishing on this glue is clear. It doesn't leave any color on the wood.
| | |
| --- | --- |
| Pros | Cons |
| ✅ Ultimate binding strength. | ❌ May Requires Multiple Coats |
| ✅ Rapid curing time. | |
| ✅ For indoor and outdoor use. | |
| ✅ Clear finish. | |
7. Titebond 5012 Liquid Hide Glue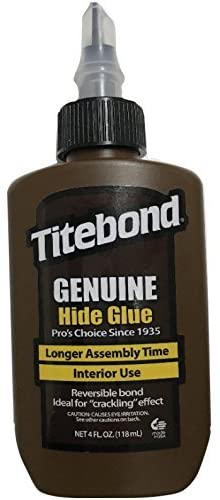 Why do we love it?
This glue has a natural emulsion finish.
This Titebond glue is the best alternative to general hide glue.
You can use this glue for repairing any kind of old furniture.
The drying time of this glue is quick but settling the item properly needs some time.
You don't need to mix, heat, or stir this glue as it is provided in ready-to-use form.
| | |
| --- | --- |
| Pros | Cons |
| ✅ Easily cleanable. | ❌ Doesn't resist humidity. |
| ✅ Very strong glue. | |
| ✅ Translucent finish. | |
| ✅ Dries up quickly. | |
8. External PVA Glue D4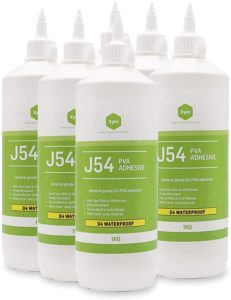 Why do we love it?
The life of this glue is around half a year. So, it can be used for your tasks for months.
This glue is completely waterproof and has a great quality for external use. It is the best wood glue for outdoor use.
The usage of this glue is really convenient as it comes in squeeze bottles making its application easy.
This wood glue can be used as a sealer as well for using it with RF.
| | |
| --- | --- |
| Pros | Cons |
| ✅ Suitable for RF. | ❌ none |
| ✅ Great Quality. | |
| ✅ Convenient to use and clean. | |
Buying Guide-Wood Glue UK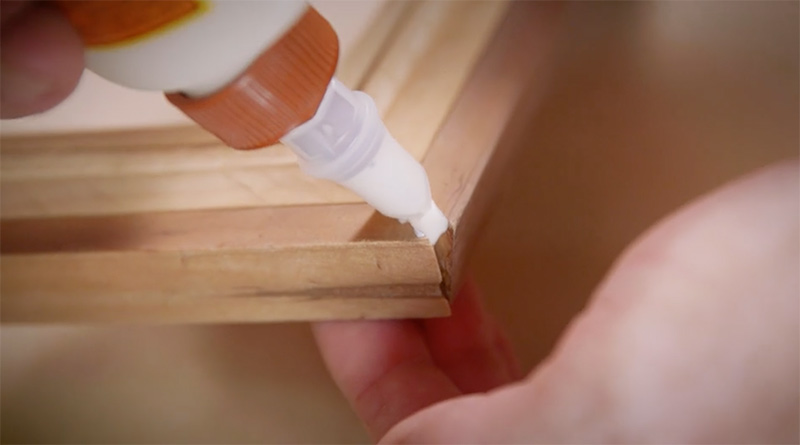 Before picking just any glue from the store, there are some factors that many smart people consider. The following points are some of the most essential features to think of when shopping for the most extra strong wood glue. Understanding these factors can make a difference between a repair gone wrong and a successfully completed project.
Glue Strength
The most important thing about wood glue is that the binding it creates is more strong than any wood fibers. This statement is true as bonds formed by a lot of the best wood glue UK actually end up tearing the fibers from the wood when you try separating them.
Some scenarios like wood boards breaking before the glue gives up are also possible to happen.
Some glues are not as strong as the others, but not all glues are supposed to be the strongest. Such as CA glue is just a helper, it is not a permanent binder. You can use PVA glue on two pieces of wood as a primer and then apply CA glue to hold them together while the PVA glue is drying.
Drying Time
One of the most essential things to consider when buying the best wood glue in the UK is how long its drying time is. CA glue dries so quickly, while PVA glue requires a lot of time to cure.
Here's what you should expect from each kind of glue:
CA glue can dry in less than one minute.
Epoxy glue requires around 7-8 minutes to dry.
PVA glue can create a great binding at the start, but complete binding won't be created before 24 hours.
Hide glues require 24 hours to dry, but the binding is reversible by steaming whenever you want to.
Polyurethane glue can dry in a few hours.
Remember the timing mentioned above is the time it requires to dry the glue, not the time to hold the materials. Many types of glue need clamping for a few hours before the clamps can be removed.
Color
Depending on the usage, repair, or task, the color of the glue should always be considered. For glues that cannot be sanded properly, like epoxies, picking a glue that matches the color of the wood exactly can be hard.
While many people might not be interested in using animal-based glue-like hide glue, it has a vital benefit. It doesn't affect the stain penetration or color. Hide glue doesn't show up when used on woodworking tasks. The only exception is that when you paint it with latex paint, it might start cracking or bubbling.
Consistency
Wood glues have different kinds of consistencies. Such as, CA glue is really thin and can flow easily. This is perfect for splitting wood or gluing back small chips of wood.
PVA glue is thicker than other glues but is still runny. While it is thick, PVA glue gets soaked into wood fibers easily to give assembling the wood surfaces accurately.
Thicker than PVA wood glue is epoxy wood glue and polyurethane. Polyurethane glue can expand while it dries, needing some pressure to get a perfect binding. Epoxy wood glue is so thick that you can use it to fill cracks. The epoxy resin wood filler the UK dries in its place and uniformly binds the two pieces together.
Frequently Asked Questions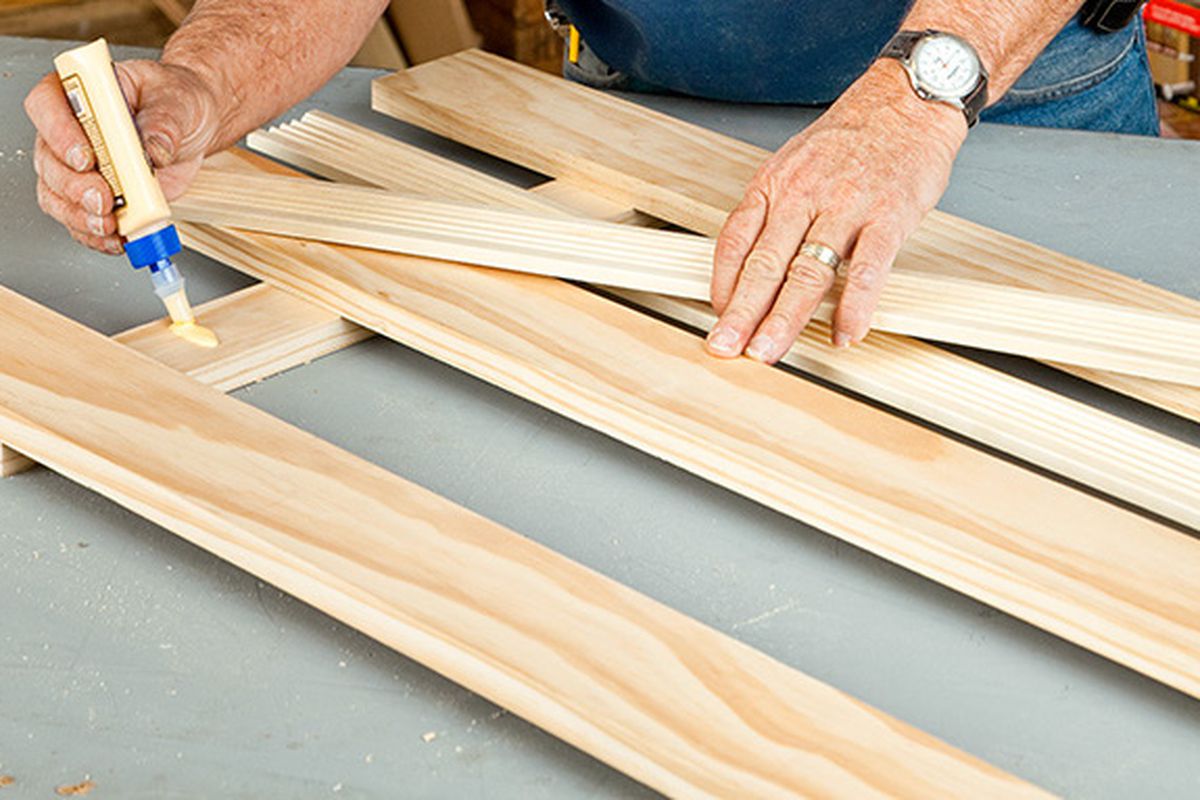 Here are some questions you need to get addressed.
Q: Wood Glue vs PVA. Which glue is better?
A: They are both based on the same resin, but PVA glue is better as it is stronger, sets quicker, can be sanded, and is heat and water-resistant.
Q: What is the strongest wood glue?
A: Gorilla glue has been widely used in the market. Even though there are different kinds of wood glues, gorilla glue is still among the best glues.
Q: Is using wood glue a better option than using screws?
A: Though you may think it is hard to get the binding you desire through screws, you can easily stick the two wood pieces using wood glue.
Conclusion
We hope this review and buying guide will be helpful for you in getting the best wood glue uk. Each product mentioned in this review will be helping in easing your stress of finding the perfect wood glue. Regardless of their pros and cons, the best wood glue uk listed in this article are versatile and can do any of your required tasks related to binding wood.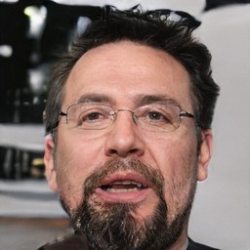 Latest posts by Doug Mahoney
(see all)