A wood lathe is a must for you when it comes to woodworking
Since there are different types of wood lathes available, selecting the perfect beginner wood lathe could be a little tough for you.
But no worries! We've researched for you and found out the most amazing starter lathe. We also shared the pros and cons of the different products to help you find the best one. However, let's get into the discussion to select the lathe for you, whether you are a beginner or a professional.
Things to consider before buying:
Construction Quality: Consider the construction quality of the wood lathe since it helps to increase the lifespan of the machine. While choosing a lathe, make sure the pulleys have appropriately fitted into the slots so that the device is secure enough. If you don't like the vibration, then choose a smoothly constructed base lathe. Also, make sure the handles are strong enough and are made of steel.
Warranty: In terms of purchasing a lathe machine, a warranty is an important thing to consider. The more the warranty, the more it could be reliable. Try choosing a device with more warranty period so that you can use it years after years without any worries.
Length of the Machine: The length of your lathe is another thing that you need to keep in mind. The headstock and tailstock are two of the main things in the machine's size. However, if you need a longer bed, then select a larger lathe. Don't forget to choose the machine; it will reduce your stress during the purchase.
Best Wood Lathe for Beginners 2022:
Here is the list of top wood lathes fit for beginner use.
Why we love it
It has a 12-1/2-inch large swing capacity.
Delta comes with variable speeds.
This lathe lets the user achieve a superior finish as it has forward and reverse functions.
For quick and easy speed changes, it is a patented belt tensioning system.

| | |
| --- | --- |
| Pros | Cons |
| ✅ Budget-friendly machine. | ❌ No digital readout availible.e |
| ✅ The setup is straightforward.  | |
| ✅ Best choice for the DIY and professional projects. | |
| ✅ Highly durable.  | |
| ✅ 5 year warranty. | |
Why we love it
This machine provides the best speed.
Equipped with an integrated 24 positions to improve the tensioning system.
15-1/2 inches is the distance between the centers.
It's built to last and offers a five-year warranty.

| | |
| --- | --- |
| Pros | Cons |
| ✅ Compact and straightforward to use | ❌ It Doesn't have a reverse function. |
| ✅ Voted the best beginner lathe. | ❌ A bit heavy. |
| ✅ Can be used for the different appliances. | |
| ✅ Produces excellent power.  | |
Interested in smaller portable lathes?
Check our picks for the best mini wood lathe.
Why we love it
Grizzly is a variable speed benchtop lathe, which is very easy to use.
The turning radius is up to 12 inches, and 16-1/2″ is the spindles.
It includes a digital spindle speed indicator.
Constructed with the heavy-dust cast iron.

| | |
| --- | --- |
| Pros | Cons |
| ✅ Ten variable speeds with maximum rpm of 2400 | ❌ Not ideal for professional use. |
| ✅ Reduces vibration to the minimum.  | ❌ One-year limited warranty. |
| ✅ Made with the heavy-duty cast iron. | |
Why we love it
Variable speed high-performance midi lathe.
Made with cast iron base.
Built with handles.
Budget-friendly.

| | |
| --- | --- |
| Pros | Cons |
| ✅ Good value for the money.  | ❌ The motor may sometimes run slow. |
| ✅ Comes with a 3-years warranty. | ❌ Needsd extra accessories to maximize usability.  |
| ✅ Has an 18-inch distance between the centers. | |
| ✅ The maximum RPM is 3600.  | |
Learn more with this ultimate guide to a wood lathe.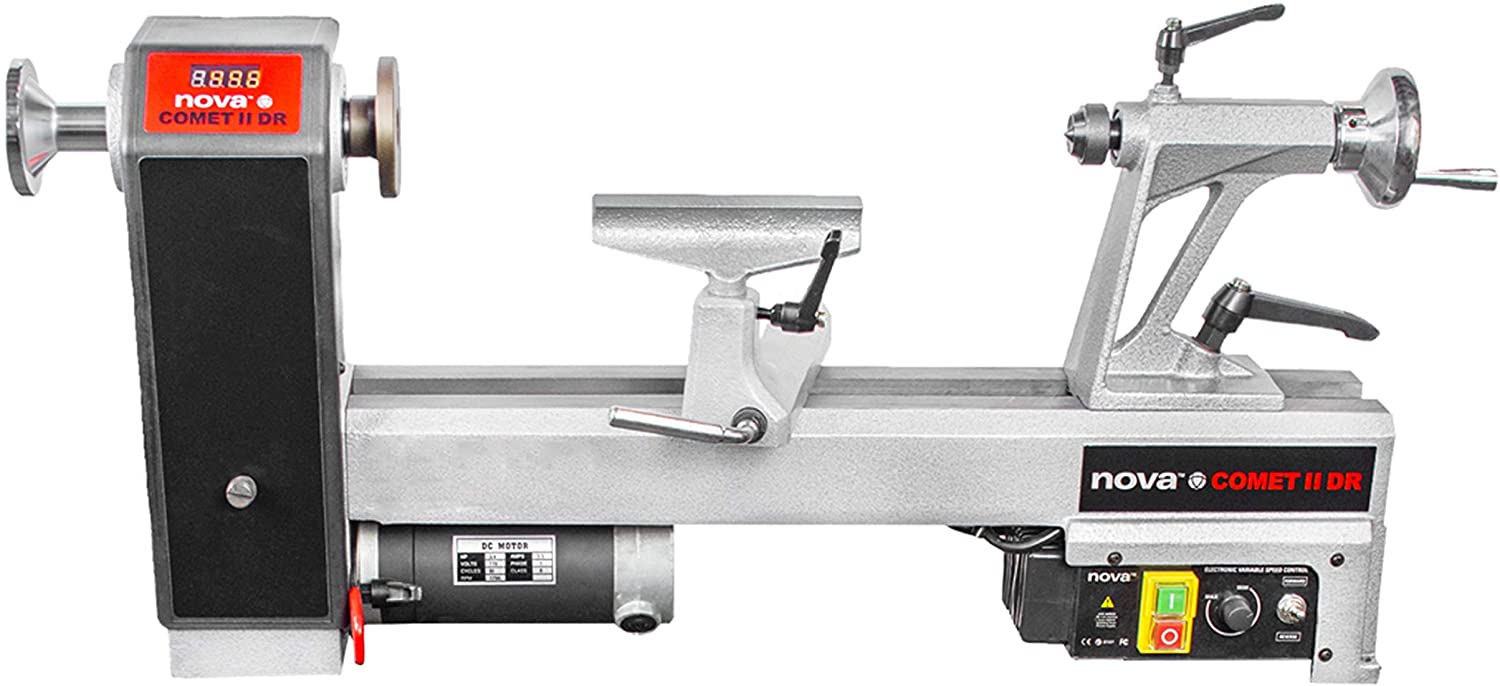 Why we love it
Variable speed range from 250-4000 RPM.
It comes with the Digital Readout.
Forward and Reverse function.
3-step pulley system.

| | |
| --- | --- |
| Pros | Cons |
| ✅ Strong 2MT spindles.  | ❌ Belt slippage issues.  |
| ✅ Precision machining. | ❌ Doesn't provide a stand. |
| ✅ Inexpensive and suitable for the new woodturner.  | |
| ✅ Noiseless motor. | |
Why we love it
It offers quicker speed change.
RIKON has self-ejecting tailstock.
Capable of adding multiple extensions.
Powerful motor.

| | |
| --- | --- |
| Pros | Cons |
| ✅ User-friendly. | ❌ Weak tailstock. |
| ✅ Durable machine.  | ❌ Not ideal for professional use. |
| ✅ Contains a dual-purpose spindle lock. | |
| ✅ 2 year warranty.  | |
You may also like our comprehensive guide to a wood planer.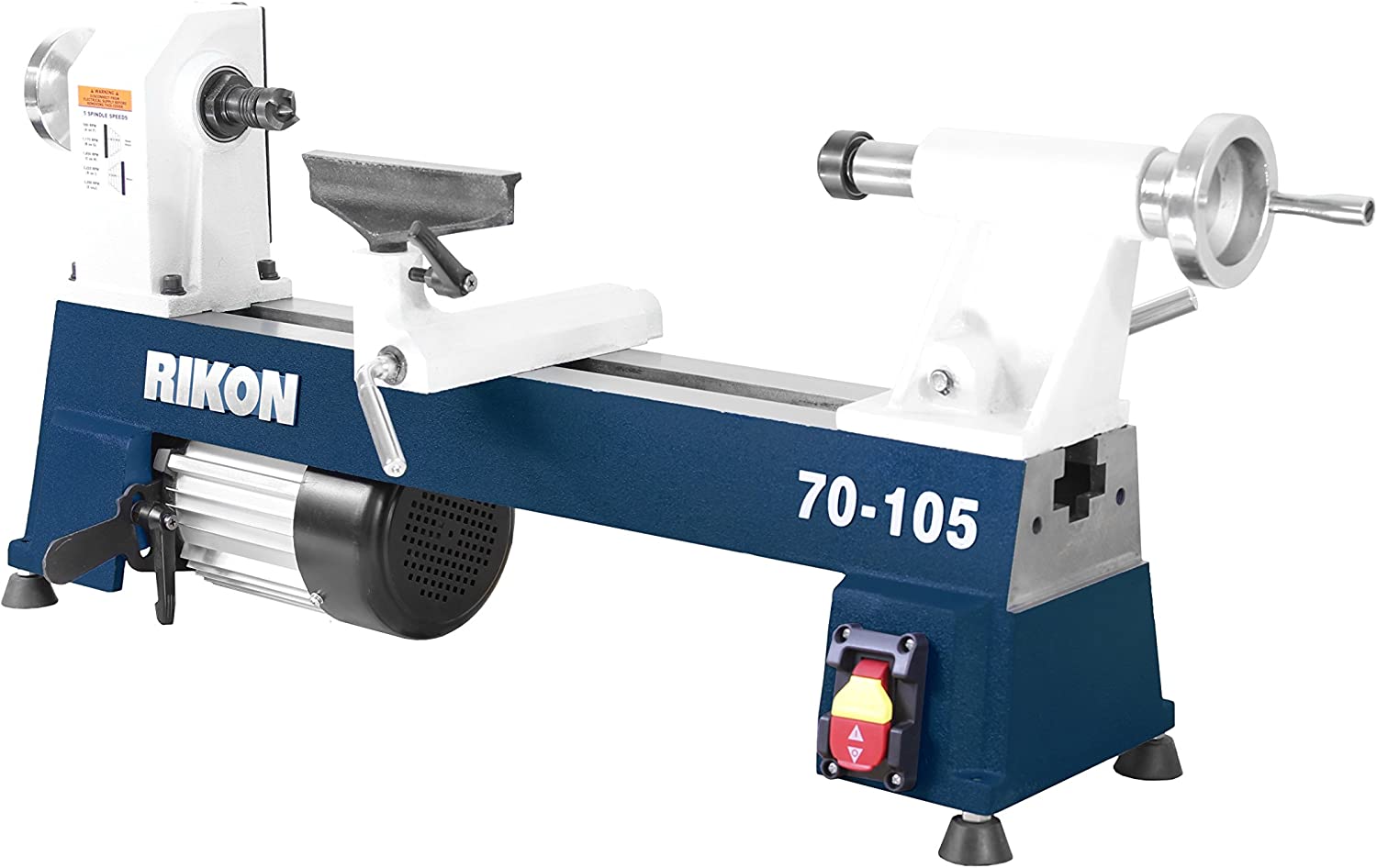 Why we love it
It has a self-eject function.
Made with sturdy material for longevity.
Five different speeds.
Comes with handy accessories.

| | |
| --- | --- |
| Pros | Cons |
| ✅ Best for crafting. | ❌ The motor sits low. |
| ✅ Good for the beginners.  | ❌ doesn't have any reverse function.  |
| ✅ Doesn't vibrate.  | |
| ✅ Budget-friendly.  | |
Why we love it
It offers the user switching between five different speeds.
The machine includes a 3-1/8 inch faceplate so that you can turn the bowl or cups.
It features a powerful motor.

| | |
| --- | --- |
| Pros | Cons |
| ✅ Affordable price. | ❌ A little heavier.  |
| ✅ Compact and straightforward to use.  | ❌ Issues in the locking mechanism. |
| ✅ Comes with handy accessories.  | |
Why we love it
Budget-friendly.
12-inch distance between the center.
Made with cast iron.

| | |
| --- | --- |
| Pros | Cons |
| ✅ 2 year warranty. | ❌ The motor should be more powerful.  |
| ✅ Variable speed. | ❌ There is no handwheel.  |
| ✅ Best for the small projects.  | |
| ✅ Ideal for pen turning. | |
Be sure to check out our detailed guide to a wood sander.
Why we love it
Best choice for the cups, bowls, pens, and other simple stuff.
Comes with a powerful motor.
It has a few handy accessories.
The price is very affordable.

| | |
| --- | --- |
| Pros | Cons |
| ✅ Excellent for the smaller items.  | ❌ Not robust for professional use.  |
| ✅ Straightforward to use.  | ❌ Not ideal for larger projects.  |
| ✅ Has two interchangeable tool rests for safety purposes.  | |
Conclusion
The market contains many wood lathe machines, that's why selecting the right one could be a little tough for you. Furthermore, different devices offer different functions. And you need to choose the machine in light of its functions very wisely. All of them come with the best functions, as well as price. However, if you still cannot decide which machine to go with, we'd suggest selecting the Delta Industrial 46-460 12-1/2-Inch Variable-Speed Midi Lathe. This lathe is straightforward to use and comes with a lot of handy features. Also, the price is reasonable as well while it is considered one of the best options for beginners. Another best offering could be the Jet JWL-1015VS 10-Inch X 15-Inch Variable Speed Wood Working Lathe. It will meet all your woodworking requirements.
Don't miss our ultimate guide to wood paint.
Buying Guide
Hopefully, now you can understand which lathe would be the best choice for you. And you may still have some questions related to a wood lathe as well. So we've put together a few of them for you.
What is a good wood lathe for beginners?
You can choose the Delta industrial wood lathe for you. You can use this machine for professional purposes, as well as for your hobbies. It is powerful and produces 1 HP when at the max, and the motor power is 1,725 rpm. Additionally, it is very durable.
Are wood lathes dangerous?
Make sure you handle the machine correctly, and it will not be dangerous for you. You need to follow some safety features if you want to avoid any danger. You just need to do read the instructions before starting to use the machine.
Is it hard to use a lathe?
Well, at first, it may feel hard for you to use if you are a new user. But over time, it will be easier for you. All you need to do is, follow the instructions, and maintain the safety feature.
What is the best wood lathe for turning bowls?
There are different types of wood lathes available, and to turn the bowl, you can select the Delta Industrial machine. Compared to others, it's a little pricey but will offer you the best features.
What is woodturning?
It is known as a craft that needs to be made by the wood lathe. Generally, this machine can give wood a different shape, which helps the DIY projects immensely.
Check our pick for the wood lathe worth the money.
How do I choose a wood lathe?
While purchasing a wood lathe, you need to follow a few things. In the following, we've shared some things that you can consider.
Types of lathe
Before purchasing a lathe, you need to select the type of lathe you want. Generally, there are three different lathe types available, and these are – mini, midi, and full size. You can select the mini-lathe for turning pens or do small items. The midi is useful for creating different furniture spindles, plus medium bowls. On the other hand, the full-size lathe helps tackle any turning task.
The Motor Power
Consider the motor power before purchasing the machine. Usually, the wood lathe comes with a 1/8 to 3 HP motor. The powerful it is, the power it will create to do the job.
Also, you need to consider the speed settings of the lathes. We've discussed the speed settings from three to five different speeds. So, decide the motor power and the speed settings of the lathe you want.
The Base of the Machine
Make sure you check the foundation or the base of the lathe before purchasing one. It's one of the key features, don't forget to check out this. Typically, most of the bottom of a wood lathe is made from cast iron to maintain durability. If you don't like to vibrate, then choose a machine that doesn't shake. Moreover, make sure to consider the weight of the device you are going to purchase. Compared to the more massive machine, lightweight machines are more comfortable to carry and use.
Tool Rest
Safety should be the priority for one while using any electronic devices. Take into consideration the tool rest while purchasing a lathe. It will give you protection during the machine in use, also, will reduce injuries. The tool rest is capable of being securely locked into the lathe. When the machine is locked with this, it ensures no risks, and now you can safely use the lathe. Keep in mind to lock the device with the tool rest before you start using the lathe.
Budget
Considering the budget is one of the most important things, and it helps you reduce your work when you are in the market. Since there are different types of budget range machines available, you can choose the device according to your budget. But if possible, then purchase a pricey one as you won't frequently buy a wood lathe for yourself.
Purchasing a wood lathe is an important decision, so make sure you consider all these functions, as mentioned above. These will help you buy the best one for your workshop.
Latest posts by Doug Mahoney
(see all)