Always wanted to buy a small laser cutting machine that's portable & doesn't break the bank?
The variety available will surprise you.
If there is one product that sells like hotcakes, it has to be an economical laser cutter. Laser cutters are more affordable now than ever. That is why you have to purchase one now. Who doesn't love an item that is both functional and gloriously beautiful? A small laser cutting machine can be your holy grail for manufacturing such products. These machines have very high precision, and you'll be able to achieve stunning results with them.
By just owning a laser cutter, you can go into production and start selling your products today.
Keep Reading for our Small Laser Engravers list below.
Already have materials like wood and plastics present in your house? Here's the complete small laser engraver buying guide for you, so you can start producing your designs on a budget. If you're looking for a far more detailed one, check this buying guide at the end of this article
WORKING & TYPES OF LASER CUTTERS
You can choose between different kinds of laser cutters depending upon the materials you want to work with. The three main categories of laser cutters are described below.
Gas Lasers cutters: Gas lasers use CO2 to produce a laser beam. Electricity passes through a tube filled with carbon dioxide, and this process produces light.
Crystal Lasers cutters: In crystal cutting, lasers are made up of YAG and YVO. Due to their extremely high temperatures, these laser cutters are mainly used for metals and other rigid materials
Fiber Lasers cutters: Fiber lasers can be of two types, one with continuous-wave and the other with a pulsing laser beam. Fiber laser cutters also support extremely high-powered cutting.
How much can it cost you to buy a laser engraver?
A decent engraving machine can cost you anywhere between $300 to $1500. The cost will depend upon the machine's features. Expensive doesn't amount to good & cheap doesn't mean low quality. You must research the market well & figure out what kind of option suits your individual needs.
Best Small Laser Engraver 2022
Down below, we have listed the top small laser cutters that you can buy right now:
Why do we love it
User friendly & Ideal for beginners.
Has a high engraving speed of up to 3000 mm/min
Excellent safety protection because of its G sensor.
High precision enables it to cut intricate designs.
Advanced software makes it compatible with almost all devices.
Available in three different sizes.

| | |
| --- | --- |
| Pros | Cons |
| ✅ High-Quality Build | ❌None |
| ✅ Ideal for detailed cutwork | |
| ✅ High Engraving speed | |
| ✅ Great Software compatibility | |
| ✅ Budget-Friendly | |
| ✅ Large working area | |
| ✅ Aesthetic look | |
Check out our picks for the Best Budget Laser Cutters
Why do we love it
The first thing we adore about this machine is its compact design.
It can fit easily within a small space.
It can work with materials of different kinds.
It has an offline controller.
It is also effortless to assemble
Comes in three different sizes

| | |
| --- | --- |
| Pros | Cons |
| ✅ Compact size | ❌ Not ideal for metals or jewelry |
| ✅ Carves designs neatly | |
| ✅ Considerable working area | |
| ✅ Good precision | |
| ✅Affordable price | |
You'll also love our picks for the Best Laser Cutters for Small Business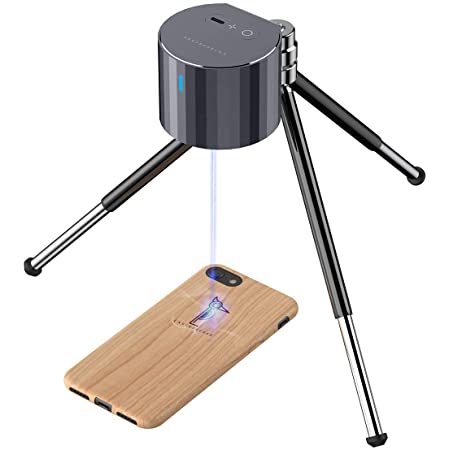 Why do we love it
The thing we love the most is its chic and modern design.
It is very compact and lightweight.
It can be used for engraving, carving, etching, and cutting.
It works well with tiny objects.

| | |
| --- | --- |
| Pros | Cons |
| ✅ Multi-purpose machine | ❌ Slow carving for custom designs |
| ✅ Preview Mode | |
| ✅ Long life span | |
| ✅ Projects a guide laser before engraving | |
| ✅ Beginner-friendly | |
Check our picks for the Best Laser Engravers for Metal
Why do we love it
It is equipped with a clamp for keeping objects in place.
It contains a level board for regular items.
You can easily monitor the electric current with the rotatory knob.
It has an integrated cooling fan to prevent overheating.
It has Detachable wheels at the bottom.

| | |
| --- | --- |
| Pros | Cons |
| ✅ Affordable price | ❌ A bit expensive |
| ✅ Upgraded software | ❌ Not beginner-friendly |
| ✅ Low operating noise | ❌ For non metals |
| ✅ Portable | |
| ✅ Powerful Laser | |
| ✅ Great for professionals | |
| ✅ Great for small business | |
Also, check out Best Homeowner Chainsaws
Why do we love it
Its unique design makes it look like something out of a sci-fi movie.
It is capable of 360-degree engraving.
It is a lightweight mini engraving machine.
It works well with anodized aluminum.
It has a wide working area of 110x120mm.

| | |
| --- | --- |
| Pros | Cons |
| ✅ App wireless control | ❌ Minor software glitches |
| ✅ High engraving speed | |
| ✅ 1-year warranty | |
| ✅ Good quality | |
Don't miss Best Roombas For Hardwood Floors
Why do we love it
It is easily portable and light.
It comes in various colors (we love the red one).
You can use a power bank for powering it.
It comes with high quality and durable laser head.
Any part can be replaced free of cost within 30 days.

| | |
| --- | --- |
| Pros | Cons |
| ✅ Handheld design | ❌ Laser not very powerful |
| ✅ No limit on engraving height | |
| ✅ 0.01 mm accurate precision | |
Don't miss  Best Small Chainsaws
Why do we love it
It is manufactured with premium and long-lasting materials.
It can be assembled easily.
It comes with a USB containing a how-to-use guide and an assembly video.
It has a working area of
It comes in three different sizes.

| | |
| --- | --- |
| Pros | Cons |
| ✅ Aluminum profile | ❌ Heavy |
| ✅ Large working area | ❌ Not beginner-friendly |
| ✅ Ingenious GRBL control board | |
| ✅ High performance | |
Why do we love it
It only takes close to 20 minutes to assemble it fully.
It supports an offline controller.
It comes with a simple design.
It is constructed with durable and sturdy materials.
X, Y, and Z-axis can be manually adjusted, which makes it very novice-friendly.

| | |
| --- | --- |
| Pros | Cons |
| ✅ Sturdy and reliable | ❌ Challenging software |
| ✅ Easy to assemble | |
| ✅ Upgraded control board | |
| ✅ Great Precision | |
Why do we love it
It has a complete metal structure design.
It can be assembled entirely within 10-20 minutes.
It is equipped with the most advanced firmware.
Its laser cover will protect your eyes from damage.
High energy engraving and cutting.

| | |
| --- | --- |
| Pros | Cons |
| ✅ Improved accuracy | ❌ Unknown brand |
| ✅ Metal structure | |
| ✅ Laser protective cover | |
| ✅ Works well with metals | |
Why do we love it
It is very easy to use.
It uses 30 watts of power for high precision.
Its smooth glide keeps your items safe from scratches.
It comes with a pair of green glasses.

| | |
| --- | --- |
| Pros | Cons |
| ✅ Smooth glide | ❌ Only for non metals |
| ✅ Fast and efficient laser technology | |
| ✅ Compatible with a variety of software | |
| ✅ Accurate and consistent results | |
Buying Guide
For making an informed buying decision, you need to know all the necessary information for choosing the best small laser engraver. Here's a complete buying guide for both new and experienced small laser cutter machine buyers. Take a look at all the essential information we've gathered specifically for you.
What is a laser cutting machine?
Laser cutting machines and are tools equipped with the latest technology for precision cutting and engraving. These mini laser cutters emit high-powered lasers for either cutting or etching designs on different materials. The most common materials used for engraving and cutting are wood, plastic, and steel.
The Cutting Process
The cutting process begins with feeding a design into your computer and then adjusting it for your desired results in software compatible with your laser cutter. After feeding the design into the software, you'll have to put your desired material on the mini engraving machine. Start the cutting process according to the directions mentioned in the manual. You won't have to keep monitoring after the laser engraving or cutting starts. Remove the item safely once the whole process is finished.
How to choose the Best Small Laser Engraver?
Before purchasing a new laser engraver, there are a couple of things you should consider to make the ideal decision for yourself
The materials you will use: Different kinds of materials require different machines. Buy one that will work with your desired material.
Size of the machine: Buy a device that can work well with the size of the products you'll engrave or cut.
Speed and precision of the laser cutter: For simpler designs, high accuracy and speed are not required. But if you want to engrave sophisticated designs, choose a machine with high precision and speed.
Safety features: A machine with well-thought-out safety features can save you from any fatal accidents. When buying a mini laser engraving machine, choose the one with good safety features.
The volume of products you aspire to produce: The machine you'll choose will also depend upon the number of products you wish to engrave within a given amount of time. For businesses, this number of products will be more than that for hobbyists. Choose the machine that can produce your desired number of items within your desired time frame.
Your budget: A Budget plays a crucial role in the buying decision of any product. There are a lot of laser cutters on the market, ranging from affordable to expensive models. Purchase the one that comes with the greatest features in your budget.
After-sale services of the company: Always consider a company's reputation before you decide to buy from them. Good after-sale services can save you a lot of trouble.
Frequently Asked Questions about small Laser Cutters
Here are some frequently asked questions you may still have in mind:
Q: What is the best home laser engraver?
The ORTUR laser master 2 is the perfect home laser engraver for hobbyists and small businesses. t is not only cheap but also contains all the features necessary for effective laser engraving. Consider this as the perfect choice if you want to go for a small engraver that is user-friendly & reliable.
Q: What are some good entry-level laser engraver recommendations?
The LaserPecker Pro Engraver Mini is the perfect choice for a buyer looking for an entry-level laser engraver. Coming on a budget it doesn't disappoint as it contains all the features of a great laser engraver.
Q: What is the best laser cutter for wood?
The Rezati Laser Engraver is our top pick for wood laser cutters. Its high precision and speed set it apart from the others in its price range. And the greatest part? It comes in an affordable price range.
Q: What are some cheap laser engraver recommendations?
From our list of laser engravers, the ORTUR laser master 2 is quite affordable, and it has many great features for both beginners and experienced buyers. Additionally, it has some pretty great customer reviews that make it an ideal choice.
Q: Can a laser engrave cut wood?
Yes. good laser engravers have high precision, and they can create elegant cut designs for the wood. But it's important to research every product well before buying.
Q: How long do laser engravers last?
The lifespan of a laser engraver depends upon the materials it is made up of. Typically, a good laser engraver has 25,000-35,000 working hours of life. This means that a good machine can last up to years if maintained properly.
Q: Does laser etching fade?
Laser etchers draw directly on the surface. This etching will last as long on the surface. What matters more is the quality of the material the laser engraves upon.
Latest posts by Doug Mahoney
(see all)